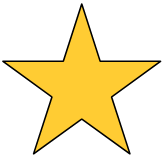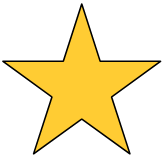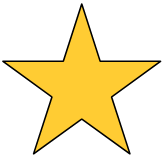 We will miss them, but are very happy our pups have gone to such WONDERFUL New Homes-they have big plans for their pups!
Happy pups...happy families!
Below you can see them together...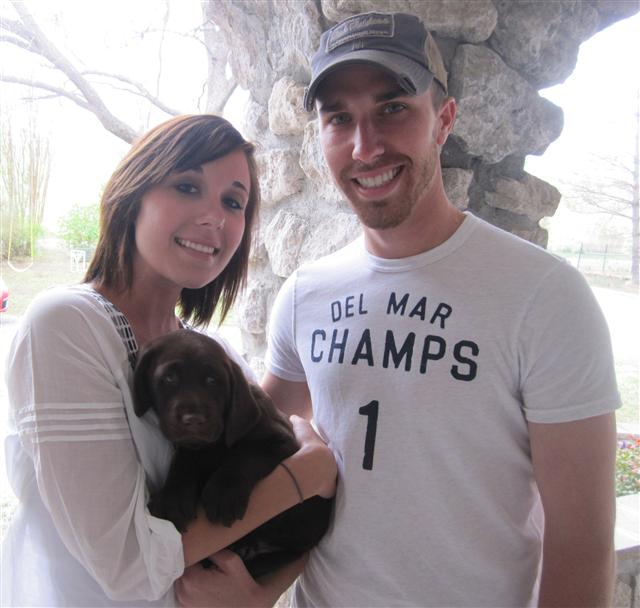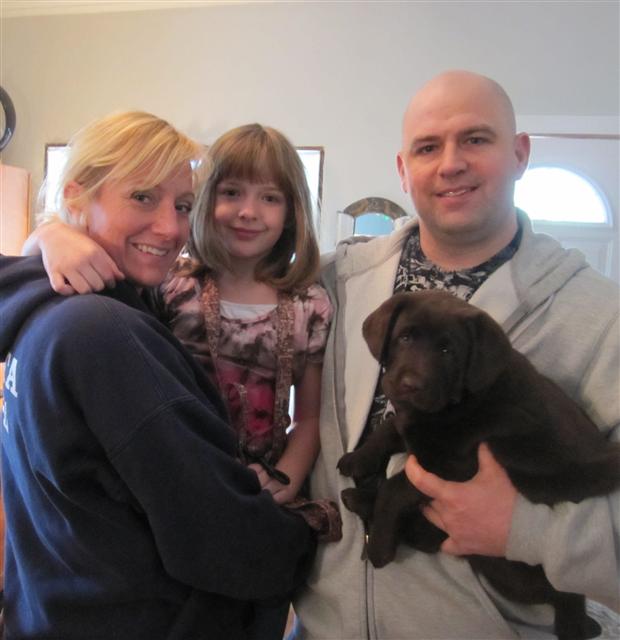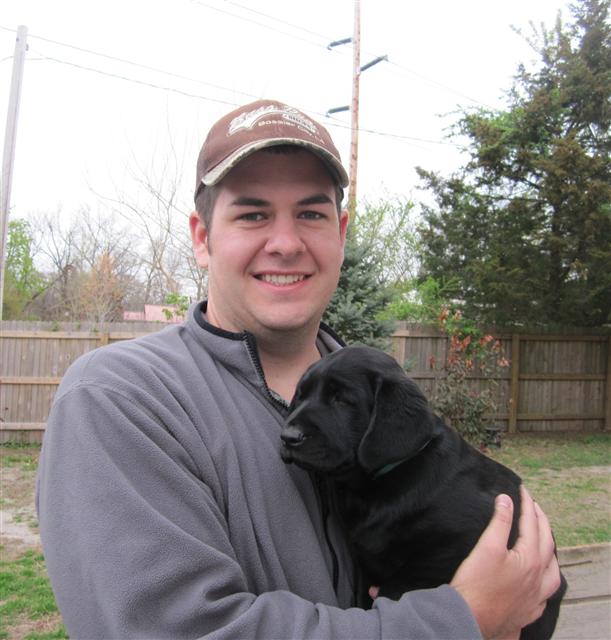 MOOSE is doing great in Texas with Kyle and April- CAM will be a good boy for CASH and Matt will have
hey reported 1st night home, he slept through the Shauntel, Dacee, and Jeff good times in Texas
night-no accidents or crying, and is fetching really
well already...GO, MOOSE!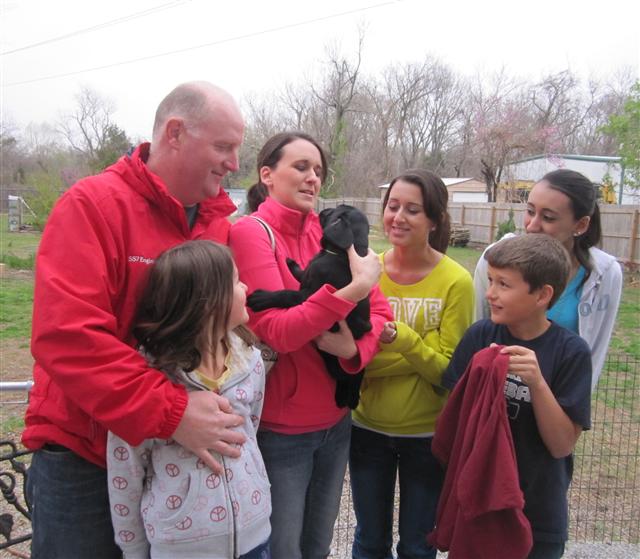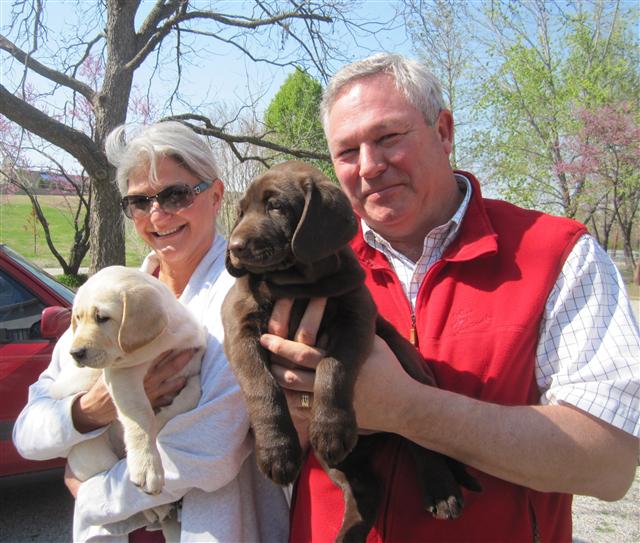 ALLY will get lots of love in the Brown Family! SYDNEY and SAMANTHA Stone - sounds great!
lucky pups to be loved by Pamela & Buddy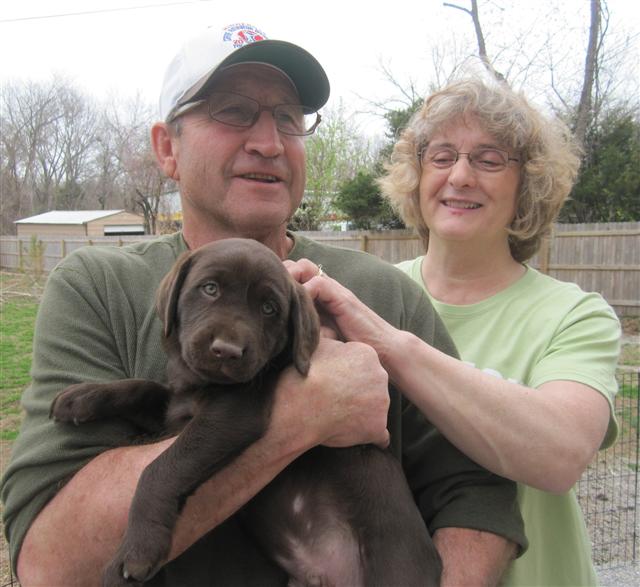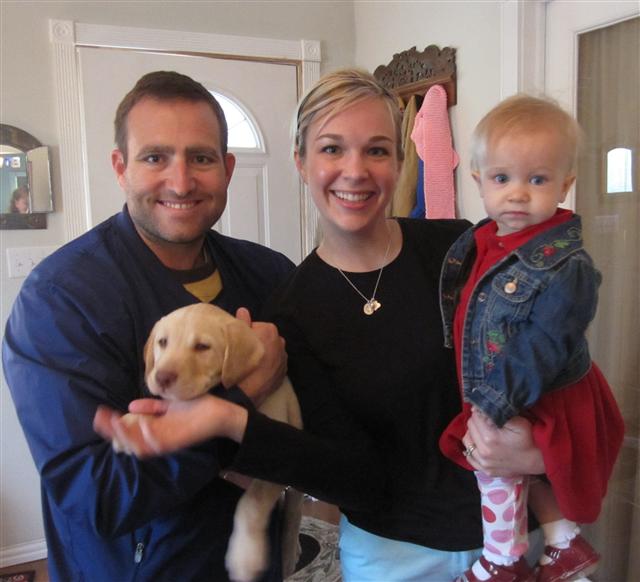 LUCKY loves his home and the snow in Minnesota GUS is so happy to go home with Alan, Jessica, and Sidney!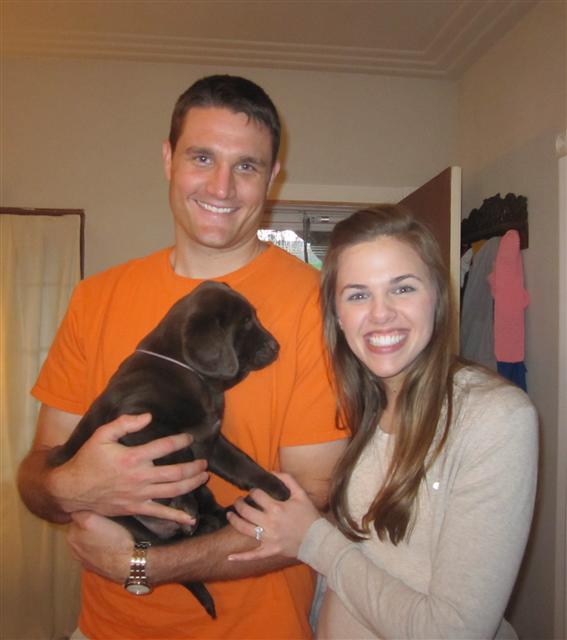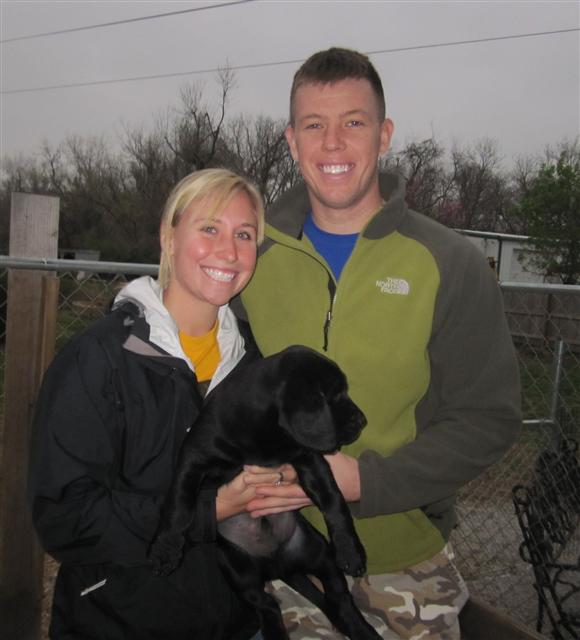 Chris and Katherine are loving BEAR and he loves them, too! Ashley and John couldn't be happier with their not so little JET!
And last, but not least...Sweet little Lilly, (later Milly)!
Milly :) went home to her wonderful new home in Northern Kansas
with Amanda and Trent.
..................... But What Happened First ? .......................
______________________________________________________________________________________________
Born January 31st! - A beautiful healthy Litter -
(For more information about how to reserve YOUR PUP for future litters, please click on the CONTACT US tab)
5-Chocolate, 4- Black & 2-Yellow Pups!
Same Papa as Christmas 2009 Pups - Rising Star of "Super Chief,"
Wyngmaster's handsome Rising Star of "Super Chief" has sired two litters for us, and will also sire our 2012 litter, after which he will retire...he is a beautiful American Black Labrador!
Charlotte and Chief make really pretty pups, naturally with God's help!
(LOTS of pictures of Charlotte's and Chief's newest litter of pups below!)
('2009 Christmas PUPS' page for pics of previous litter from these parents)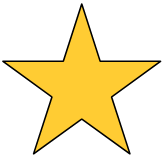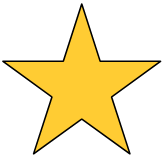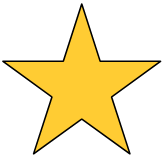 (Pups were ready to go home at 7 or 8 weeks-between March 20th and 28th)
For more information, please refer to 'Our Home Bred Pups' page)
______________________________________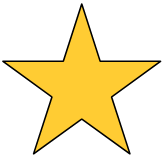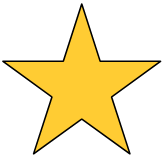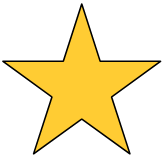 Watch them grow!

Photo / Journal
Till next time....in about a year...
Same place...
Same great parents...
Same loving and diligent breeders :) ...
Same God watching over us...
We'll start all over again!...
So Please stay tuned!
Londa and Art Hershberger 3/28/11
3/28/11 - Your PUPS are 8 weeks old today! (or if you want to go to monthly tracking, you could say they are 2 months old March 31st :) Please keep in touch! It was our pleasure meeting you all, and thanks for continuing the special care that your babies have had from the start ! Have fun! :)
*****
3/26/11 - It was a very busy week! New families came to pick up their "babies"...and oh what good babies they are! Everyone was pleased with their pup, and all pups were very well behaved...lots of kisses, potty before travel, not too much nipping (we're teething after all), and over all peaceful, happy pups. New owners pictures with their pups are above... and 7 week old portraits...REALLY cute! are below. :)
3/21/11 - PUPS begin to go home this week-MAN, we'll miss them, but SO very happy they will go to such fine families who will love them...finally pictures today...
3/17/11 - Puppies are eating all dry food now...and lots of it! Will nurse at night a couple more times (maybe) then that's it for Mom (Charlotte isn't complaining!) Bear (the cat beast) was such a good sport as always...has "played" with all puppies now...he is the best sport ever! 6 week and final puppy portraits will be this week.
3/16/11 - Puppies went for their first round of puppy shots today. Oh my...I just can't say enough about how good these guys are! 2-1/2 hours in the Vet's office-no one cried when shot was given (didn't even flinch); No one wet in the cart (2 shopping carts full of babies...SO sweet! No one complained about the very warm crowded conditions in the cart while waiting (ok, maybe a peep or 2-while adjusting position:), EVERYONE waited until they got home to go potty! We couldn't be more proud! Everyone is in tip-top condition! (Gus' family came to see him at the Vet :)
3/15/11 - Puppies are growing like crazy! So much happening, no time to post for you...sorry for the delay in updates. Puppies had their first bath today...these dogs LOVE the water!! Everyone sat so nicely for bathtime...as if to say...awwwww..just what I've been waiting for!...such good babies. You will be amazed at how good these kids are!
3/14/11 - Beginning tonight, pups start sleeping 2 at a time in small crate (wire) Doing great so far. After first rotation, will have them in alone in 2 separate crates.
3/3/11 - So much happening...pups are really learning what "pain" is...biting play is pretty intense and a lot of yelping going on...but they're learning what "That hurts!" means. :( Pups are learning to stand for grooming, and went on their first "field trip March 1st. (pictures below) Pups were wormed for the 3rd time this week. Pups are drinking water from their bowl now.
2/28/11 - Mom begins weaning pups this week (with our help). Pups are really having a good time now, playing and
rolling around together. Pups have lots of little teeth coming in, so are teething and learning to use their chew toys. This week, they will receive their 3rd worming. Pups all show interest in duck and pheasant wings. :) Art was amused by a couple of the pups, who wanted to be carried...they cried, he carried. He stopped walking...they cried. He walked again, they were happy...They are babies after all!
2/25/11 - Pup selections take place this weekend...Yay! We will be able to call ALL the puppies by name :)
2/24/11 - Pups are growing at a good pace-development is right on track. Personalities are starting to shine through this week. They are playing more, and they all LOVE to sniff those duck and pheasant wings. They have started eating a little gruel between meals. Also having lots of successes getting to their potty...they're well on their way! New pictures below-3 weeks old . Some are a little blurry-unfortunately didn't have time to retake. But there will be more in a couple weeks.
2/19/11 - What smart little pups! I've seen at least half already going potty in their potty area. They wake up, stretch, and waddle/scoot over to do their business, then go back to the other side and "play" with someone for a few seconds, then flop back to sleep. :) They usually start that at the beginning of their 4th week. (next week) Of course they aren't 100% successful, but to be trying is the neat thing.
2/18/11 -Pups are growing fast- Eyes are all open now-so cute! Often on all 4's - very wobbly :). For a couple days now, have seen some interaction between pups - a little playfulness. Pups are being handled daily. Best for pups not to have visitors until week for picks-weekend of 26th. A few new photos have been added. ... next puppy portraits in a few days.
2/15/11 - More of the pups have opened their eyes...but not yet all...love to see that little sparkle. Moved pups to phase II box yesterday evening...getting ready for more active pups and, yes...potty training, which is instinctive if provided a space.
2/14/11 - Pups are beginning their 3rd week today - by the end of the today, 3 pups had opened their eyes...and off and on are on their feet. So cute!
2/13/11 - Oh, what fun we're having!... couldn't wait for next week took portraits of pups (last night)...thought about waiting for their eyes to open, but just way too cute now...more photos next week so you can see that little twinkle shining through. :) Their eyes will all be open by Tuesday... Pups are moving around quite a bit more. Not walking yet, but will be soon... lots of new pictures for you to enjoy!
2/7/11 - Pups are 1 week old now, and have doubled their birth weight. They are moving around more quickly and all are holding their own at the "dinner table." :) Mom helps to keep it fair.
2/4/11- Pups had their first car ride today...and in the snow! They went to see Dr. McWilliams for dew claw removal early in the morning. Pups are doing fine. He said they are all good, strong beautiful puppies .... and he said he wasn't sure if he got them all back in their travel bed...may have dropped one into his pocket!Ha-ha! They were happy to come back home to Mom and a clean bed. All are sleeping now.
1/31/11-2/1/11-Charlotte went into labor around 10 A.M., and pups were born between 11 A.M. and 12 midnight. All went very smoothly. Needless to say, she was a very tired girl all day on Tuesday (me, too!)
GREAT LOOKING PUPS!
7 1/2 weeks - going home week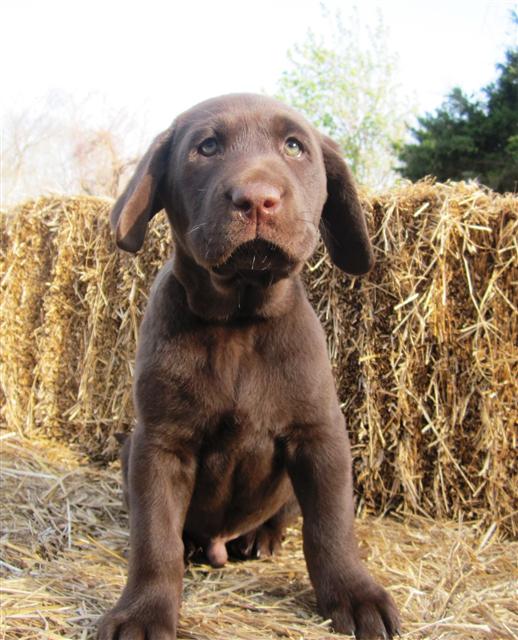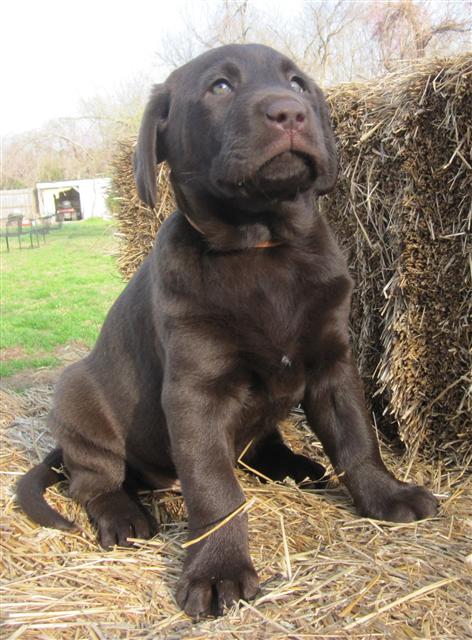 MOOSE - 7 weeks CAM - 7 weeks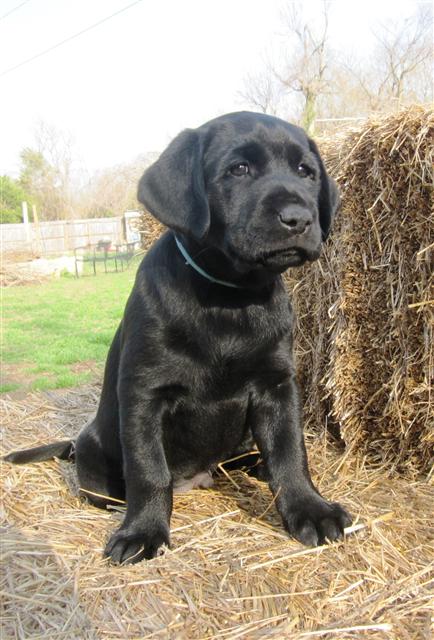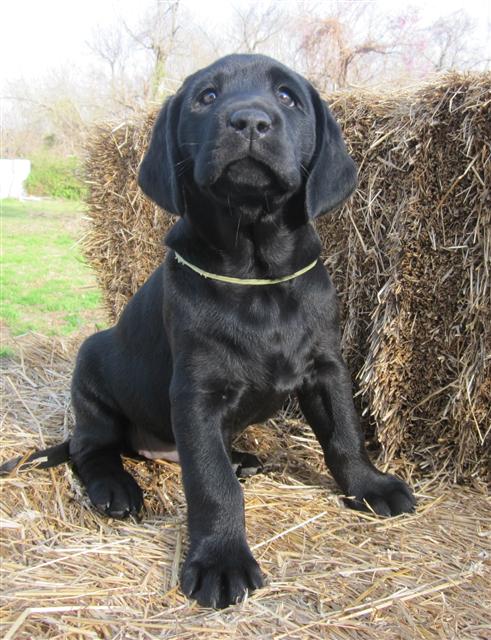 CASH - 7 weeks ALLY - 7 weeks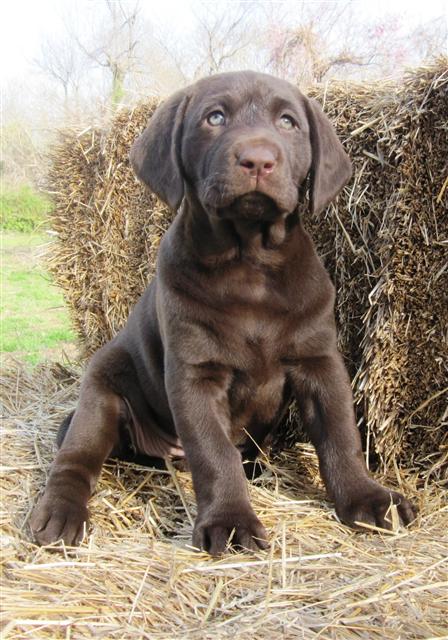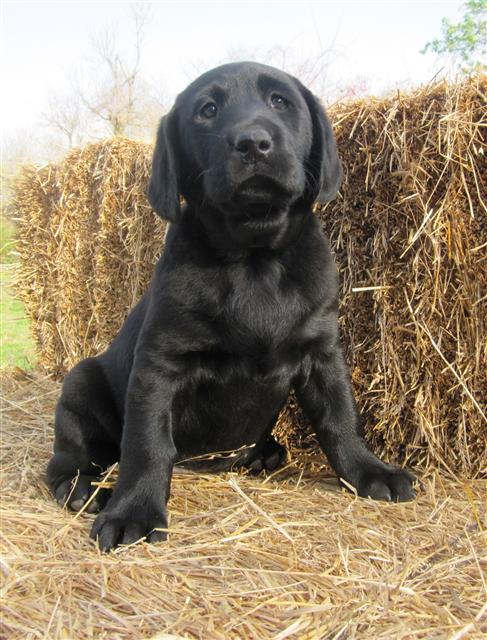 SAMANTHA - 7weeks LILLY (Milly) - 7 weeks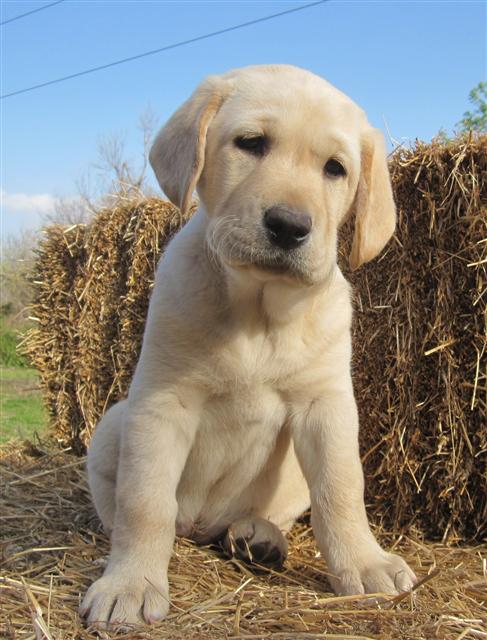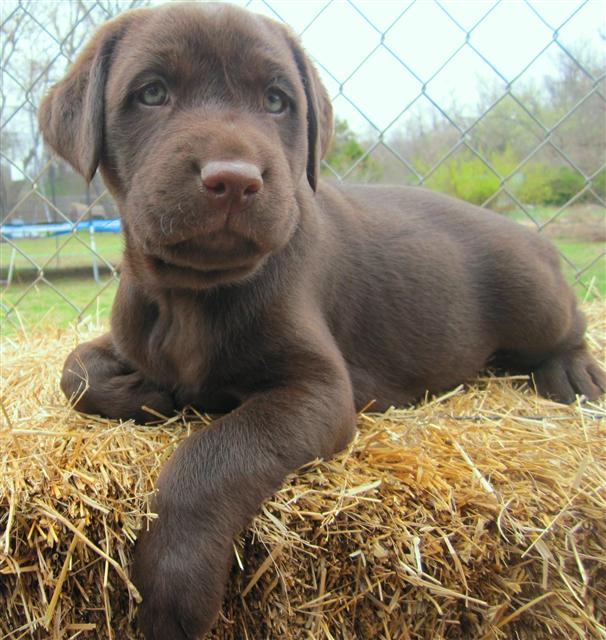 SYDNEY - 7 weeks LUCKY - 7 weeks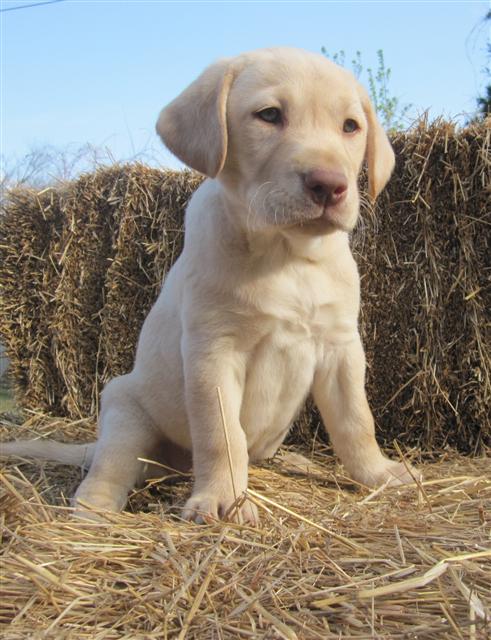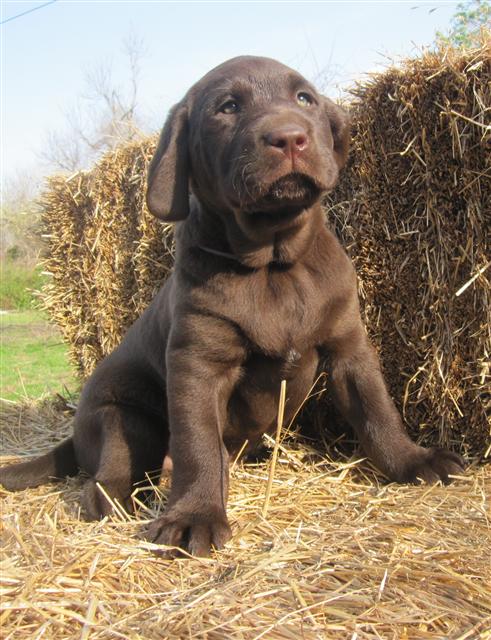 GUS - 7 weeks BEAR - 7 weeks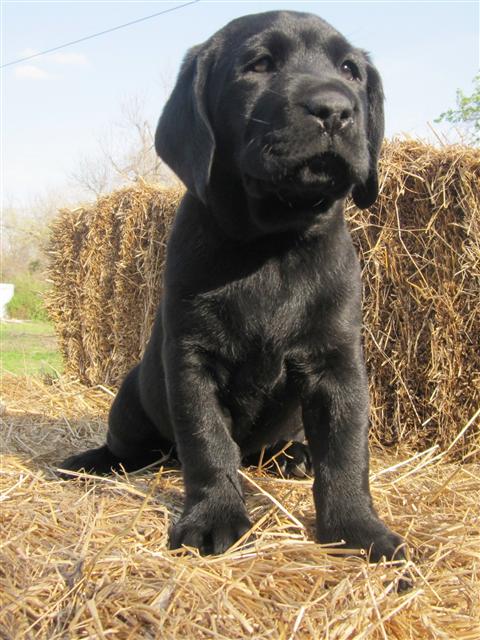 JET - 7 weeks
_______________________________________________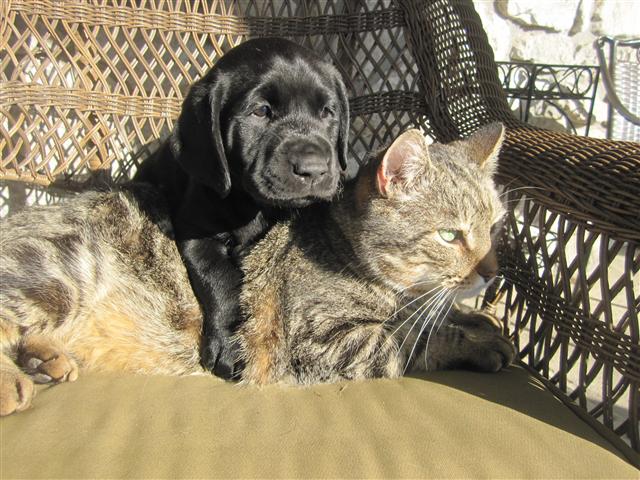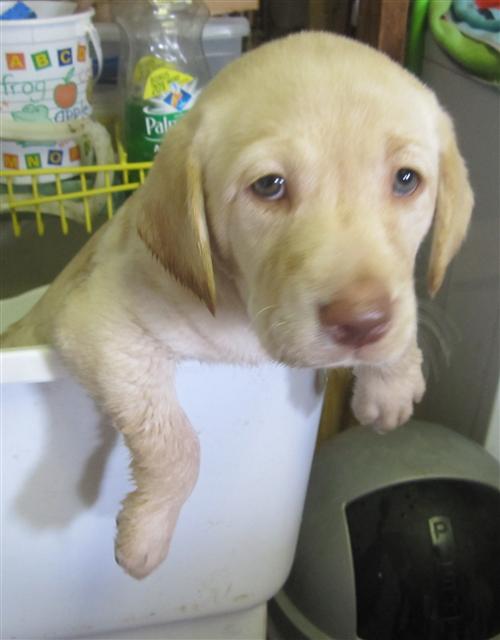 CASH and Bear, the cat, chill...all pups have enjoyed climbing on Bear. GUS' 1st bath. All pups had a bath 3/15/11. :)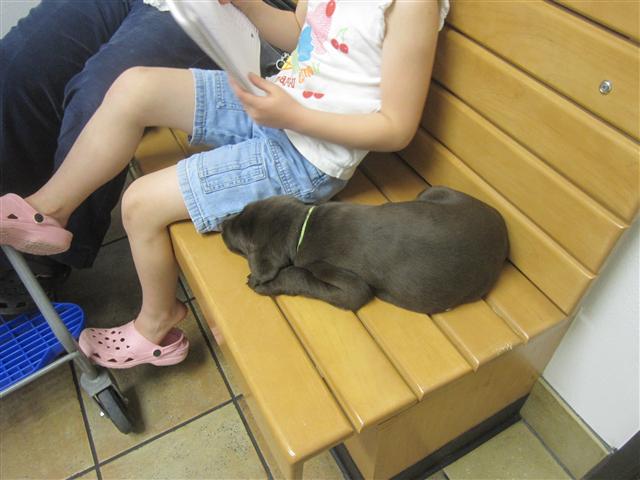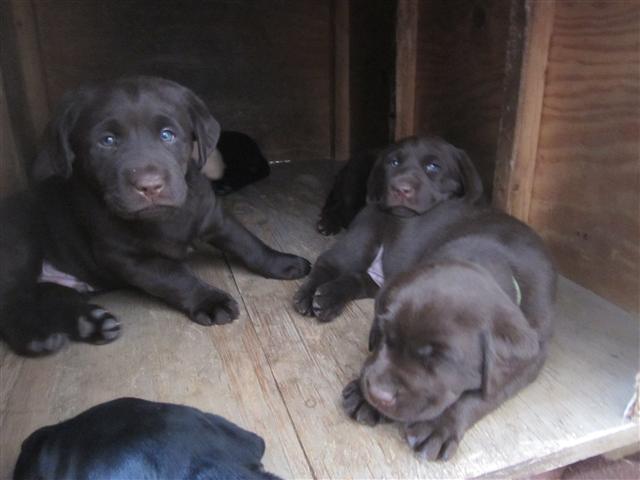 LUCKY was a good boy to sleep on the bench next to Olivia Puppy cuteness.... (from left) CAM, MOOSE, LUCKY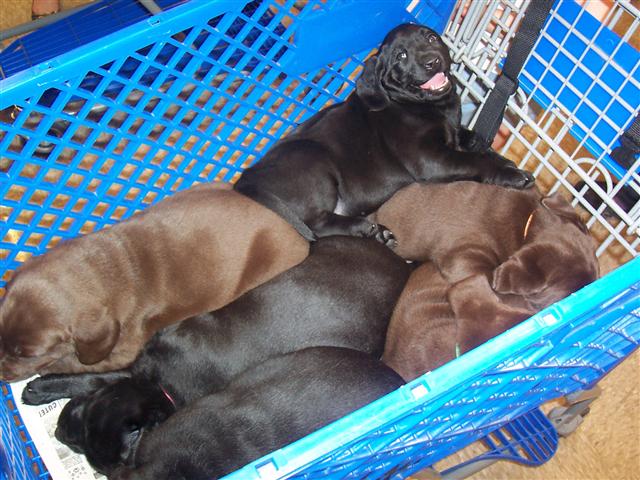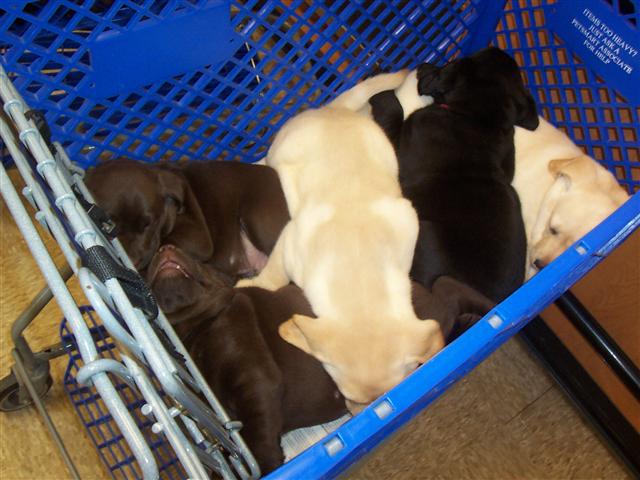 3/16/11 - Trip to the Vet-clockwise from the top-Ally (smiling :);Cam; - ALL SUCH GOOD PUPS- From left- Lucky; Bear;Gus;Jet;Sydney
Moose;Cash;Lilly;Samantha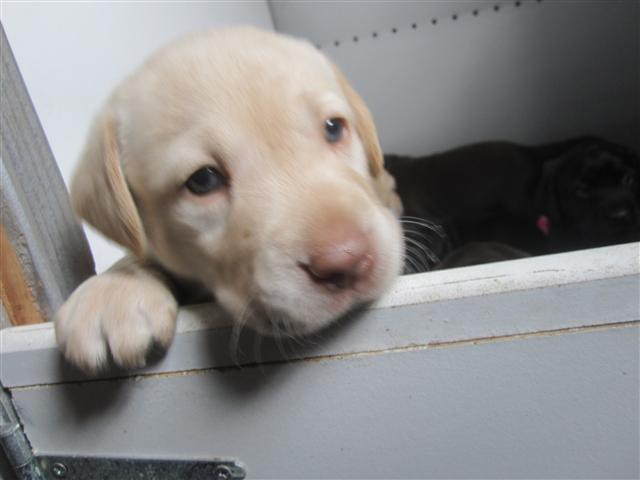 Gus is lookin' good! 3-2-11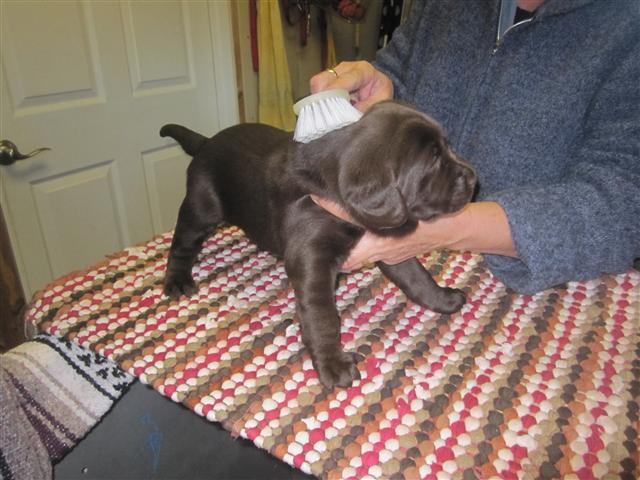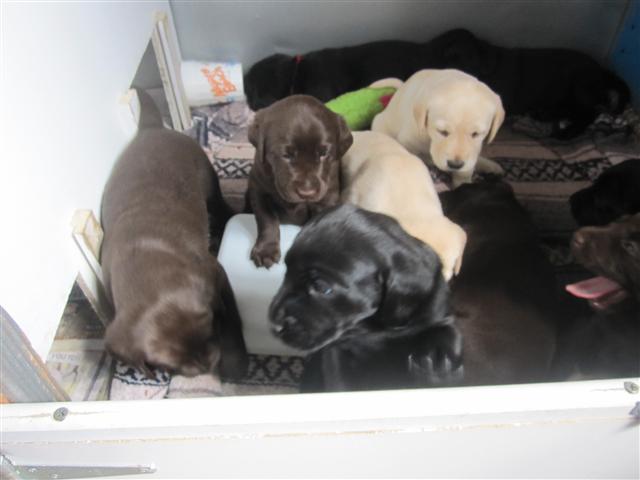 What a big boy, standing for a grooming session- Pups like to drink water now from their bowl
Meet "CAM" (orange collar) 3/2/11 3/3/11
"OK, we're ready!" First wagon ride - 3-1-11
"It's so BIG out here, Mom!" "I know, dear." 3-1-11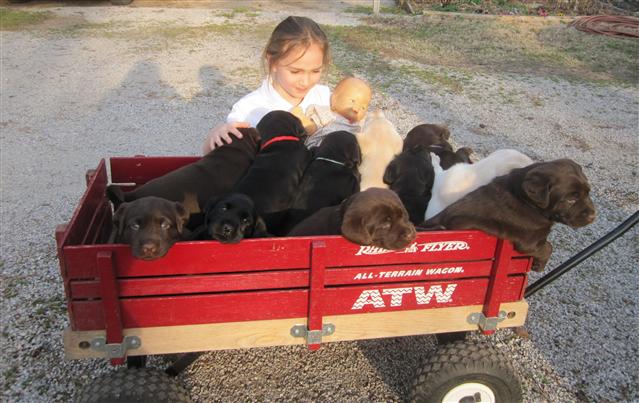 "Hi, guys, wanna meet my baby?" - 2nd Wagon Ride -3/3/11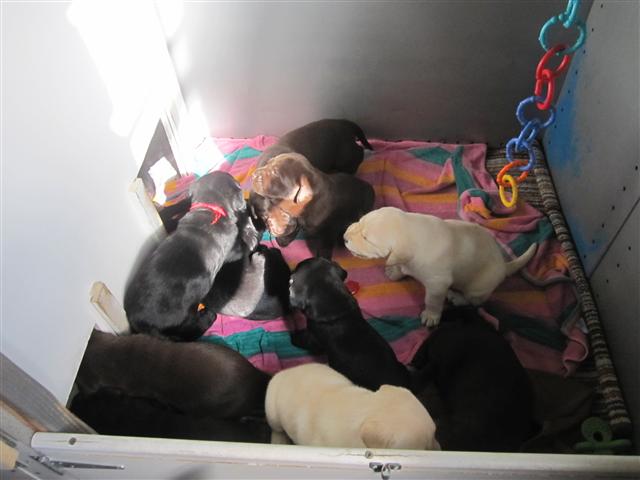 Most of the pups enjoying the morning sun in their pen...a full house!
2/28/11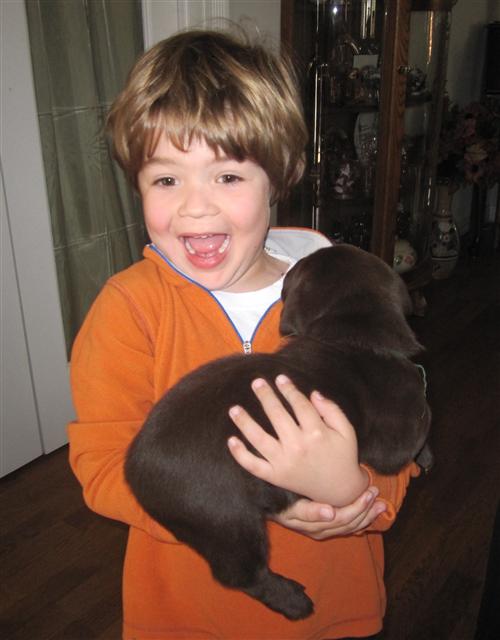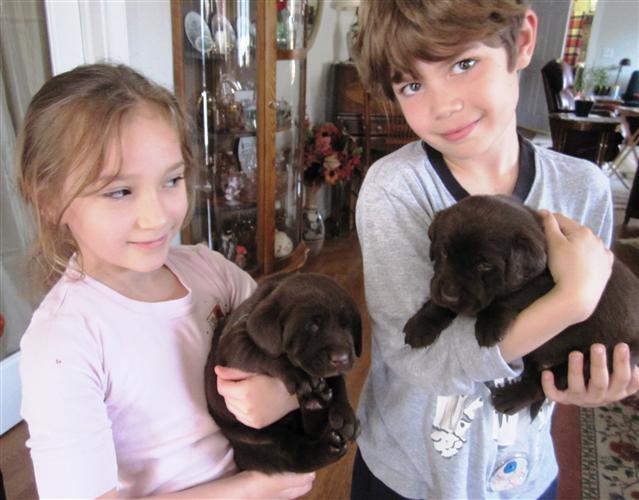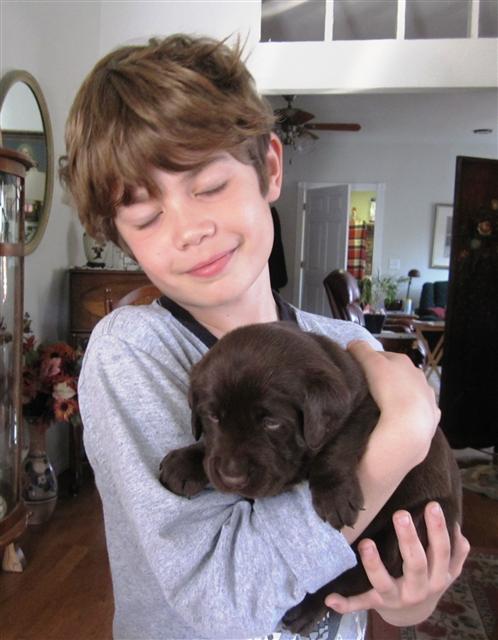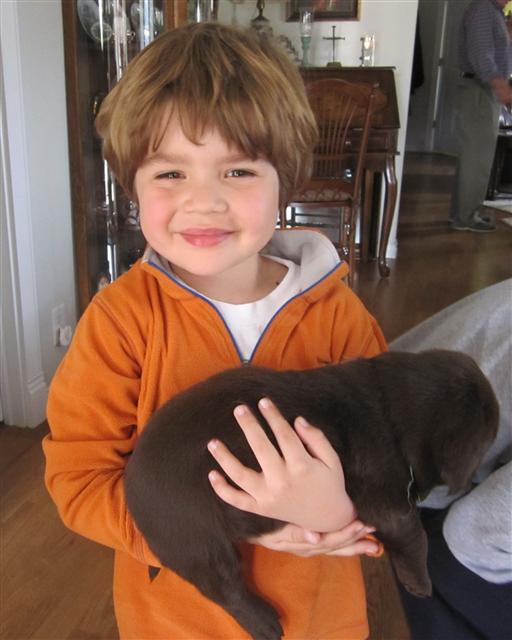 And the puppies are cute, too! :)
2/27/11
As you can see...pups will be getting lots of love, while they're waiting to go home with you!
Kyle, here are the 2 chocolate pups for you to choose between - playing and each mostly holding his own.
Each weighs well over 5-1/2 lbs - 2/27/11
(sorry about dirty blanket...had to get video before other pups returned to pen (after cleaning) ...much nicer and cozier now :)
Enjoy this video of puppies playing 2-26-11-watch for your pup! :)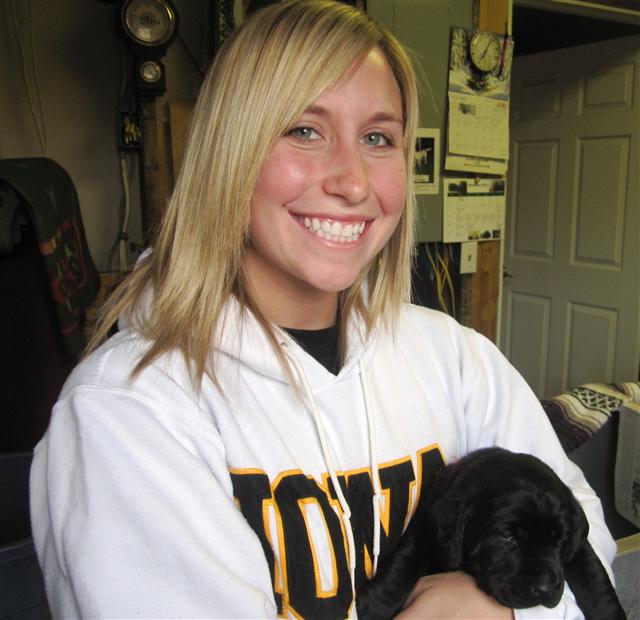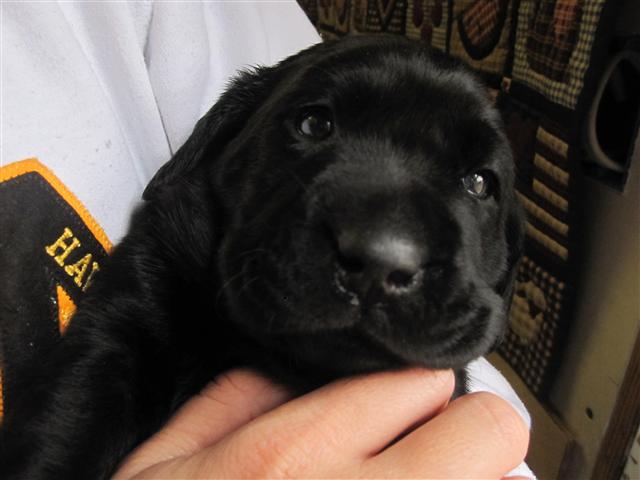 We missed meeting you, John...thought you would want to see Ashley and your new little pup, "Jethro Callen." He can't wait to meet you! Safe travels....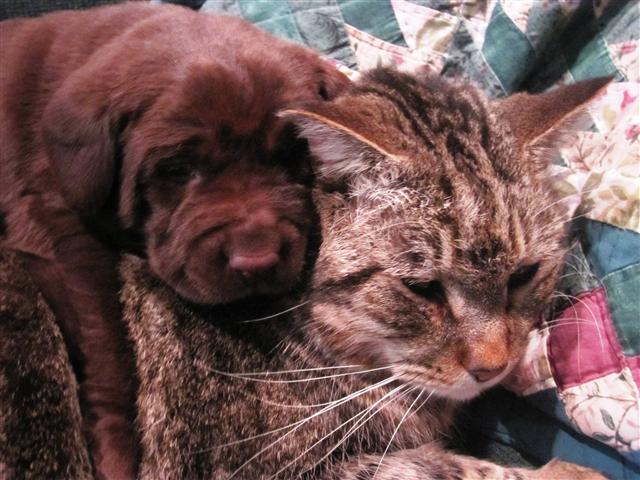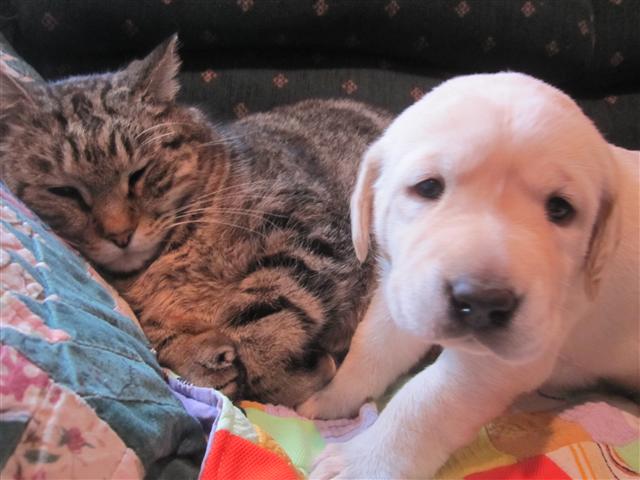 Our cat, 20 lb "Bear," has a very important job each year-he gets to be the pups' first cat......2/25/11
And what a good sport he is! "Samantha" and "Sydney" meet him for the first time!
(Don't tell him...he doesn't know there are 9 more pups! : )
~3 WEEK OLD PORTRAITS~
(sorry some are blurry :(- chocolate pups are all the same color brown)
Aren't they beautiful!?!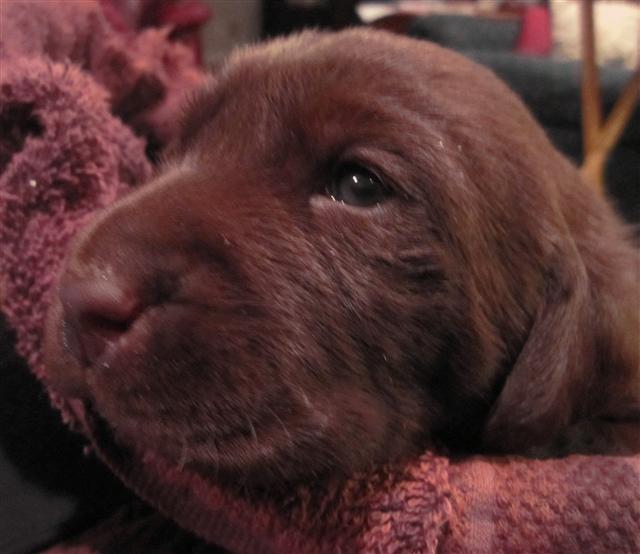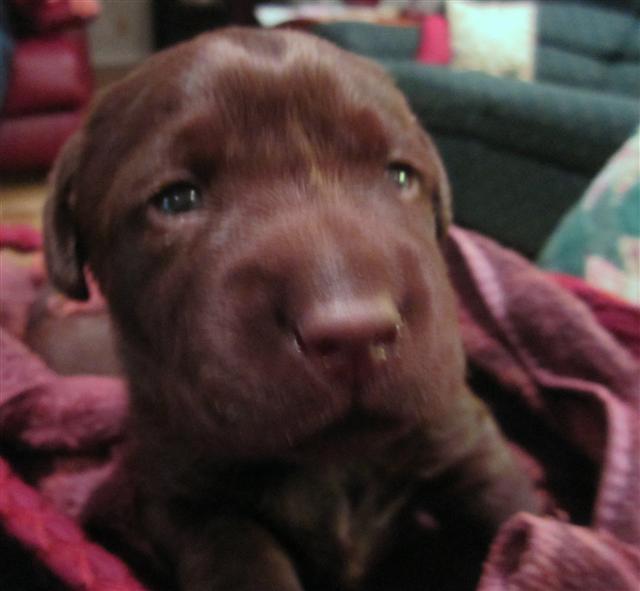 1st Born - "MOOSE"- (dk green collar-male) 2nd Born - " CAM " - (orange collar-male)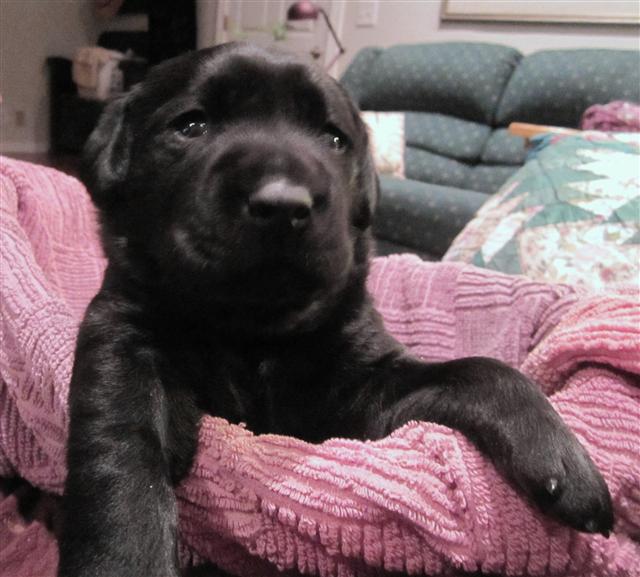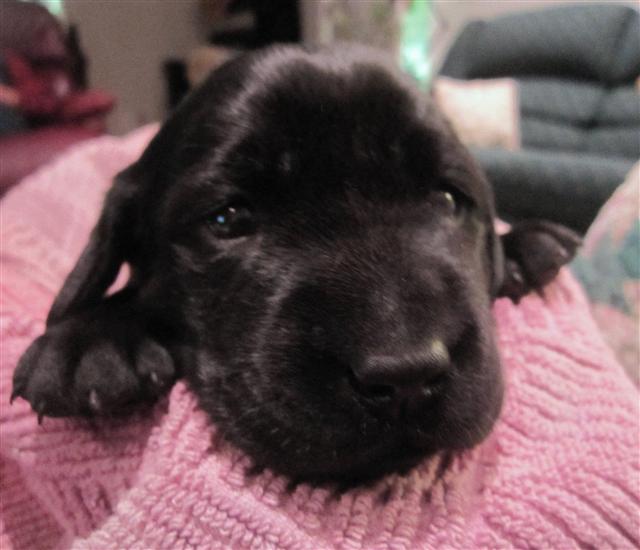 3rd Born - "CASH"- (blue collar-male) 4th Born - Black Female- "ALLY PAIGE" (light green collar)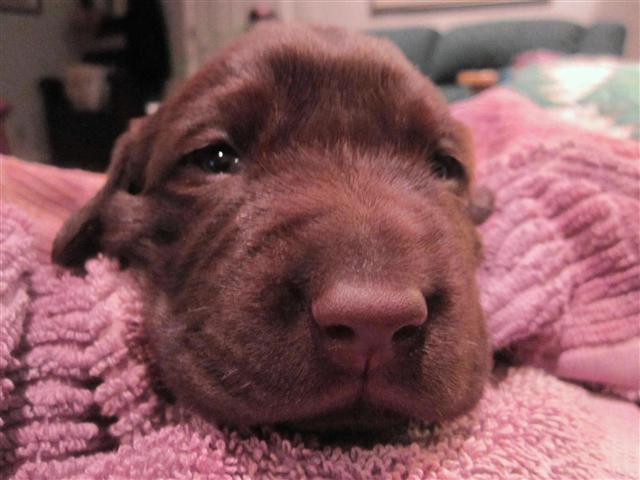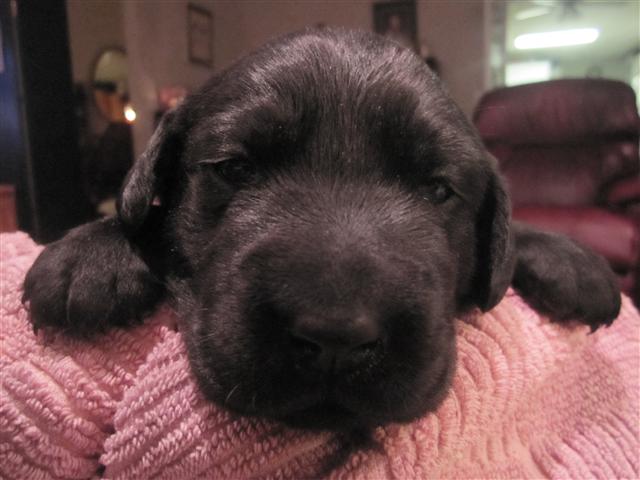 5th Born - "SAMANTHA" 6th Born - "LILLY ANN" (pink collar)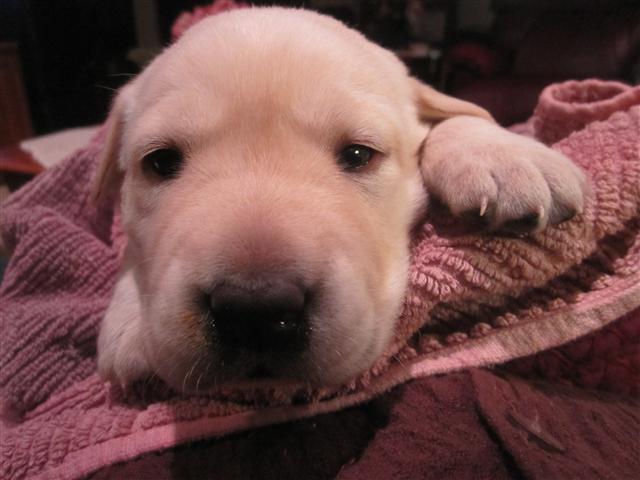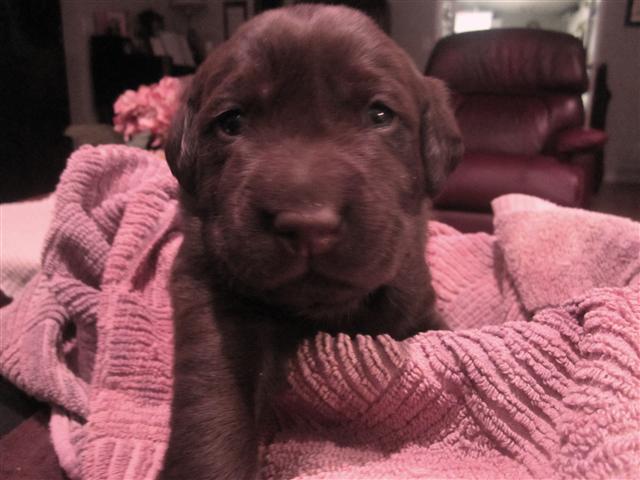 7th Born - Yellow Female - "SYDNEY" 8th Born - "LUCKY"- (green collar-male)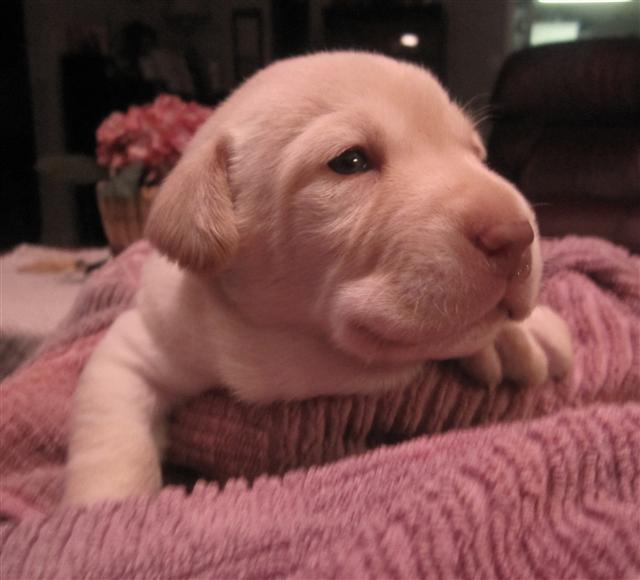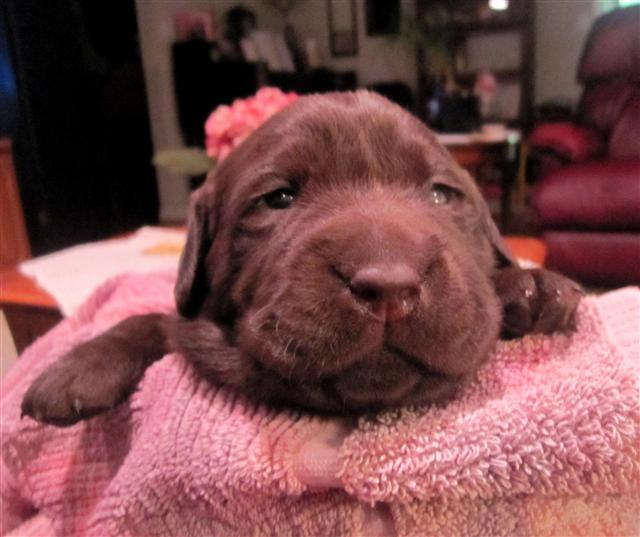 9th Born - Yellow Male - "GUS" 10th Born - "BEAR" - (lavendar collar-male )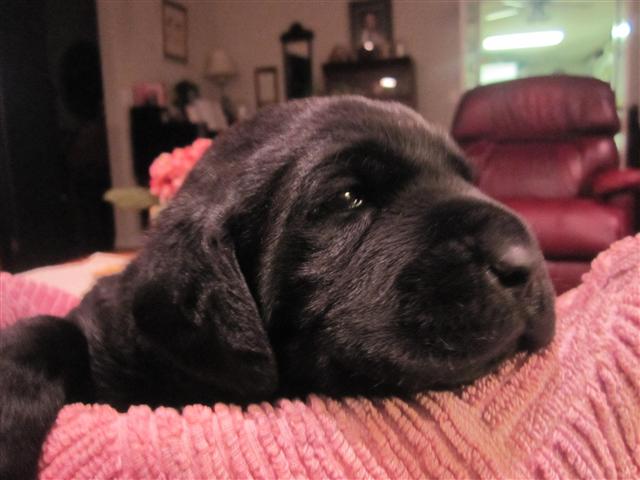 11th born - Black Male - "JETHRO CALLEN" (red collar)
A Few Cute Puppy Pictures- taken 2/16 & 2/18 - (approx. 2-1/2 weeks old)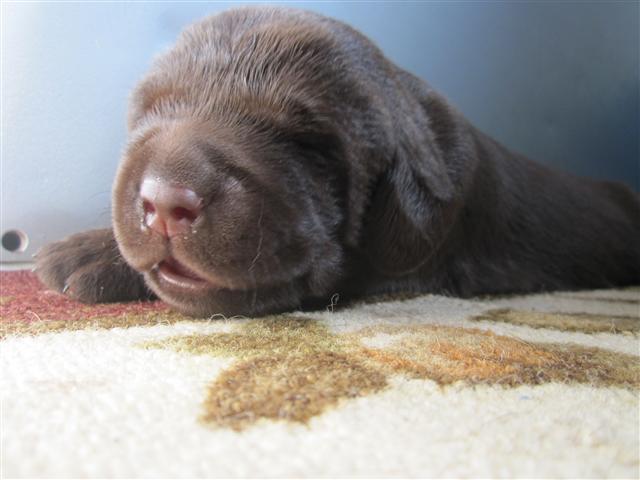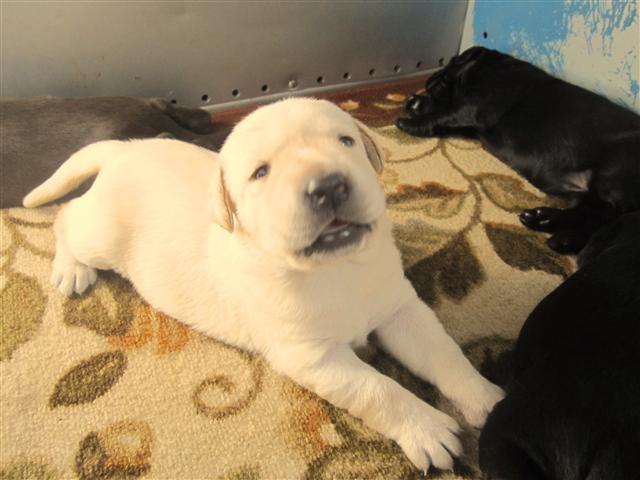 What a cutie...still asleep- 2/18/11 Beautiful "Sydney" posing...finally a picture w/ eyes :)- 2/18/11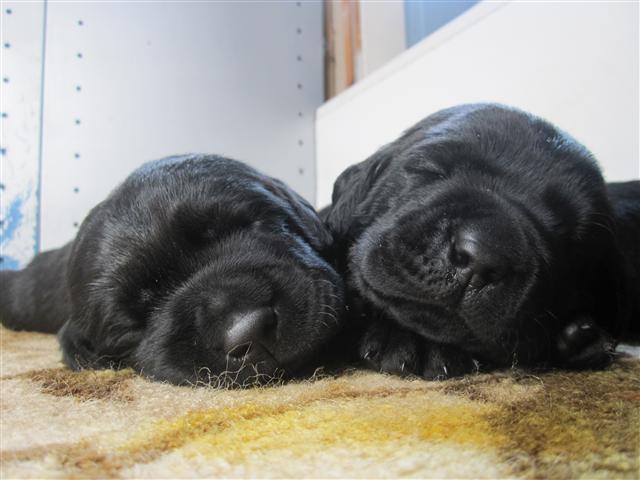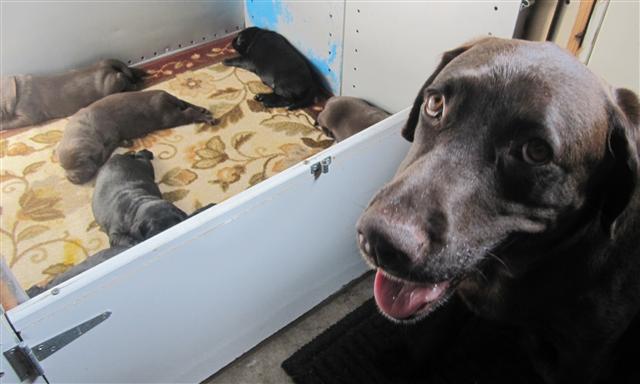 2 Handsome Brothers..asleep - 2/18/11 Proud Mom - 2/18/11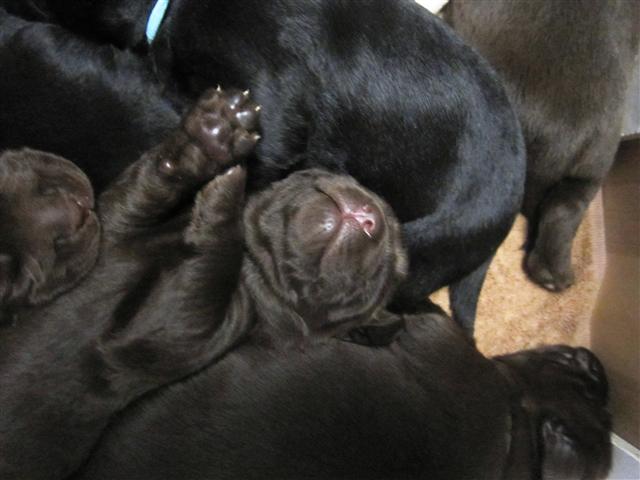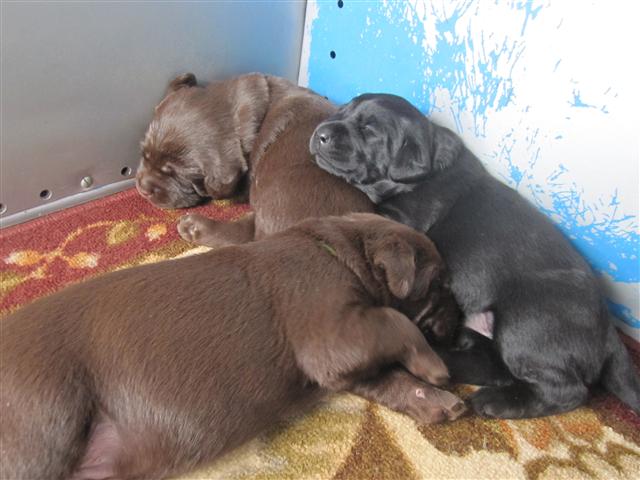 Little Sleepyheads - 2/18/11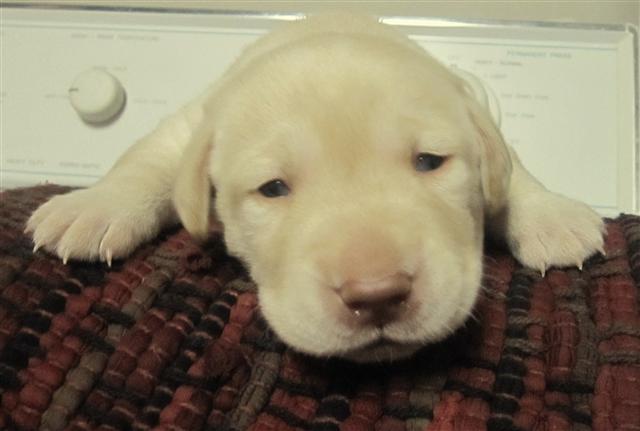 ...and More eyes...."Gus" is a handsome boy! 2/18/11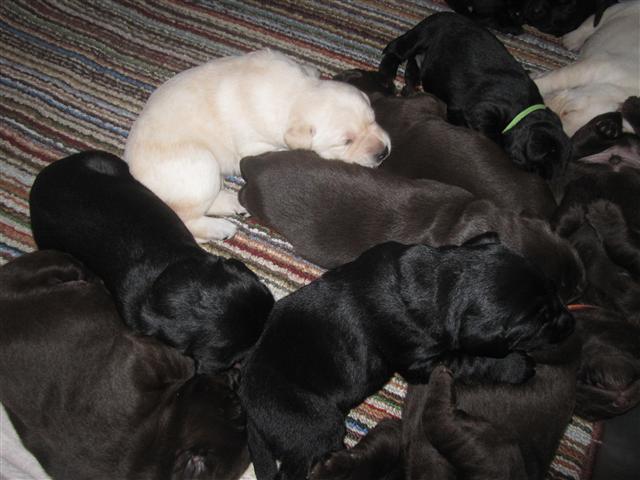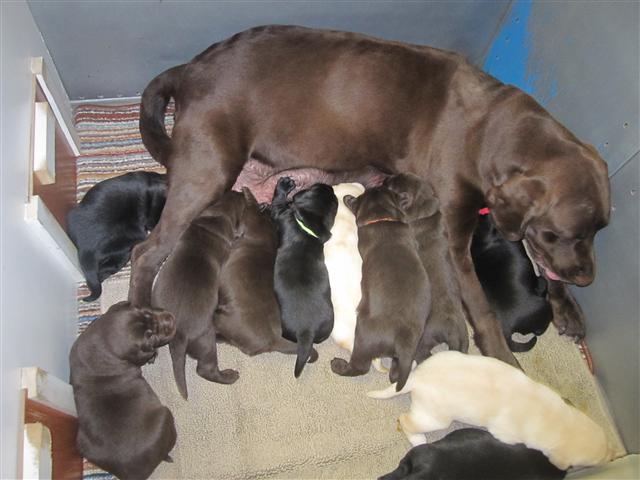 pups moved from whelping box to phase II home on 2-15 (photos- 2/16) Phase III will be your home. :)
Puppy Portraits - 12 days old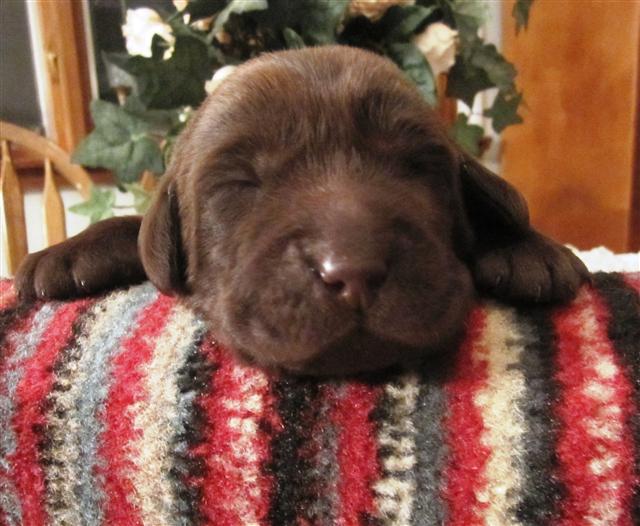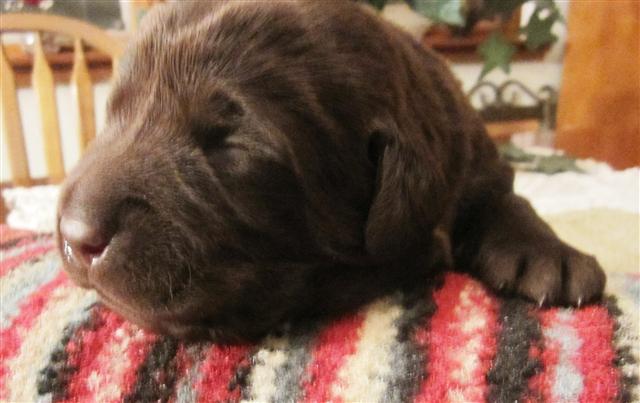 1st born-Chocolate Male - "MOOSE" dk green collar 2nd born- "CAM " - orange collar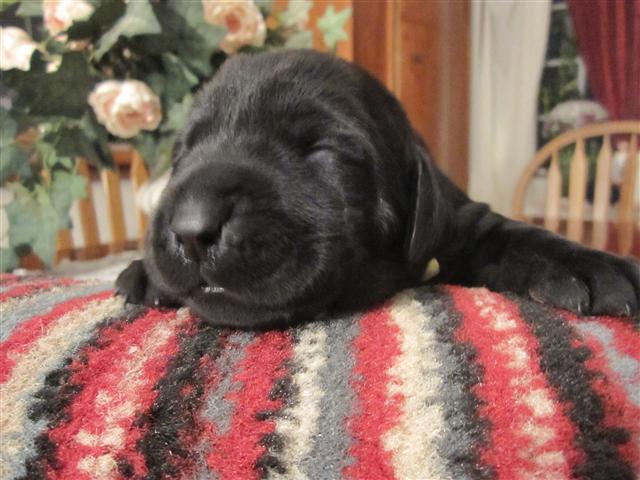 3rd born-Black Male - "CASH" - blue collar 4th born- "ALLY PAIGE"- lt.green collar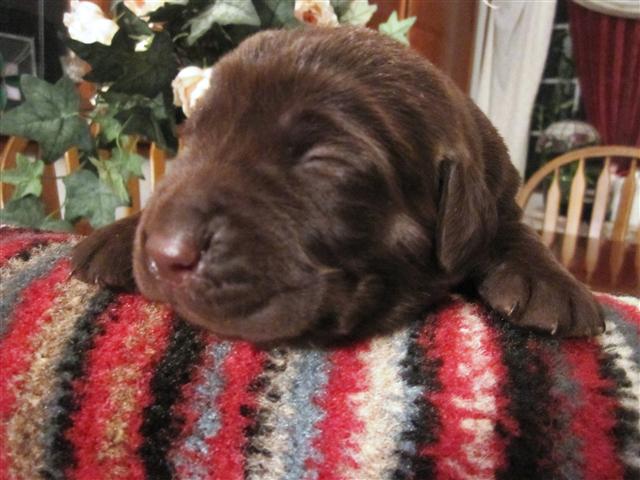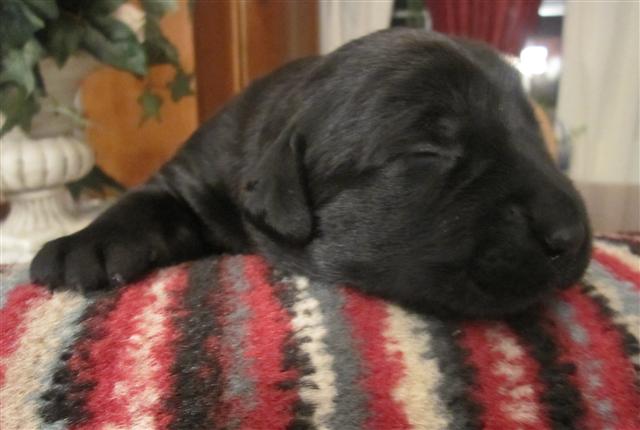 5th born-Chocolate Female - "SAMANTHA" 6th born- "LILLY ANN"- pink collar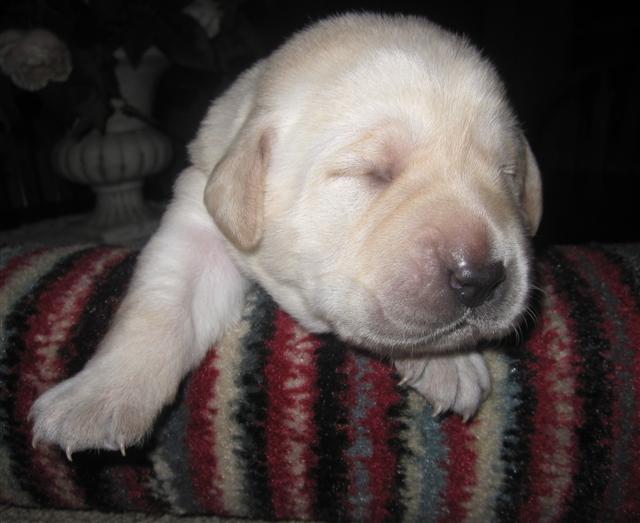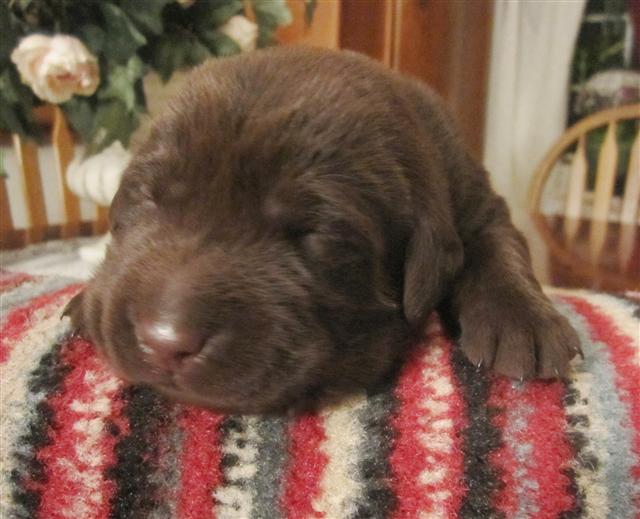 7th born-Yellow Female - "SYDNEY" 8th born-Chocolate Male - "LUCKY" -lt. green collar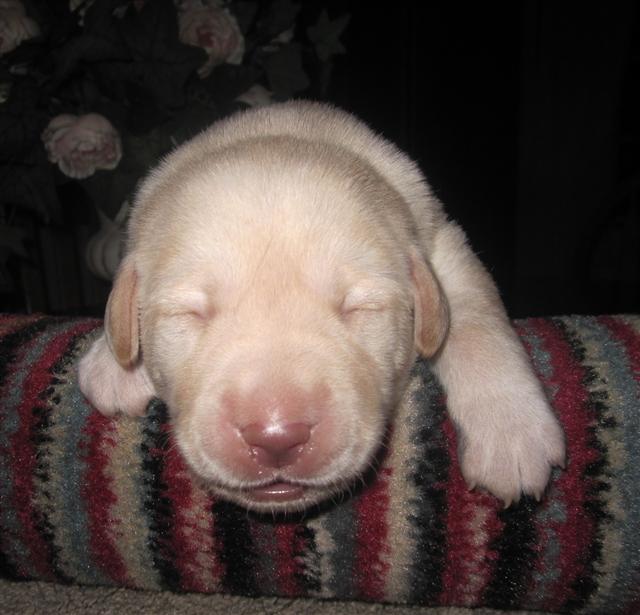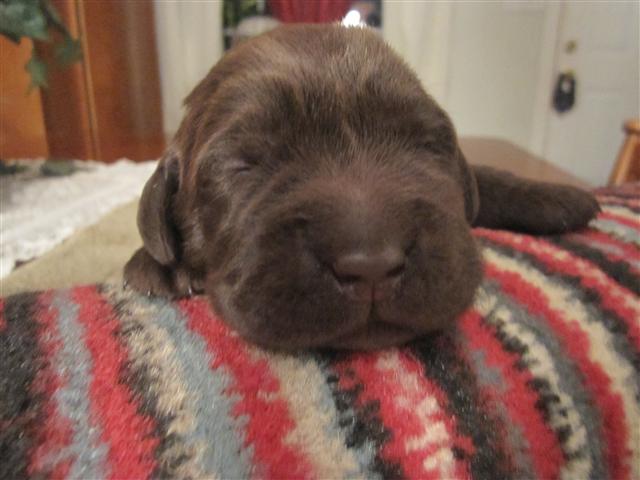 9th born- Yellow Male - "GUS" 10th born-Chocolate Male - "BEAR" (purple collar)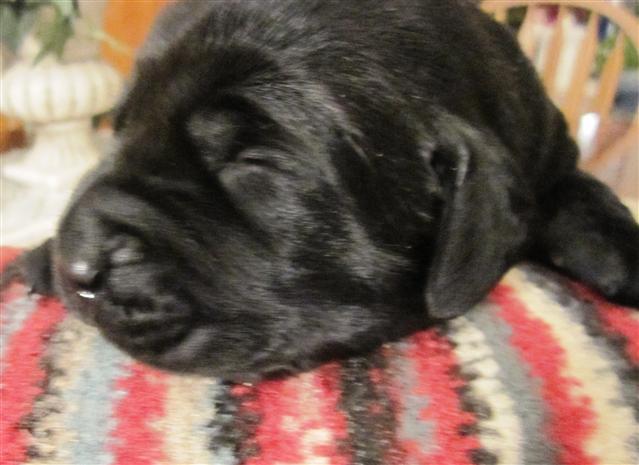 Last, but not least.... "JETHRO CALLEN"- (red collar)
MORE PHOTOS
taken 2/11-2/13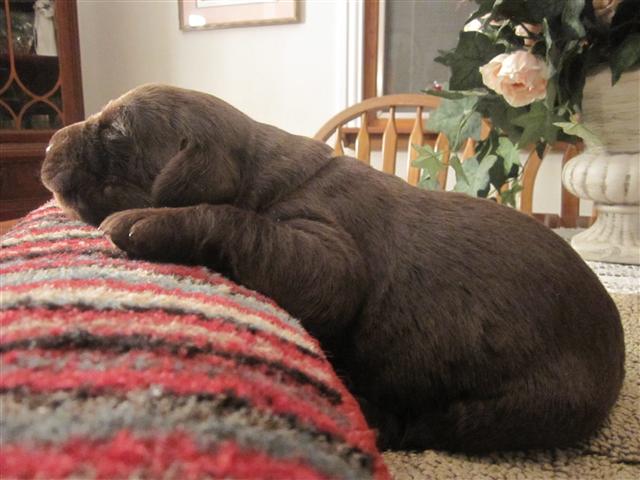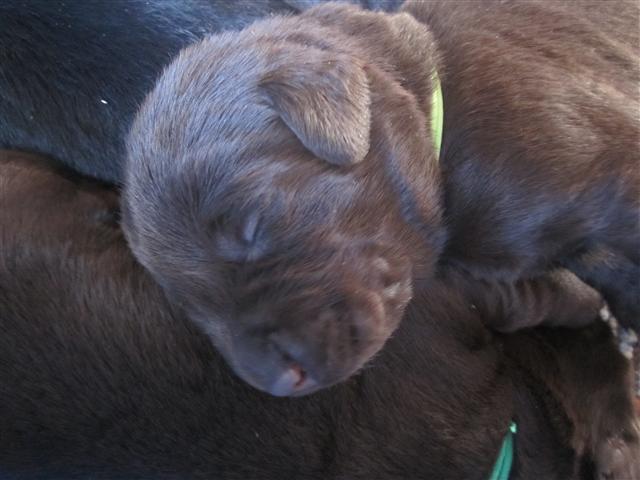 A full tummy - fell asleep during his photo shoot. :) (#10-purple) Sleepy head - (#8-green) - in the morning light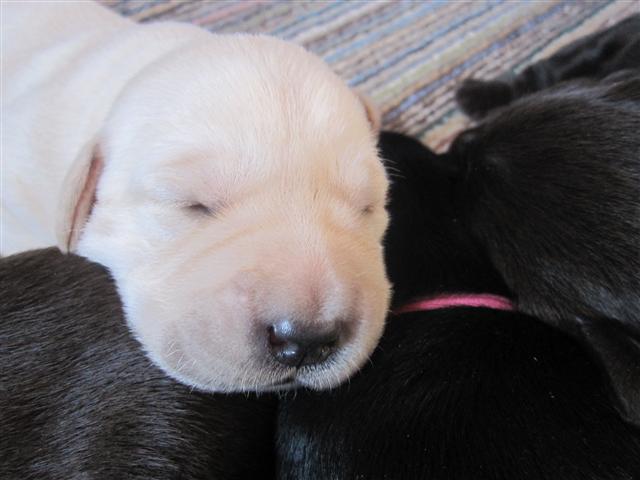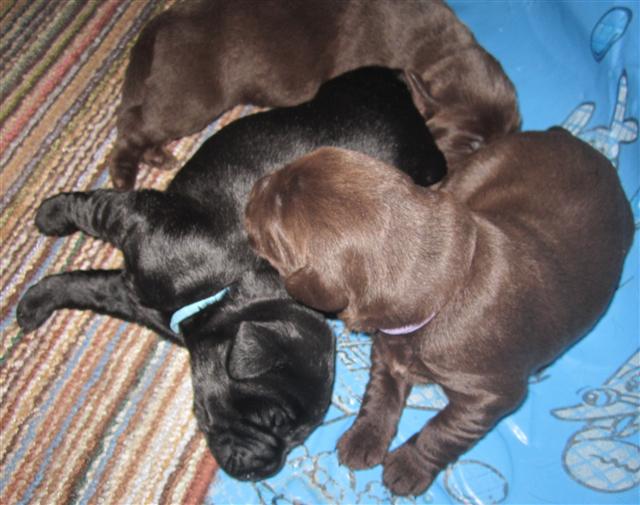 "Sydney" is so happy NOT to be an only pup! Black Male #3, Choc. Male #10, and "Samantha" at top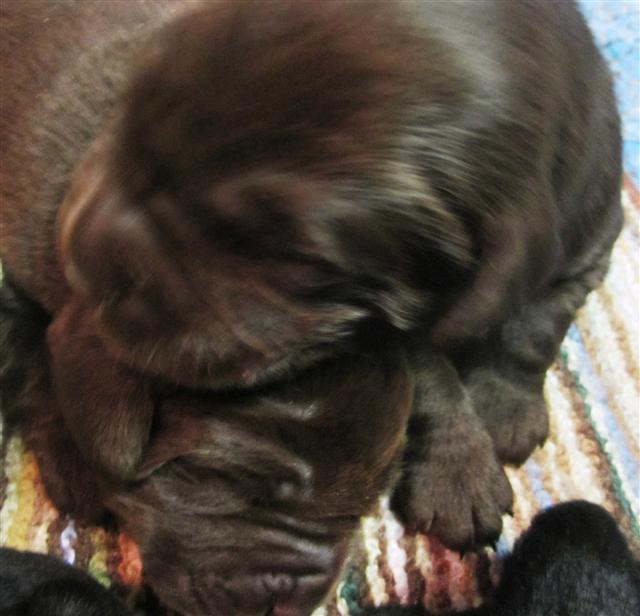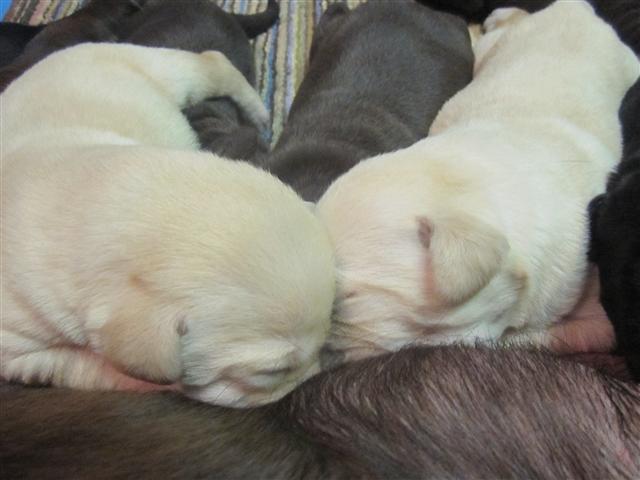 "2 heads are better than one," they say.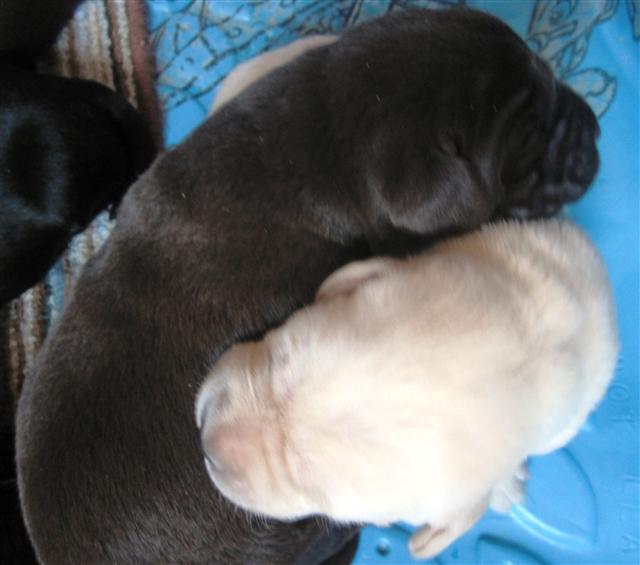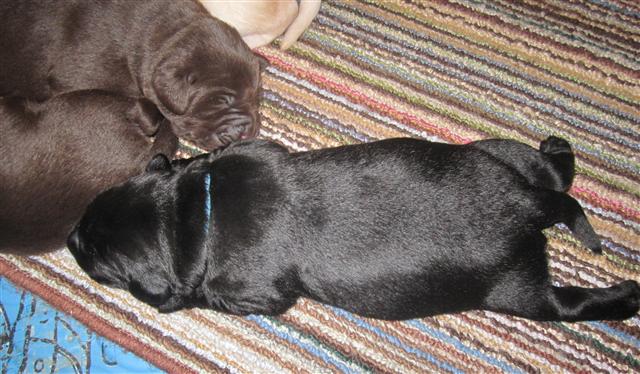 2 Sisters - "Samantha" and "Sydney" Sweet Bliss! - #3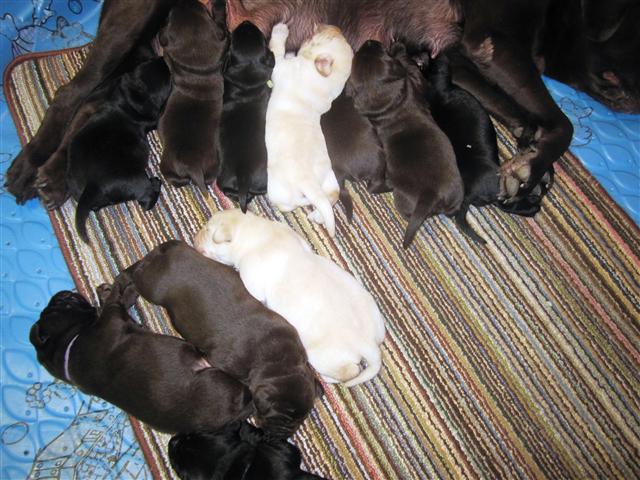 One BIG, HAPPY family!
_______________________________________________________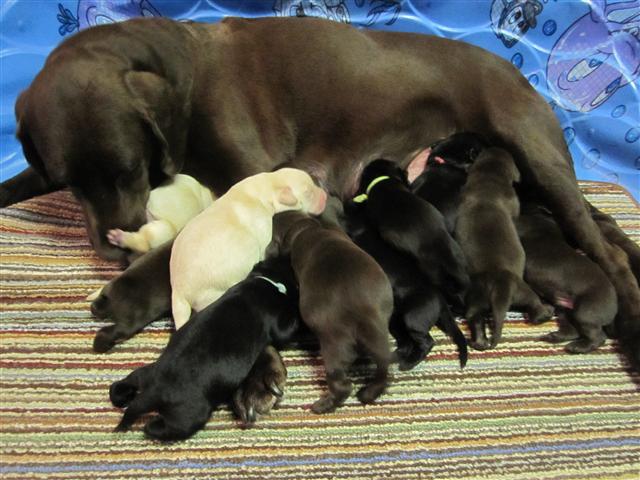 A lot less room between pups at 1 wk -all are in there somewhere !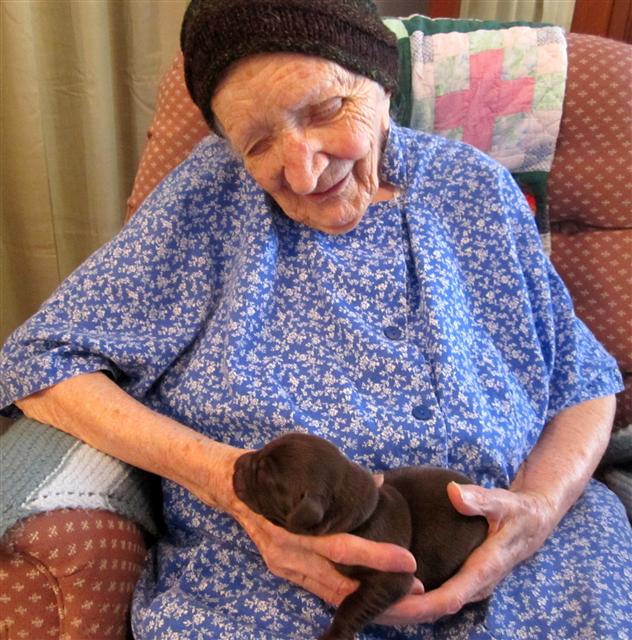 98 year old Grandma looks forward to puppies each year, and likes to help hold them.
__________________________
Some really cute puppy, Charlotte, and Olivia :) pictures
2/4/11- 3 1/2 days old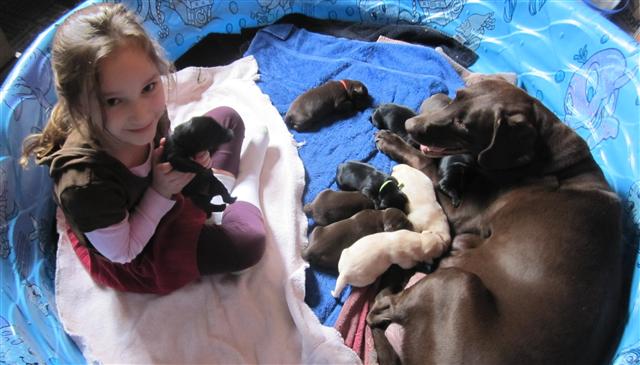 Olivia comforts the babies after their 1st doctor visit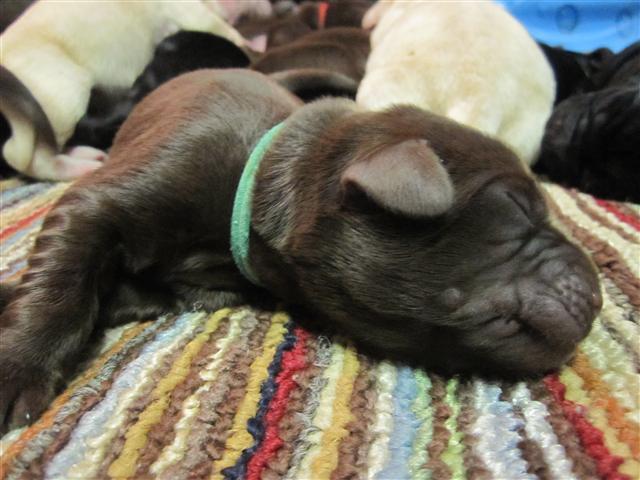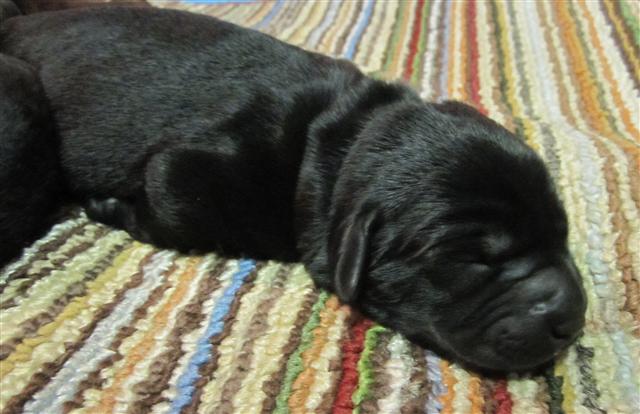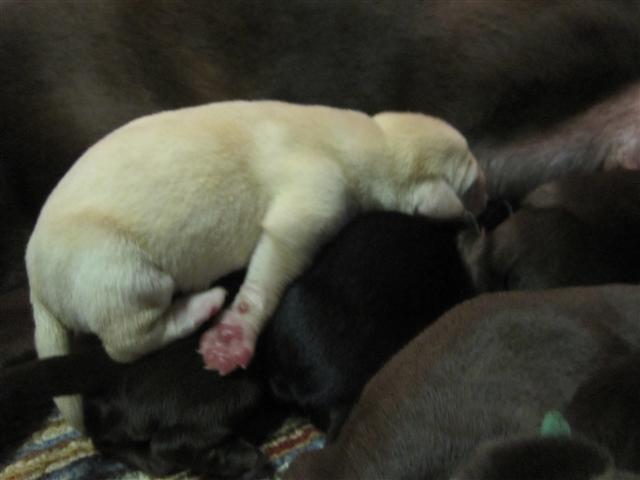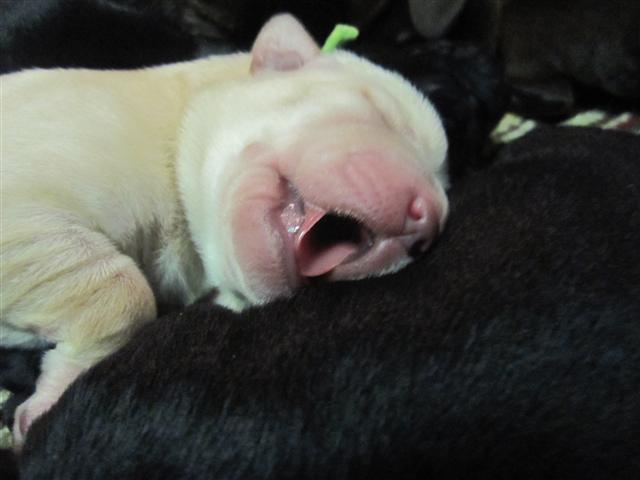 Roly poly babies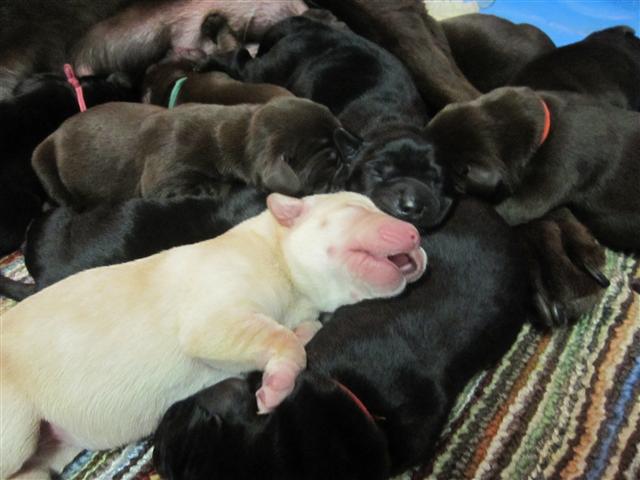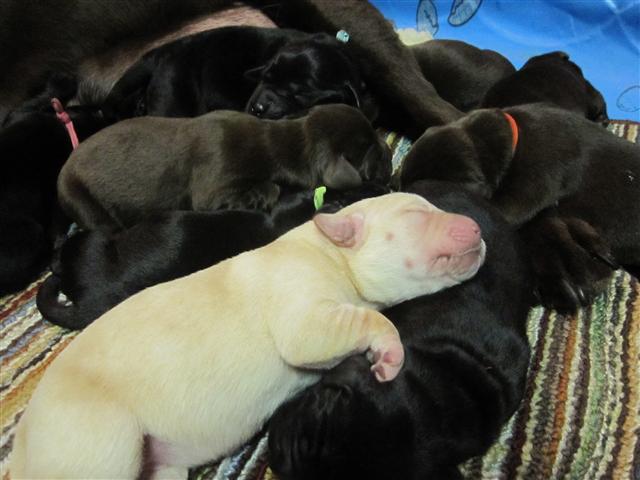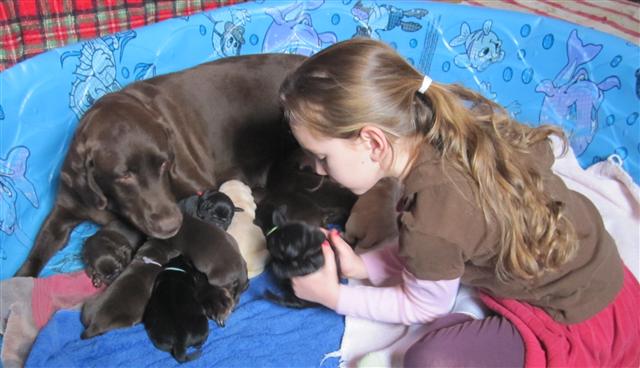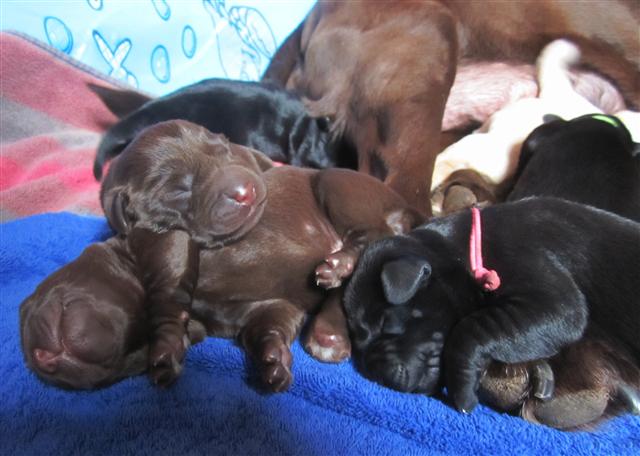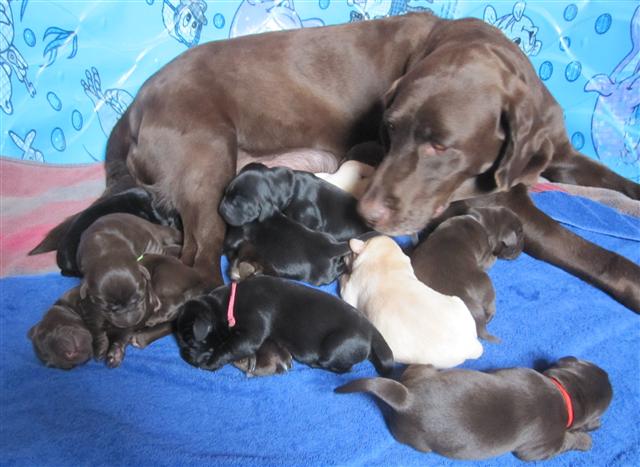 Exhausted after that trip to the doctor. Nothing like mommy and a clean bed! 2/4/11
_____________________________________________________________________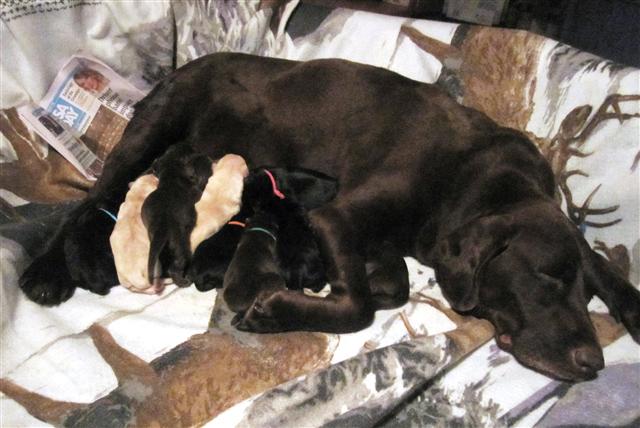 A Job Well Done! 1 day old
1/31/11-2/1/11-Charlotte went into labor around 10 A.M., and pups were born between 11 A.M. and 12 midnight. All went very smoothly. Needless to say, she was a very tired girl all day on Tuesday (me, too!)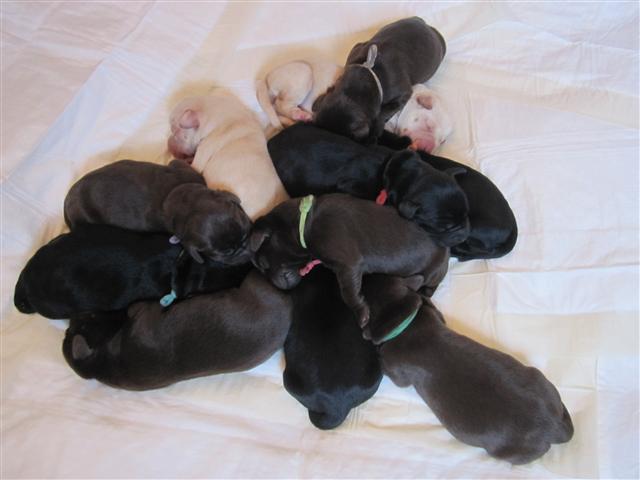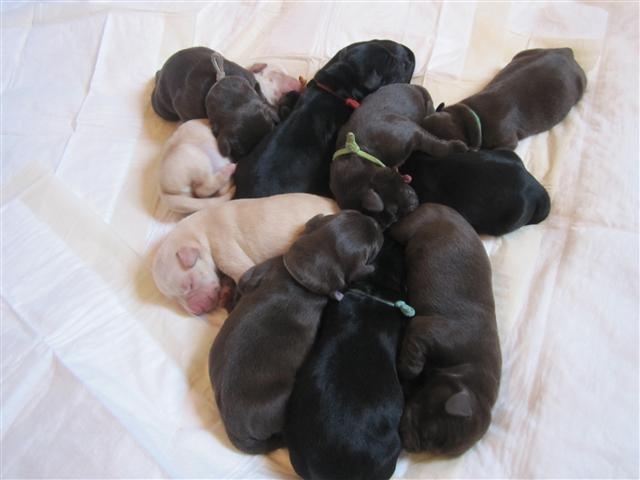 Little bundles of Joy
Pups are very satisfied- mom doesn't seem to have any trouble keeping up with them...
[better enjoy this life of leisure while you can, Charlotte:]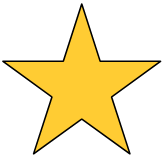 ~Newborn pictures~
(In order of birth at 1 day)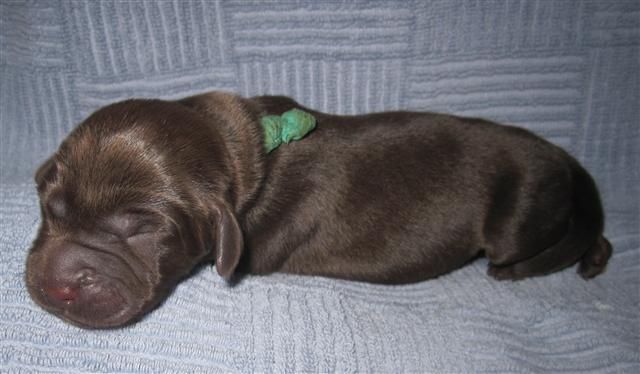 First Born-Chocolate Male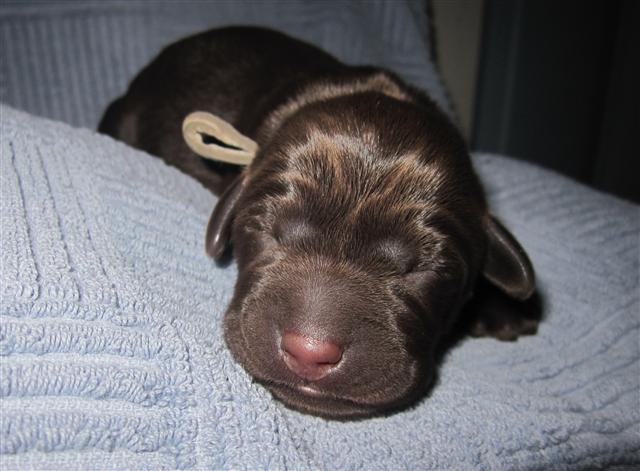 #2 - Chocolate Male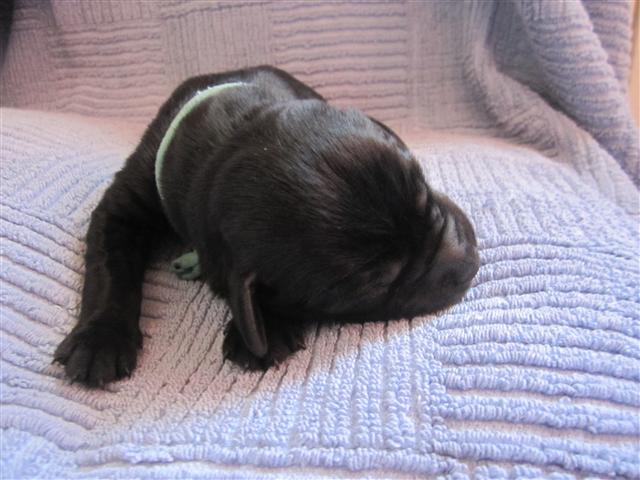 #3 - Black Male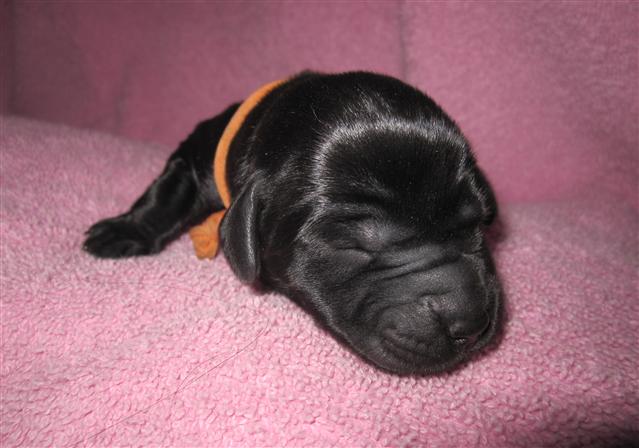 #4- Black Female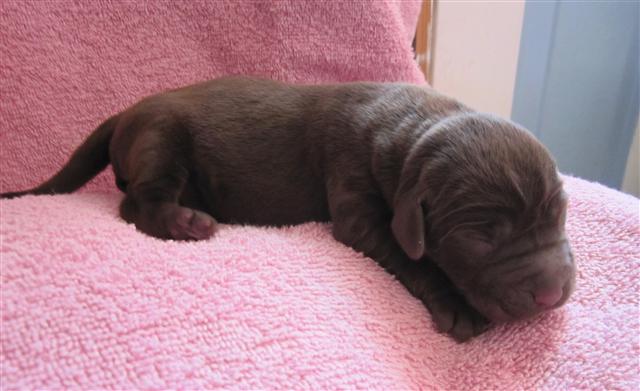 #5 - Chocolate Female- "Samantha"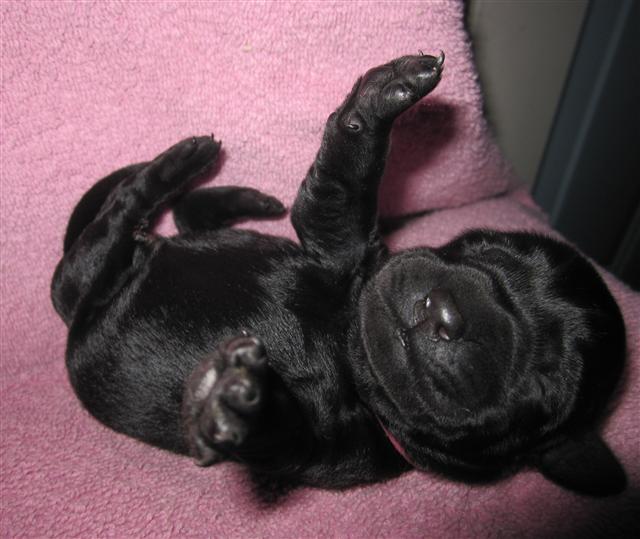 #6 - Black Female
Can't get much cuter!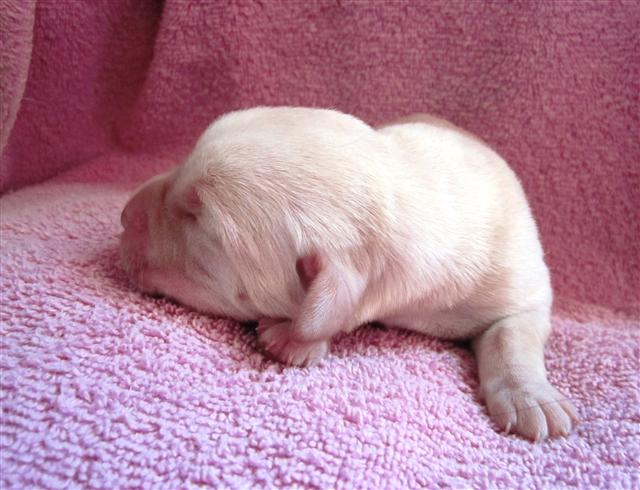 #7 - Yellow Female- "Sydney"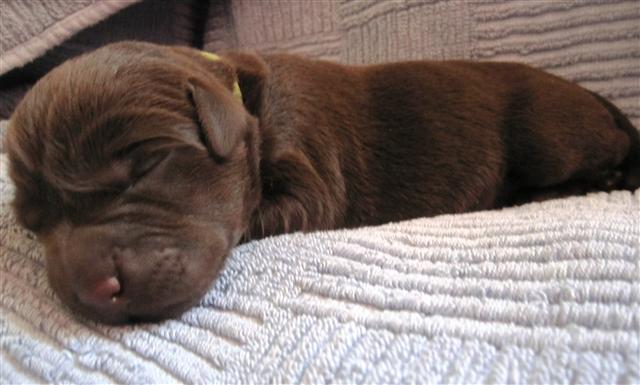 #8 - Chocolate Male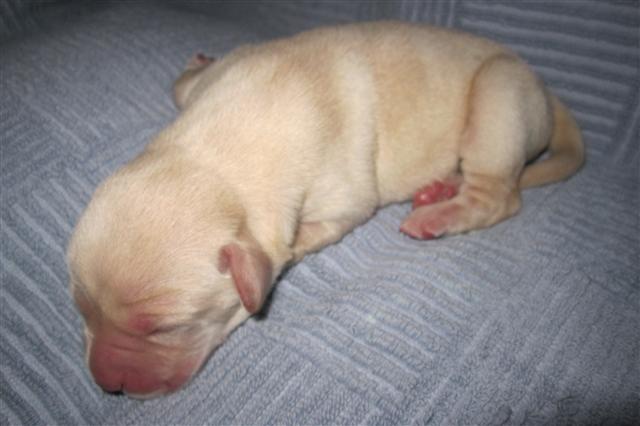 #9 - Yellow Male - "Gus"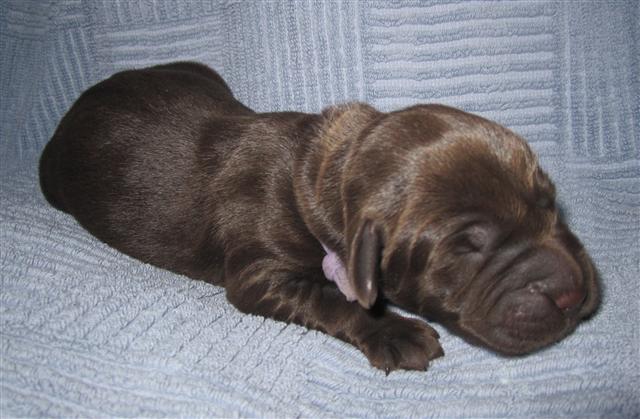 #10 - Chocolate Male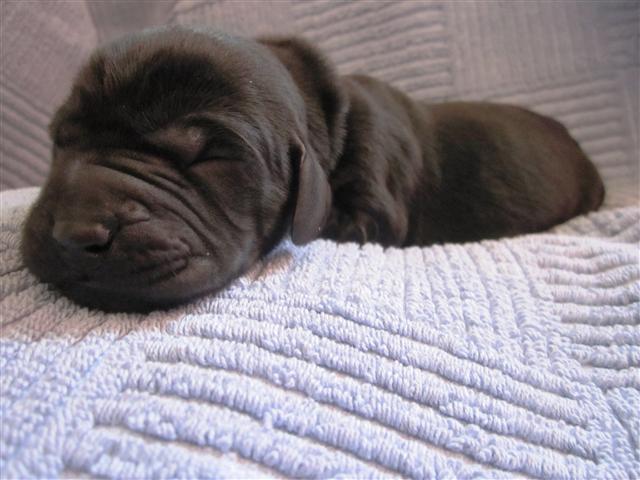 #11- Black Male
_______________________
We not only emphasize the importance of a pup's bloodline, but also the great value in a healthy beginning, mixed with the very important socialization for each pup. We think it's the individual attention given to each and every pup that makes us stand out from many of the others! With us, it's a family affair-from 4 year old Nash to 98 year old Grandma....your pup will meet us all....
We have now bred our beautiful dam with an excellent sire. Their pups are from great bloodlines like: NFC, 2X NAFC SUPER CHIEF, GMPR Sir Hershey of Surrey, and Candlewoods Mad Mouse.

Also in their pedigree are names like .....Trumarc's and Kellogg's

We feel our pups have the same potential as their great ancestors! And even better than that, both parents have a gentle nature, and respond very well to obedience - Chief and Charlotte's babies will want to please you, because that's how they are!!!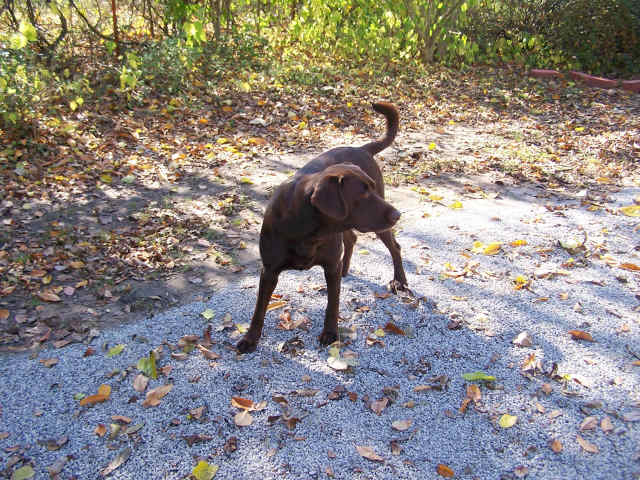 Charlotte (our dam) is such a loyal girl - a great temperament and wants to stay by your side, unless you tell her otherwise!