We are accepting deposits for this litter.
Sugar leaves soon to train with K9s for Warriors in FL.
............................
...................
JOURNAL & PHOTOS
We invite you to follow pups' development along the way in the journal below.
Journal and photos will be updated as time allows.
...................
8/8/18- 9 beautiful pups were born exactly on their due date! :-). Dr. Grogan gets it right every time when we go for our pregnancy confirmation ultrasound at 4 weeks. Crystal kept her appointment for her C-section at 10:00 AM on Wednesday morning. Olivia, Art and I were there to witness this amazing thing, called birth! 9 beautiful pups were delivered without a single problem! 3 Black pups (2 Males and 1 Female); 6 Yellow pups (2 Males and 4 Females!)All were very consistent in size, around 1 lb, +/- a couple ounces. Baxter's first litter to sire is exceptionally beautiful!!
8/11/18- These pups are so strong! Some are on their feet some already. The black pups are so shiny, they look like rubber babies. :) Pups are gaining consistently. Crystal has lots of milk and is nurturing them so perfectly! She makes my job so much easier!
8/12/18- Pups are growing nicely. Weights range from 1.4 - 1.7. Looks like they may more than double their birth weight by the end of their first week. I noticed about time to start trimming toenails... Crystal is starting to respond to them. Eek! I'm beginning to plan their first meal... won't be long before they will be eating whole food. I'll be raising these pups naturally, so I won't be using dry food gruel this time. I will use a fresh raw mixture ... try it... your dog will be SO happy! Less expensive if you make your own! It takes time, but with only one or 2 pets, it's be a breeze! and cheaper than you think. Maybe at least add real meat to their dish from time to time. (I'll help anyone who wants to give it a try :)
8/13/18- Pups went for their first Vet visit today. At 5 days old, they had their dewclaws removed. Dr. McWilliams does a great job! Pups came out peaceful and asleep. I was hoping they wouldn't hurt afterwards, but the little claws were still soft enough. I wouldn't have this done except for the fact that many hunters get pups from us. Studies show pros and cons, but the fact is... if a dewclaw nail is left unclipped (easy to forget that one), it can get hung up in brush in the field, which if tears, can bleed to the point of being life threatening. So I choose based on the majority of opinions on this. Pups are fine this afternoon. Hardly seemed to notice. While at the vet, their heart rates and little selves were checked - all strong and normal! :)
8/15/18- What a great bunch of pups... Already one week old!! And most are already over 2lbs! Goodness! Such sweet pups! Crystal 'mentioned' today, it's time to trim those needle-sharp nails! As she sat up to feed them...
8/16/18- Wow! a major storm today! Pups didn't even notice... Pups got their nails clipped for the first time today... Crystal is a happier mom! Thank you, Olivia! Today, Olivia spent her Community Service time helping at our kennel. She worked hard and was a tremendous help!
Pups are doing great, growing steadily. They are scooting to wherever they want to go, often up on all fours for a brief time. It won't be long and we'll get to see those pretty sparkling eyes! Two weeks is the magic age for that, when ears and eyes begin to open!
8/17/18- Seems like I'm getting to update nearly everyday for now... just love sharing these pups with you! (we won't talk about the hour... yawn!)
8/20/18- New pictures youll see below are from the 17th. Next photos will be their 2 week old portraits, as soon as all open their eyes... some are already opening... so fun! Growing steadily. Again, Crystal has big pups!! Yesterday, weights ranged from 2.56 - 3.2 lbs.
8/22/18- ALREADY 2 WEEKS OLD!! Most little eyes are partially open at least... Vader must be enjoying his peaceful slumber, since he has not peeked through yet. Ha! 3 are completely open and 5 partially. So they can see and hear... it is important to tread lightly and speak softly around them as they discover their new world!
8/23/18- Vader decided to see the world! A glimmer of sparkle * * in his eyes this morning... Pups are being mildly stressed daily, following our developmental program for new pups. They are held daily, cradled, and massaged. These actions serve an important role in determining and encouraging a well adjusted, submissive (not timid) pup! [Happy Birthday, Janny!!] :))
8/30/18- ALREADY 3 WEEKS OLD!! Time is flying by! Pups had their first solid meal last night... are growing so fast. All are over 4 pounds now and playing/wrestling more and more. Really behind on the pictures... pups are taking lots of time, so a priority, of course. :) We handle them lots daily. Time to clip those tiny nails again... Pups are loving their 'big kid' pen, and learning to go potty away from their bed (although they have a LONG way to go, ha!). I will post a few pics below... looks like 2 week portraits will now be 3 week portraits. We've, of course, taken pictures, but just no time to post, so will start with cute examples of earlier ones to the present. Pups are messy little kiddos... have to bathe them tonight so they can enjoy their clean bed!
9/1/18- September? Really?! So quickly these babies are growing! Finally the portraits are up! (3 week and 3 days!) I have to say, I think they are worth the wait! Such cute pups! They have had several sponge baths... such 'busy' pups, if you know what I mean. Ha! And 2 nail trims. Socialization began this week, only mildly to our handling them and normal sounds... we will introduce more intense sounds and surfaces as time goes on. Their outside play area is almost ready for them... (it gets totally refreshed for each litter, with sanitizing and new hay) They should be outside a few days into this coming week, but only for short periods at a time for now, and will always come inside to sleep the entire time we have them.
9/7/18- Time is flying by for us here... staying so busy with the pups! So much is happening with them. Pups were 4 weeks old on the 5th... and went outside for the first time. The weather got in the way some, but nicer now! They are loving their time outside more and more!!
9/8-10/18- Puppy selections began on Saturday. Bear is now Chief; and Apollo is now Brody; Joan is now Livvy; Mango is still waiting for her new name and we have more selections coming.... There will be a few picture of them below. ;) I usually wait until pups go home to post families, but they are so cute!
9/10/18- Amazing how quickly these pups are developing... they are such smart and wonderful little things... so responsive to my work with them... potting outside is amazingly good; very quick to learn nipping is a no-no! (a work in progress, of course!) I could say 'No!' a thousand times a day, so I prefer to use the "CH!!" or short A sound, "Aa-Aa!" Along with a firm little push with a couple fingers to the side of their neck and redirect with a toy in the mouth... works great! :) All are over 6 lbs, ranging from 6.4 to 7.28lbs, at only 4 1/2 weeks! I am going to try to catch up a few pictures, so scroll down... and start viewing at red carpet and work your way up. :) to see them in order. Time for more portraits! Coming soon....
9/12/18- I just love these pups!! So amazing watching them grow and develop... I always say, they are the smartest!! But then, I guess that means all of our pups are very smart! ;-) They have proven to be easy subjects when the serious training begins. We're working hard on the nipping now, so you can enjoy your baby, and for the safety of the children they come in contact with ... they are responding well. But you MUST continue the training, since they will be teething for a good while yet and will give anything a gnawing try at least once! They stay outside in their puppy-safe area all day now... very good for them! Lots of stimulation... different surfaces, things to climb on, chew on, carry, etc. I forgot to mention that they ALL loved the scent of the duck wings and pheasant tails we offered their noses... no chewing, though! So, we are with them for many periods of time throughout the day (available and at their mercy-ha!) They are very good for 5 week old pups ... none persist on and on with the nipping, so the progress that we've made is very clear. They check in to see us, taking a brief break from their litter romping, then get back to it... doesn't last too long, then asleep again! ha! They work hard! They are being socialized with lots of different people and sounds...
9/15/18- Ok!! I'm ready for time to slow down now!! Last time I looked, it was the 12th! Well, pups' 5 week portraits are now ready and will be up tonight. These are the cutest little guys... the pictures are pretty cute, but very hard to capture just HOW cute, like they are in person. :)) They are very attentive to us... really fun how they come running when we show up these days... even when mom is around. They love us, too! And they will really love you!!
9/25/18- My time with pups is narrowing. We are extremely busy working with them each day. These pups are amazing! So smart and SO incredibly cute! We haven't even begun crate training (wire crates, that is). I guess their pen is sort of a crate-type thing... anyway, they don't go potty in their bed!! Yes, you heard right. The cry to be taken outside. Seems like each night, they have a designated screecher, who sounds the alarm for all... the reason I say this, is that the screecher role changes. lol! Pups haven't wet or soiled their bed for almost a week!! And many of them slap a really good "five"... they are so fun!! We are losing sleep over the potty thing, but well worth it. You will, too, soon, since pups can't hold "it" for more than about 4 hours at first. I will be sending you info on a day in the life of an 8 week old pup... so we can pass the baton on to you, for a very smooth transition. :) Photos will come soon... just haven't had time, so sorry! But please, if you want a particular photo, shoot me a text, and I'll get it to you. Oh, pups were worm-free - and no wormer was necessary... all that good mother's milk and good food. To help with resisting things like parasites, get 4Life Transfer Factor Canine Complete (Amazon has it-what don't they have? ha!) to keep their immune system strong. Please get some to continue the good health of your pup. And yes, they get occasional raw food, too. :)... they LOVE it.
9/29/18- I decided to do a puppy food taste test today on each pup individually (yes, crazy, but their taste and appetite seemed to change daily-I had to investigate!) So I lined up 4 bowls for the test and a bowl of water. I made a chart with each food and each puppy's name. I needed to see which was causing the "I don't like it, so won't eat this time" problem was. (Sorry, but Aunt Jazz is no doubt partly to blame... ha! the pickiest pup we've ever had, so some of these pups may have gotten a bit of this trait, too-ha!... she's a mess, eats very carefully... oh, no 'wolfing' food down by her... she makes sure every bit meets her approval ... gracious!! But we love her so much... What we learned is that NO ONE likes the Core Wellness canned food. They want Wysong Epigen Chicken canned! So I removed the Core from the list of rotations. Also, they LOVE the Steve's real food complete raw - Turkey. Their favorite topper... You may want to pick some up... details on the Puppy food page. ;) They liked everything on your list except the canned food mentioned.
10/1/18 - What good puppies!!! Today, pups went to the Vet for their well-puppy check and were so well behaved little kiddos! We were so proud of them all! Each got a clean bill of health along with lots of hugs, uuu's and ahhh's. So fun!! Families will have a copy of results for their pup in puppy book. Needless to say, all crashed and had a good sleep when they got back home! After all, even though they were good puppies, it was the first time they remember EVER going to that place, so a little worrisome! :) But they took it just fine!
10/2/18 - Pups are doing fantastic with their crate training...these little guys haven't wet their bed in 2 weeks!! (we haven't gotten a full night's sleep in 2 weeks! lol! But so happy they tell us!) Their main dislike is being alone in the crate, so we're working on that. :) But if they need to go potty, they will let you know... It will be an adjustment when they leave their litter, so our lack of sleep will transfer to new families... but not for long... puppies are worth the effort during this important time in their lives. Weights are good: range is from smallest, Venus-12.76 lbs to largest, Chief-14.72 lbs. Everyone else is somewhere in between. :) And it has some to do with just how picky the eater is, I think, to some degree, at least. ha!
A word of caution... beware of curious puppy eating little rocks... each litter, we are so careful about keeping layers of hay over the little river rocks in the puppy yard... but, oh, they know they are there, and are digging for them... so we're watching them closely and adding more and more hay. I know what can happen - my sister's 10 month old lab pup ended up in the ER with TOO many rocks in her belly. They just don't dissolve!! They were able to get them to pass, but she was pretty sick first! So just a word of caution... puppy litters are different and it just takes one of the pups to spark an interest in something, and they're ALL interested... I don't know who to blame, and they aren't obsessed with it... yet... But if in a place on their own where there are lots of rocks, chances are it could become a problem... so just a heads up. Pups may not bother them, but pups who need something to do, will find something... (note new entries begin at 9/29)
Please enjoy the pictures below
Journal entries are moving downward, and pictures will be posted with the most recent on top.
I hope you enjoy!
.............................................................
5 WEEK PORTRAITS
(5 weeks and 2 days :)
(9/14/18)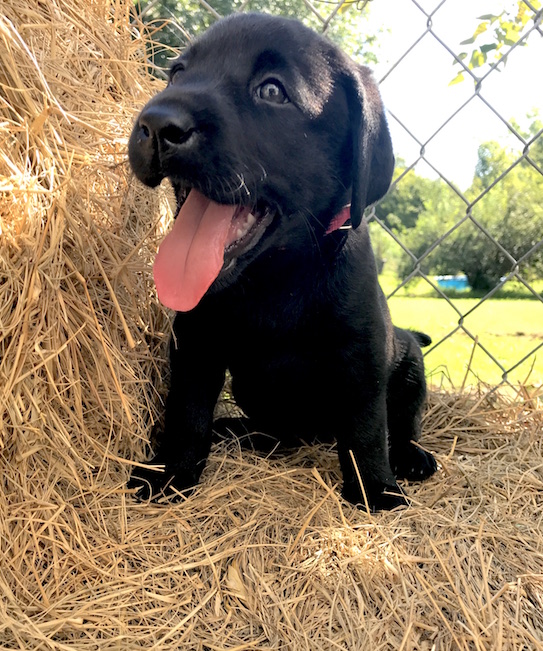 Venus - black female (pink/purple collar)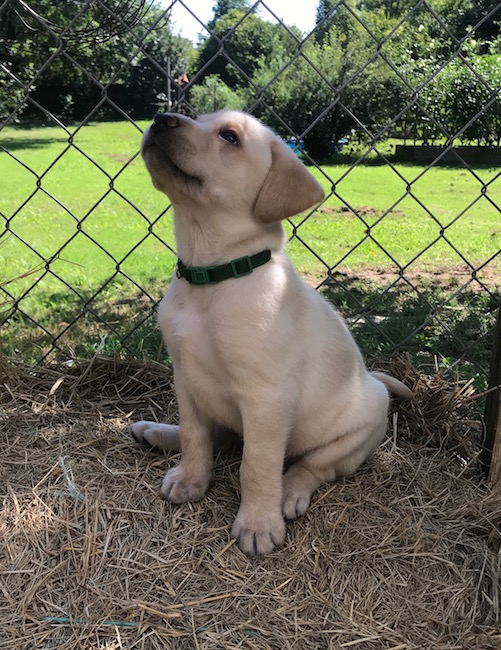 Piper- yellow female - (dk. green collar)
[available as of 10/12]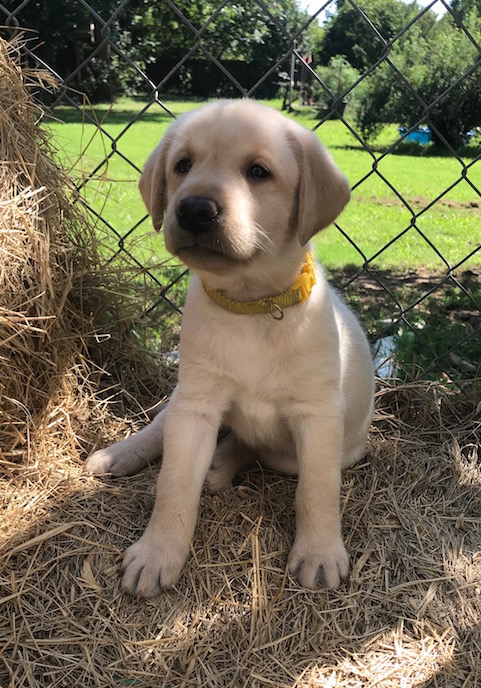 Sugar- yellow female - (yellow collar)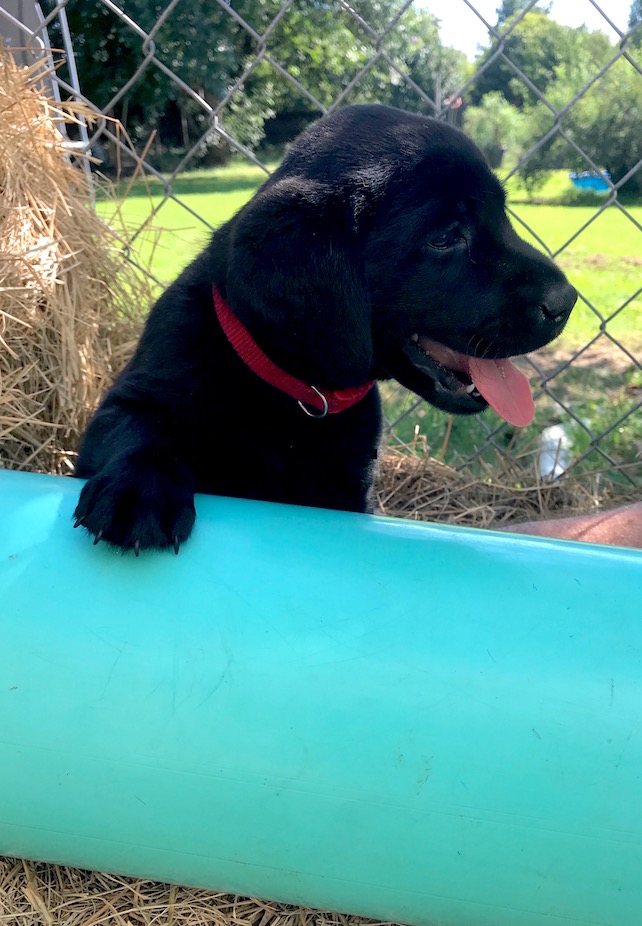 Jasper-Vader - black male (red collar)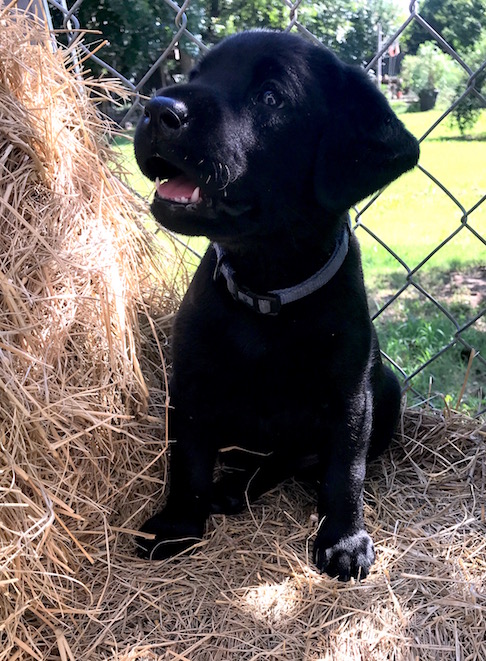 Lincoln - black male (lt. blue collar)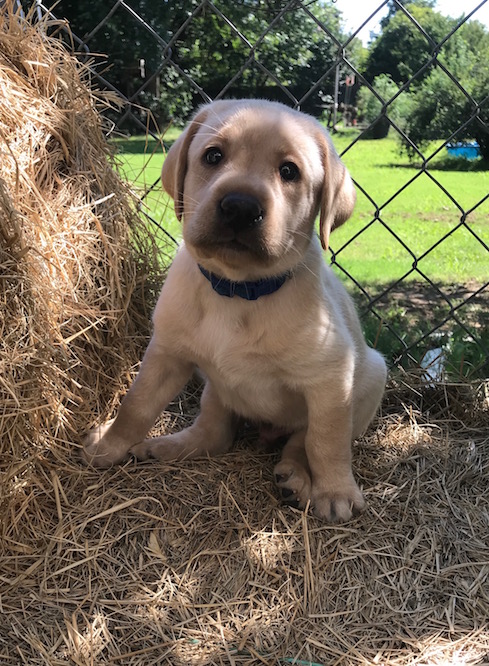 Brody - yellow male (dk. blue collar)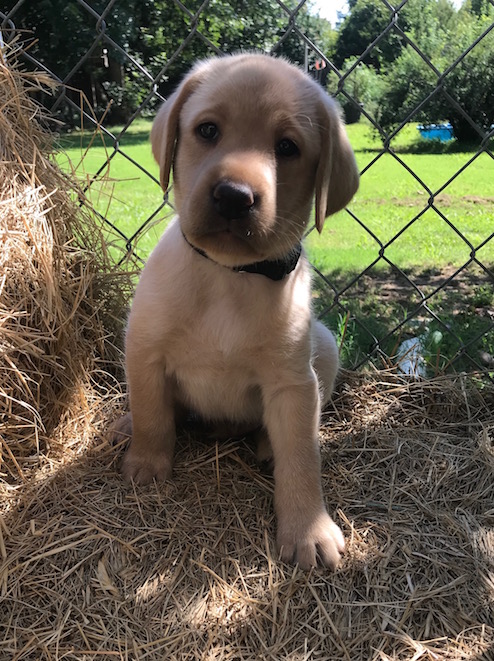 Chief - yellow male (black collar)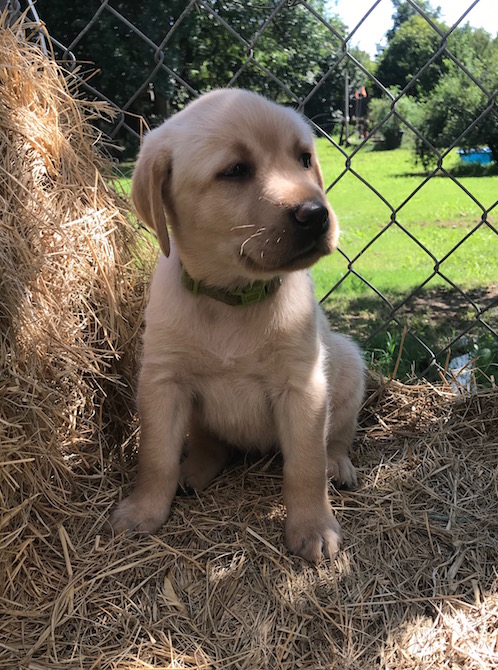 Livvy- yellow female - (lt. green collar)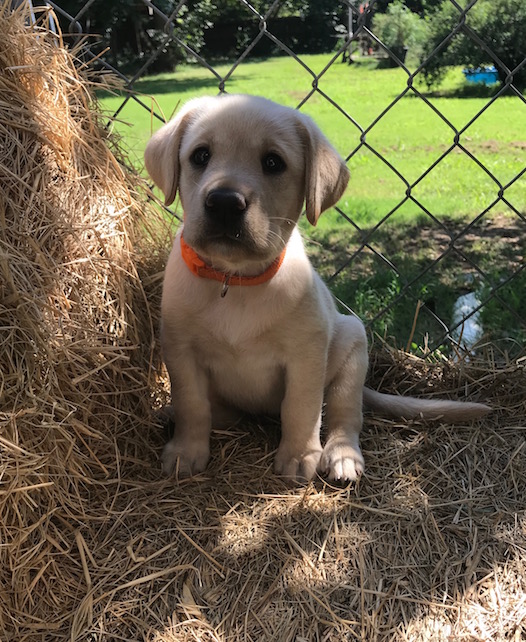 Sandy- yellow female - (orange collar)
...................................................................
More Pictures of Some of Pups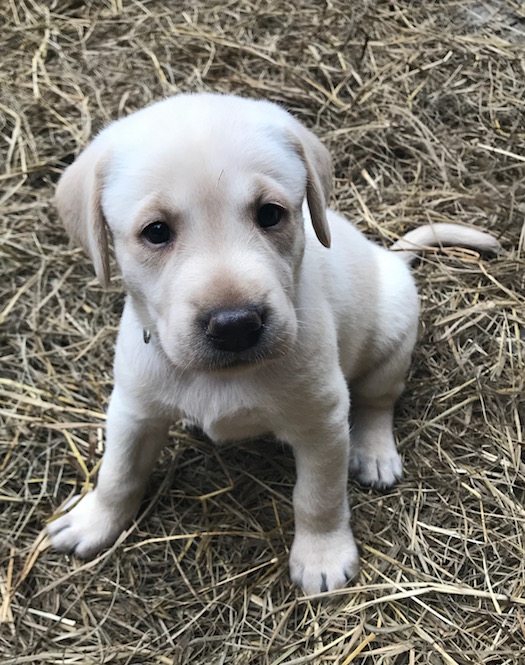 Piper - 6th time outside - 9-10-18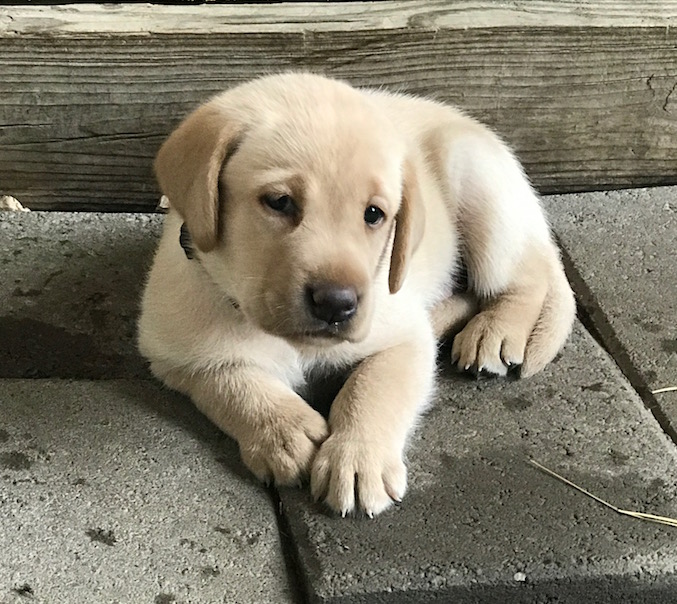 Chief - 4th time outside - 9-8-18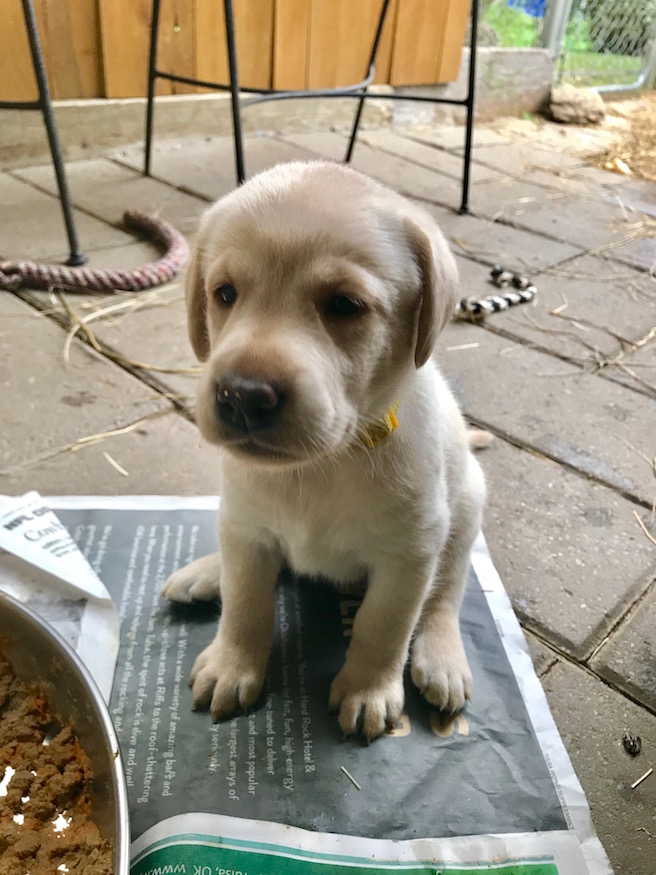 Sugar - 4th time outside - 9-8-18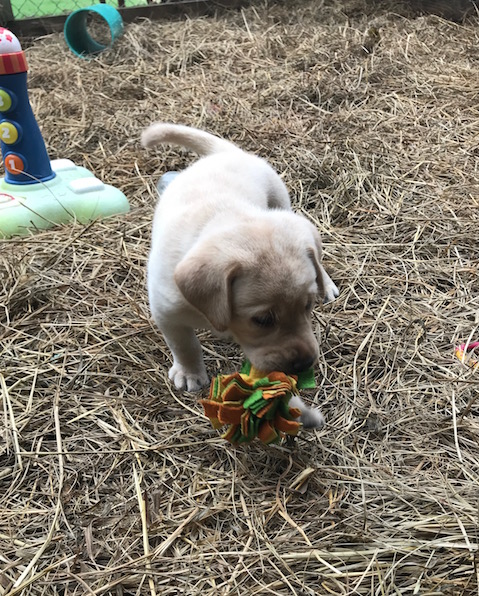 Brody carrying a toy - 4th time outside 9-8-18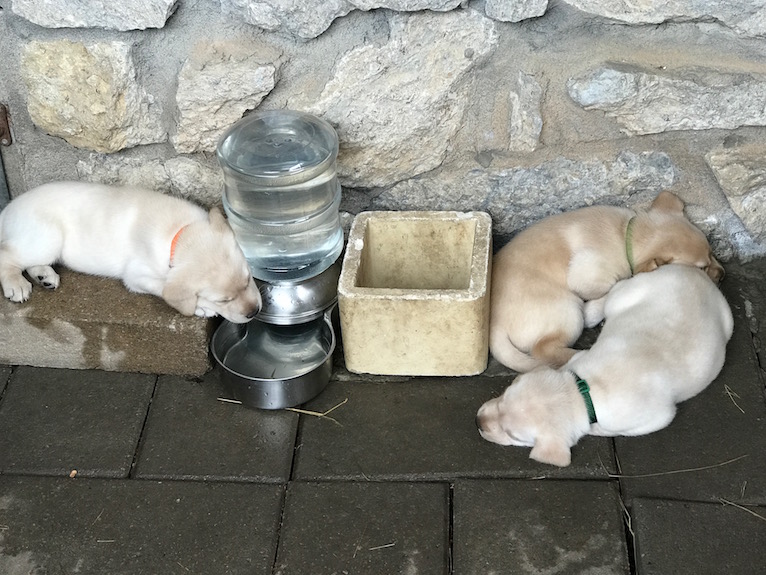 Around the water cooler! Ha!
Mango, Piper, Livvy in back
Livvy-3rd time outside-9-7-18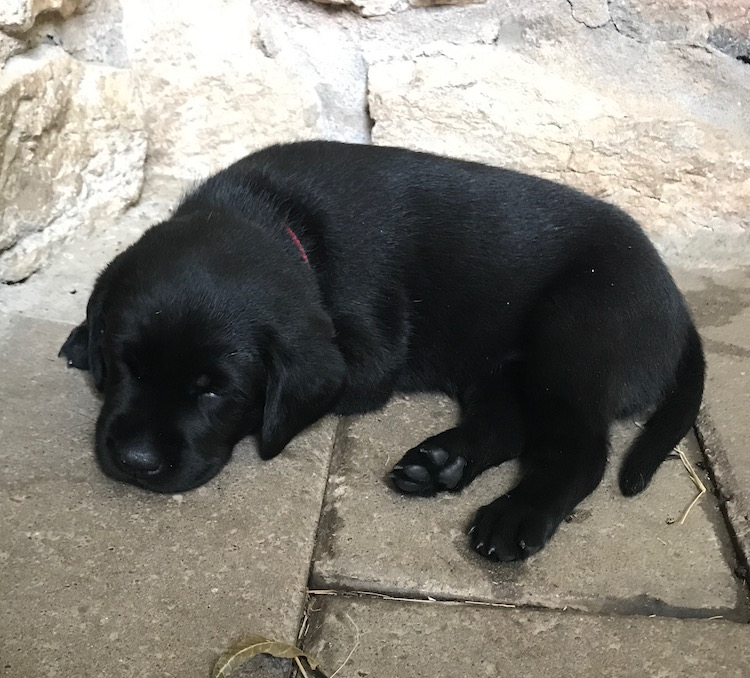 Venus-3rd time outside-9-7-18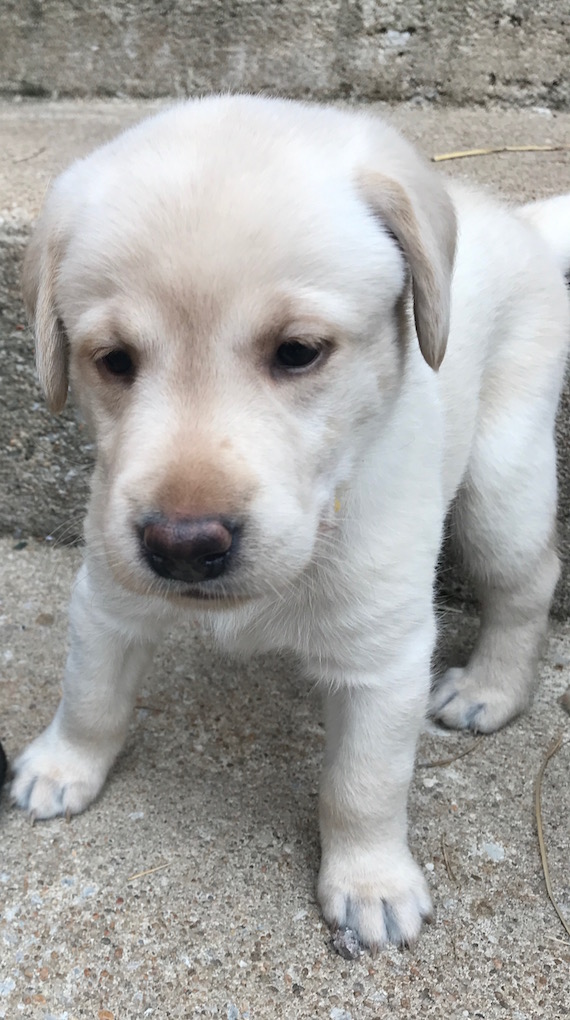 Sugar-3rd time outside-9-7-18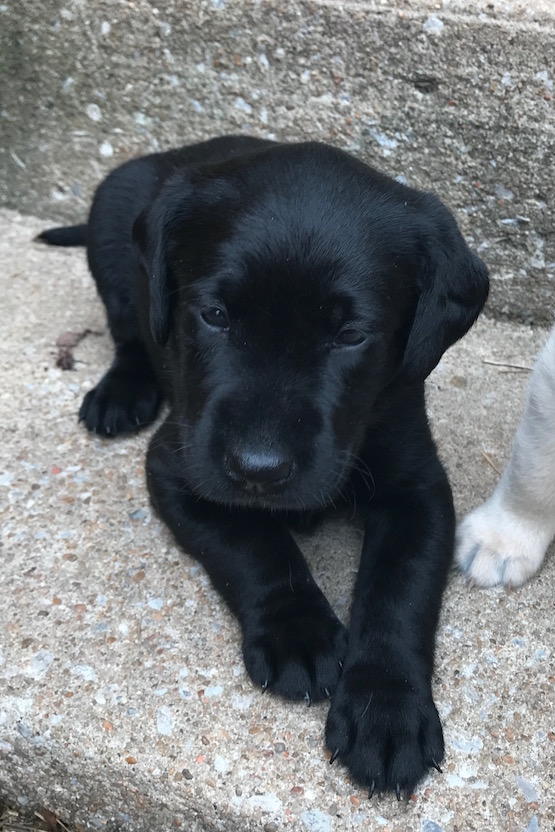 Lincoln (was Jax)-9-7-18 -
Will travel to the Austin area to live with his new family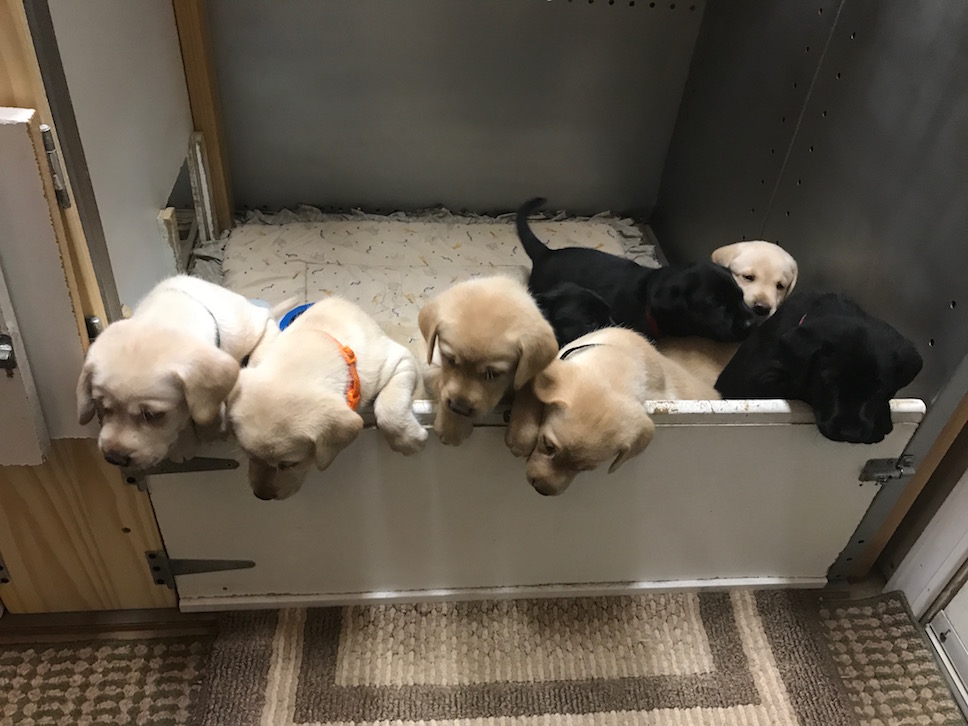 A few days outside, and they become little escape artists!
From left: Piper, Mango, Livvy, Vader, Chief, Jax, Sugar, Venus (Brody dipped below)
9-10-18
..................................
Puppy Picks - so far - 9-8 - 9-10!!
So much love!!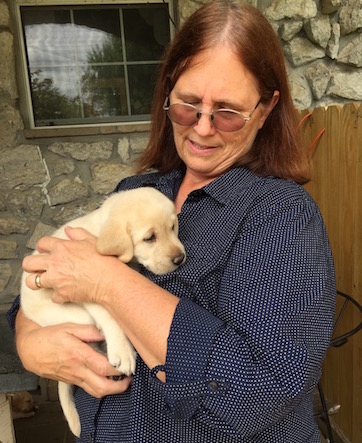 Sandy (was Mango) with her new mom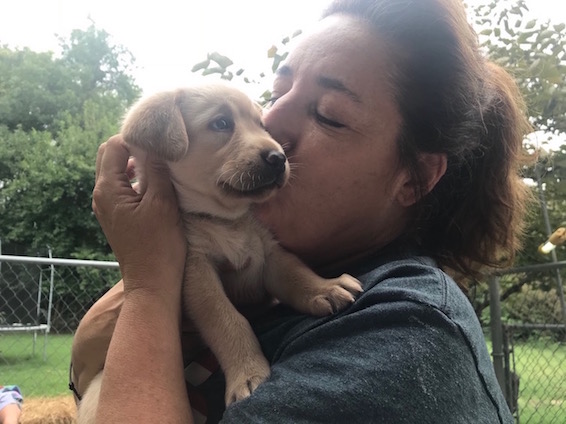 Livvy (was Joan) and her new mom!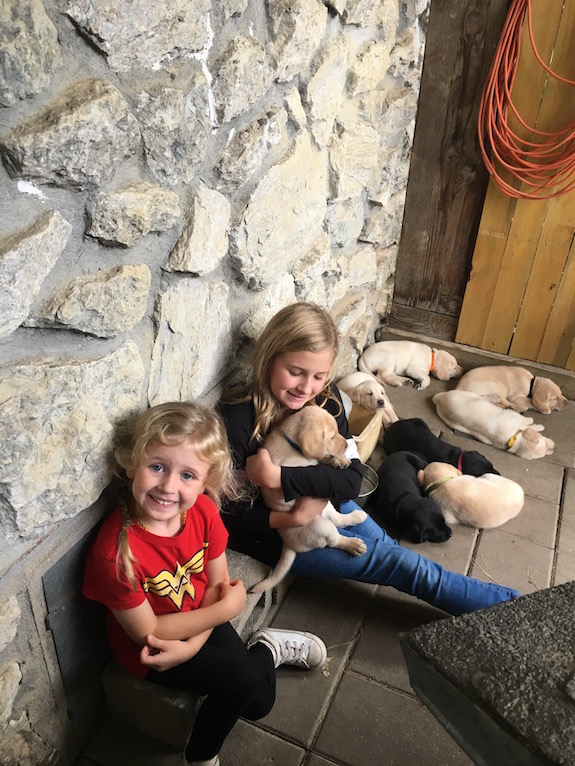 Brody (was Apollo) and his new family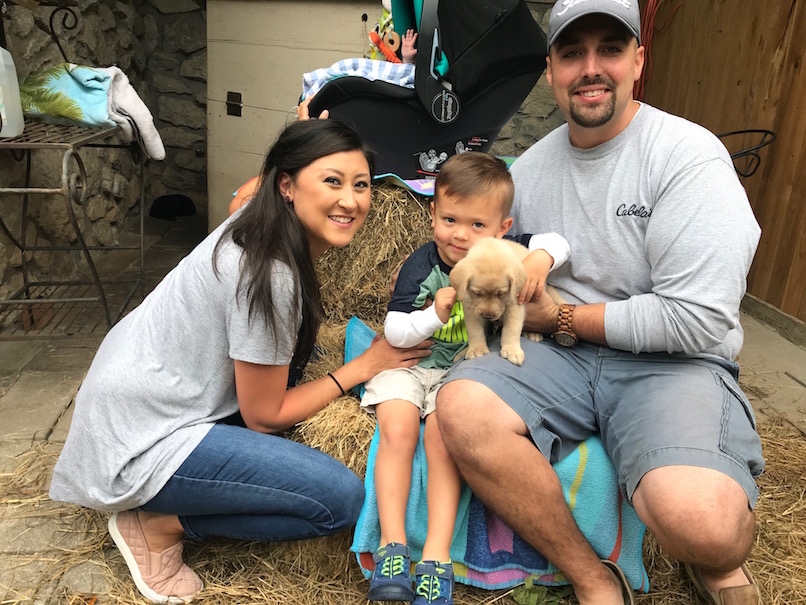 Chief (was Bear) and his new family
(notice the baby's hand waving in the background! Just when I thought nothing could be cuter than puppies!! :)
First Day Outside! 4 Weeks old-9//5/18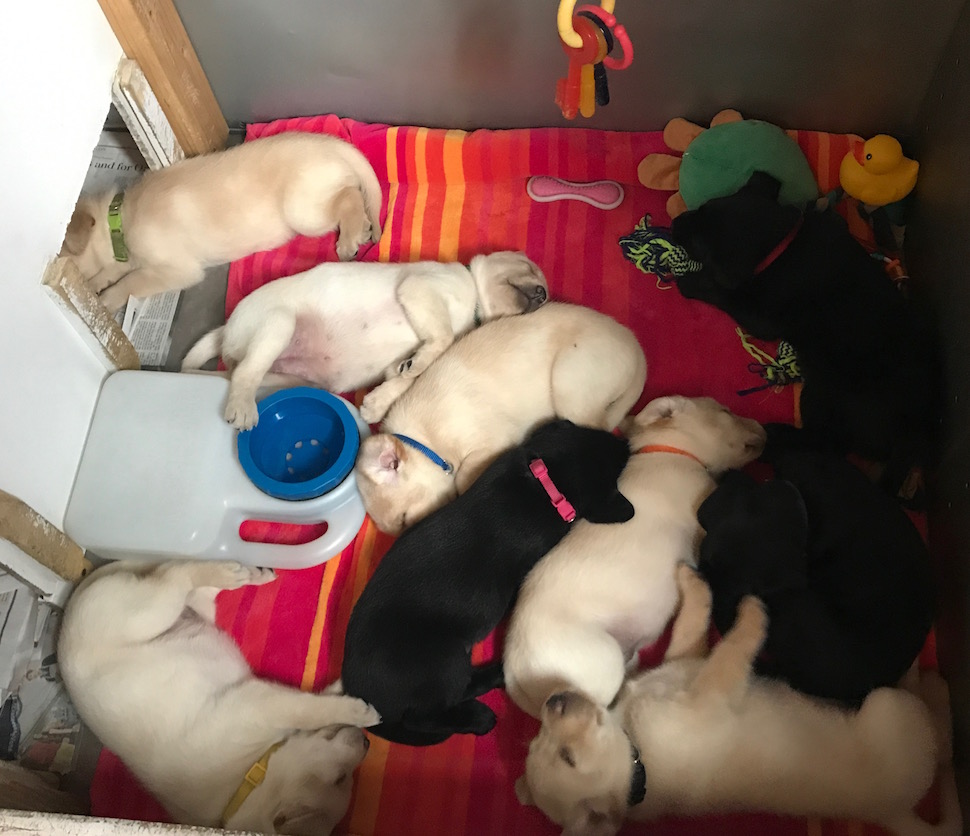 That first day outside really wore us out!! We slept all night!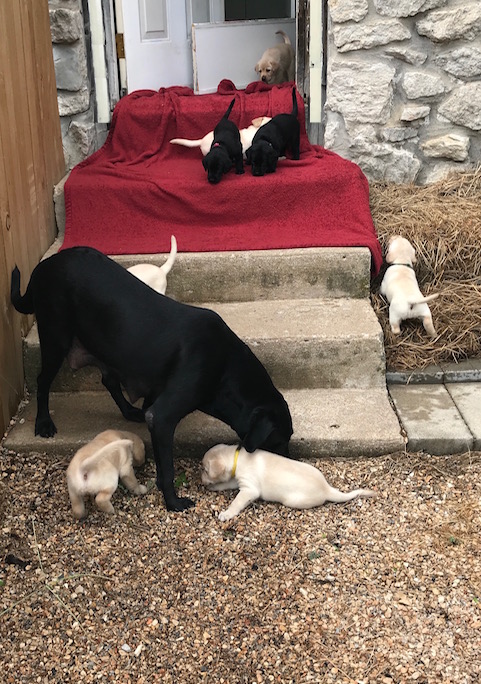 We made it!! Mom helped!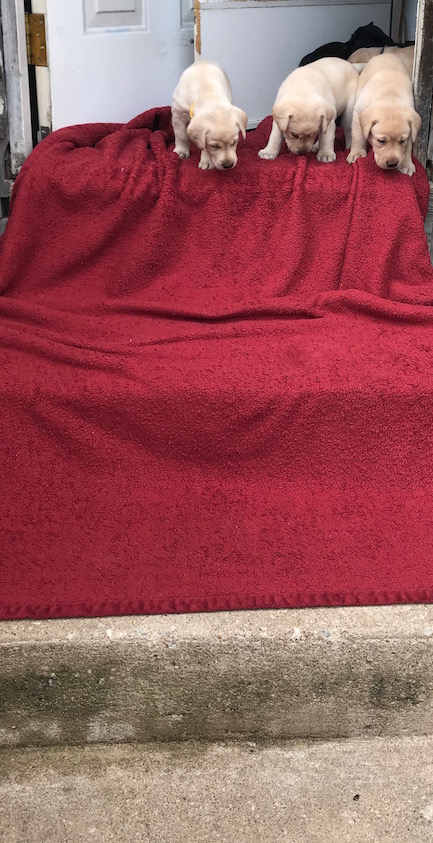 We rolled out the "Red Carpet" for them! So far down!!
......................................................
More pics - 9/2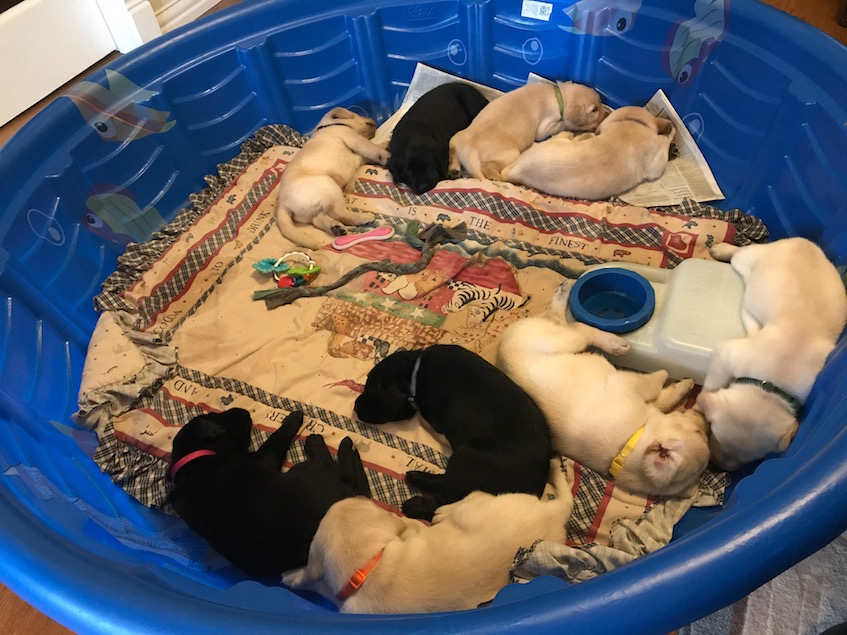 A field trip back to their old hangout (a lot fuller than a week ago!) - while new 'rooms' got a good cleaning.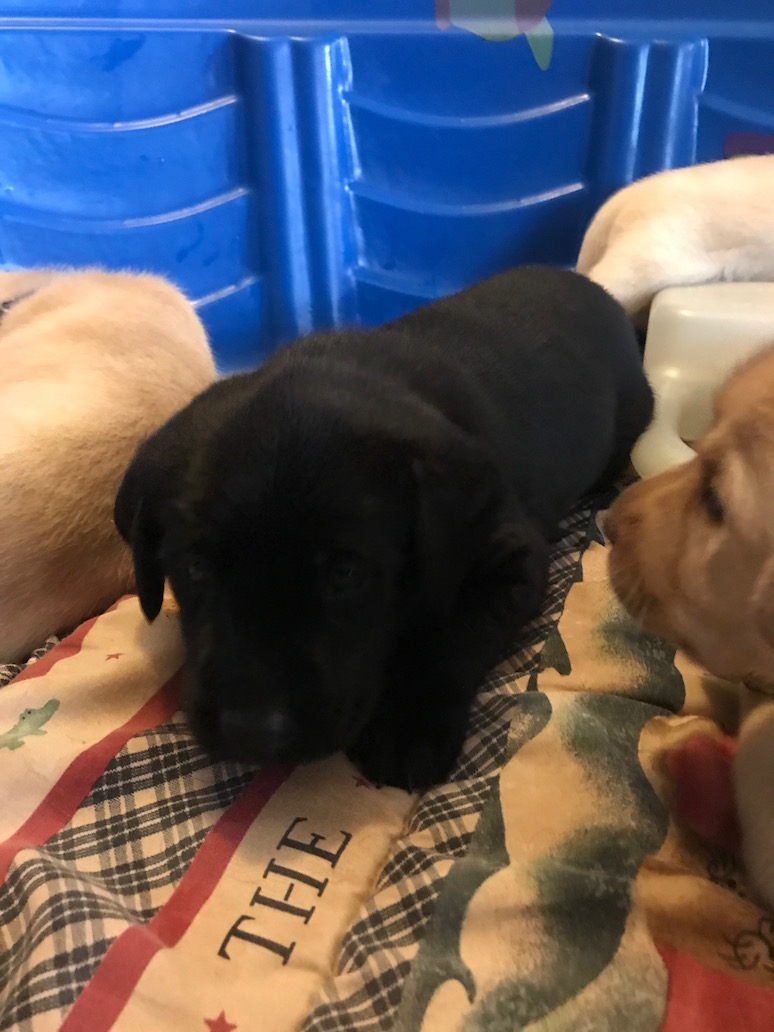 Extra picture of Vader - hard to see the little black ones' faces!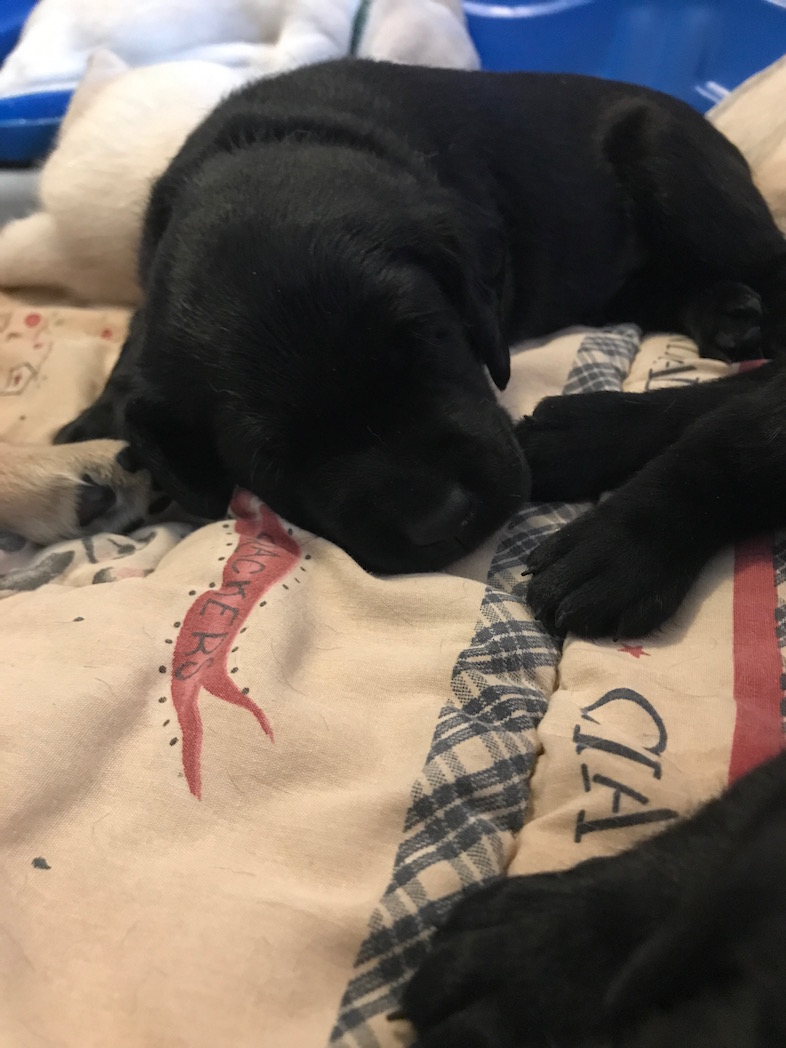 Jax (and Venus' feet to the right ;)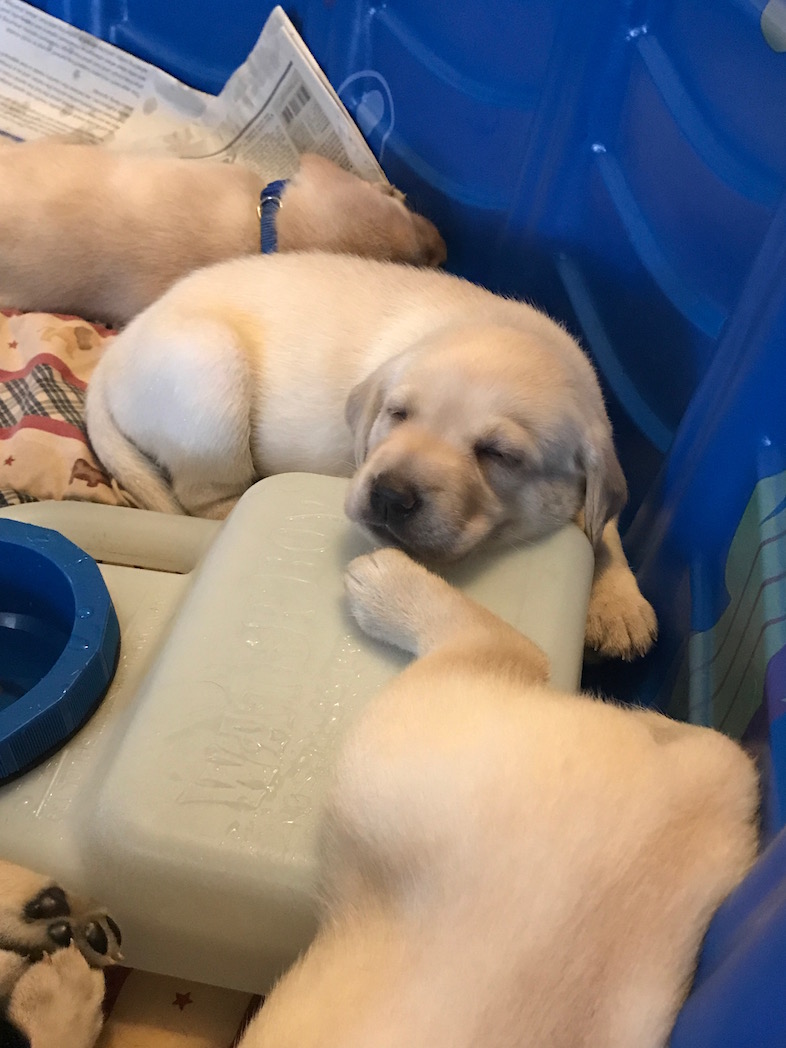 Piper's favorite spot-resting her chin, or her entire self, on the cool water dish... Sugar is liking it, too... to the front.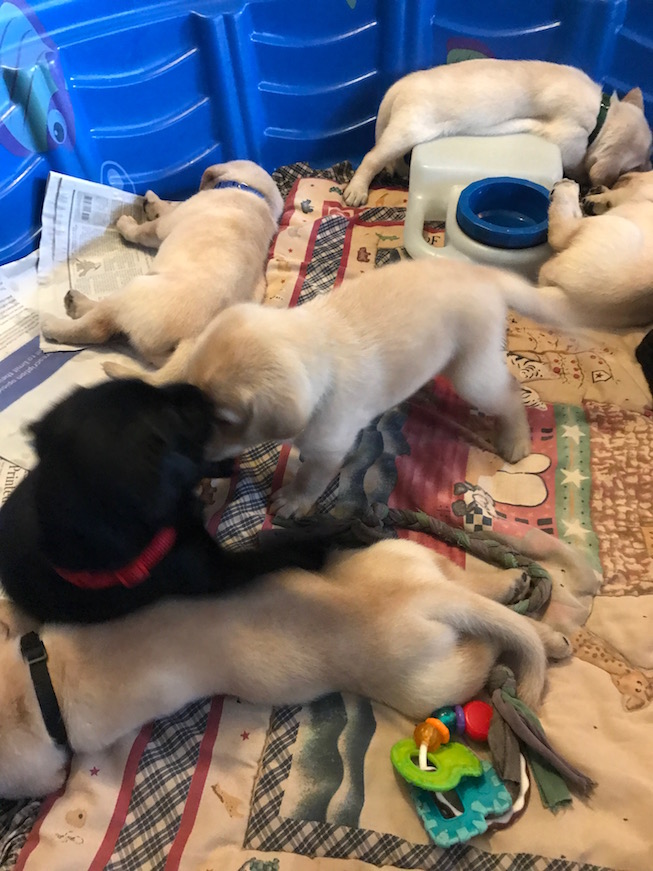 Everyone is sleeping except Joan, ha! And now Vader... so they wrestle before the go back to sleep. ha!
Bear is sleeping under them, so funny... Apollo in the distance-see Piper's 'whole body' water dish position in the background, mentioned above.
I guess Sugar slipped off ;D
And Sugar to the right.
A lot happening in most every picture!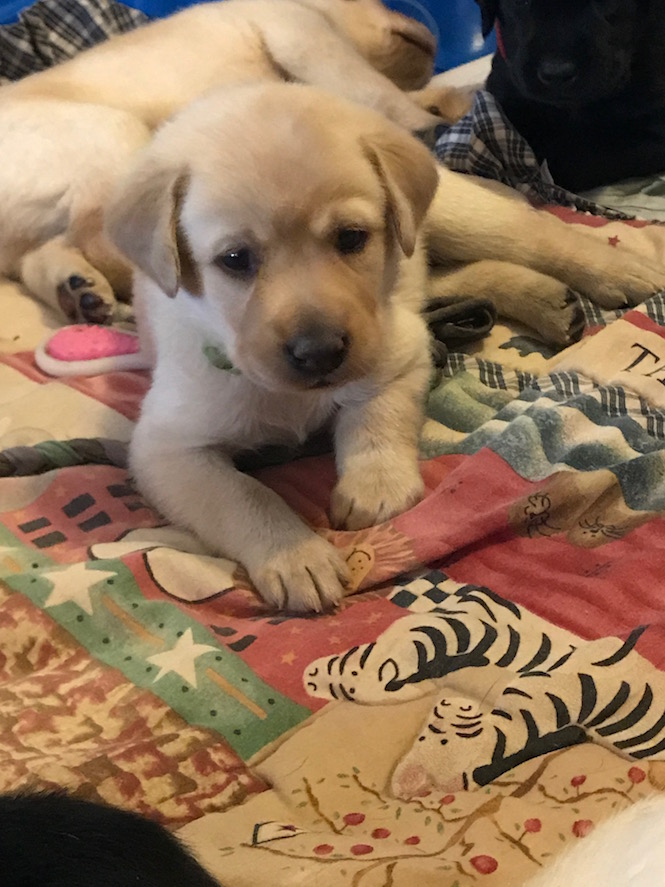 Joan, trying to decide if she will go to sleep like the others, or find a playmate!
She chose to play with Vader who is behind her to the left. Bear is sleeping in the back.
.......................
3 WEEK OLD (Mostly Sleepy :) PORTRAITS
(24 days) -9/1/18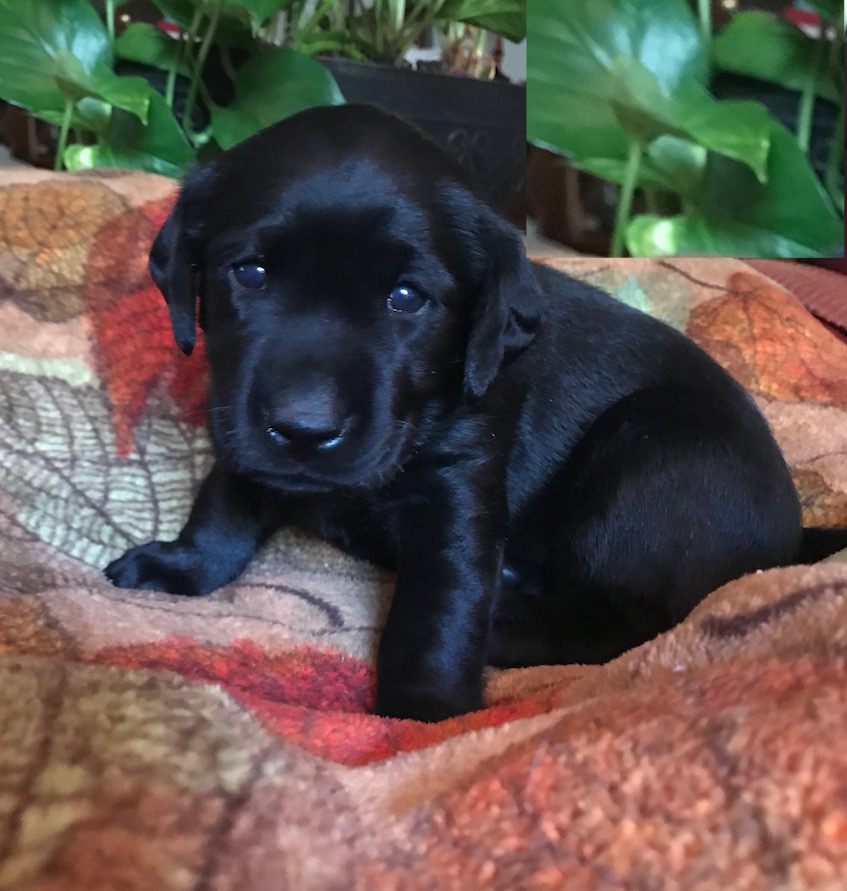 JAX - Black Male wears a blue collar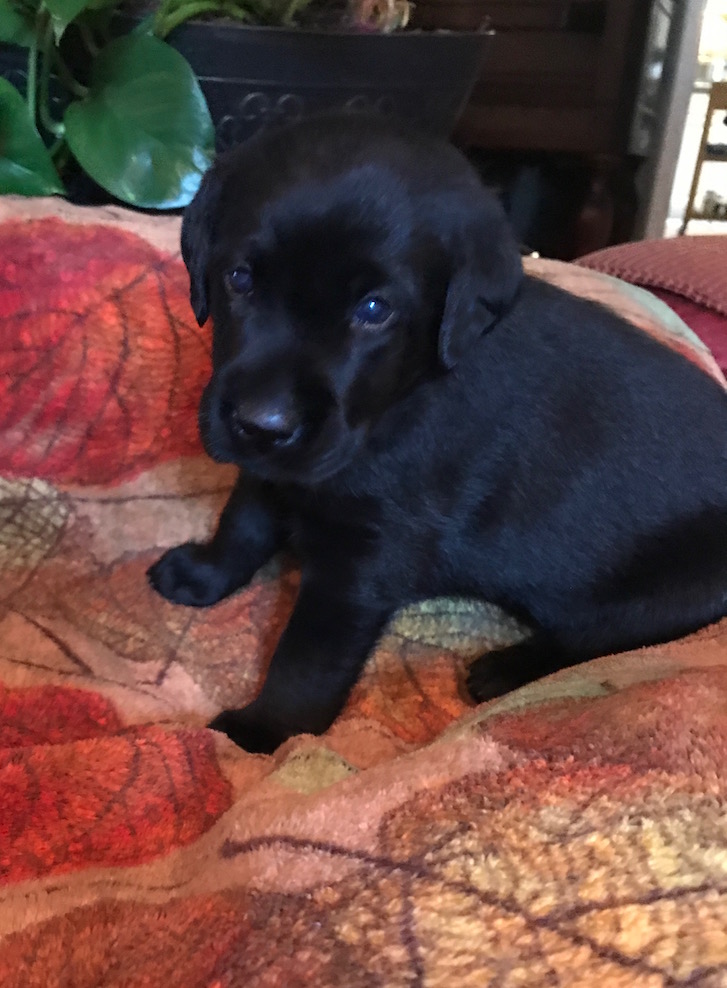 VENUS - Only Black Female-wears a raspberry/pink collar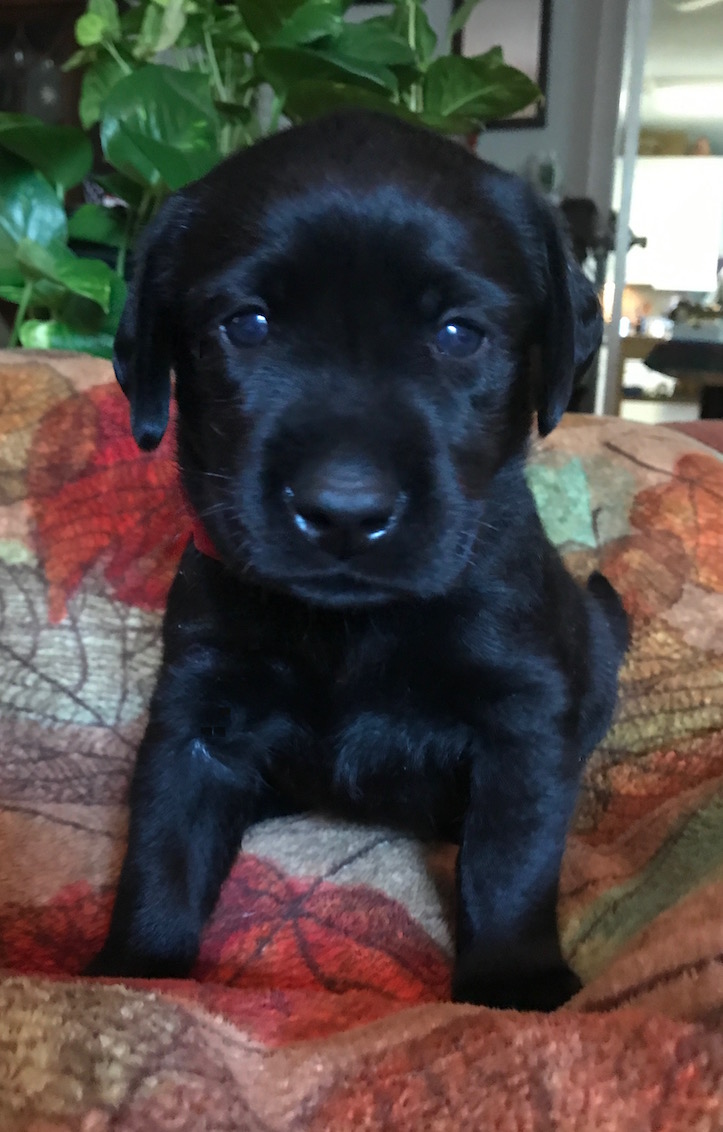 VADER - Black Male-wears red collar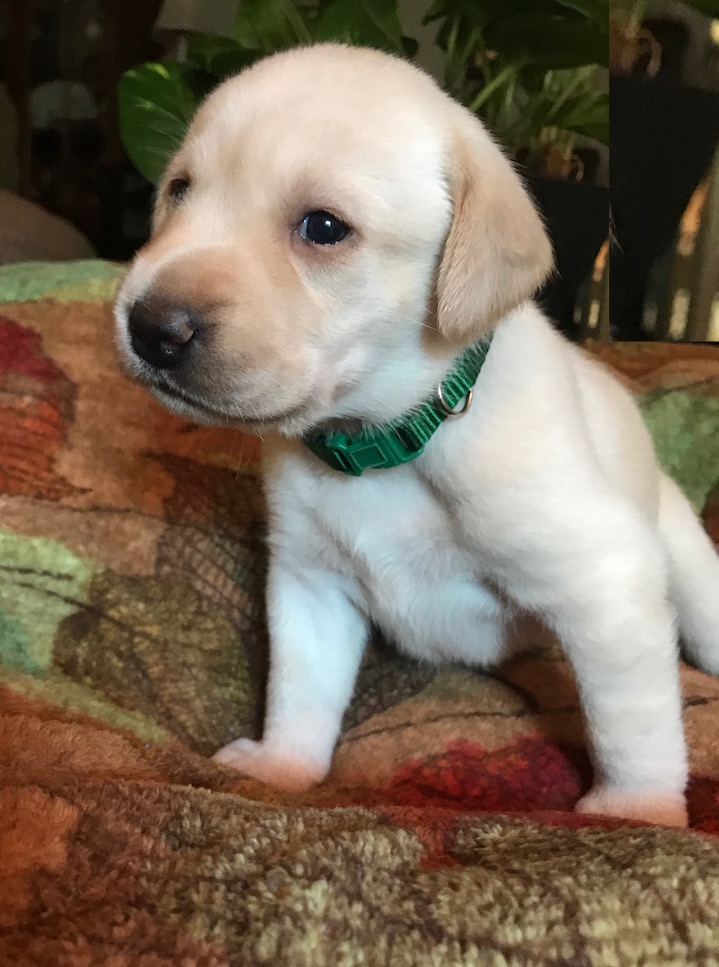 PIPER - Yellow Female - Wears dk green collar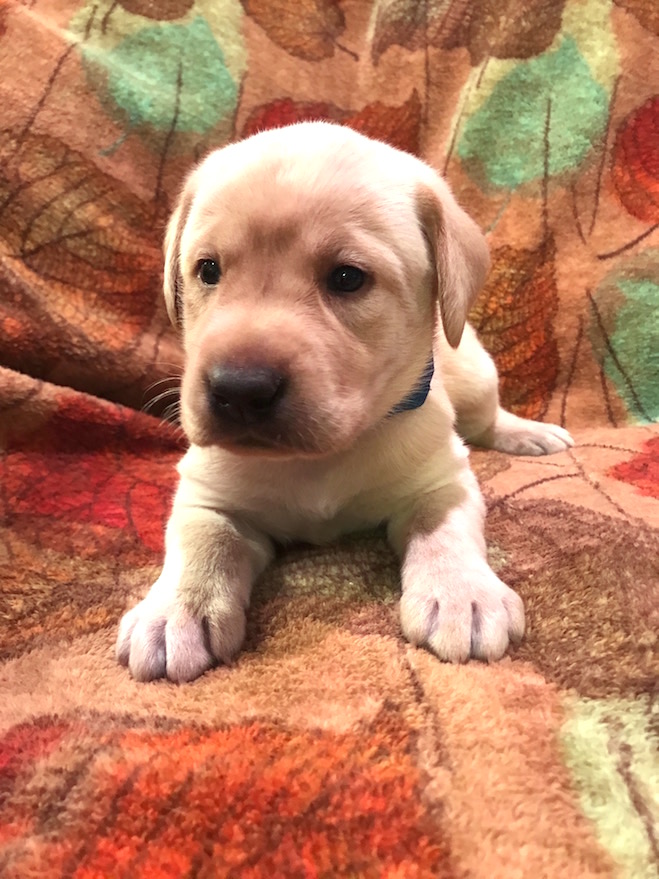 APOLLO - Yellow Male - Wears dk blue collar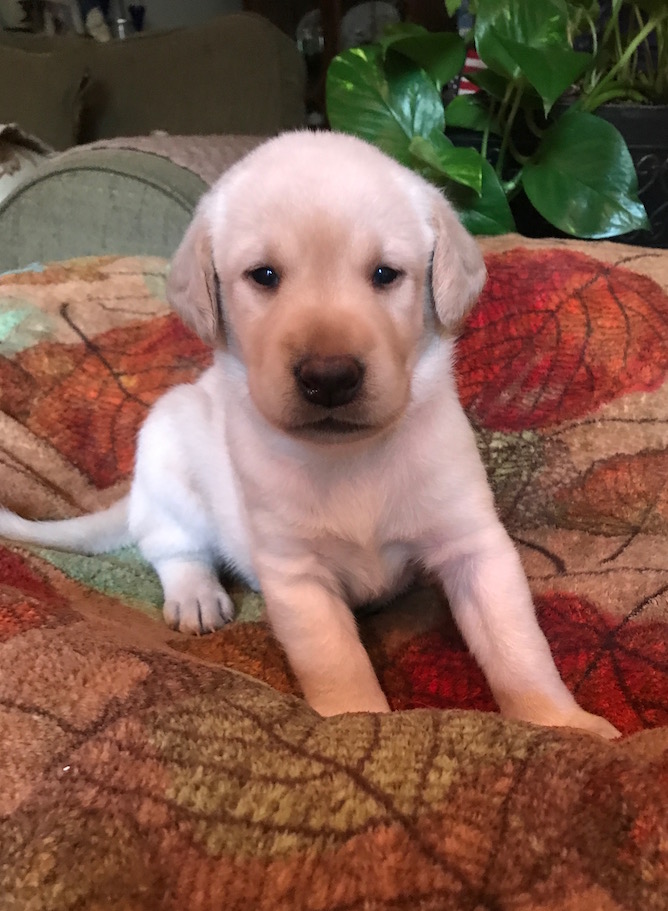 SUGAR - Yellow Female - Wears Yellow (originally white) collar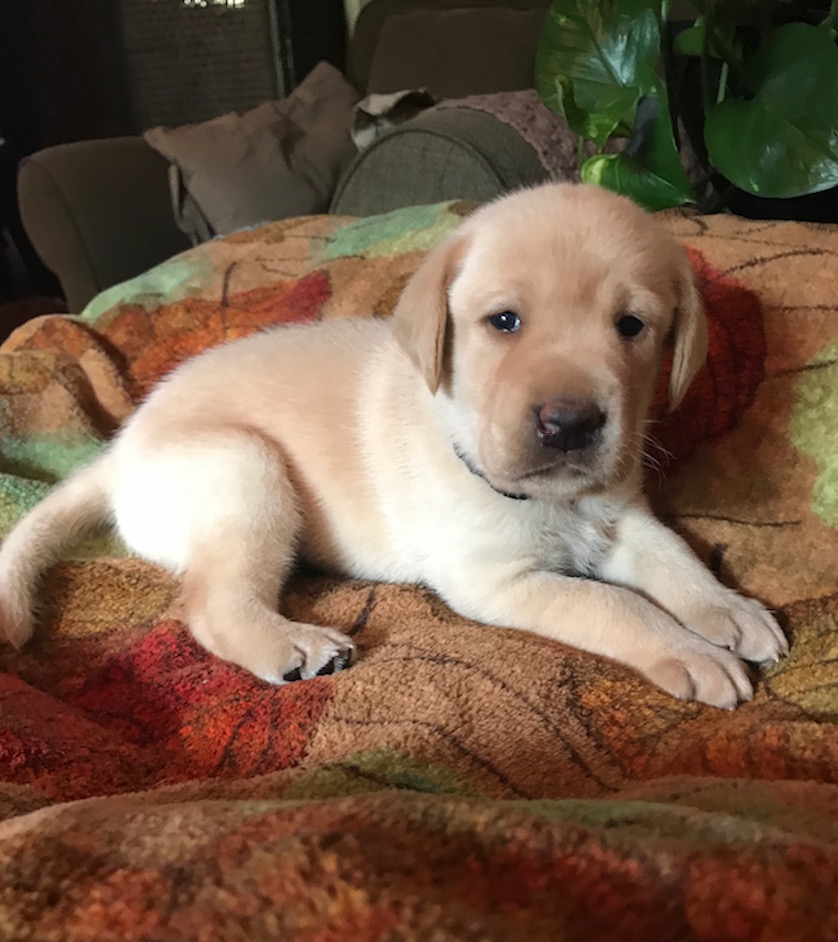 BEAR - Yellow Male - Wears black collar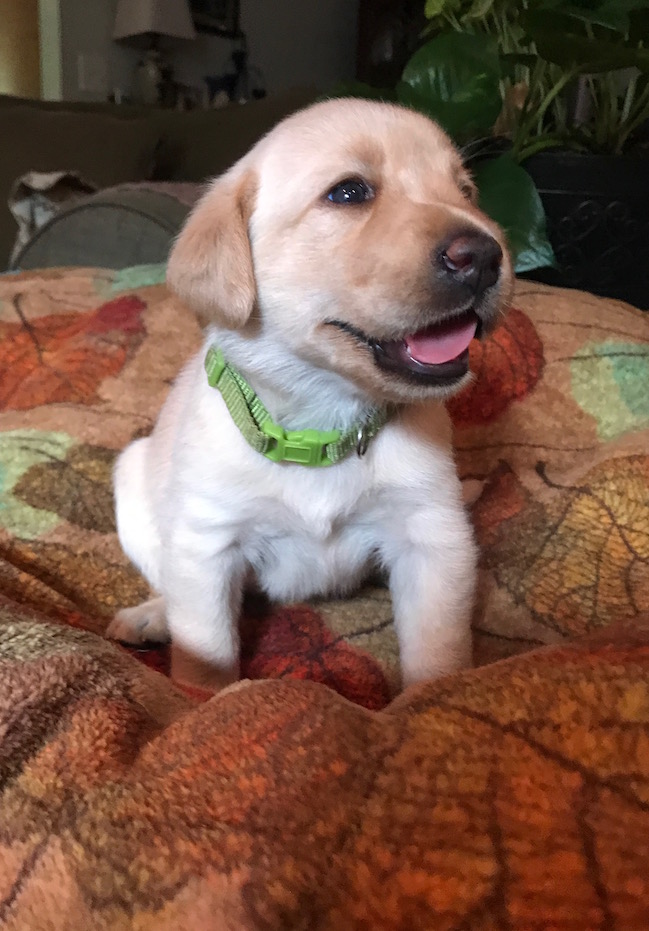 JOAN - Yellow Female - wears lt green collar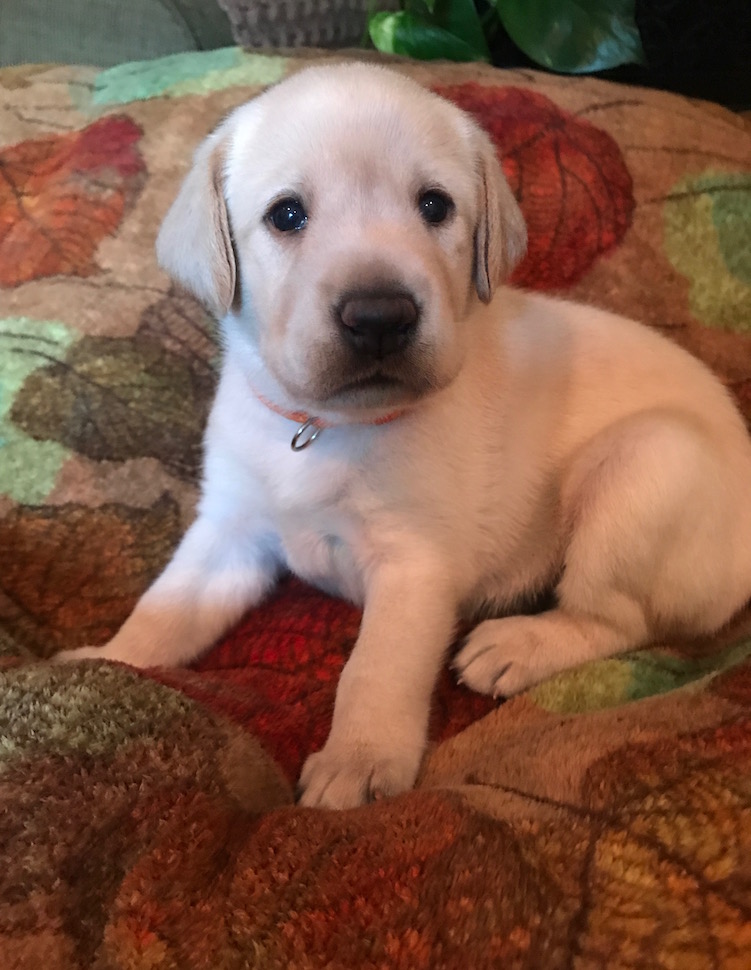 MANGO - Yellow Female - wears Orange Collar
..........................................................
One More, From 8/27: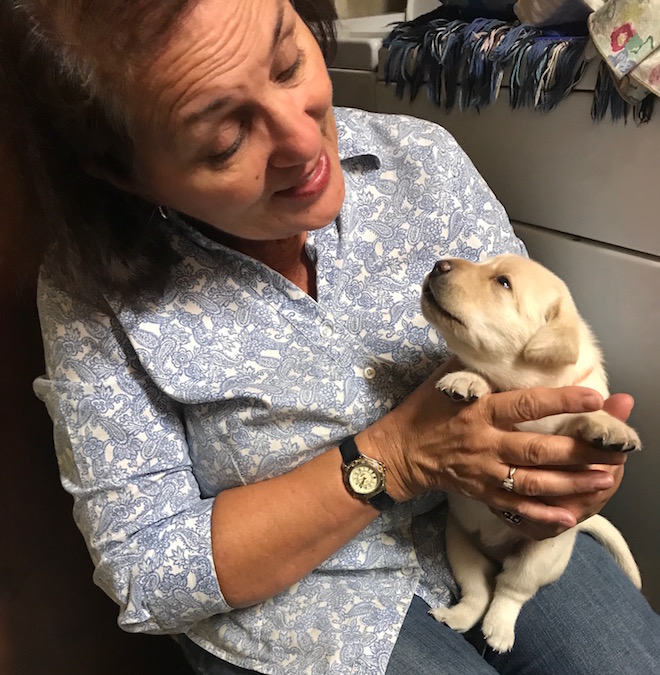 My sister visited us and totally enjoyed spending time with the pups!
Mango is really focused on her... what we want!
...................
Our First Solid Food!
8-29-18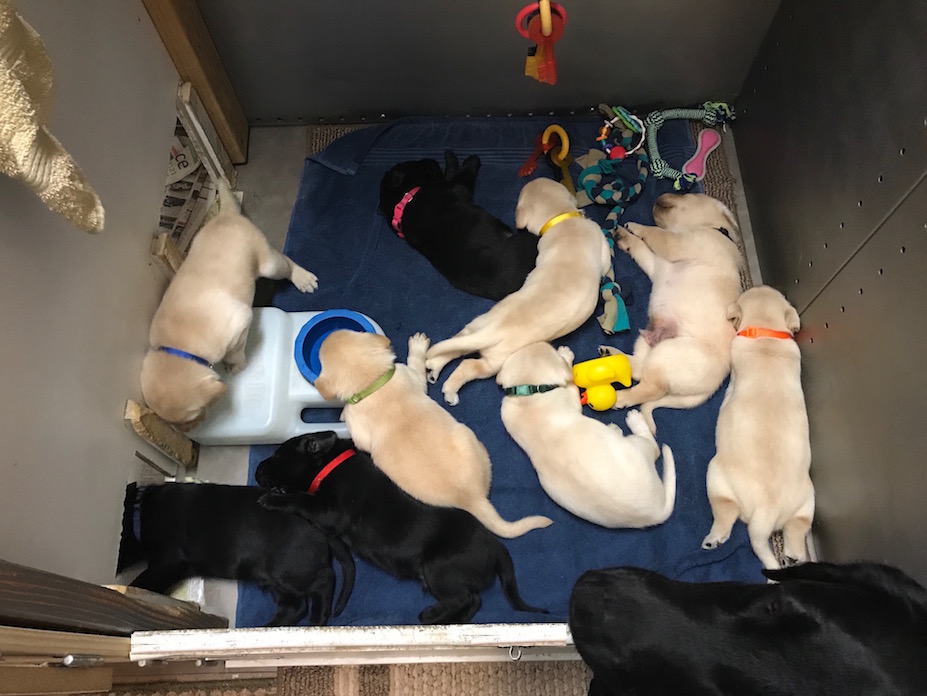 Proud Crystal - she is so relaxed to see her babies full and happy! A house full!! : )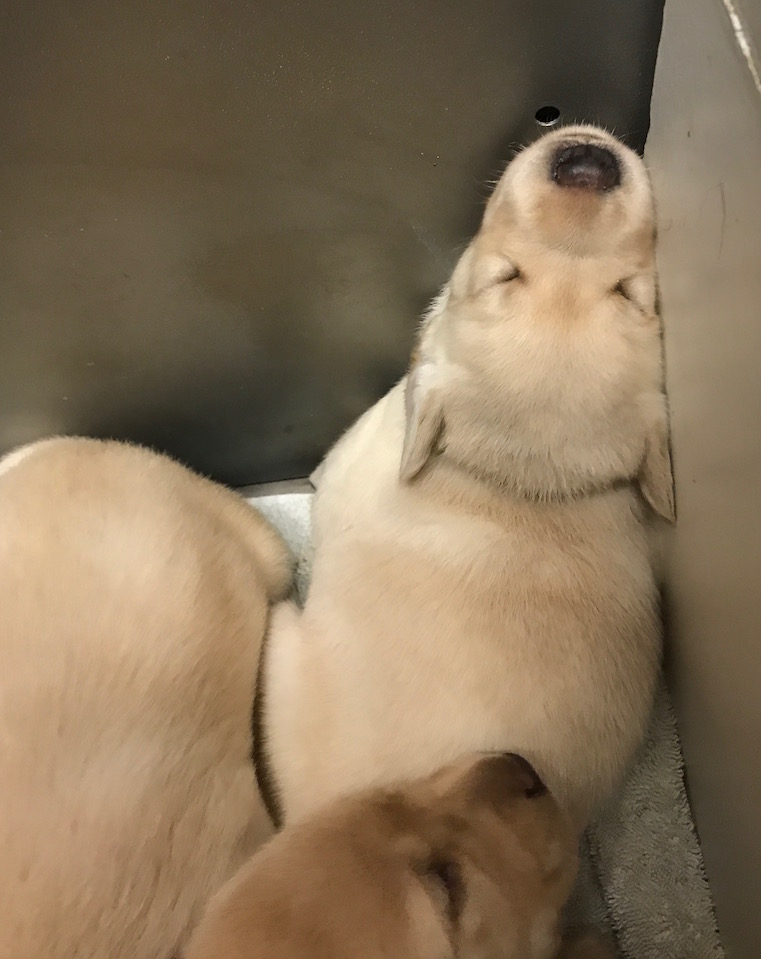 Beautiful Sugar with food on her face. ha!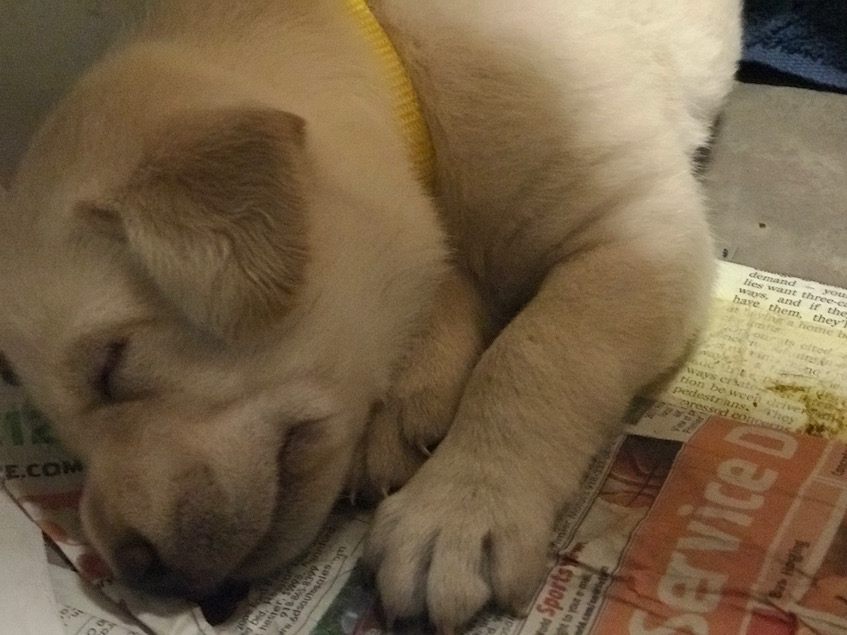 Sweet Sugar - her collar is now yellow (was white)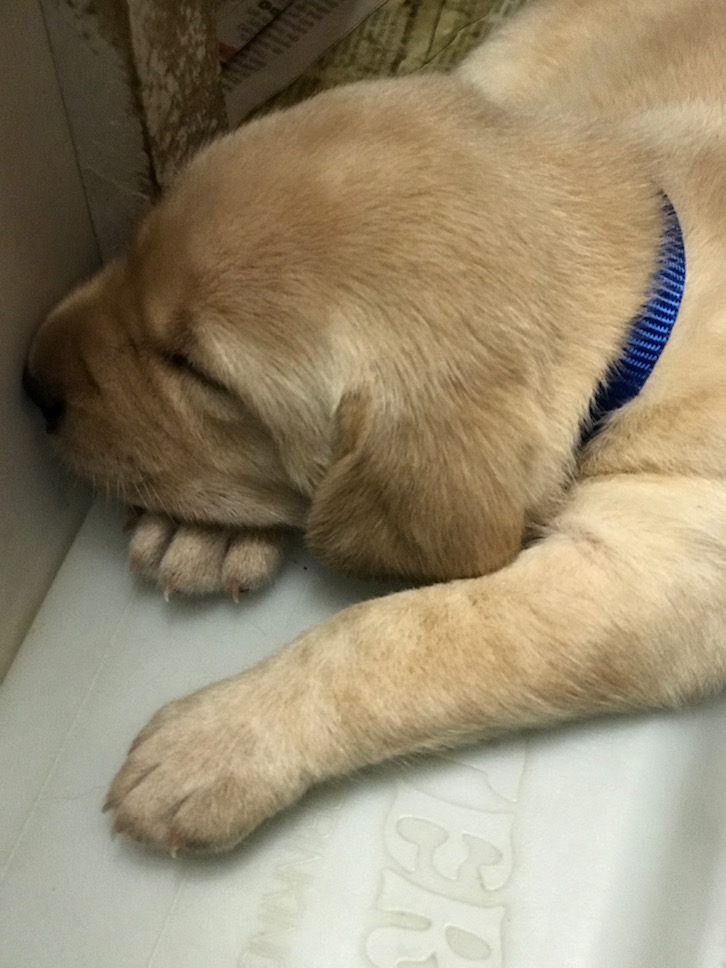 Apollo... enjoying the coolness of the water bottle :)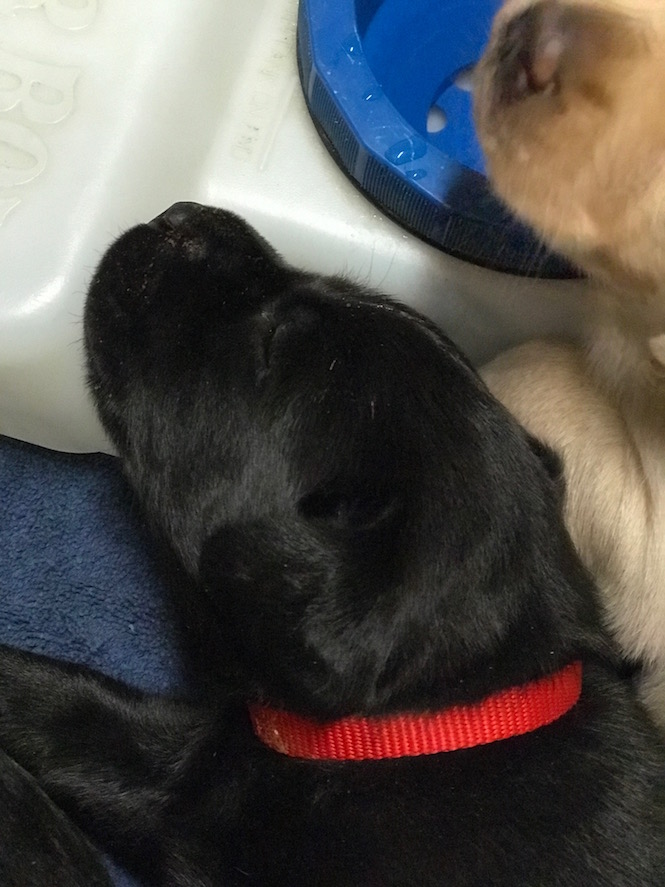 Handsome Vader -still has food on his head and face. ha!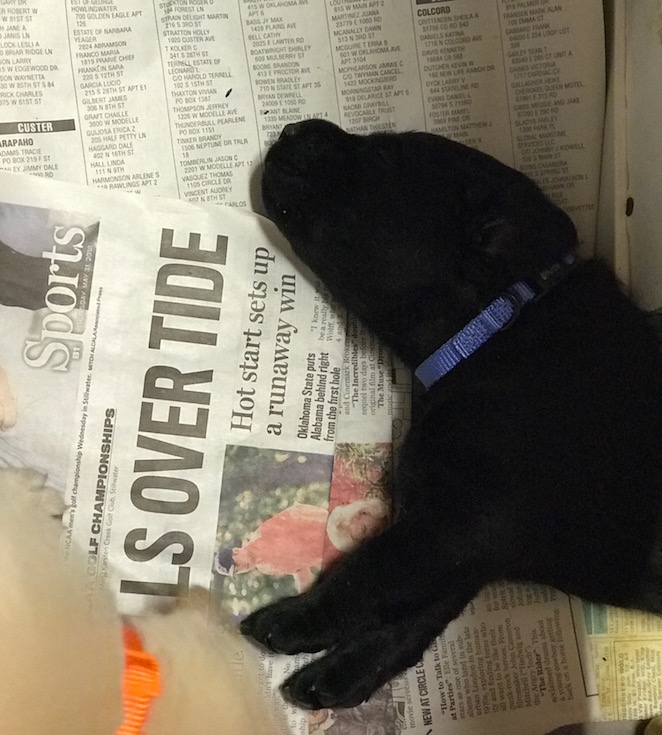 Handsome Jax!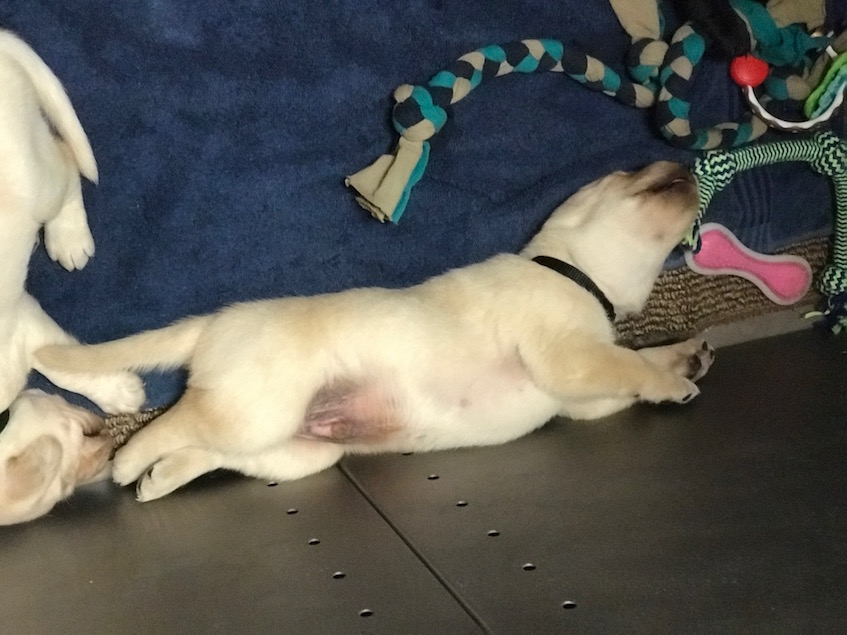 Bear in dreamland!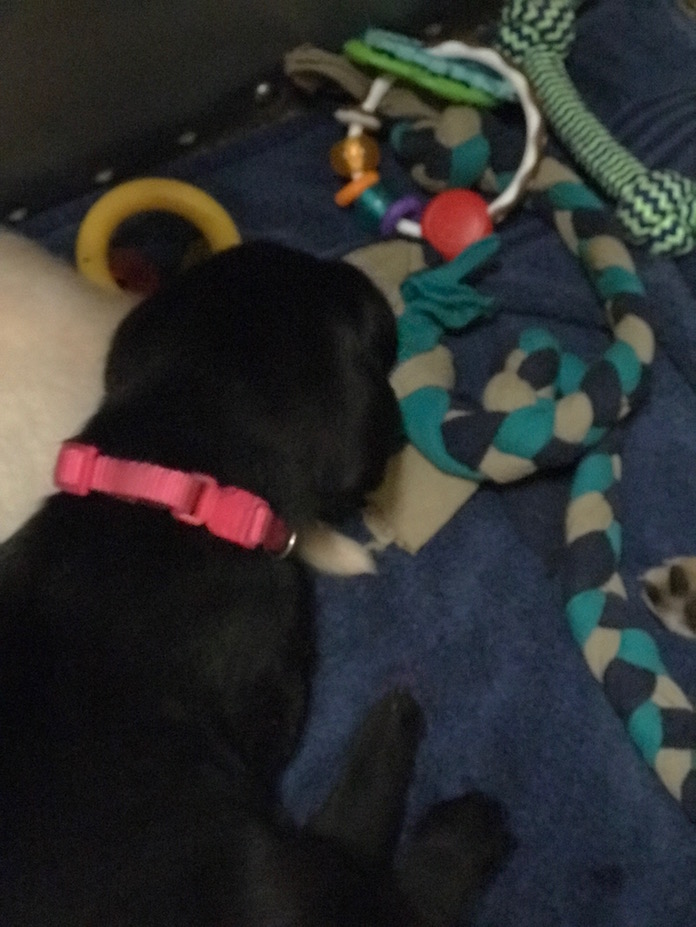 Sweet Venus!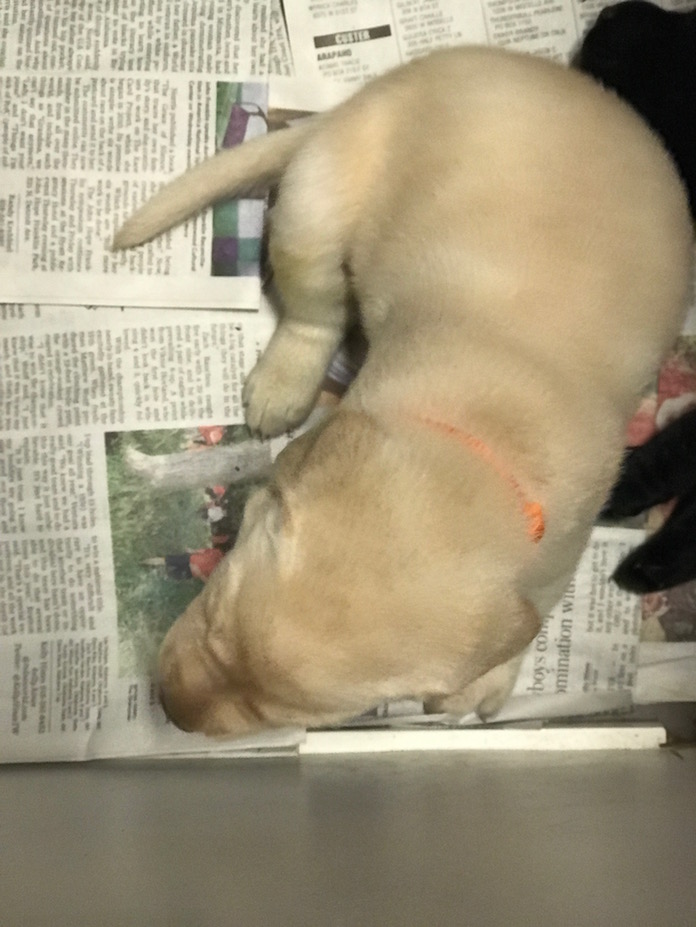 Pretty Mango!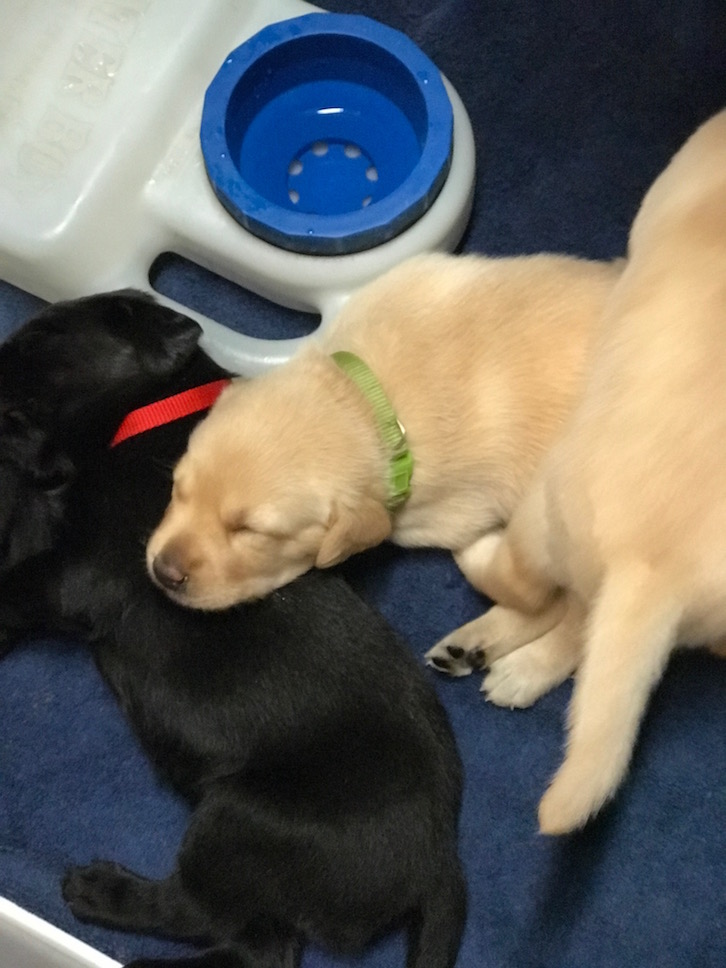 Vader a great pillow for Joan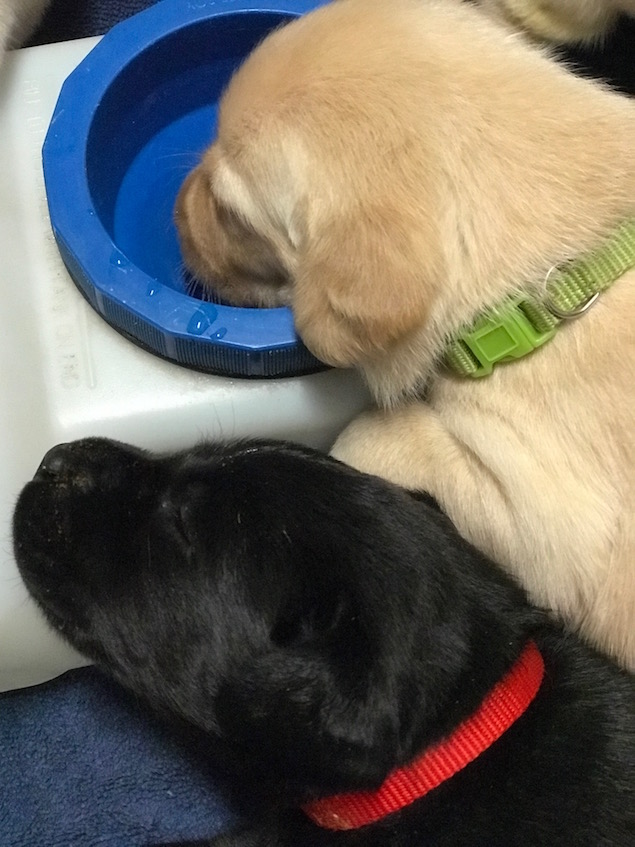 Joan asleep in water bowl, and Vader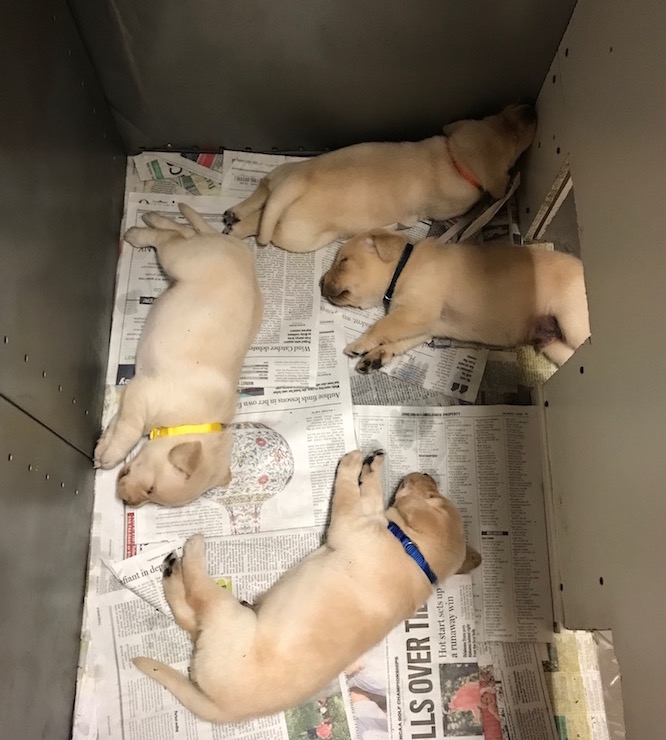 Some of us like the cool paper in the potty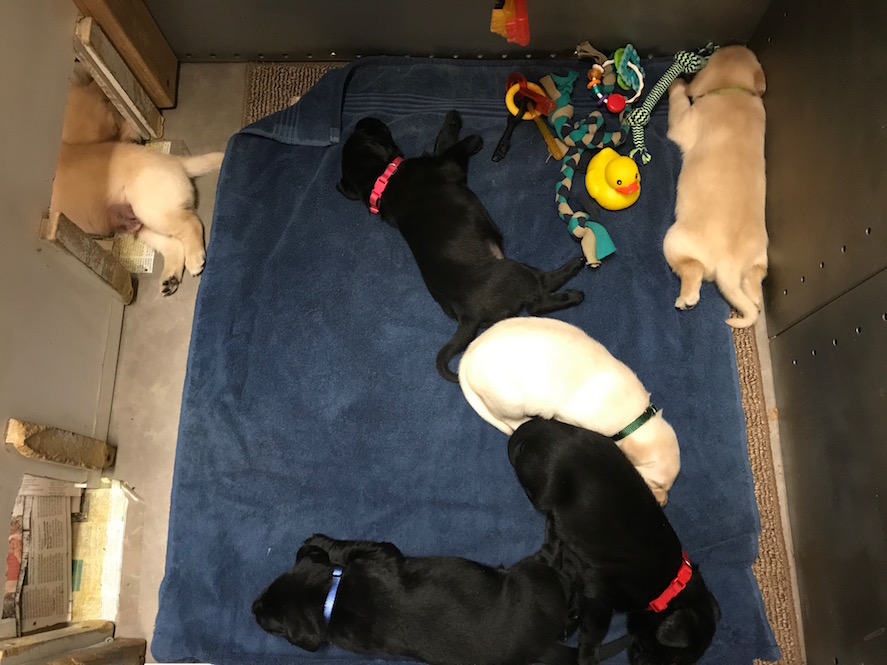 Nothing like a clean bed and a full tummy!
Piper Full and Sleepy... Mango eating in background.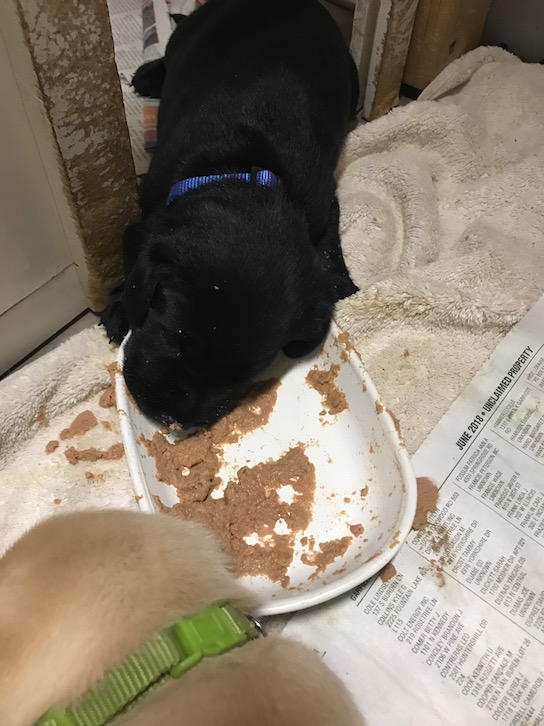 Jax and Joan eating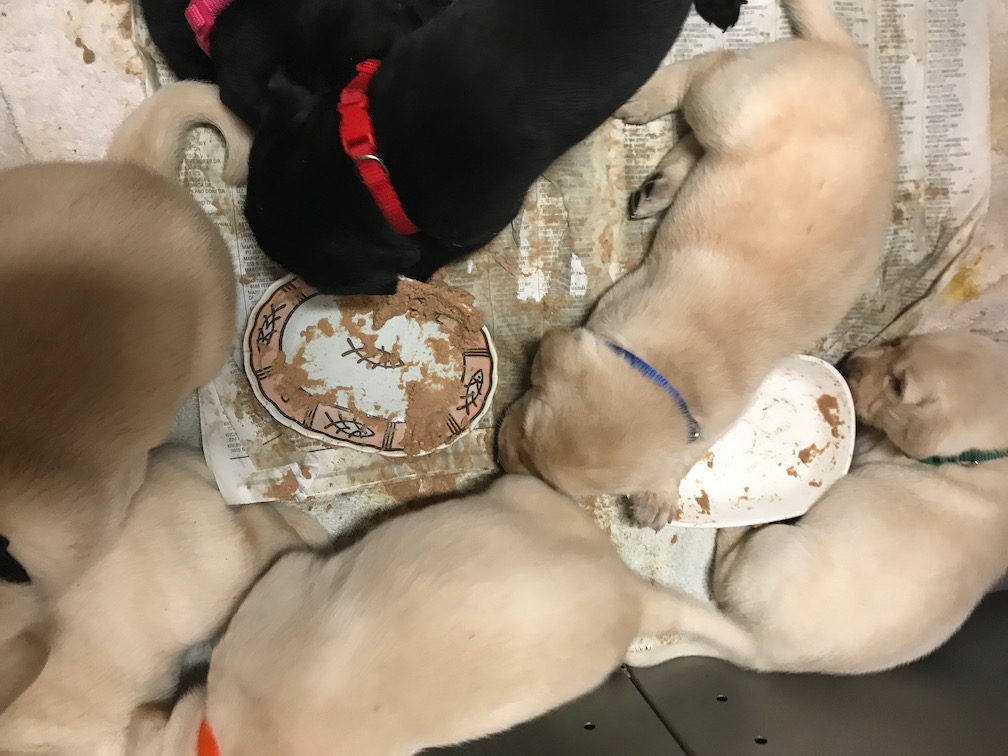 Full Tummies!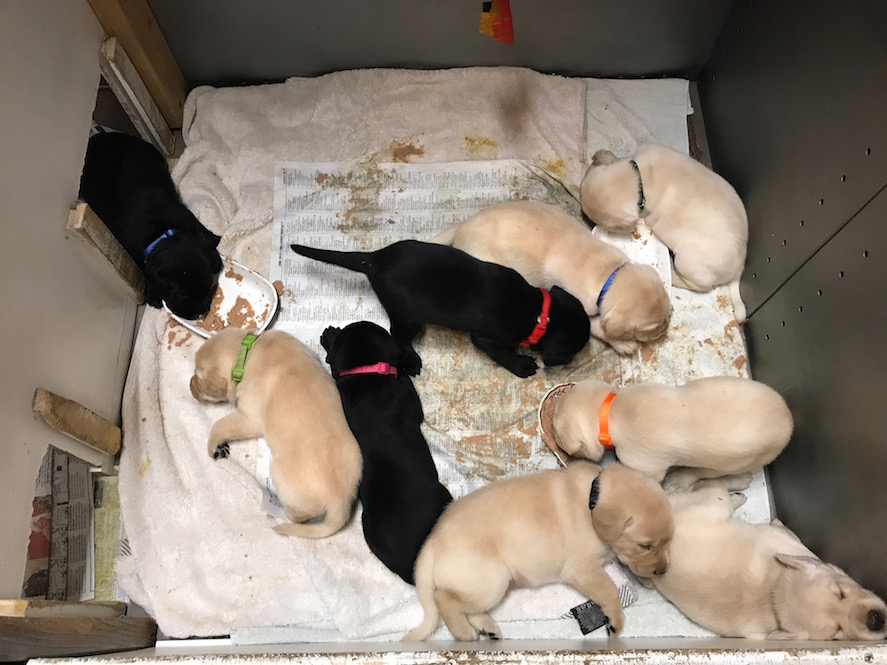 First Meal! Yum! What a good mess! About finished here. :)
......................
The Amazing Puppy Ring!
8-26-18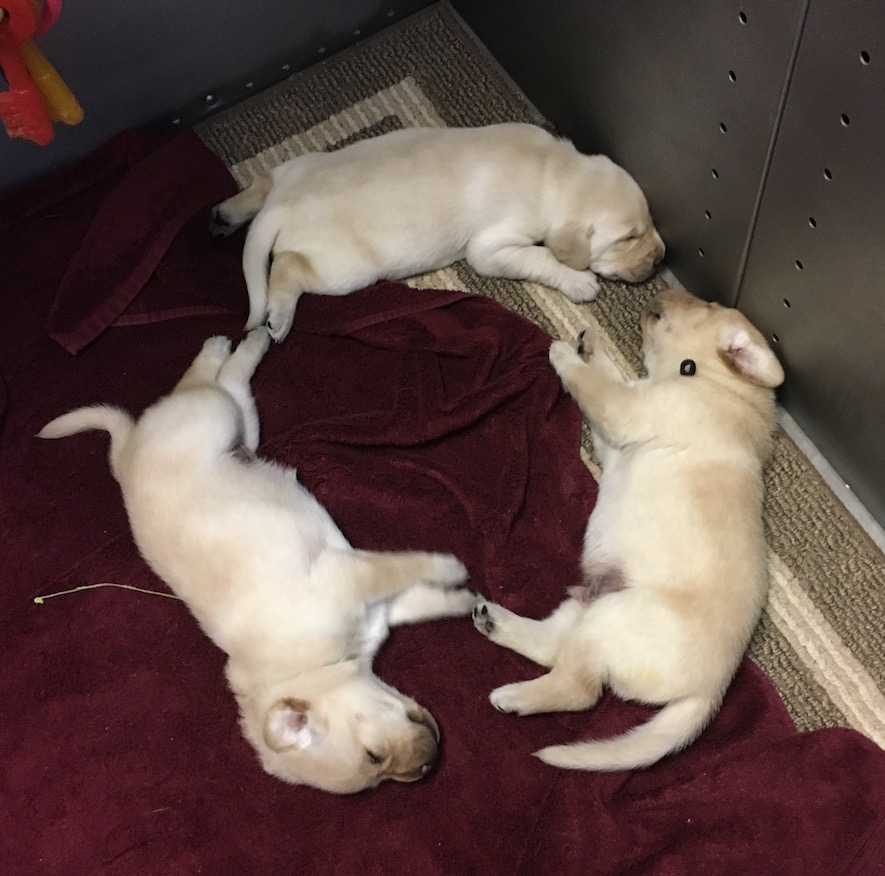 What a nice display, Sugar, Bear and Joan! (Synchronized sleeping. (- -)
.........................
Growing up!...The Big Move!
8-24-18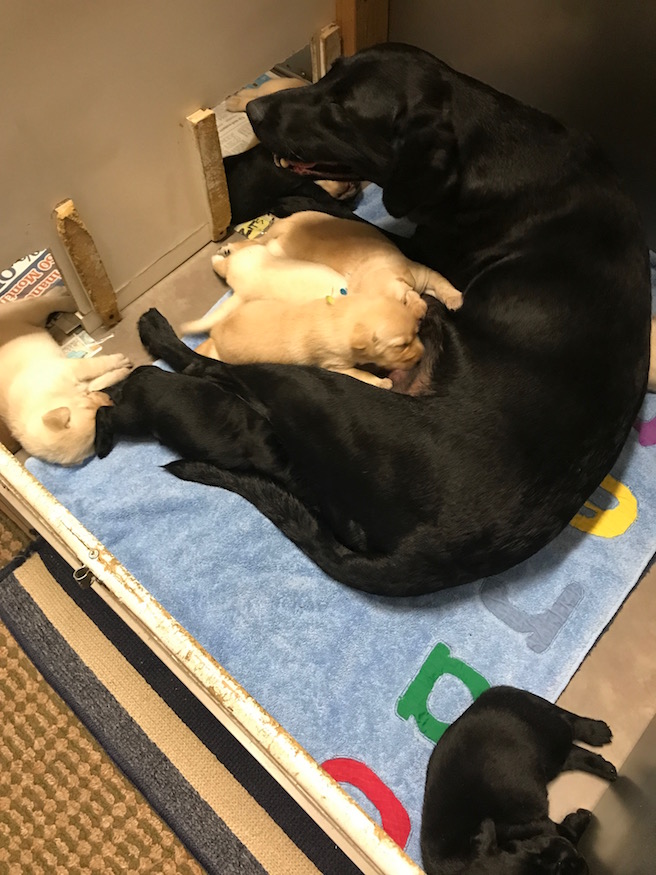 First day in 'big kid' pen! (love the signs of litters past :)
8-24-18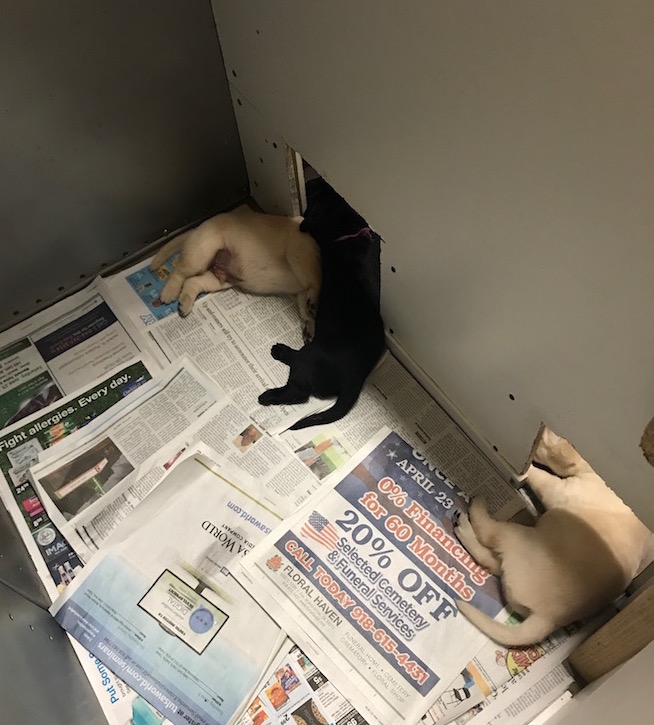 This is where we will go potty! We'll pass through the door...
(as you can see, sometimes it will take a little work to get there! ha!)
.........................................
2 Weeks --- 8-22-18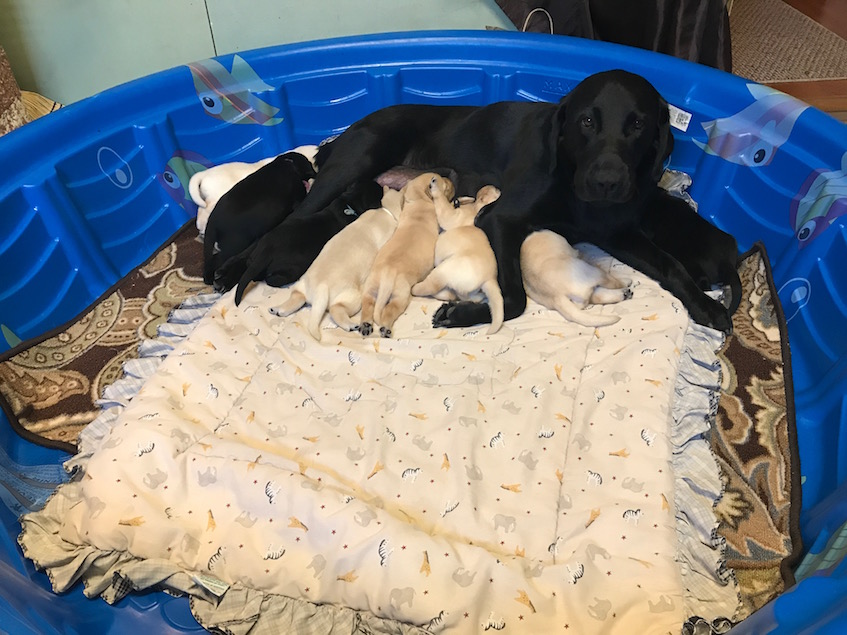 Last Day in Newborn Bed. (Awww... beautiful Crystal!!)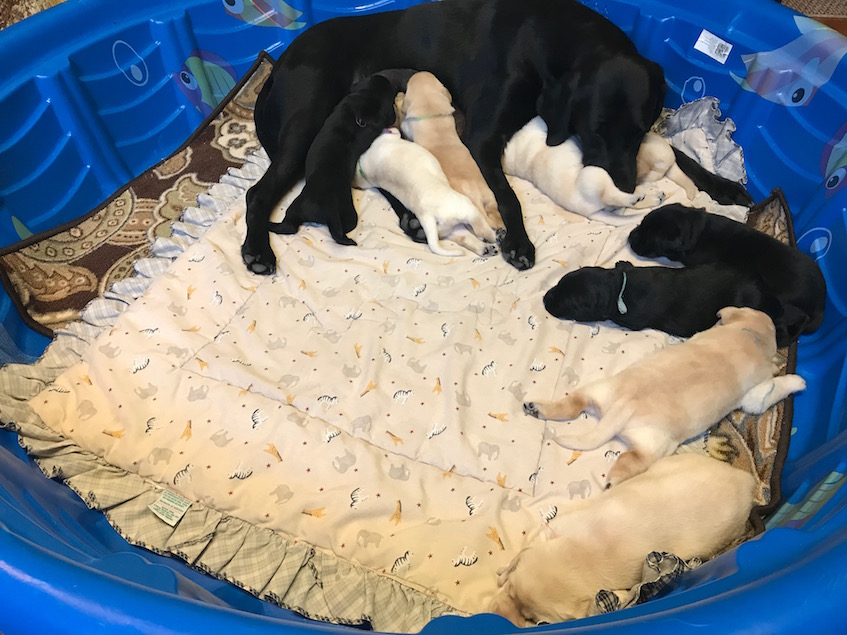 Tomorrow will be a day of further transition... we will move them to their new environment as their senses are newly developing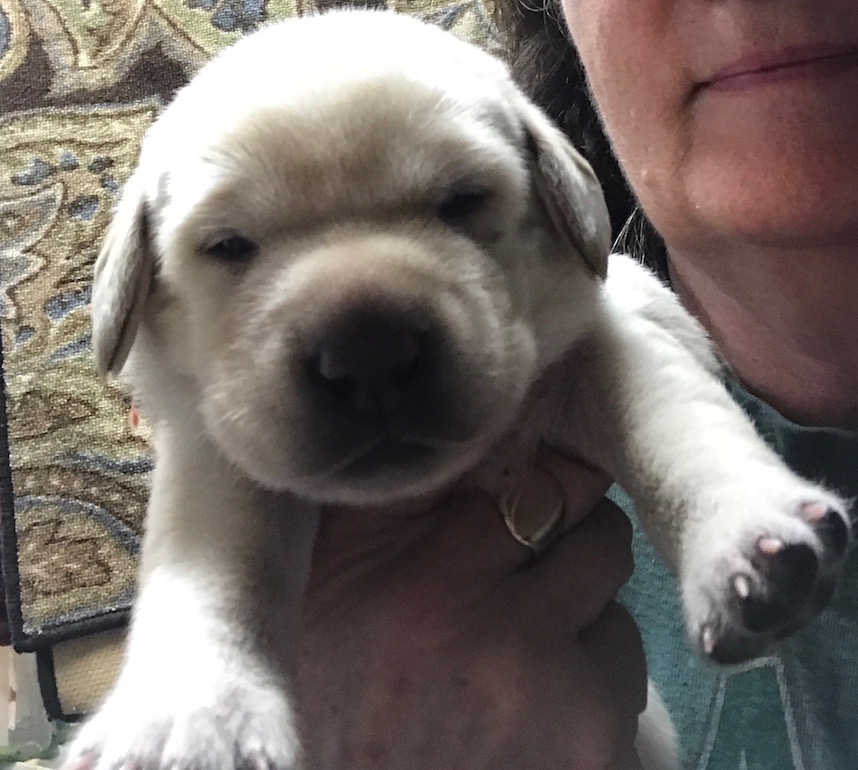 Mango-eyes almost completely opened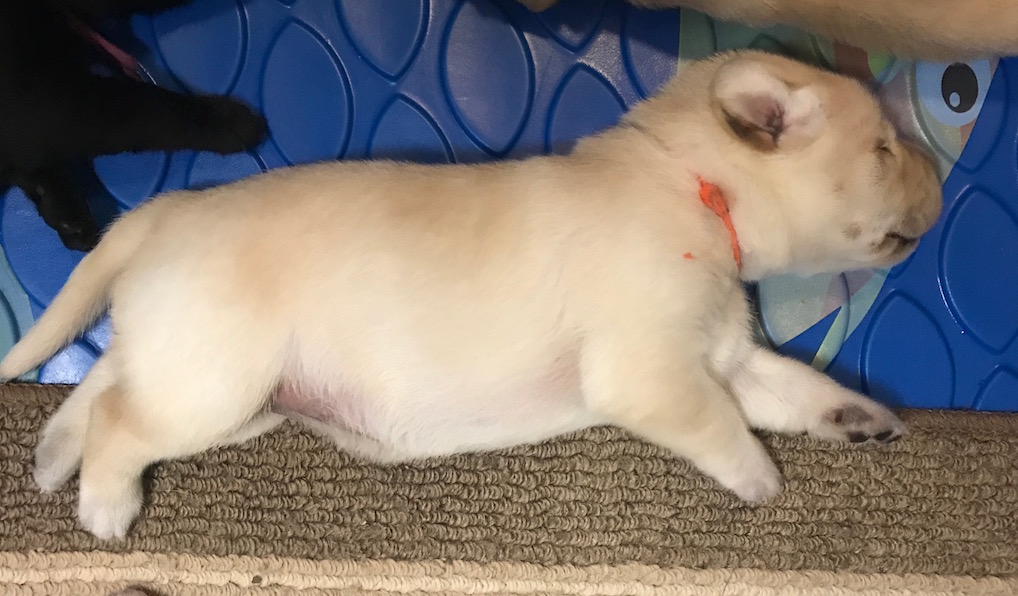 Mango slumber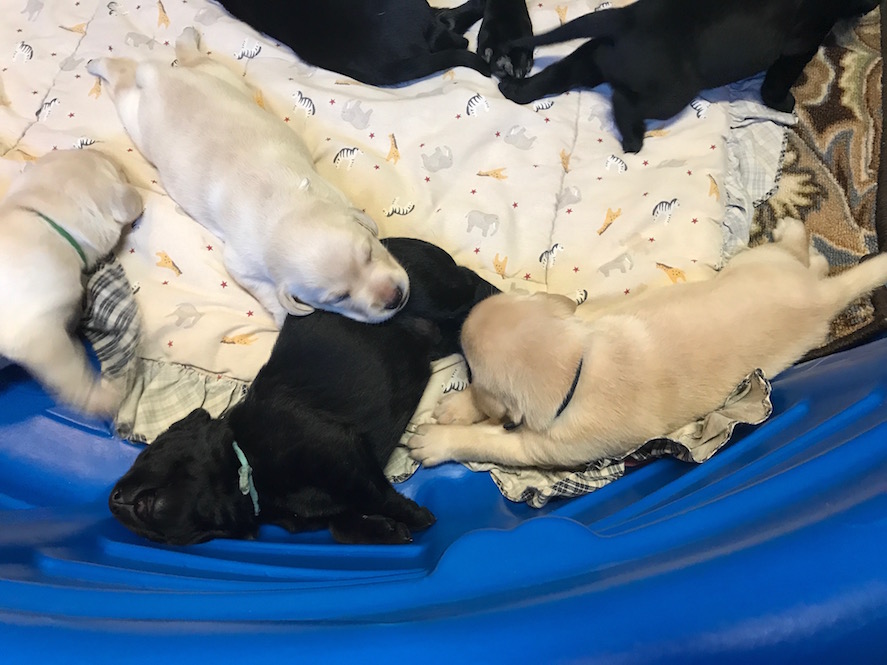 From left: Piper, Sugar, Jax, Bear; Top: Vader, Venus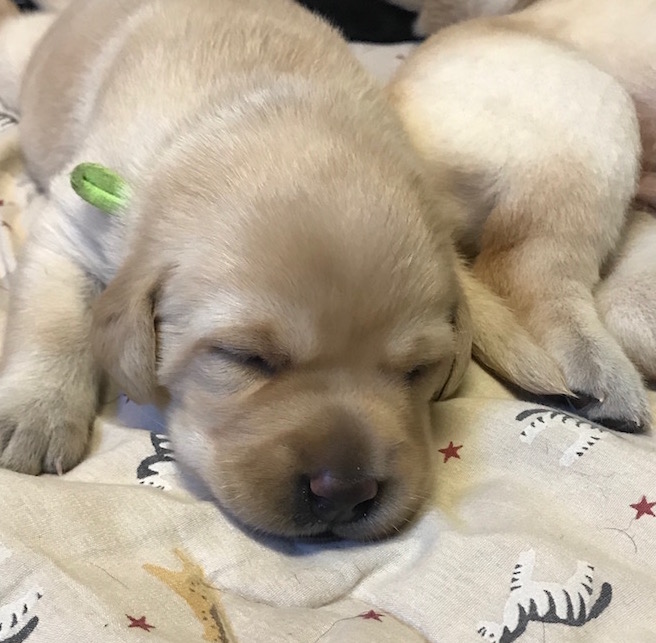 Joan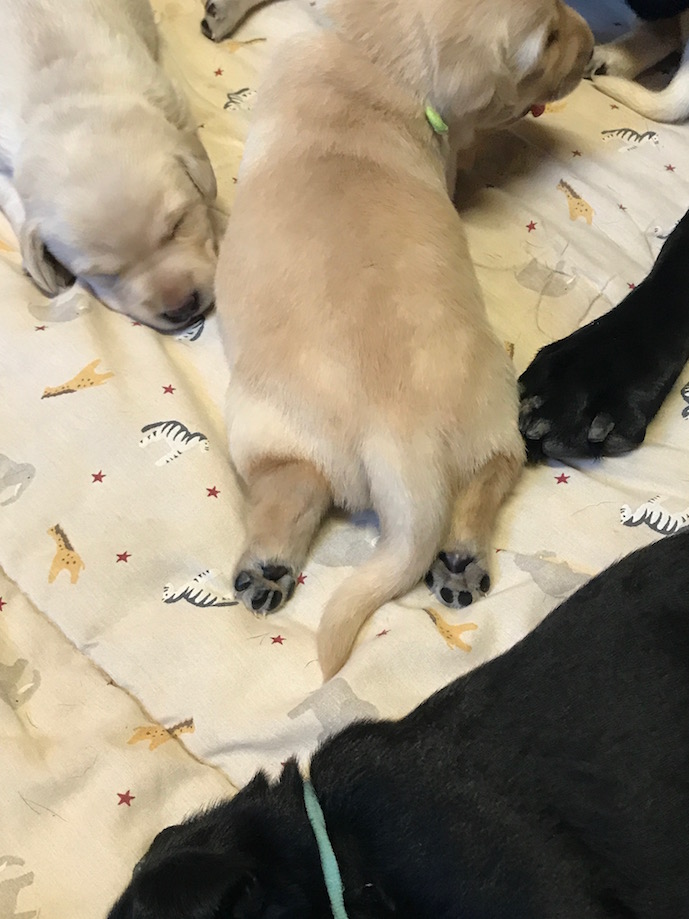 Sugar, Joan's bootie, Jax at the bottom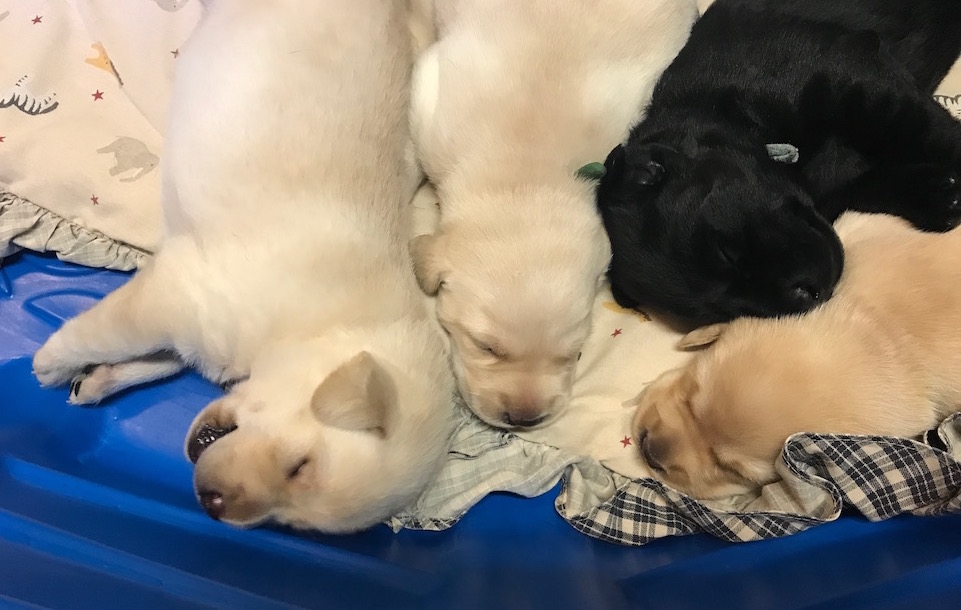 Sugar, Piper, Jax, Joan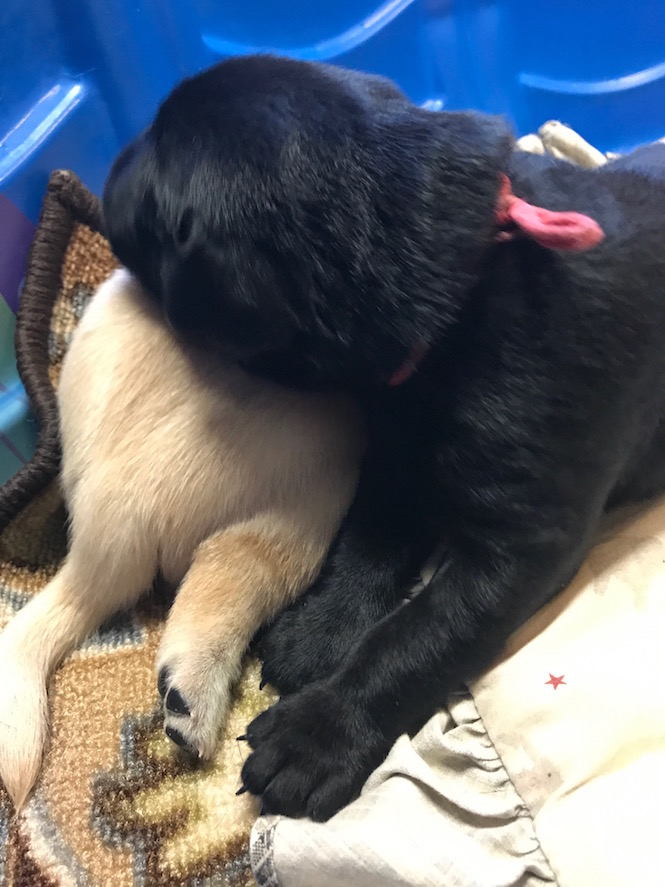 Joan is Vader's pillow (difficult to capture cute faces of black pups, even when facing the camera ;)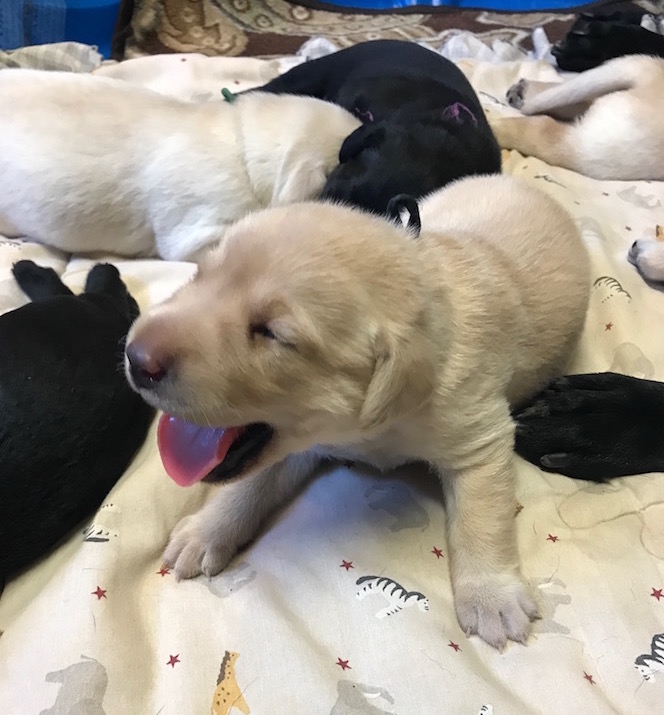 Bear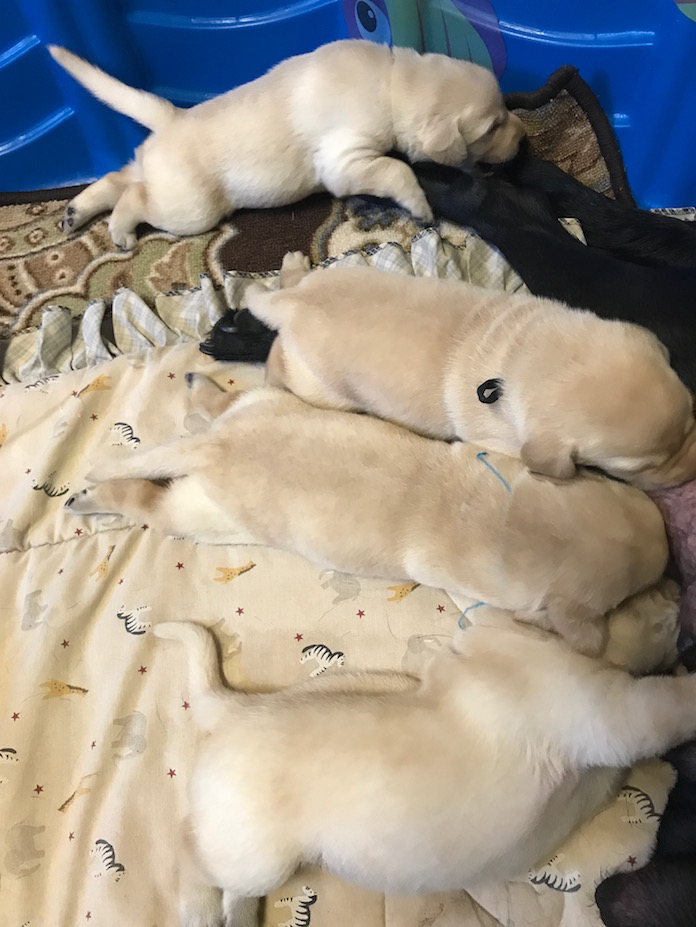 From top: Sugar, Bear, Apollo, Mango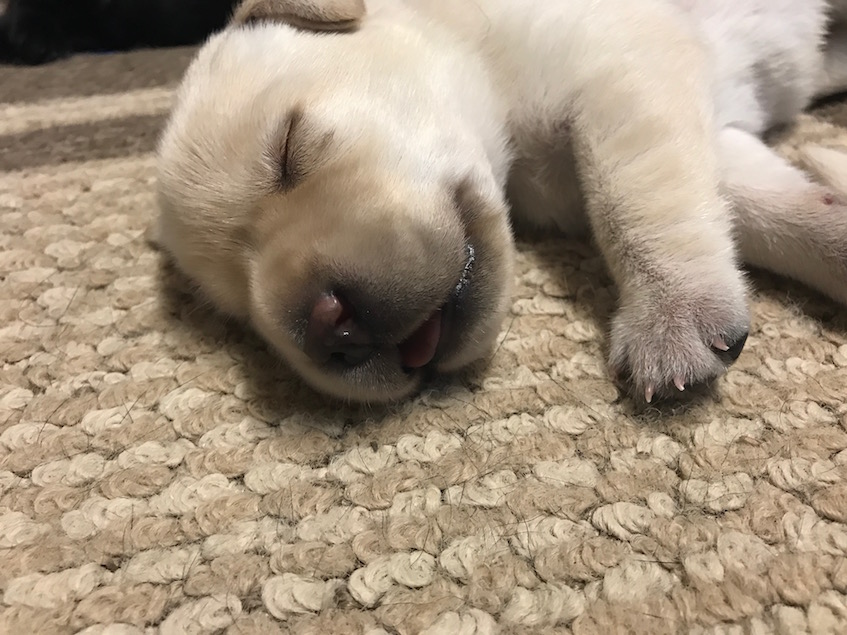 Another of Mango
...................
8/17/18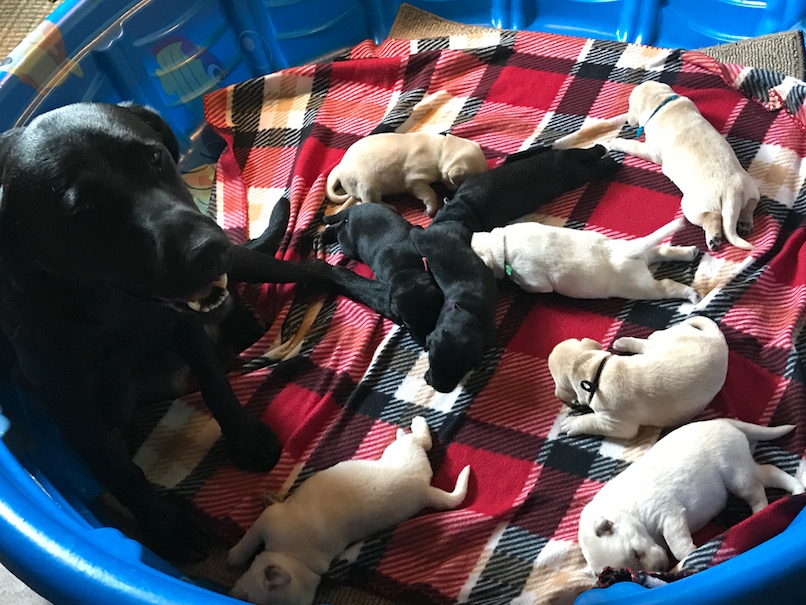 Sleepy pups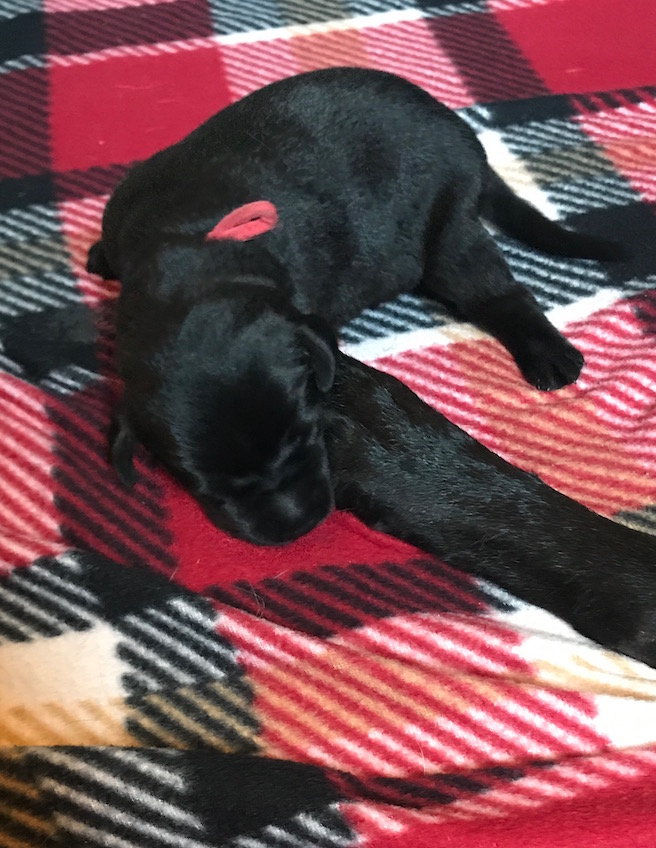 Vader-male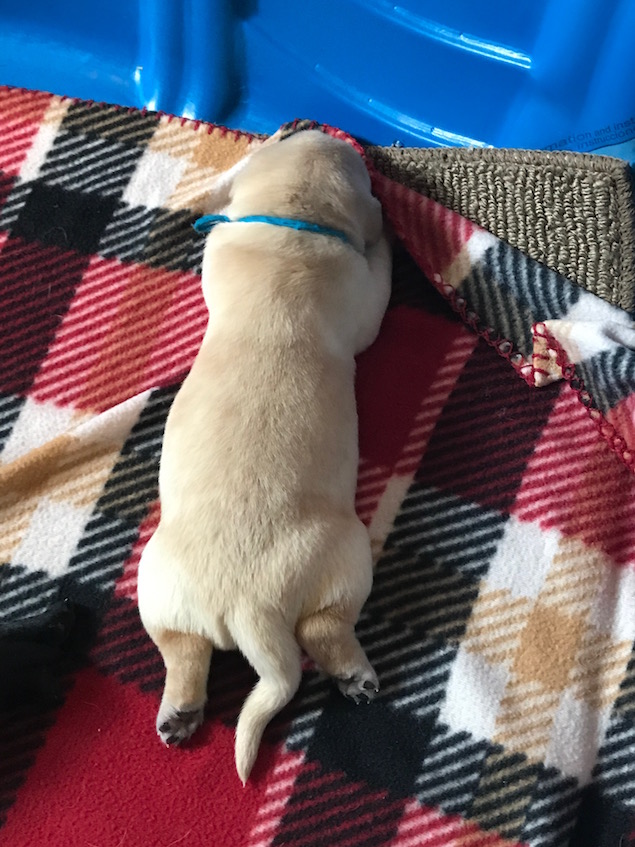 Apollo-male-Largest pup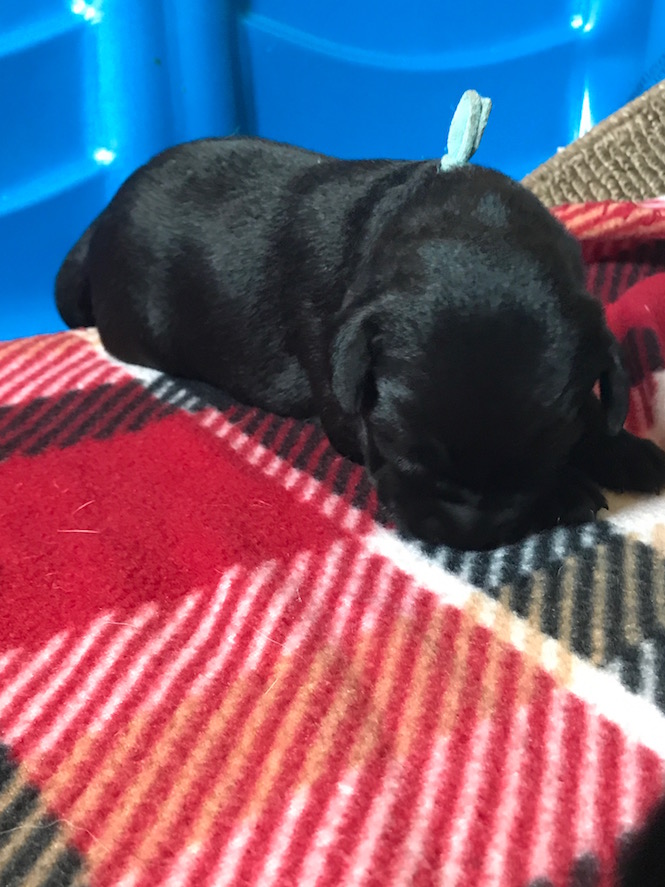 Jax-male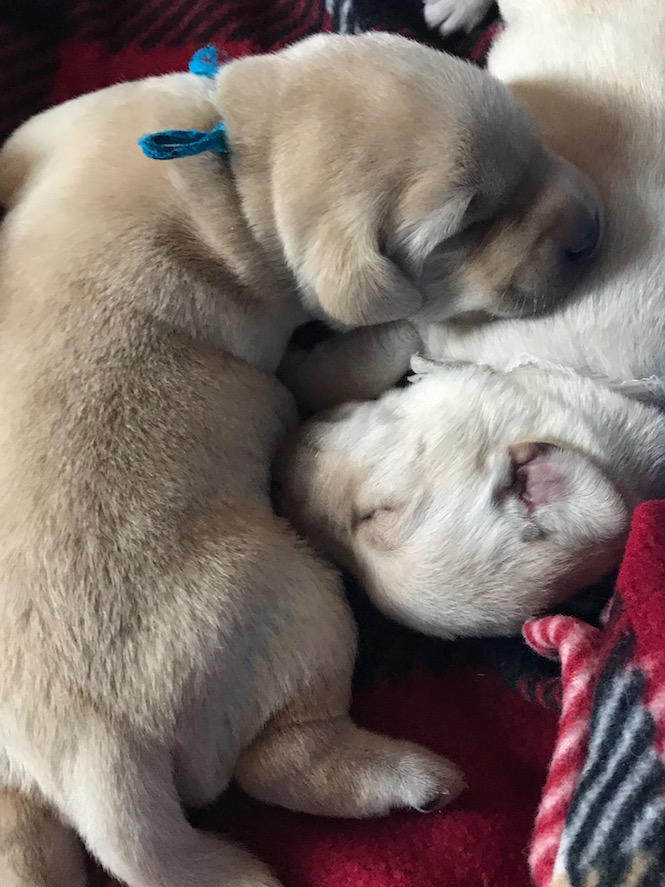 Apollo-male and Sugar-female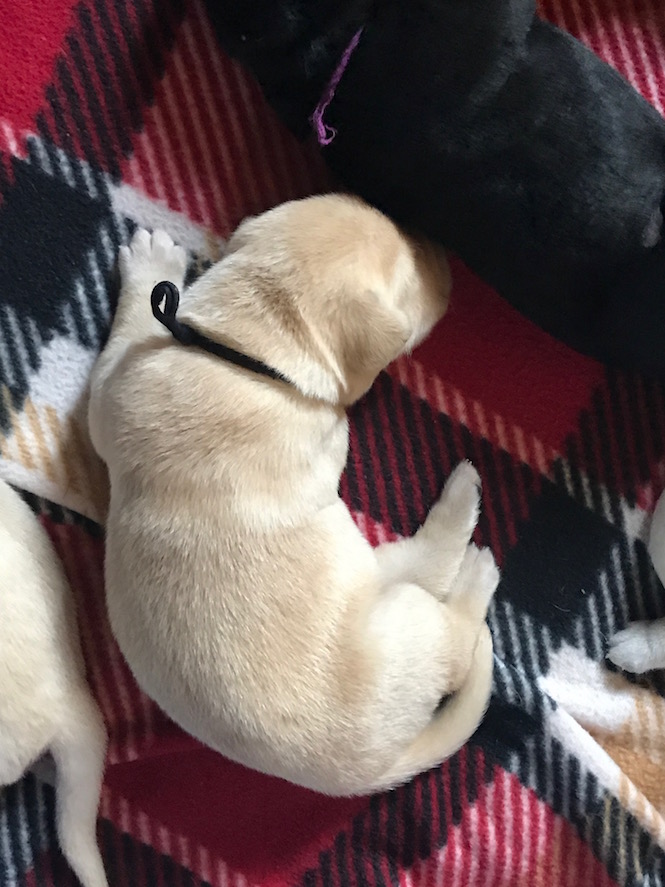 Bear-male (Venus above him)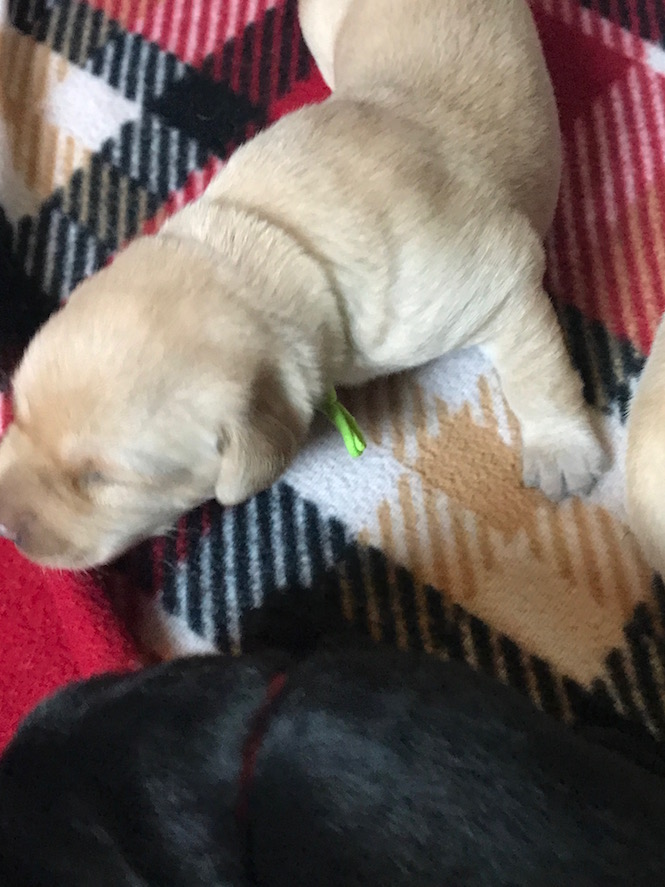 Joan (Vader below)
...................
Another Day-8/16/18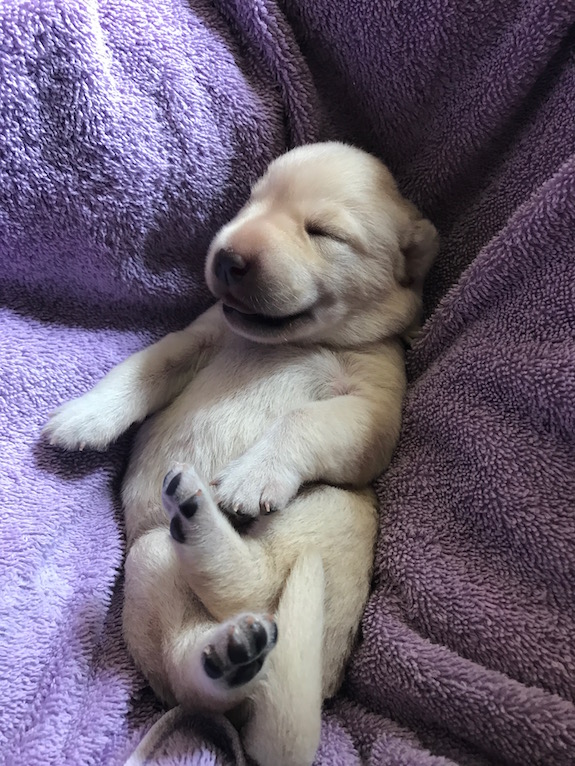 Olivia is a good photographer! Looks like Sugar is smiling!!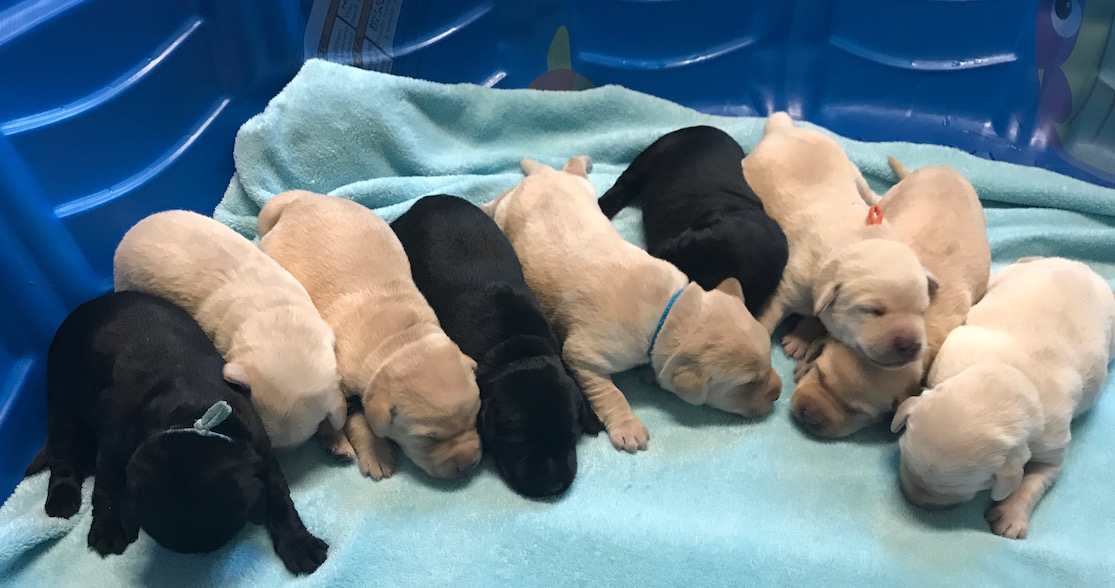 Our 'Anne Geddes' shot!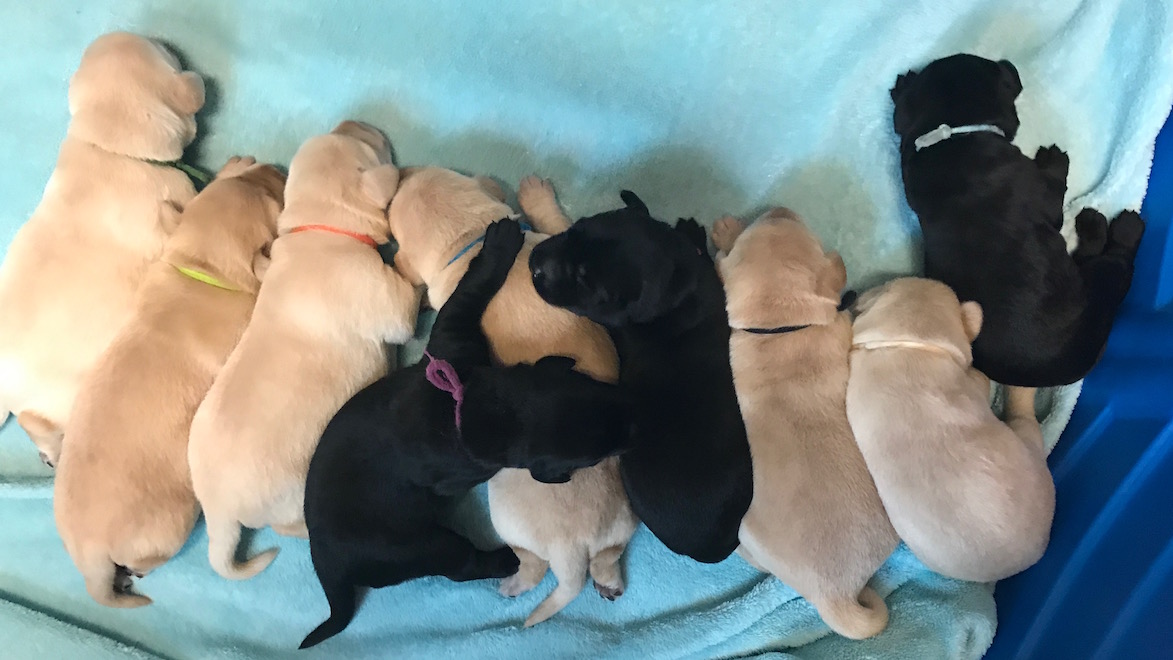 From Left: Piper, Joan, Mango, Apollo, Venus, Vader, Bear, Sugar, Jax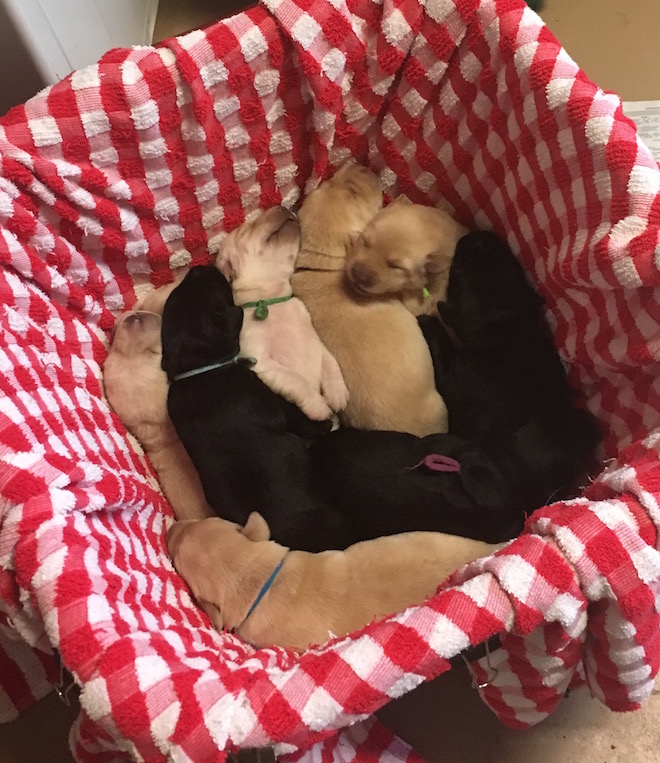 Waiting for a clean bed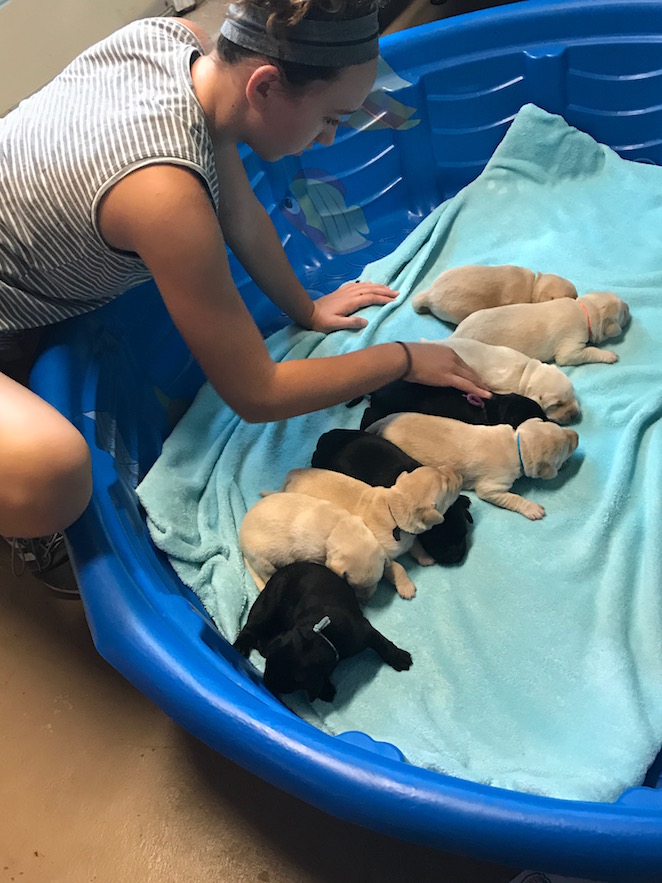 Olivia and pups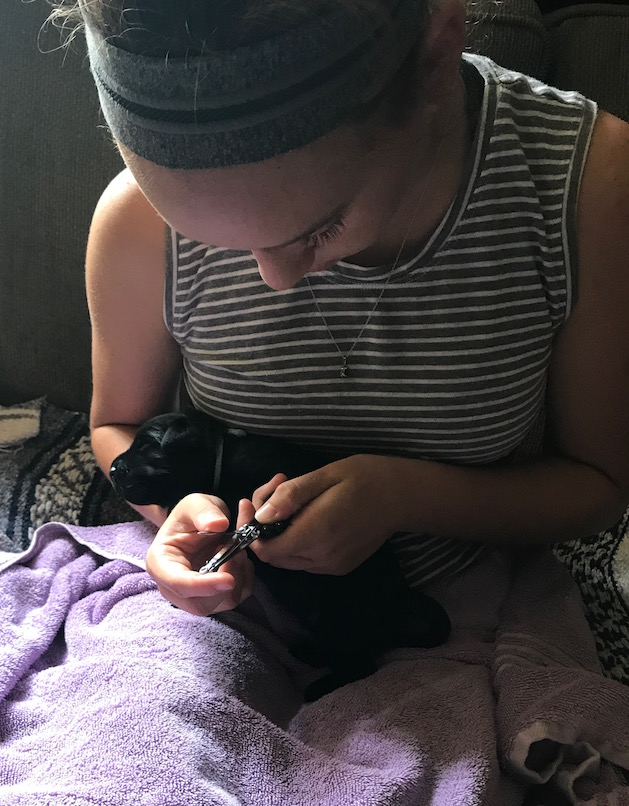 Olivia clips nails
--------------------------------------------------
ONE WEEK OLD! 8/15/18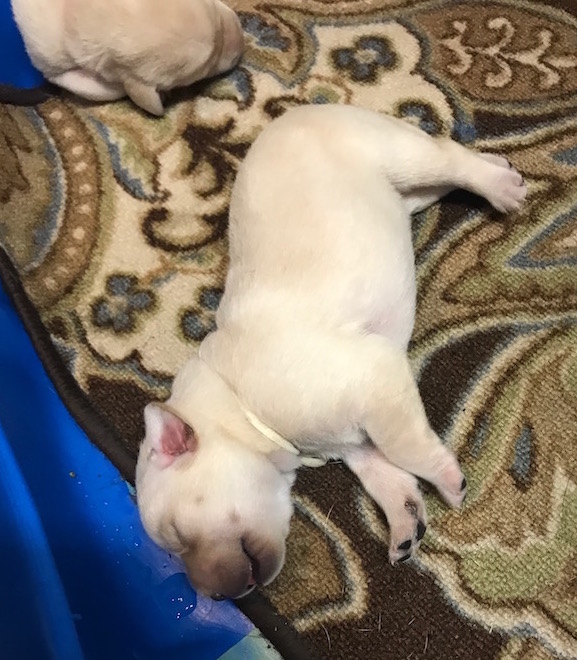 Sugar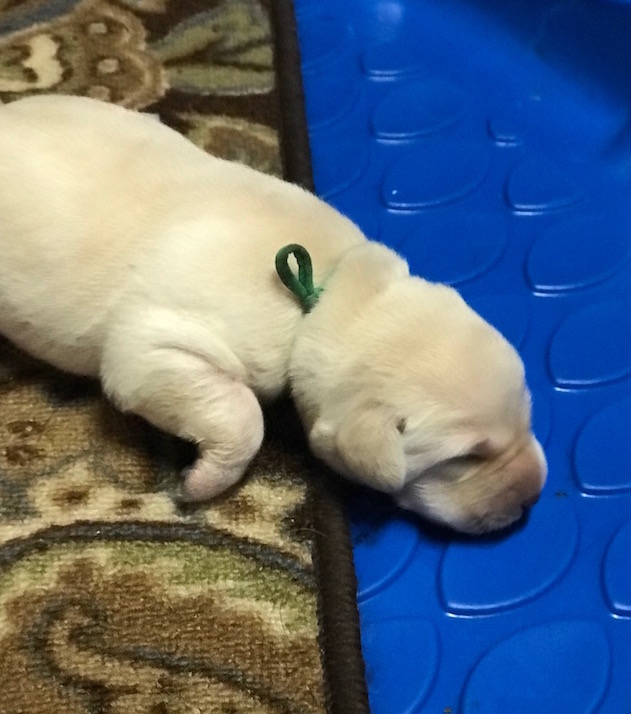 Piper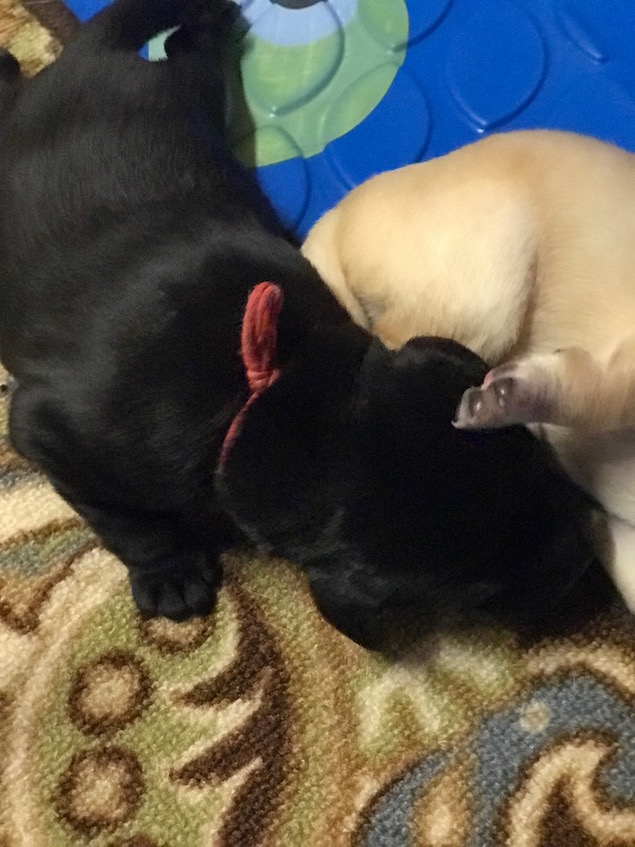 Vader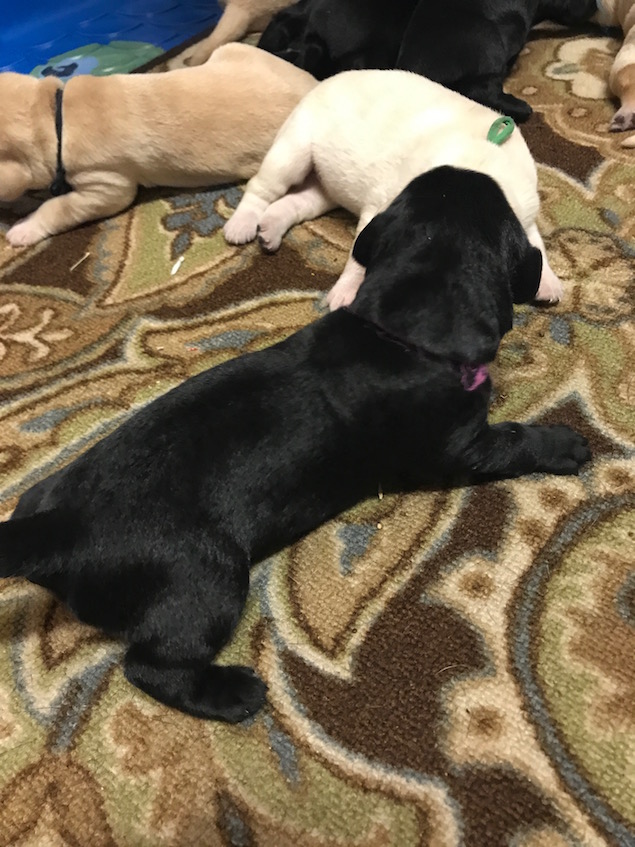 Venus is in front, then Piper (green collar), and Bear in the back on the left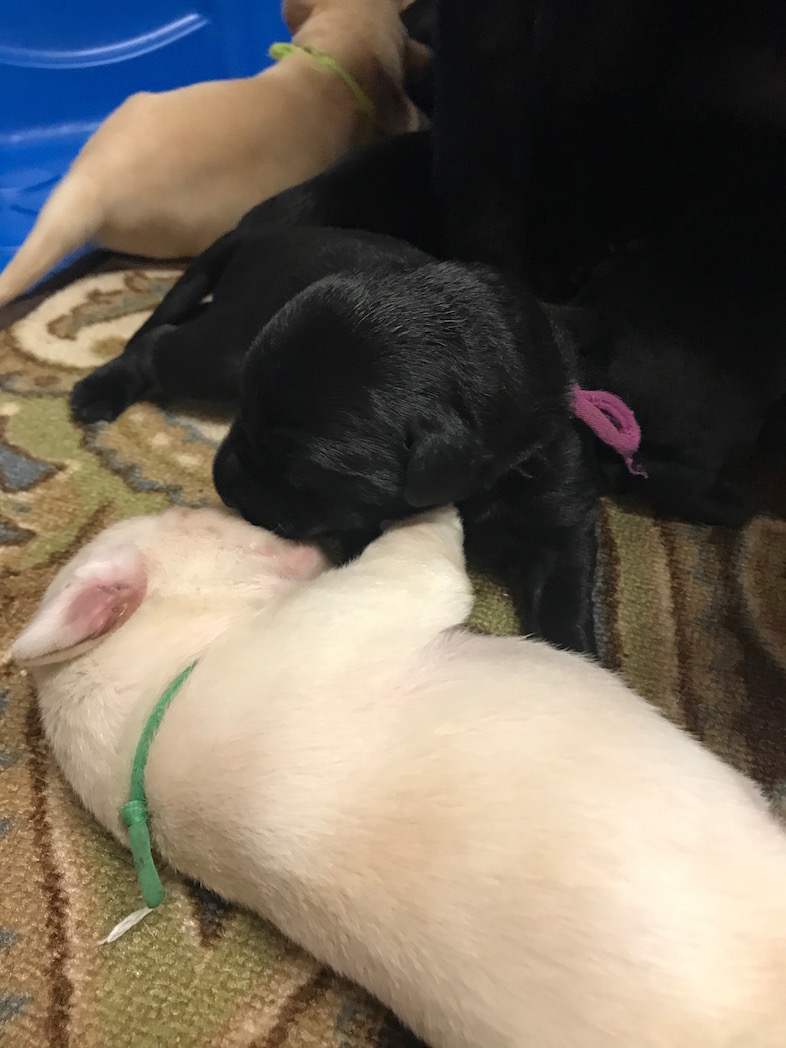 Piper, Venus and Joan in the background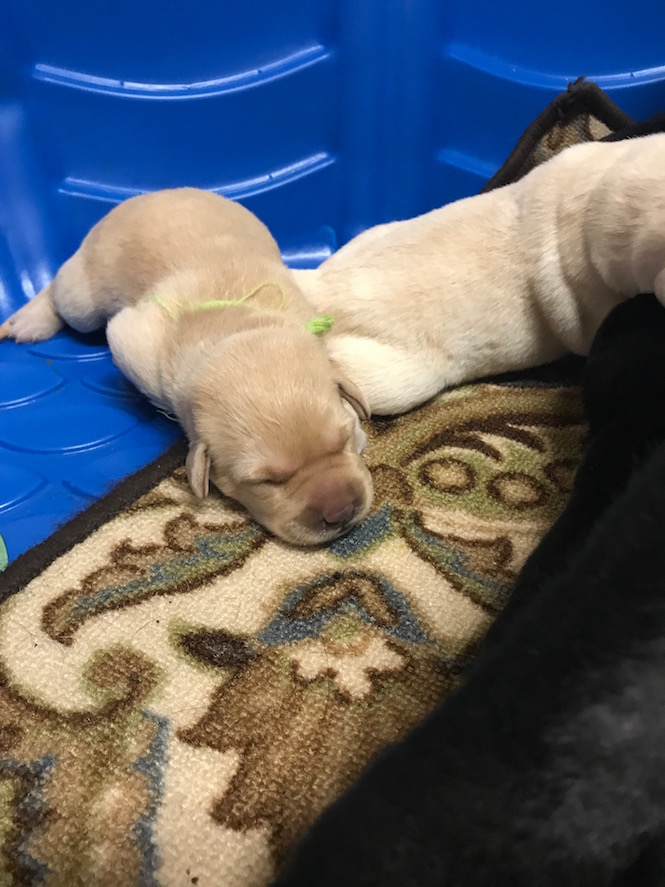 Joan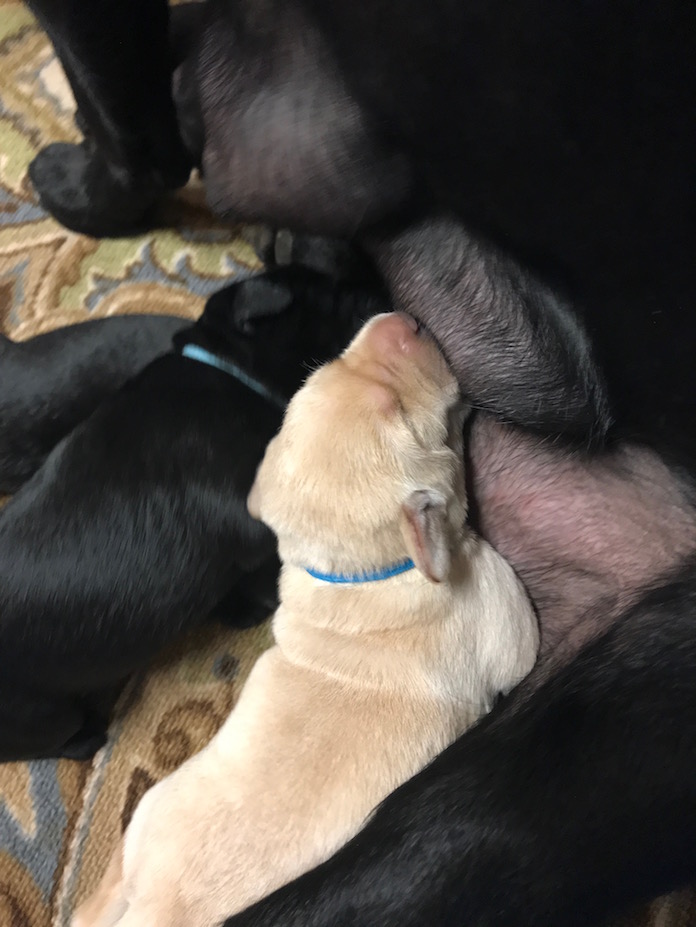 Jax and Apollo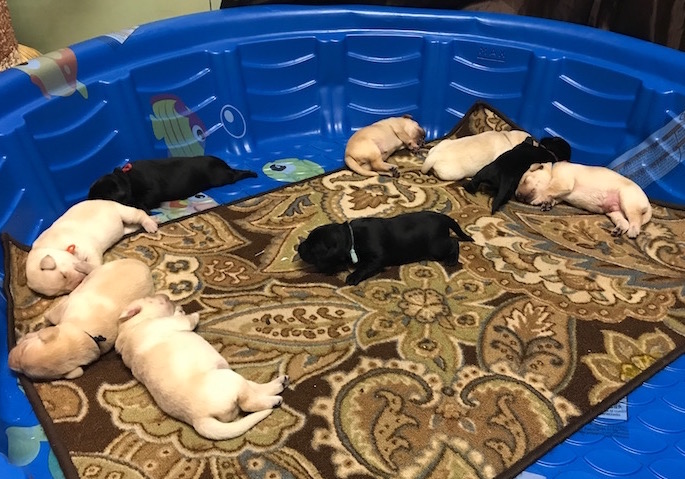 All 9: Top, then clockwise: Joan, Piper, Venus, Apollo, Jax (middle), Sugar, Bear, Mango, and Vader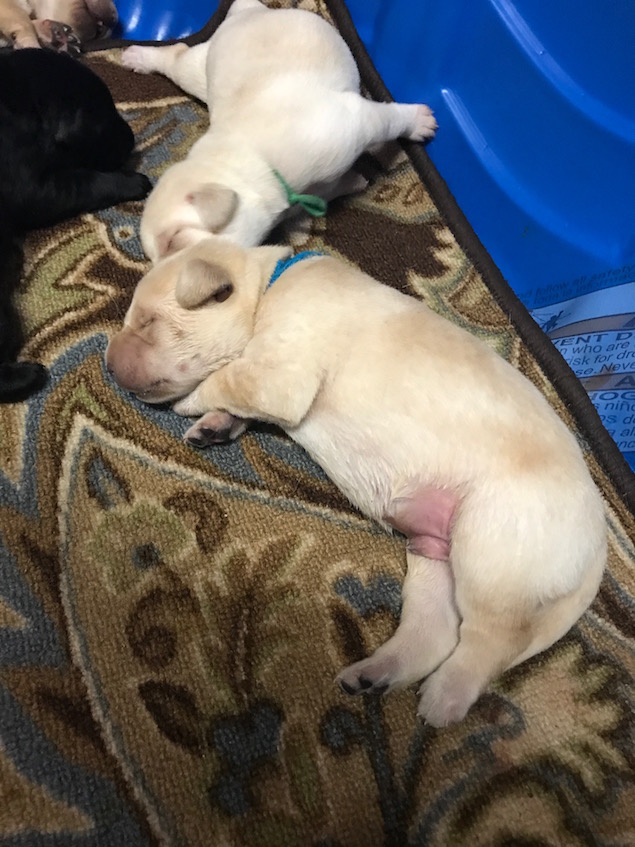 Apollo (milk on his cheeks and tummy:) and Piper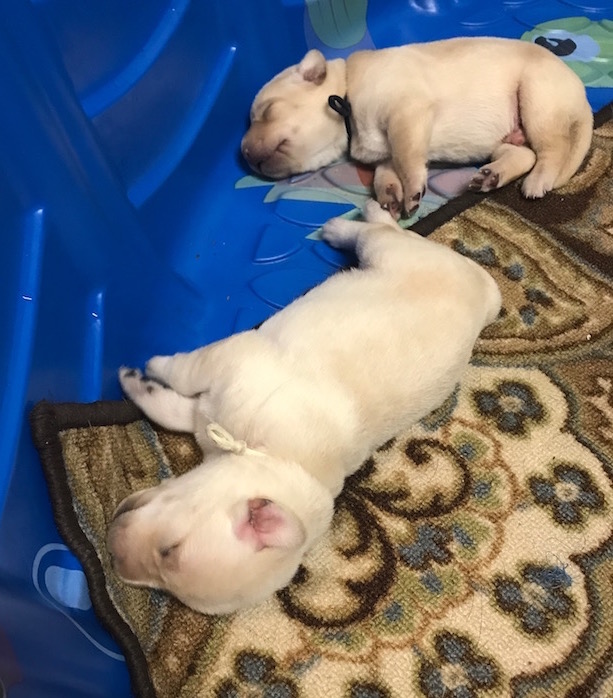 Sugar and Bear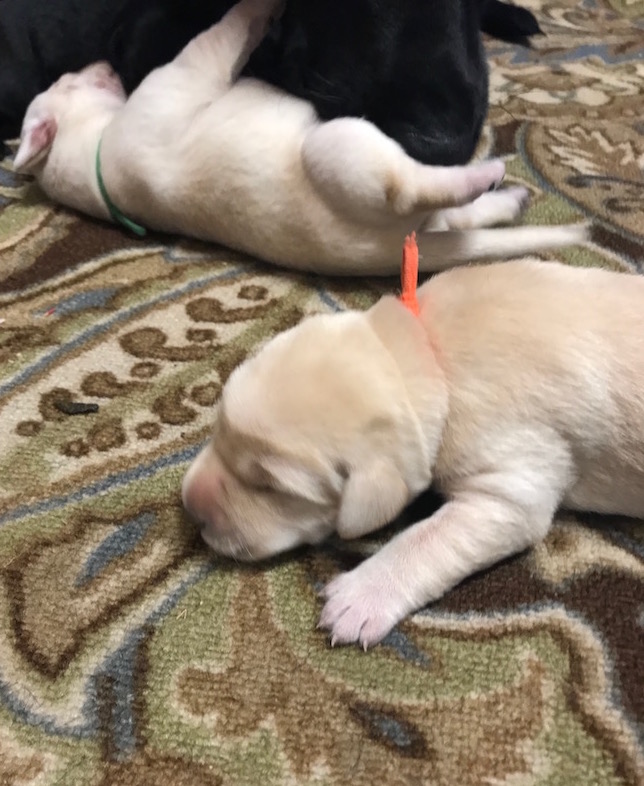 Crystal grooming Piper, Mango
-------------------------------------------------------------------
JUST A FEW RANDOM PICTURES!
8/14 at 6 days old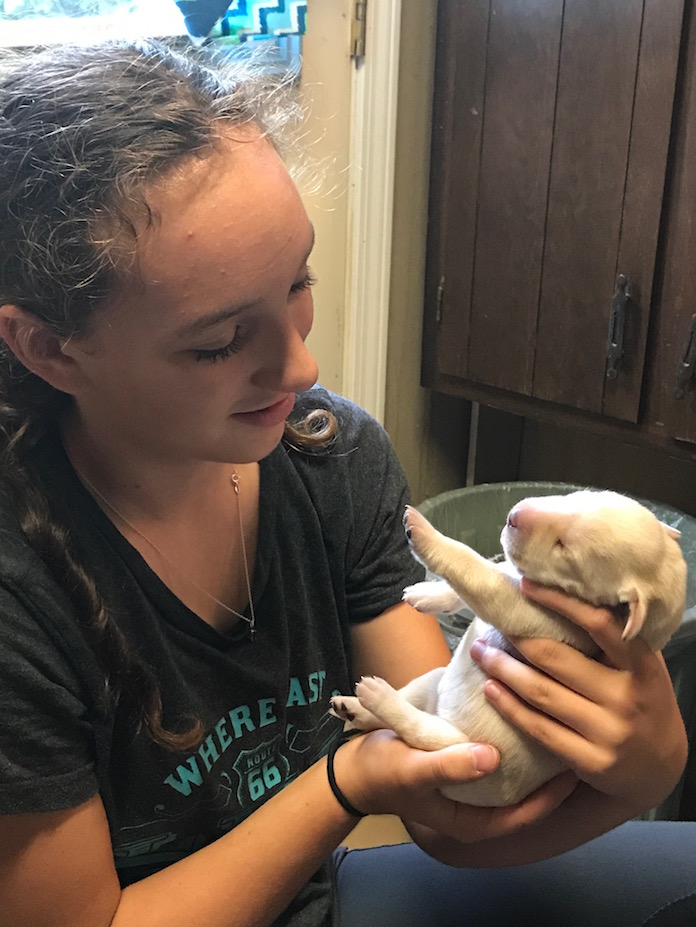 Olivia is growing up, but never gets tired of helping with our precious pups-You'll see her with each litter!
Mango-Female-Orange collar - 8-14-18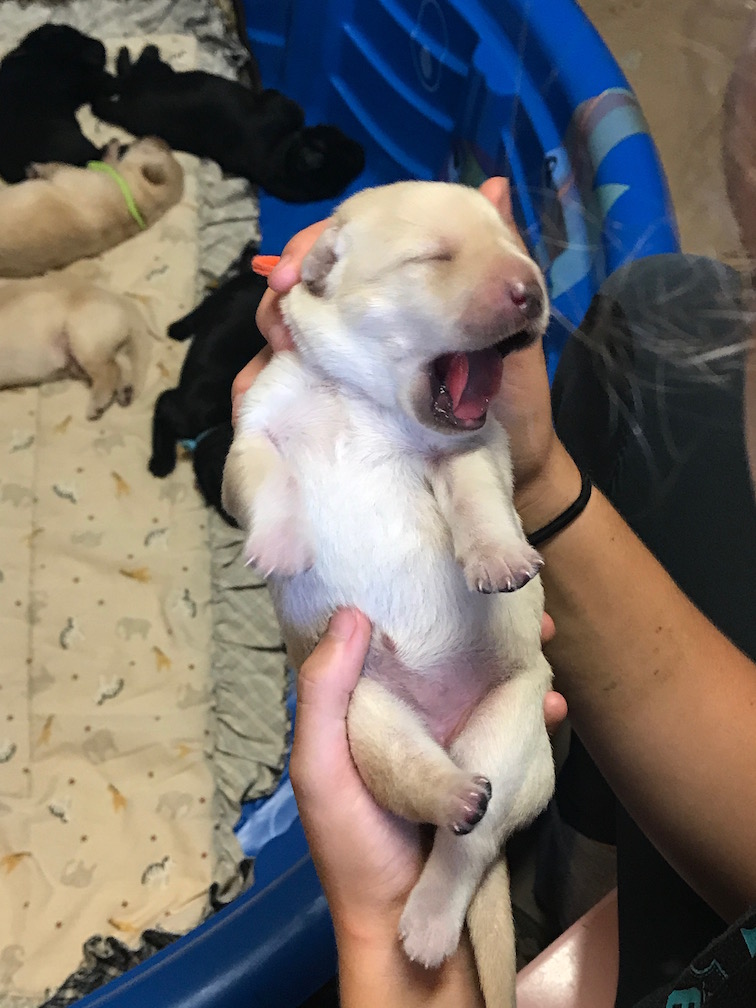 Mango - 8/14 6 days old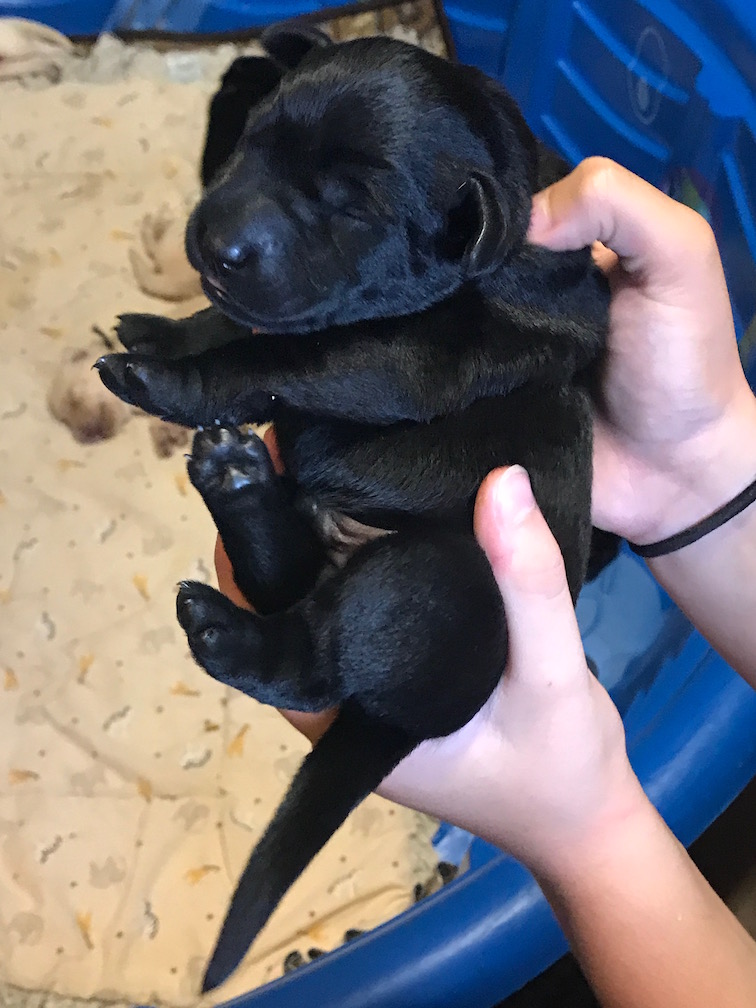 JAX-Male-Blue collar - 8/14/18 6 days old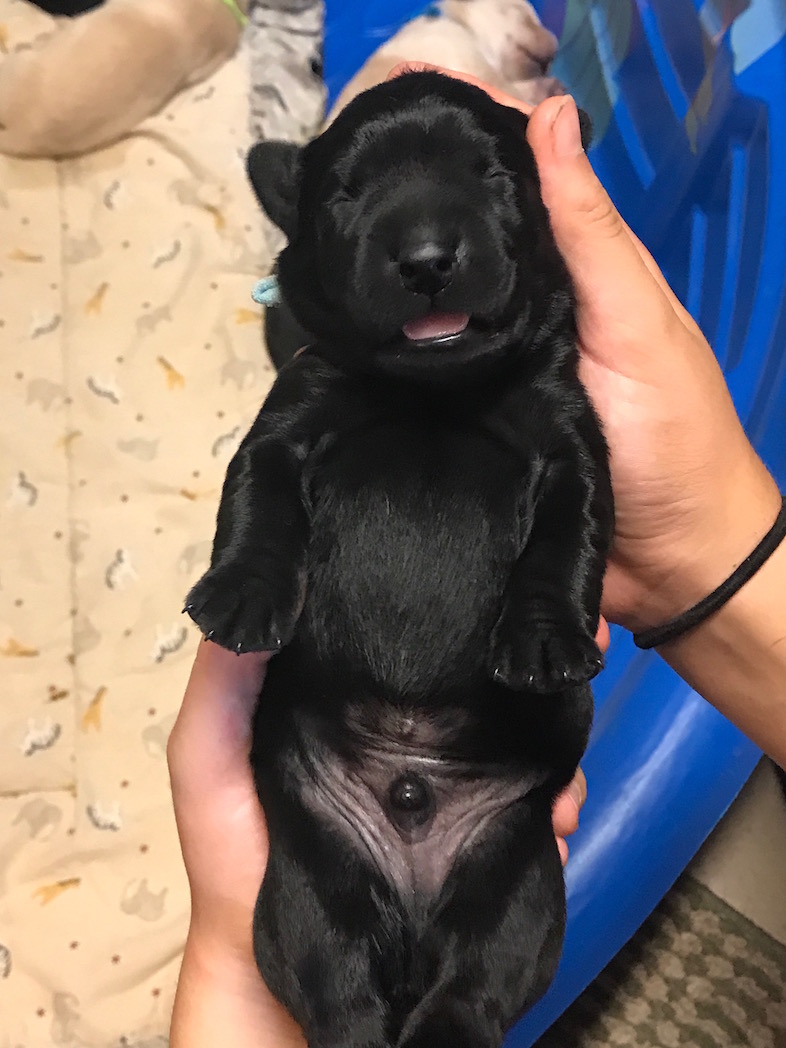 JAX-Male-Blue collar - 8/14/18 6 days old
What a cutie! Looks like a little black bear!!
Newborn Portraits -3 days old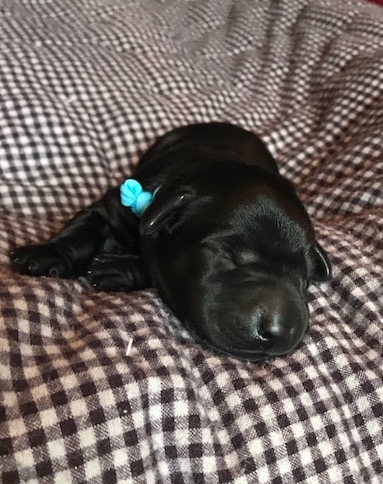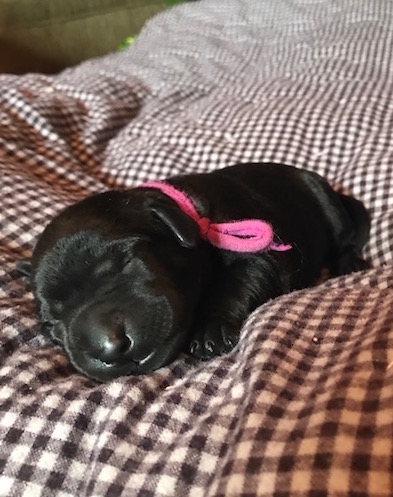 1-JAX - MALE -Lt.Blue Collar 2-VENUS- FEMALE -Raspberry Collar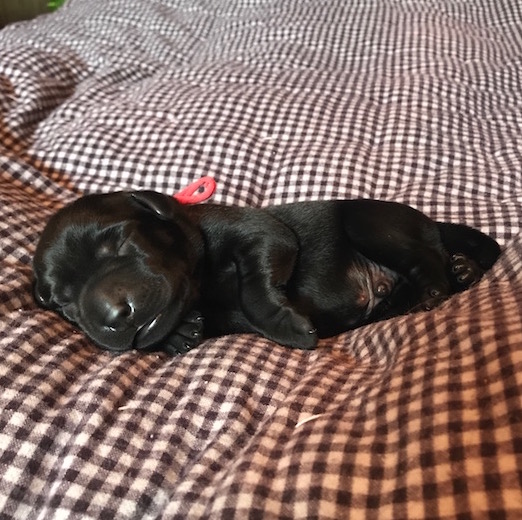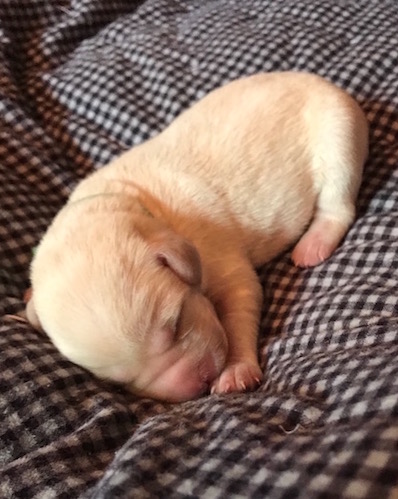 3-VADER- MALE - Red Collar 4-PIPER- FEMALE - Dk Green Collar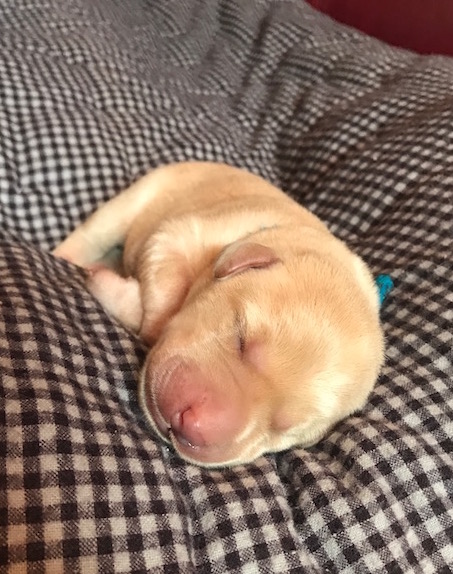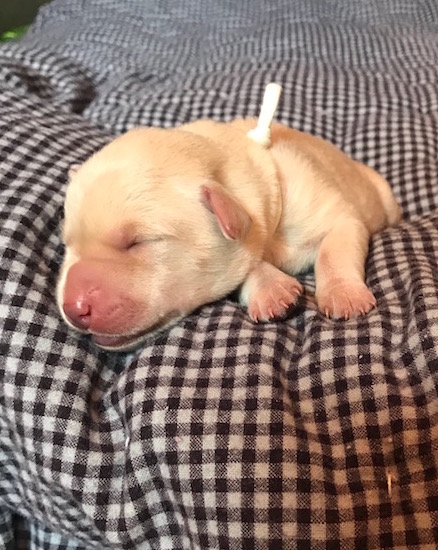 5-APOLLO- MALE - Dk Blue Collar 6-SUGAR- FEMALE - White Collar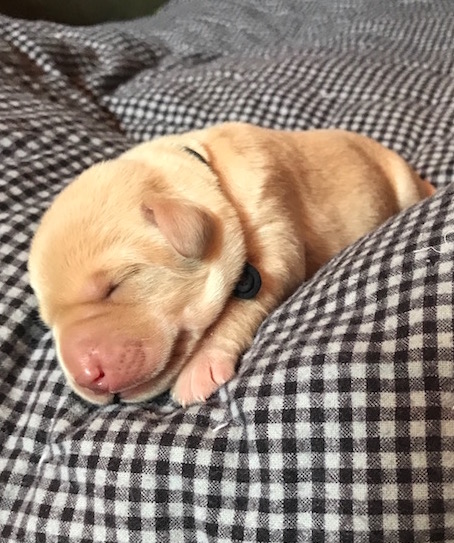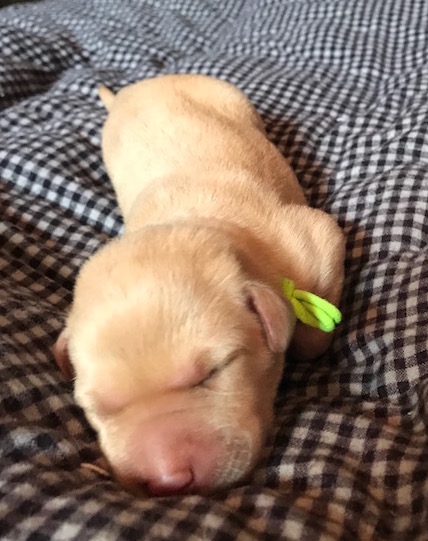 7-BEAR- MALE - Black Collar 8-JOAN- FEMALE - LtGreen Collar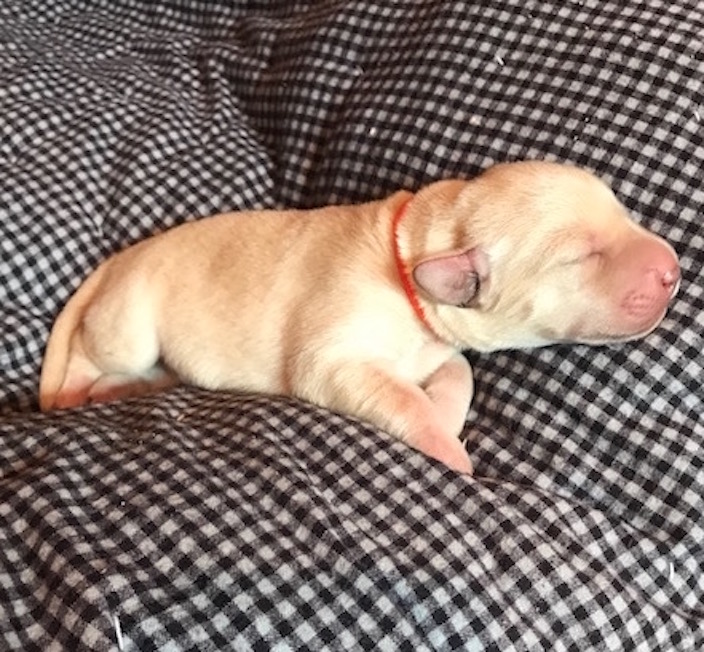 9-MANGO- FEMALE - Orange Collar
...................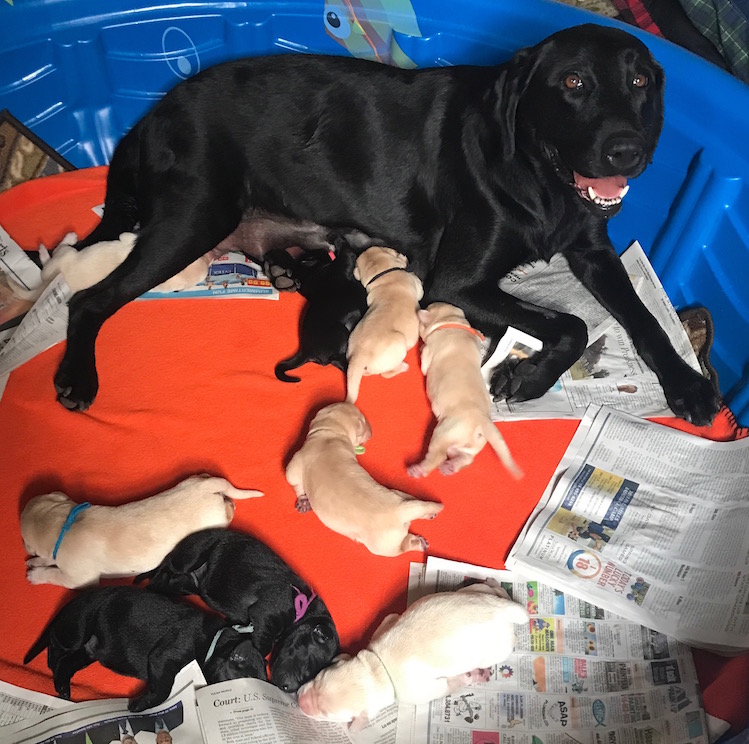 Beautiful Crystal and her pups
3 days old-8/11/18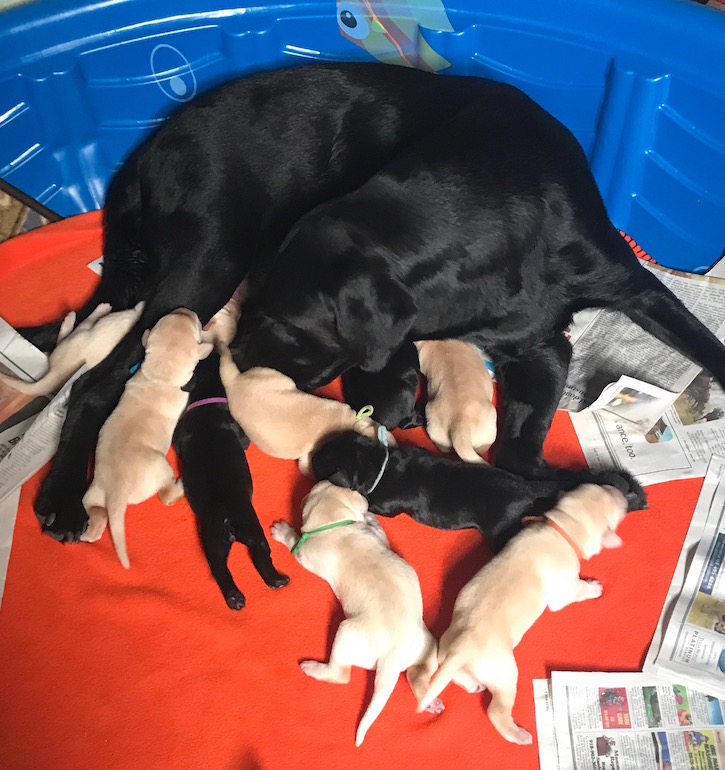 Busy Mom!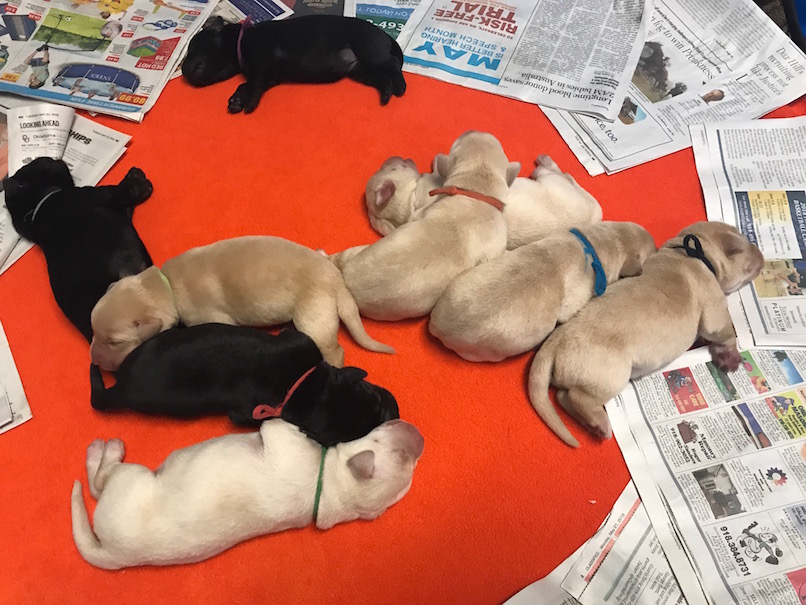 8/11/18 - 3 days old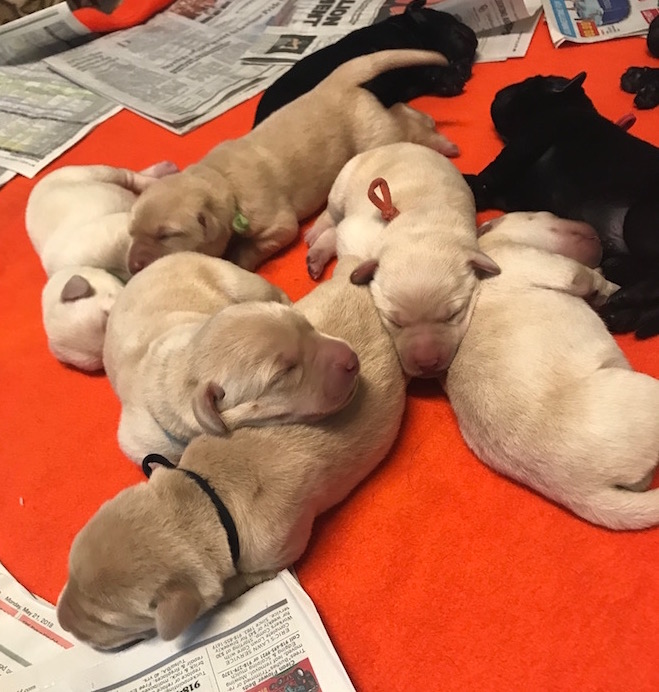 Yellow Pups - 3 days old-what a difference a couple days can make!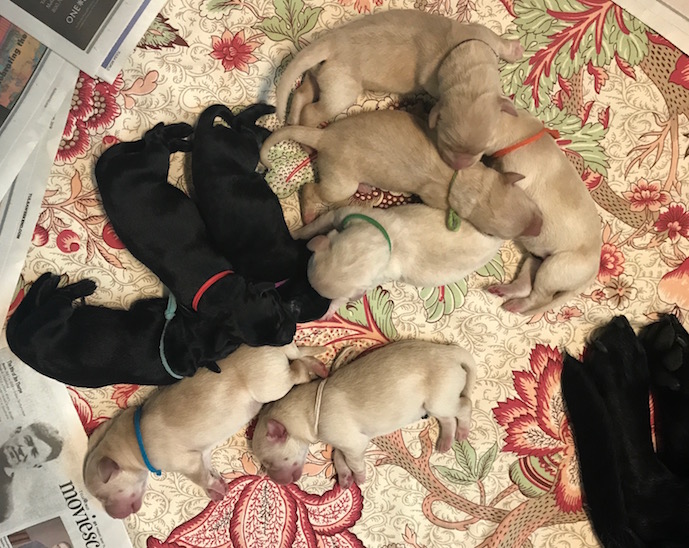 1 day old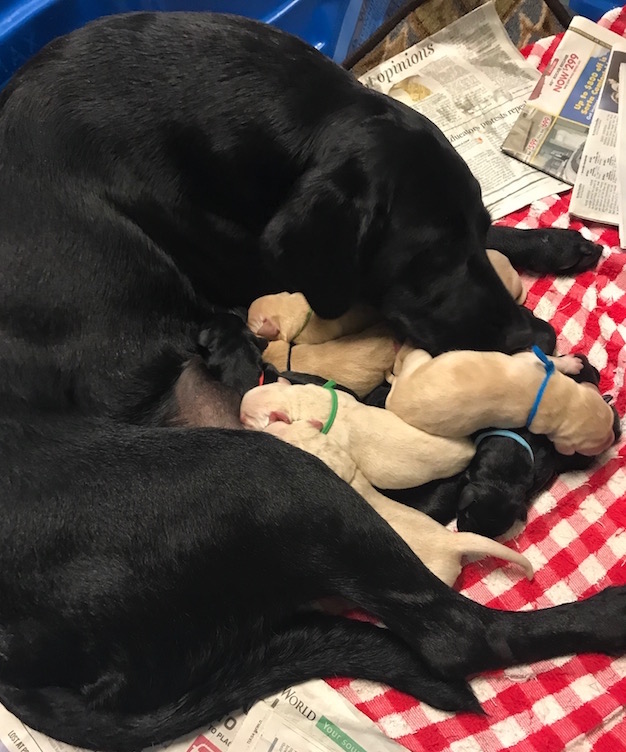 Mission Accomplished!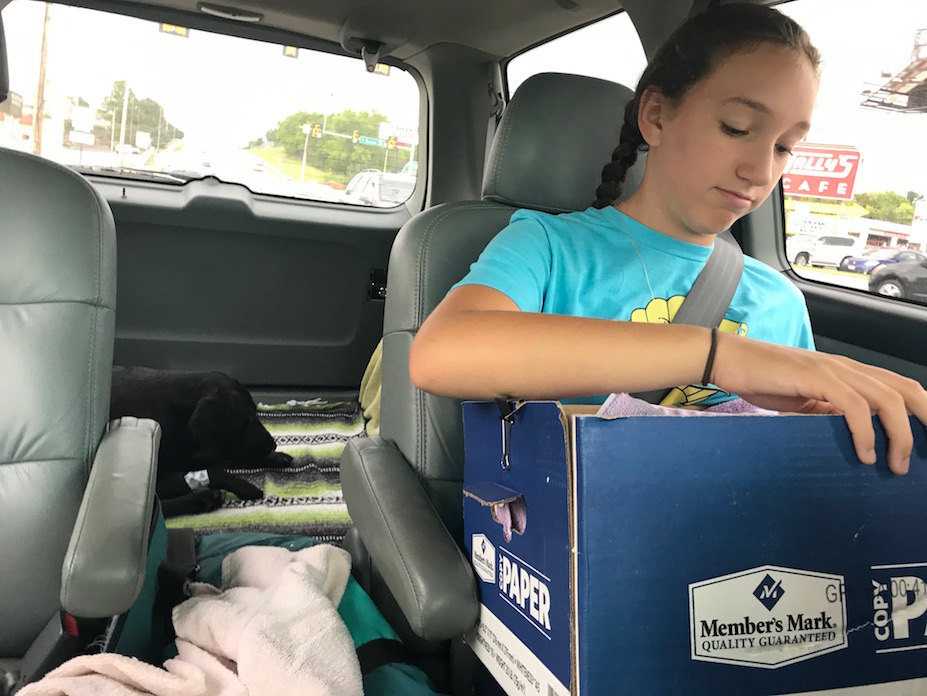 Going Home-1:30 PM, 8/8/18