...Welcome to our 2017 Puppy Page...
Jazzmine x Stoney =
8 beautiful pups!
Born 9/30/17
***3 Males remain to reserve!***
9/30/17- Pups were born exactly on their due date! : ). Jazz did a great job of it. She started her first stage of labor around midnight and by 5:30 AM, was trying to deliver her first. Seems it's a tradition with her, though... her first pup plugs up the works... a real 'road block', and then needs assistance at the 24 hour ER, since she always has pups after hours. Yikes! But all continued after he was assisted out! ha! We're glad that's over and our beautiful pups are here! Way too much excitement sometimes!! ha! Jazz has lots of milk and pups are growing nicely! Please enjoy pictures below. I will journal and often add pictures as time allows...journal entries moving downward, and pictures will be posted with the most recent on top. I hope you enjoy!
But first... I have to say goodbye to our beloved BEAR after 13 years!... Many puppies have been introduced to him as their '1st cat'... such a good boy! He let each of the puppies take portraits with him for many years...he was part of their socialization! On the day these sweet pups were born, he left us...[It almost seems like he planned that!!] Goodbye, sweet Bear! We will all miss you greatly!! He and Jazz were such great buds!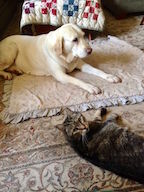 10/1/17- Olivia, Nash and Xander (3 of our 5 grandchildren) came over and peeked in on the pups. Olivia helped take pups' "Newborn" portraits. : )
10/4/17- Pups went in for their dewclaw removal today, and at the same time, got a little check up ... they were very good pups... and when the Vet came out with the pups, he said, "just about all of them are still in there, ha! A couple may have made it out the back door" In other words, he loved and his staff them! (who doesn't love a pup, right?! : )
10/7/17- Pups are eating well, and growing like crazy! Their little muzzles and feet are starting to get their dark color... So cute! I've seen some of them on all 4's in 'full waddle' mode-but not expected until between 2 and 3 weeks!! :D
10/9/17- Pups are walking on all 4's more and more... and growing so nicely! Little muzzles and feet are getting darker... they just get cuter and cuter!
10/11/17- It's between pitiful and funny to watch these little ones waddle on all 4's when they can't see yet! They are due to open those twinklie eyes this weekend... always an exciting time - when their personality seems to really come alive! Those trusting little eye peering back at you. I've added weight progress below this entry so you can see what a good job mom is doing! The first weight is at birth, then as of today.
Puppy weight progress:@11 days old
Birth weight compared to today (10/11/17)
Green M - 11.6 oz / 27.4 oz
Red F - 13.8 oz / 31.8 oz
Blue M - 13.2 oz / 30.8 oz
Black M - 14.2 oz / 27.8 oz
Lt Blue M - 12 oz / 33.4 oz
Pink F - 10.6 / 24.2 oz
Lt Green M - 14.2 / 28.8 oz
Lavender F - 9.2 oz / 24.2 oz
10/12/17- Pups will already be 2 weeks old on Saturday. 2 have already started opening their eyes!! Never before have we had pups open eyes before 2 weeks... so fun to see! All pups are on all 4's now... They are being handled several times daily, and undergoing mild 'stressing'... right on track for good being good pups! Got nails trimmed today.
10/14/17- Pups are 2 weeks old now and a lot has changed for them! They all have opened their eyes now... and that is when the fun begins!! They moved to their puppy 'big kid' box today, where they can start learning that they sleep in one place and potty in another! :) What can I say... this will take time! Keeping a clean bed is key... We continue to handle them regularly, working with each one in ways that are developmentally appropriate.
10/17/17- Pups are developing nicely... starting to play and interact. Pups range in weight now from just over 2lbs to just over 3lbs.
Lavender -#8 F - 10/18/17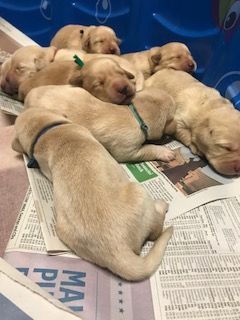 10/8/17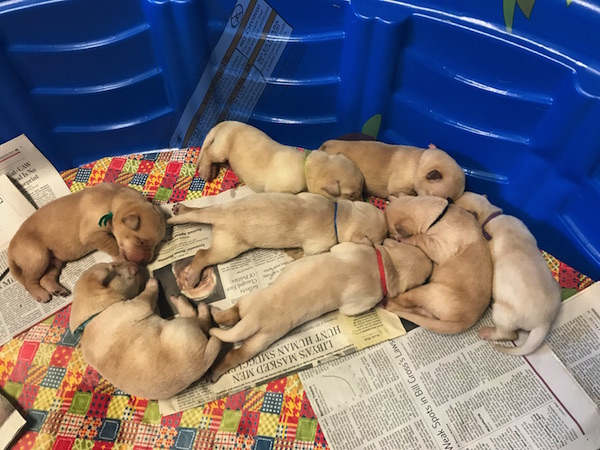 Growing pups... 10-6-17- 1 week!!
NEWBORN PORTRAITS - 10/1/17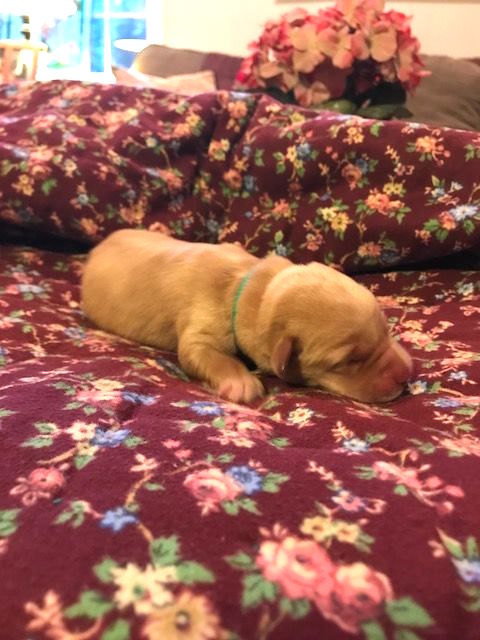 First Born-Male-Wears Green Collar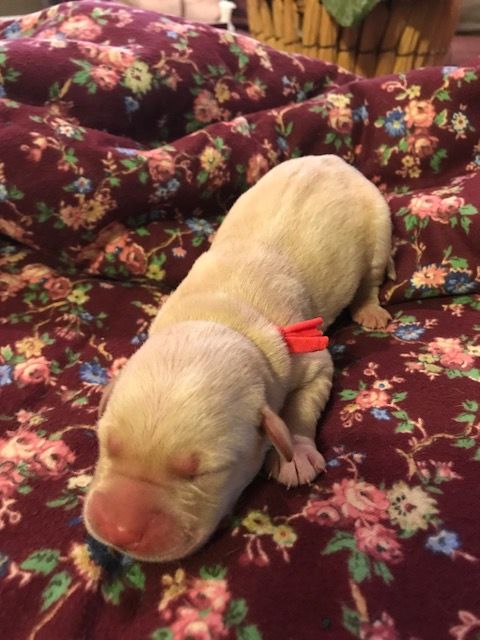 2nd Born-Female-Wears Red Collar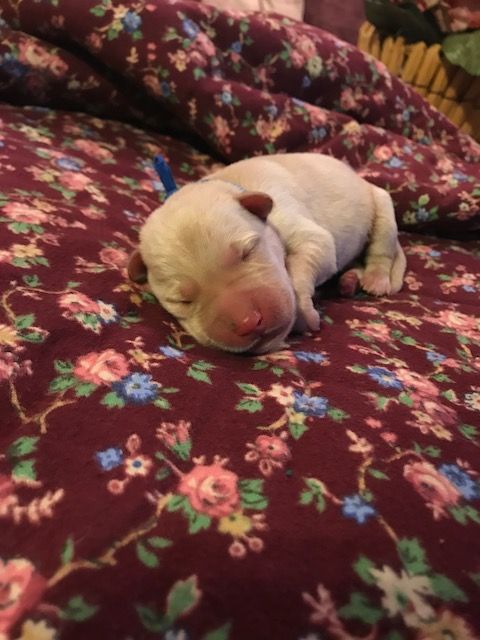 3rd Born-Male-Wears Blue Collar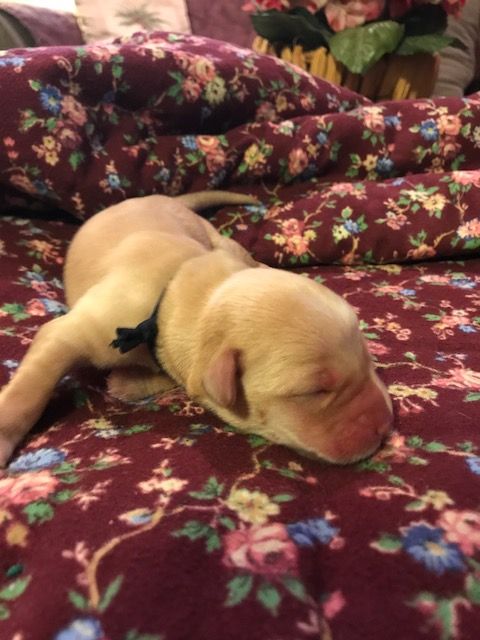 4th Born-Male-Wears Black Collar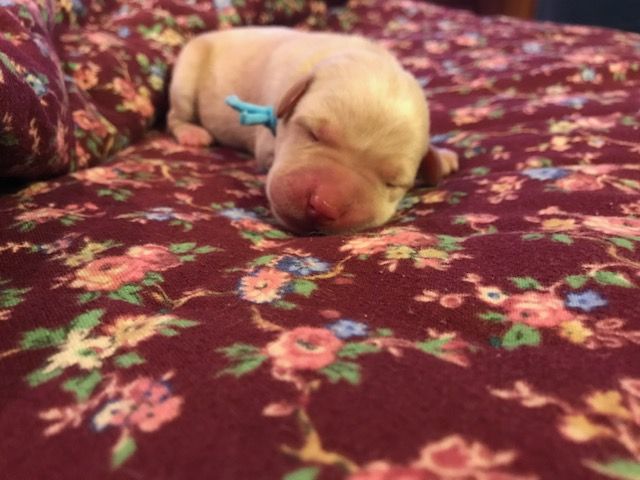 5th Born-Male-Wears Aqua Collar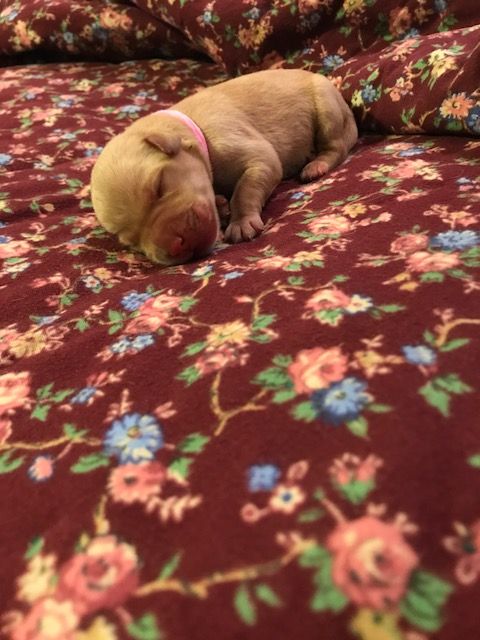 6th Born-Female-Wears Pink Collar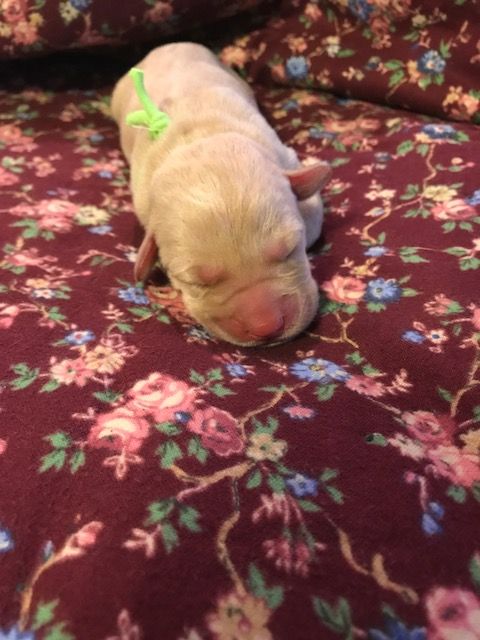 7th Born-Wears Lime Collar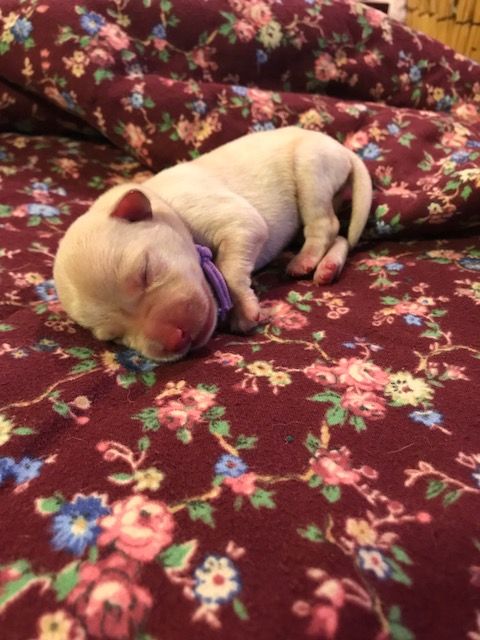 8th Born-Female-Wears Lavender Collar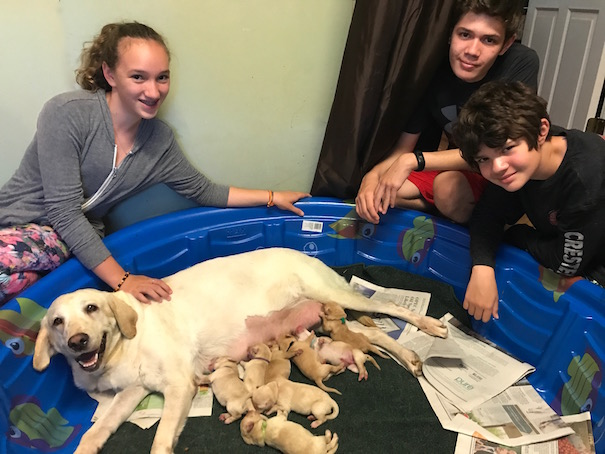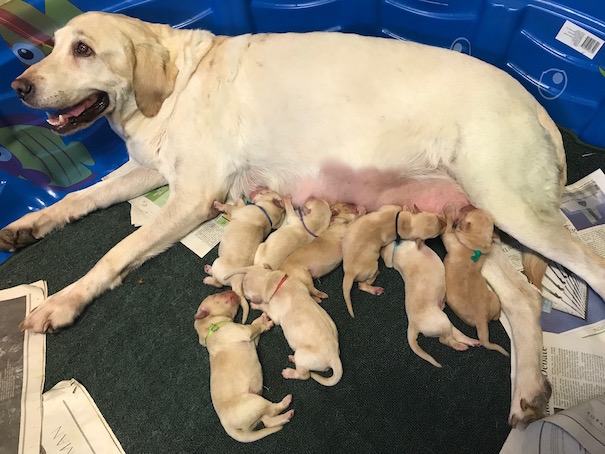 CHAMPIONS AND NOTABLES IN YOUR PUP'S BLOODLINE
From the list of National Field Champions and National Amateur Field Champions (1941 –2009)
Below are Champions who are in your puppy's bloodline. Note that 30 of the 100 Labradors (listed below) that have been inducted in the National Retriever Hall of Fame are included in their bloodline.
(This list does not give credit to Pointer Champions,
with the exception of the first listed in "Other Notables")
These are Champions in Jazz' Pedigree; And when I add Stoney's, there will be even more:
3X NFC, DUAL CH. SHED OF ARDEN - HALL OF FAME
'71, '73 2X NAFC FC, AFC DEE'S DANDY DUDE – HALL OF FAME
'72,'75 2X NAFC, FC, AFC, CNFC RIVER OAK'S CORKY – HALL OF FAME
2X '67-68 NAFC, NFC SUPER CHIEF – HALL OF FAME
2X NFC, FC WHYGIN'S CORK'S COOT – HALL OF FAME
NFC, '90NAFC CANDLEWOOD'S SUPER TANKER – HALL OF FAME
NFC, FC, AFC CORK OF OAKWOOD LANE – HALL OF FAME
'81 NAFC, FC, AFC DUDE'S DOUBLE OR NOTHIN' – HALL OF FAME
NFC, AFC, CFC MI-CRIS SAILOR – HALL OF FAME
'74 NAFC, FC RAY'S RASCAL – HALL OF FAME
NFC, FC, AFC RISKY RUBY BUSINESS – HALL OF FAME
'69 NAFC, FC, AFC GUY'S BITTERROOT LUCKY – HALL OF FAME
'77 NAFC, FC, AFC RIVER OAK'S RASCAL – HALL OF FAME
NFC, FC, AFC SAN JOAQUIN HONCHO – HALL OF FAME
NFC, FC, AFC WESTWIND SUPERNOVA CHIEF – HALL OF FAME
CNFC, CNAFC, FC, AFC THE MARATHON MAN – HALL OF FAME
CNFC, FC YANKEE CLIPPER OF REO RAJ – HALL OF FAME
FC, AFC AIR EXPRESS – HALL OF FAME
FC, AFC CANDLEWOOD'S MAD MOUSE – HALL OF FAME
FC, AFC DUXBAX SCOOTER – HALL OF FAME
FC, AFC GRADY'S SHADEE LADY – HALL OF FAME
'84 NAFC, FC, AFC TRUMARC'S ZIP CODE – HALL OF FAME
FC, AFC ITCHIN' TO GO – HALL OF FAME
FC, AFC NAKAI ANNY – HALL OF FAME
FC, AFC PAHA-SAPA CHIEF – HALL OF FAME
FC, AFC SUPER POWDER – HALL OF FAME
FC, AFC SNAKE EYES DOUBLE OR NOTHIN' – HALL OF FAME
FC, AFC, CFC TRIEVEN THUNDERHEAD – HALL OF FAME
FC, AFC TRUMARC'S RAIDER – HALL OF FAME
FC, AFC ZIPPER DEE DO – HALL OF FAME
OTHER NOTABLES:
GMPR SIR HERSHEY OF SURREY
AM MEX CH GUNFIELD'S SUPER CHARGER
FC, AFC LES COUP DeGRACE TD
FC, AFC MON TOUR DeFORCE
FC, AFC ROYAL OAKS SOMETHING SUPER
FC, AFC TRIPLE ECHO
FC, AFC SERRANA SOOTANA of GENESEE
FC, AFC PATSY'S THUNDERCHIEF
FC, AFC YANKEE CLIPPER of REO-RAJ
FC, AFC SENTINEL OF WHITMORE
AFC BEAVERCREST'S TOREADOR
FC, CFC DUXBACK SCOOTER
NFC MARTEN'S LITTLE SMOKEY
2X CH AFC ALPINE CHEROKEE ROCKET
FC, AFC LADIES DAY AT DEER CREEK
We are now accepting deposits for our Jazz x Stoney litter.
For questions or information, please contact us...