10/12/17- Pups will already be 2 weeks old on Saturday. 2 have already started opening their eyes!! Never before have we had pups open eyes before 2 weeks... so fun to see! All pups are on all 4's now... They are being handled several times daily, and undergoing mild 'stressing'... right on track for good being good pups! Got nails trimmed today.
10/14/17- Pups are 2 weeks old now and a lot has changed for them! They all have opened their eyes now... and that is when the fun begins!! They moved to their puppy 'big kid' box today, where they can start learning that they sleep in one place and potty in another! :) What can I say... this will take time! Keeping a clean bed is key... We continue to handle them regularly, working with each one in ways that are developmentally appropriate.
10/17/17- Pups are developing nicely... starting to play and interact. Pups range in weight now from just over 2lbs to just over 3lbs.
10/19/17- Lots of wrestling going on with pups now, although nothing like it will soon be! 2 week portraits have been ready for 2 days, but so busy with pups, am just getting them up. Eyes.... those beautiful, twinkling eyes!!
10/22/17- We've come a long way... pups were 3 weeks old yesterday, the 21st, are eating solid food now, and playing more each day. working on the potty training (in puppy box). There are lots of baby dog things to learn to get them off to an easier start in their new work. Love the tail wagging!! So satisfying !! : )
10/23/17- Olivia named pups today. She names all of our pups each time, so we can call them something when we talk to them, until we know their forever names. : )
1).DkGreenM-Bones; 2).RedF-Abbie; 3).Dk.BlueM-Dylan; 4).BlackM-Cole; 5).LtBlueM-Ace; 6).PinkF-Dixie; 7).LtGreenM-Archie; 8).LavenderF-Iris
10/24/17- Pups got their first whiff of duck and pheasant today. Both noses on dark green and pink collar pups popped right up. They were mostly sleepy, so the others took a look then went on to sleep. : ) That's ok. I'm impressed that the first time, all of them actually noticed.
11/1/17- New owners are selecting their pups this week! So many changes... sorry, so busy with these little guys, haven't had time to post any of the literally hundred+ pictures I've taken-ha! Or post in this journal. I'll try to catch it up a little right now, and get to the pictures before the end of today. Pups went outside for the first time on Sunday, 10/29. Very timid at first as expected. The next day was a lot easier on them, then by the 3rd day-1/31/17-they were all loving it! Pups are eating mostly solid food now... I feed them a mixture of lots of good stuff-Mom gets good food, too. Jazz nurses them, but not for as long at a time. The weening period lasts for about 2 1/2 weeks. You will be starting out with an extremely healthy pup!! Puppy play has really gotten fast and furious, while at the same time, pups all remain easy to hold and cradle. Nice submissive, yet confident pups! They are a happy litter. Very satisfied!
THE PICKS ARE IN!
11/6/17- Pups are changing daily... they were 5 weeks old on Saturday, 11/4. SO smart and beautiful! We are exposing them to many surfaces and sounds to socialize them well. We want them to be fearless, but in the best way! Also, lots of different visitors and our big dogs help us with this process... : ) Continuing to expose to water and upland fowl, preparing them for later training in the field. All pups passed 'the smell' test! Interestingly enough, the large male, lt blue, who has not yet been selected, had the most interest in the duck and pheasant today. All of males had some interest... Magnum and Dillon... 2nd and 3rd for interest. Abby, big girl came in 4th, and Cole and Maverick 5th. The little girls a little less this time, but some. When wings/tails were laid down... Ace, Abbie and Magnum fought over who would carry it. Dillon, Maverick, Cole, Tess and Iris were asleep by then. Each day is different.
11/7/17- I'm having fun taking pictures and videos of pups and their progress... I just couldn't resist all of the puppy pile pictures...they 'adjusted' often, as you can see. I think these are beautiful pups!
11/10/17- I've said it before... I am amazed at the difference a day makes in these pups in every way! A whimper in the morning from some, and I go to them to find 16 paws up on the side of the little wooden gate to their inside pen... all ready to go outside... and you guessed it! They want to go outside to potty! What a gift! Pups are nearly crate trained before even entering a crate! We begin crate training next week. We continue to handle pups regularly and introduce them to sounds of all kinds, and many surfaces. Lots of visitors are welcome as well. Pups love the big dogs, and are in awe of them, especially when the pack howls in unison at a distant passing siren... really funny to see them all sit at attention!! Pups are eating very well... they get the best! A variety of food in a delightful mixture that varies each day! Happy pups! Hard to believe pups are 6 weeks tomorrow! Time for more portraits... and time to prepare them for joining their families (and ourselves for saying farewell-not easy...)So many wonderful families have chosen our pups, and will be getting some of the best pups you could ever find!! They will take home a pup, a new family member, who they will cherish and love for many years to come, and who will cherish and love them right back!
11/12/17- Crate Training will begin tomorrow night instead of tonight... Today brought another day of hard play, training, and portraits. Extremely cute! The best puppies!!
6 WEEK PORTRAITS
11/12/17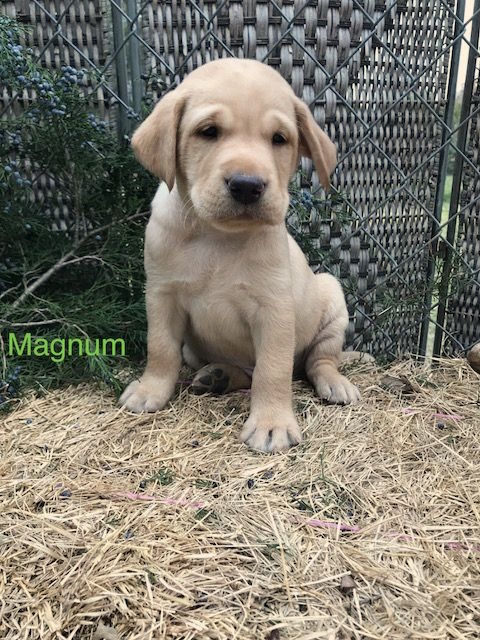 1st Born - Male - Magnum - Wears Dark Green Collar
6 Weeks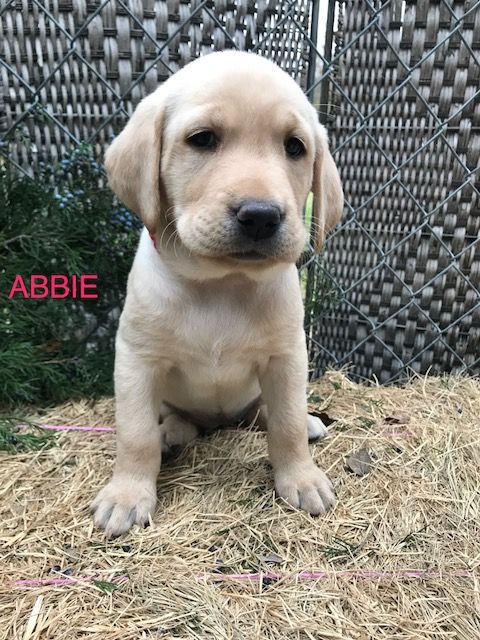 2nd Born - Female - Riley (was Abbie) - Wears Red Collar
6 weeks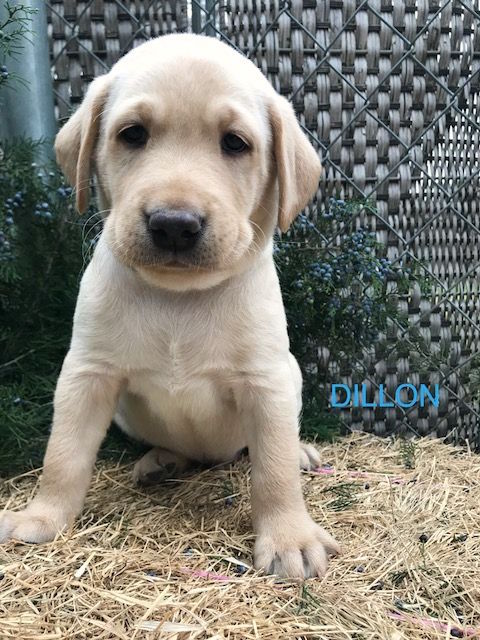 3rd Born - Male - Dillon - Wears Dark Blue Collar
6 Weeks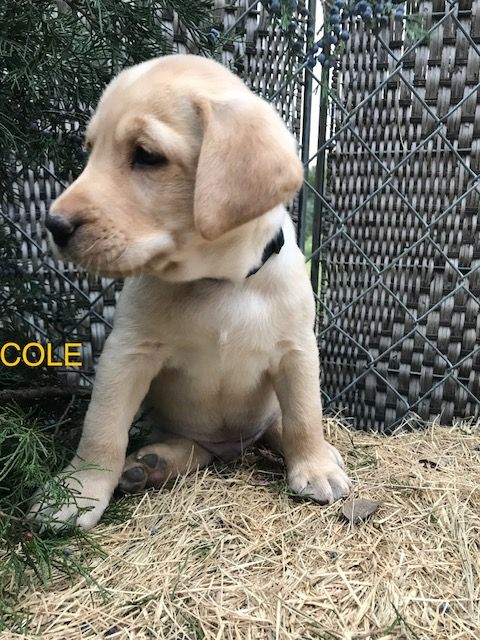 4th Born - Male - Cole - Wears Black Collar
6 weeks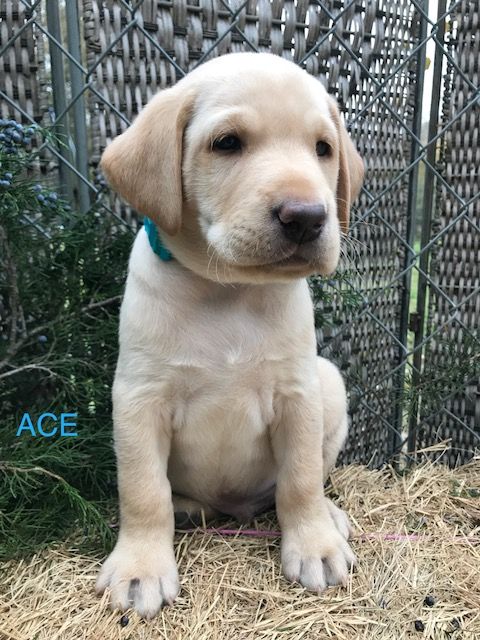 5th Born - Male - Ace - Wears Light Blue / Aqua Collar
6weeks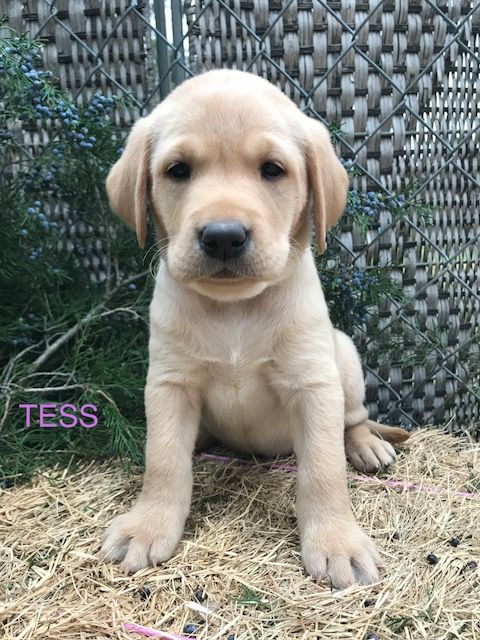 6th Born - Female - Tess - Wears Pink Collar
6 weeks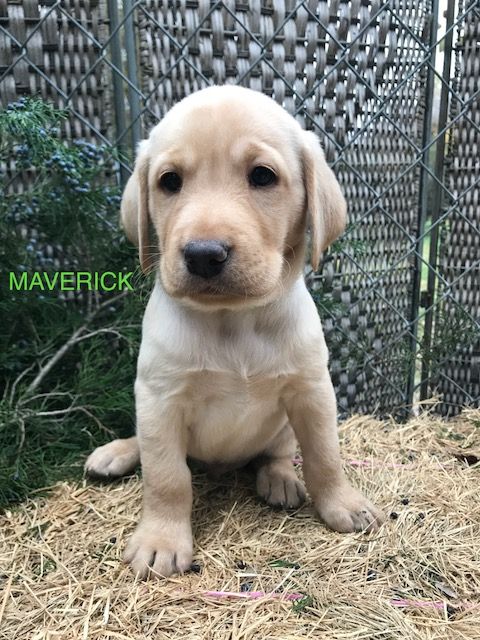 7th Born - Male - Maverick - Wears Light Green Collar
6 weeks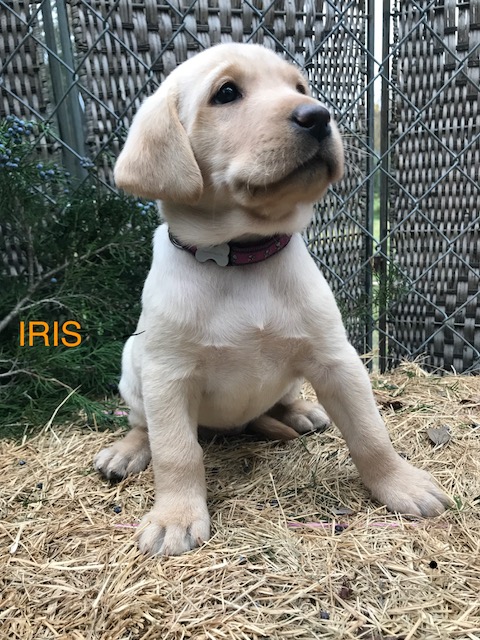 8th Born - Female - Iris - Wears Lavender Collar
6 weeks
: )
(Can you find your pup?)
11/7/17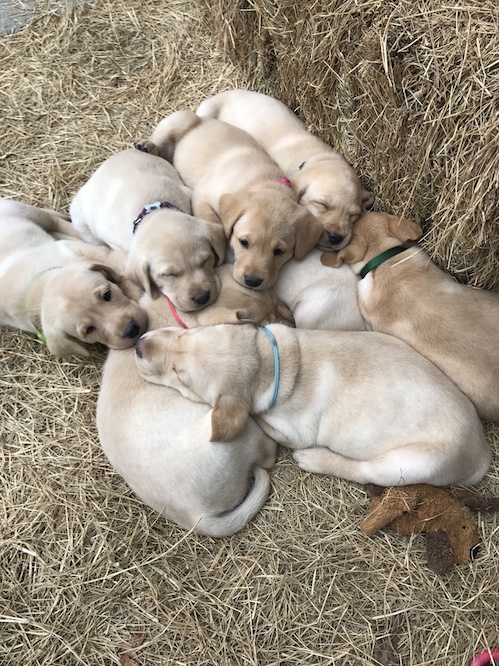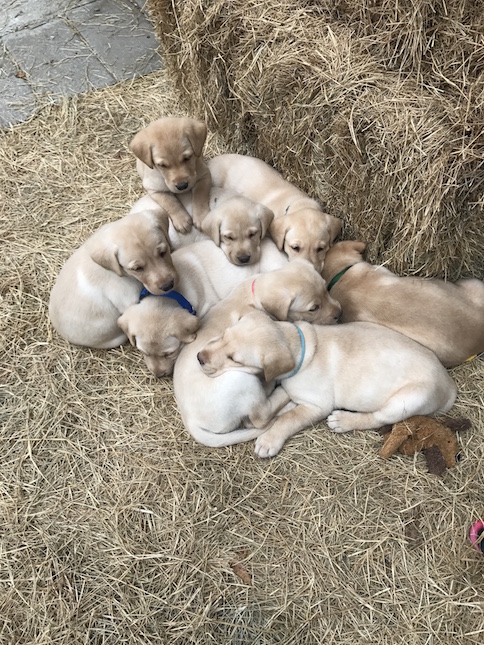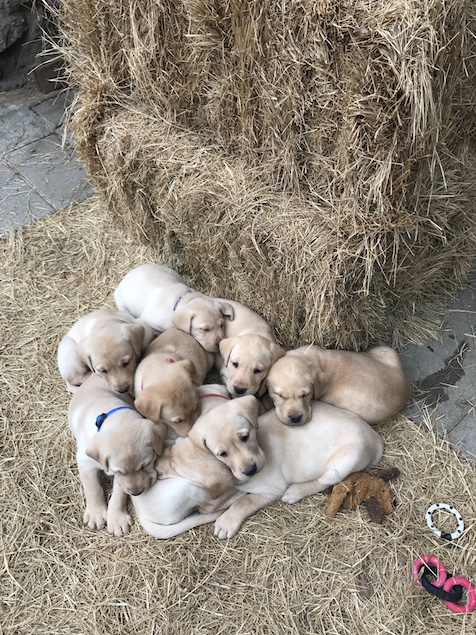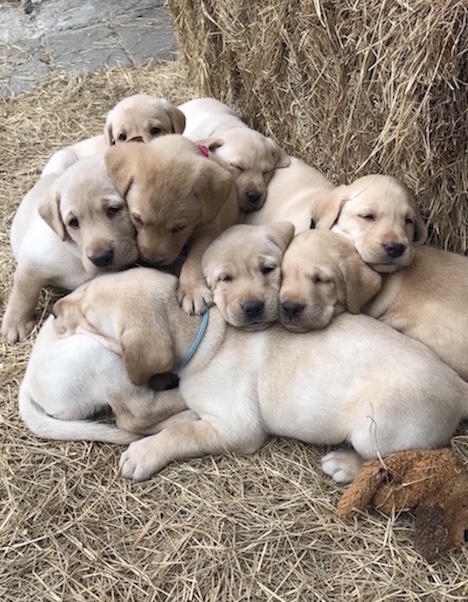 4 Weeks Old
10-30-17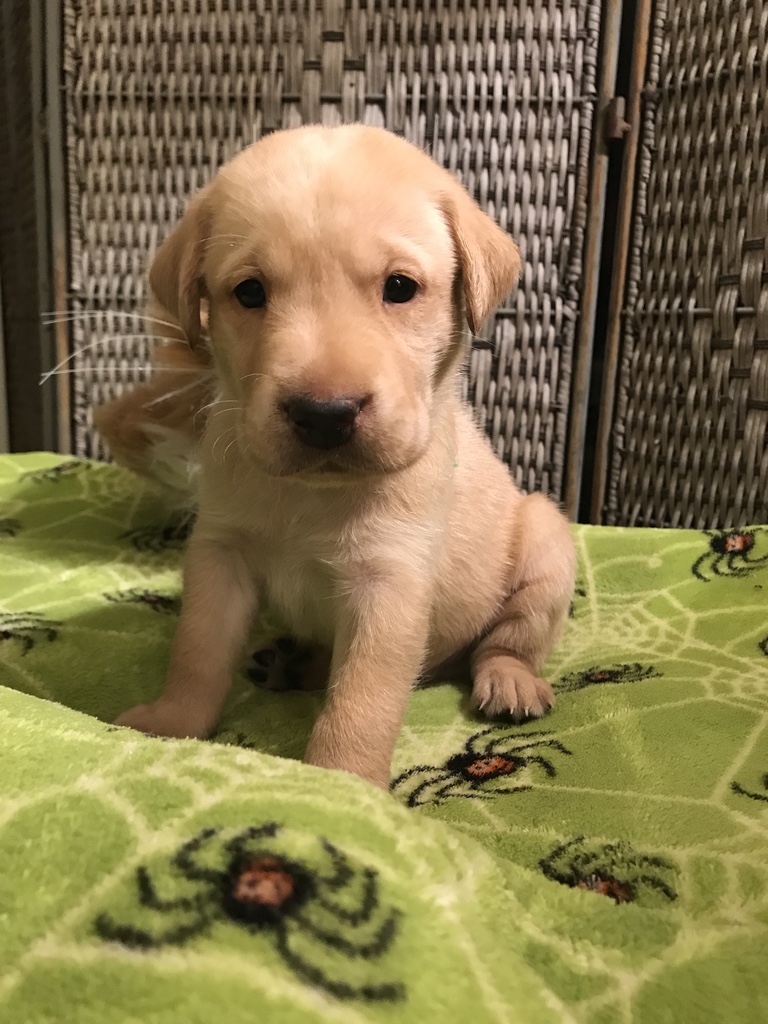 1st Born - Male- MAGNUM- wears dk green collar-(was 'Bones')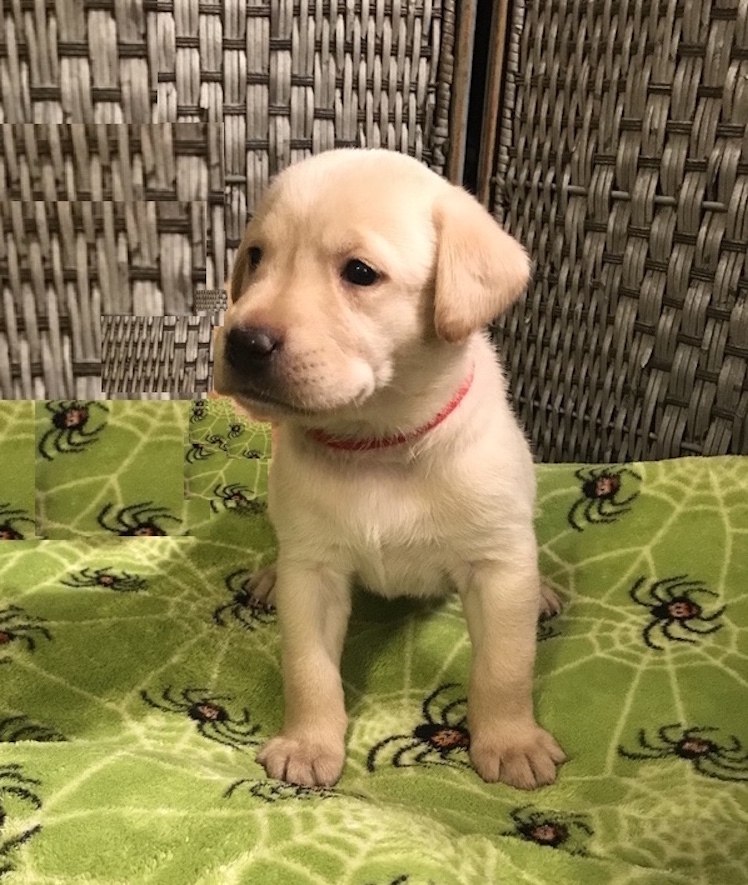 2nd Born - Female- ABBIE - wears red collar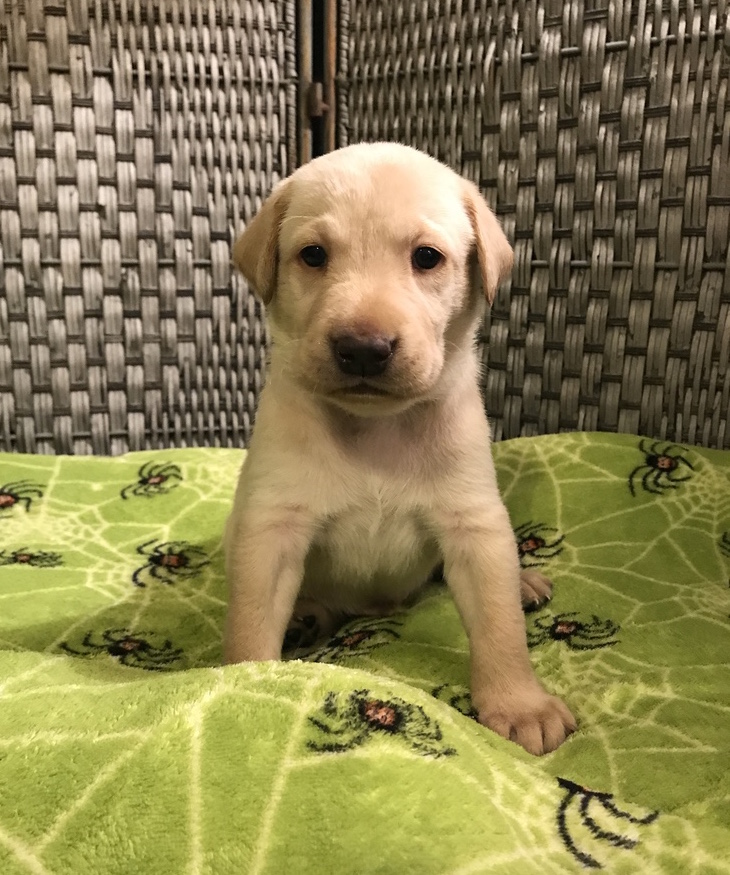 3rd Born - Male- DILLON- wears dk blue collar-(was 'Dylan')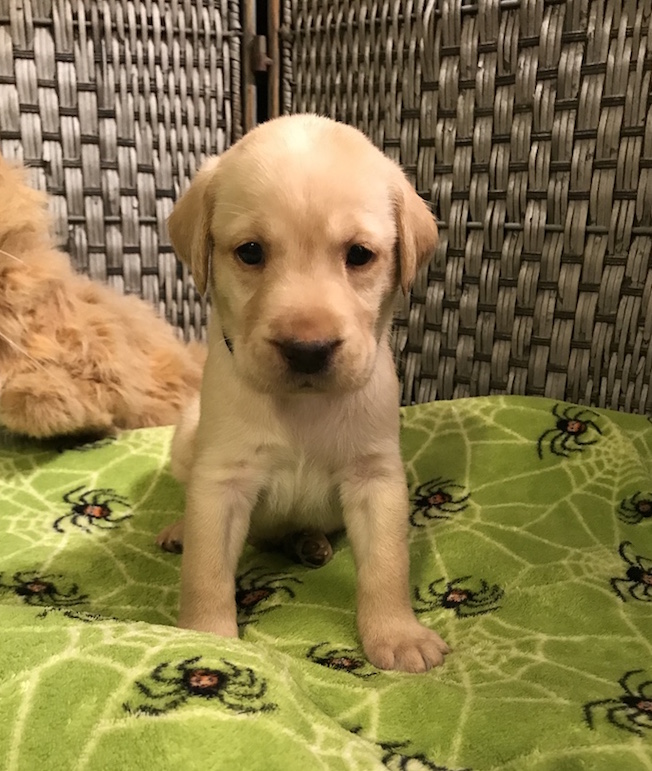 4th Born - Male- COLE- wears black collar-(Available)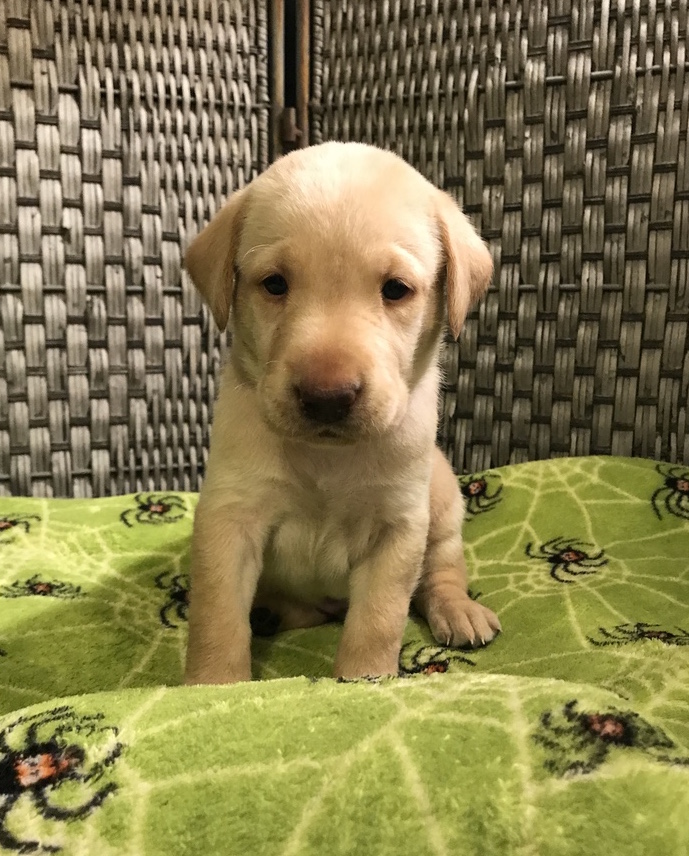 5th Born - Male- ACE- wears light blue collar-(Available)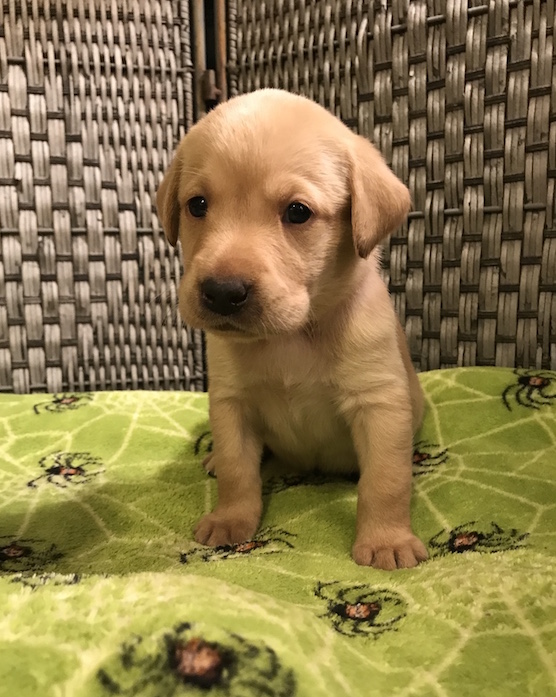 6th Born - Female- TESS- wears pink collar-(was 'Dixie')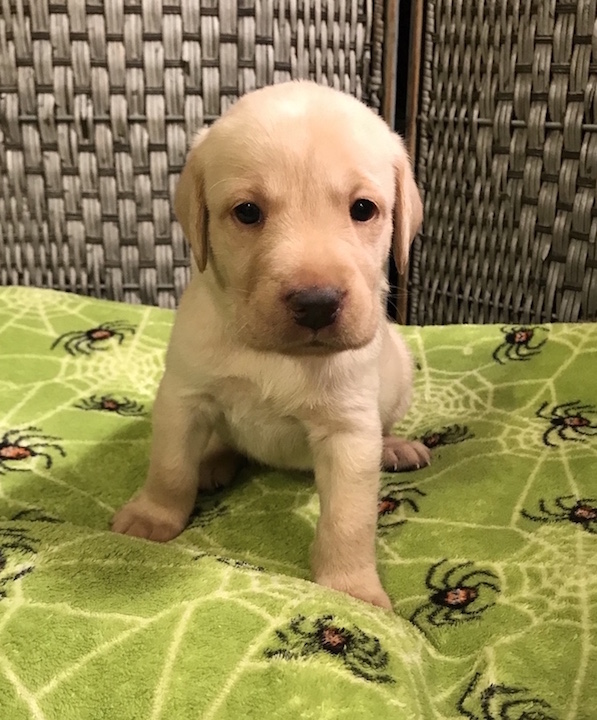 7th Born - Male- MAVERICK- wears lt green collar-(was 'Archie')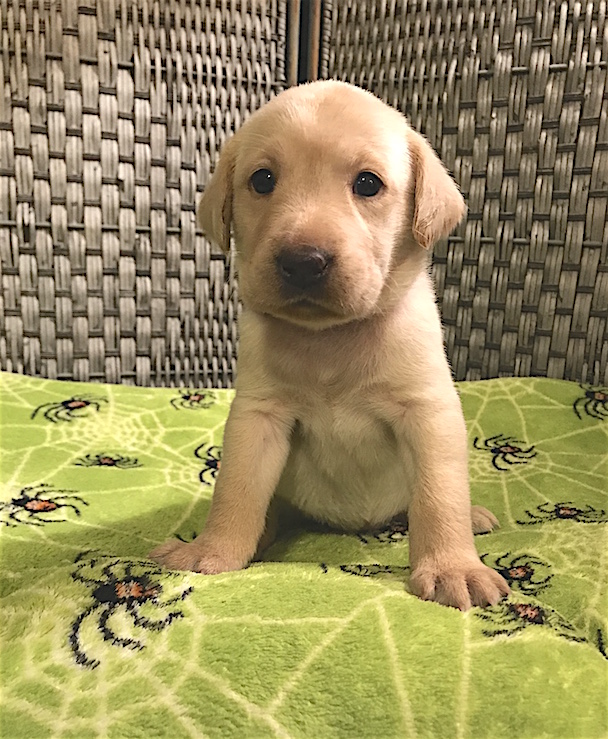 8th Born - Female- IRIS- wears lavender collar-(was 'Iris')
All Wiped out after their first great adventure in this big world!
10/29/17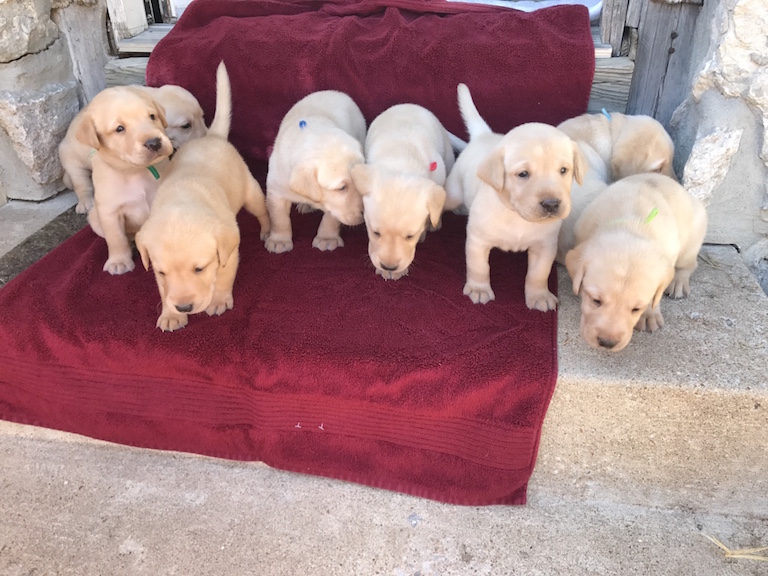 10/29/17
First time Pups stepped outside
4 Weeks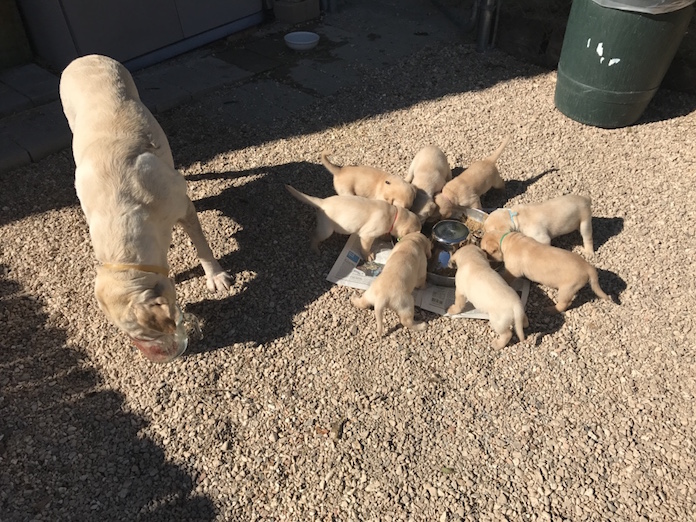 We've come a long way in just one week
First time to eat outside-Jazz cleans the bowl :). 10-29-17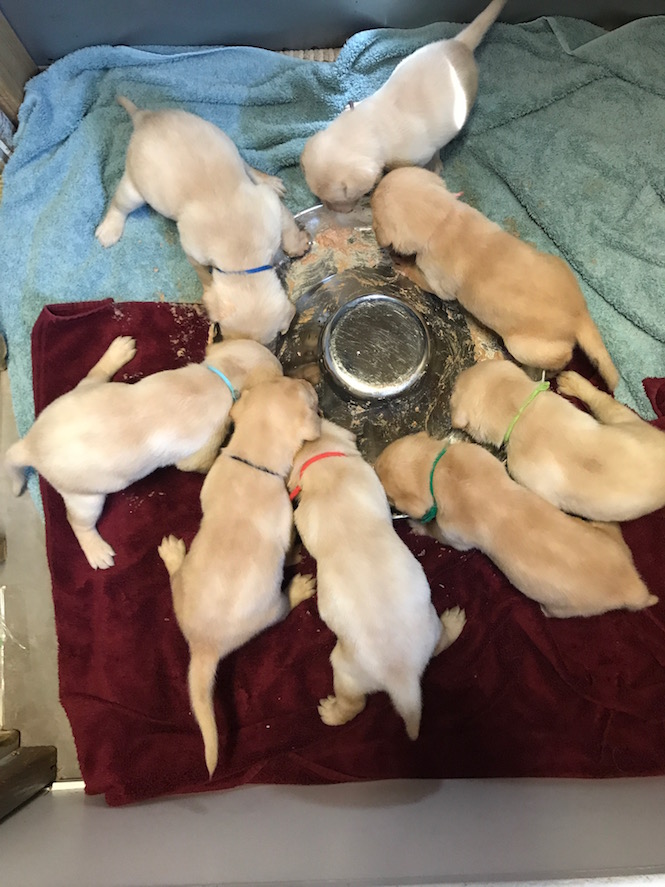 First Time at the Food Dish - 10-21-17 - What a mess! But Jazz enjoyed cleaning them up! : )
2 (1/2) WEEK PORTRAITS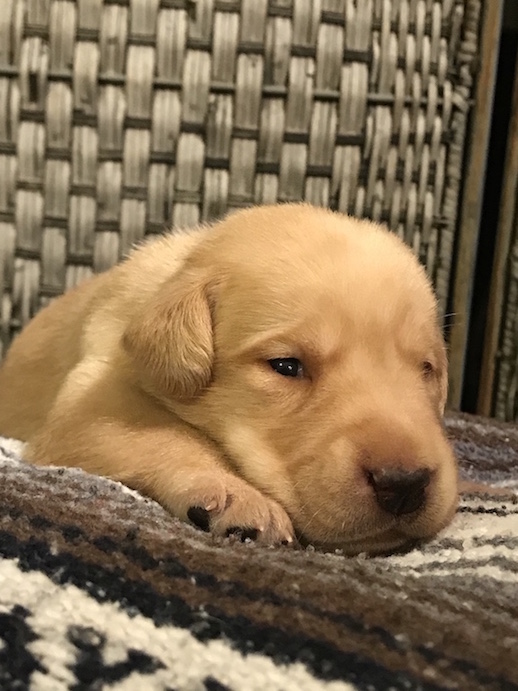 1st Born - MALE - Wears Dk.Green Collar
2nd Born - FEMALE - Wears Red Collar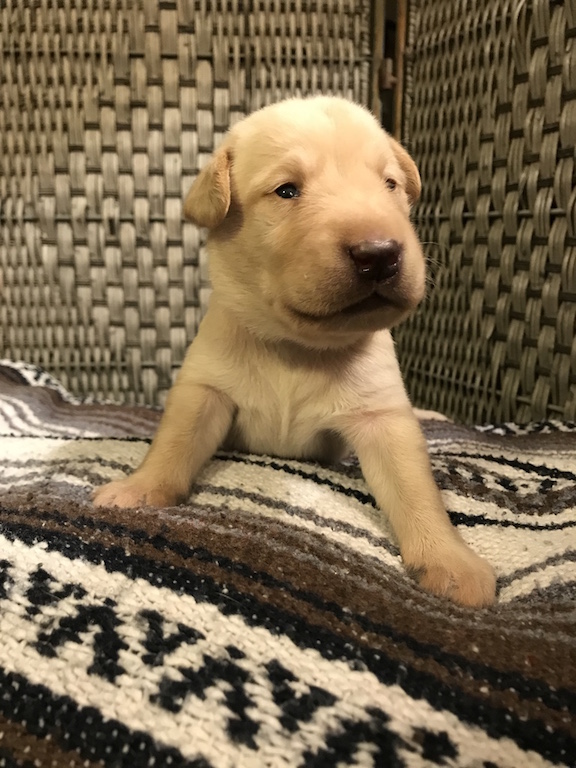 3rd Born - MALE - Wears Dk.Blue Collar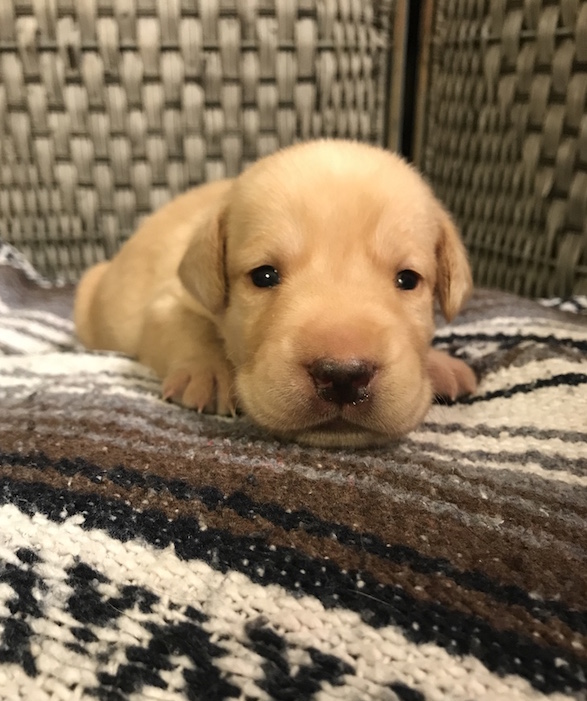 4th Born - MALE - Wears Black Collar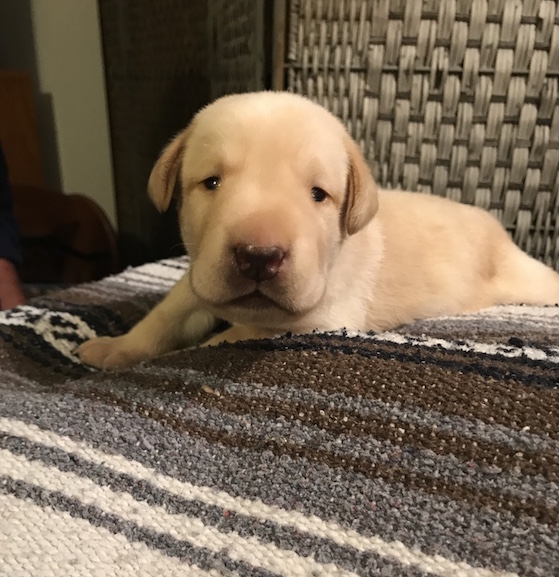 5th Born - MALE - Wears Lt.Blue Collar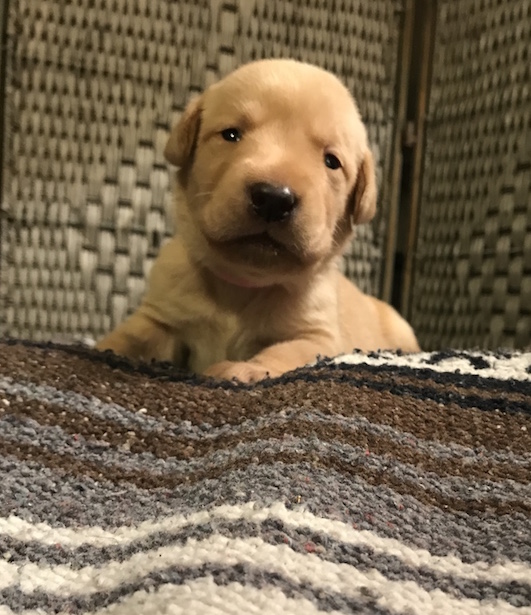 6th Born - FEMALE - Wears Pink Collar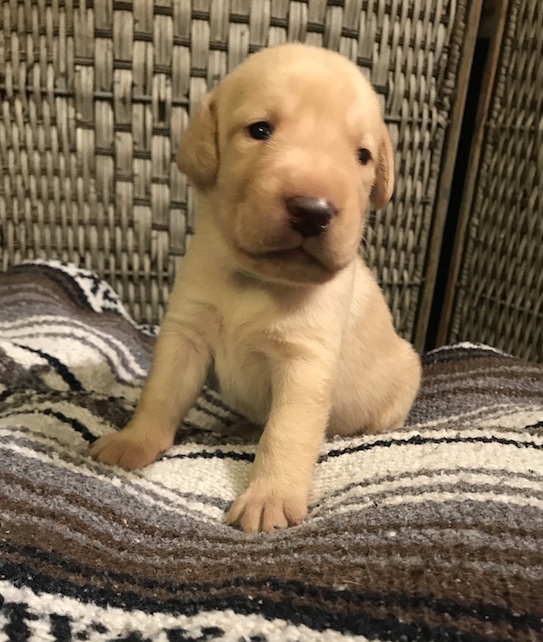 7th Born - MALE - Wears Lt.Green Collar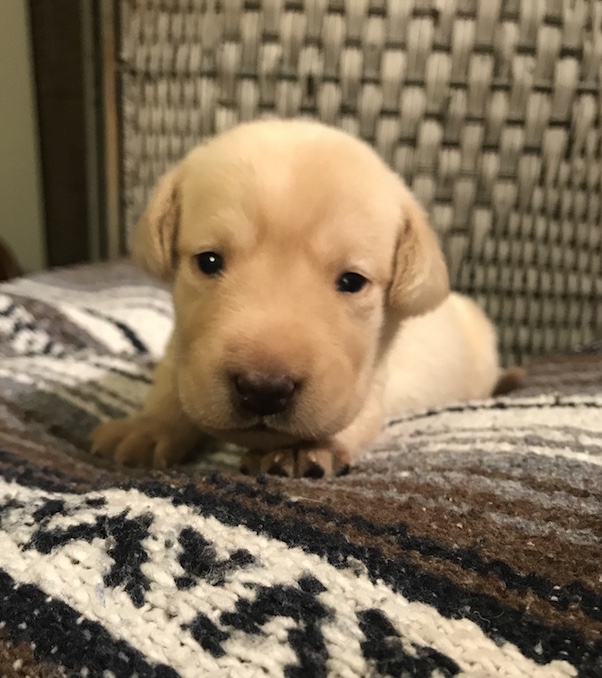 8th Born - FEMALE - Wears Lavender Collar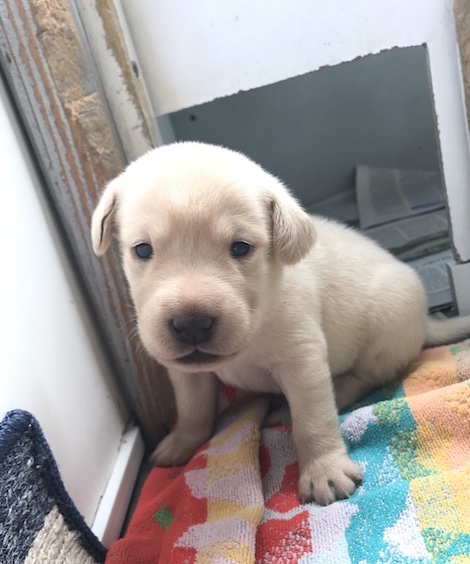 10/18/17-Lavender -#8 F - just came from potty area behind her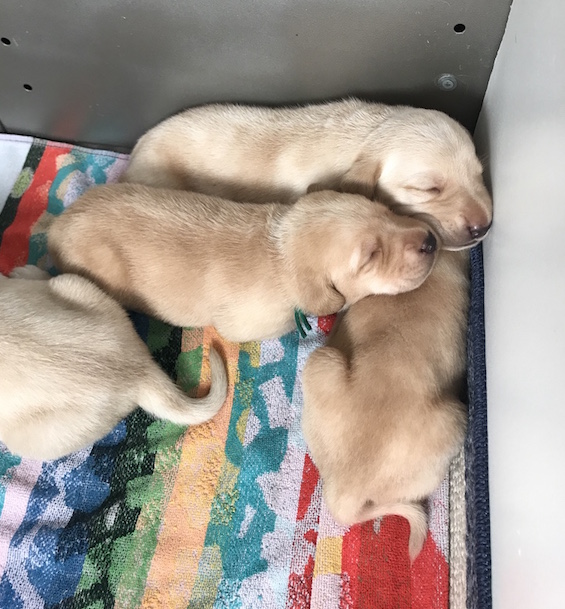 10/18/17 -The Best Pillow