Out of
Hershy's Star Jazzmine
and
Hanna's High Flying Flynn
~
All 8 Pups are reserved for this litter
Thank you to all of our Puppy families!!
~
we invite you to visit our
Past Litters page.
~
12/22/14-12/23/14 - Pups were born. Official birth date for the litter will be 12/23/2014
12/23/14- Jazz worked hard...Almost 24 hours...First pup was breech (black with yellow collar)...but with Dr. Patton's help, he was eventually delivered, making way for the rest...
A client at the Vet's office suggested he be called "Show-Stopper!"- very appropriate! : ) Sweet little Christmas pups! We have 3 yellow females-(different shades of yellow), 3 black males, and 2 black females. All are thriving and cute as can be.
12/26/14 - Dew Claw removal today. Pups were very unhappy, but only for a short time.
12/27/14-12/29/14 - Pups are growing nicely. Jazz has decided that being a "mom" is not so bad! She's more of an outdoor girl, and isn't so thrilled to lay around too much. But these babies are pretty dang cute, and she has grown very attached! (literally, ha!)
12/30/14 - Pups are all one week old today, and got their first nail trim tonight. Mom says, "Ahhh, thank you!"
Also today was time for pup's first portrait. We call it their newborn portrait: 1 week old.
1/1/15
HAPPY NEW YEAR!!!!
Pups have all doubled their birth weights, and are trying to balance on all 4's. Little Cuties are growing so fast!
1/5/15 - Pups are growing so fast...if I don't get pictures up within a couple days that they were taken, they are obsolete! lol! Today, pups were wormed for the first time. Another milestone...3 of the older ones are beginning to show a little "twinkle" in their eyes. It is so fun when their eyes begin to open, around 2 weeks of age. Pups will all be 2 weeks on Wednesday, so some are opening eyes a bit early. :), though not fully open yet. Handling 3 or more times daily; weighing twice daily, doing the things I do to give them the great beginning they need : ); keeping them and their environment VERY clean is also very important to us! : ) Pups are attempting to walk...very cute waddle, wobble, and then sometimes a roll... but right back up to try again! : )) Tomorrow, pups will get their first "whiff" of duck and pheasant. :)
(Just a Note-Olivia likes to name the pups to be more personal with them (she will name the rest of them with her friends at her birthday party on the 16th : ). Puppy #1 is named J.P., after Dr. Jennifer Patton. As a breech pup, Jazz wasn't able to push him through, so Dr. P. had to assist, making way for all the others. : ) Of course as soon as picks are complete, and you have a name chosen, we will call your pup by his/her "forever" name. :)
1/9/15 - Pups are walking much more now, and even beginning to play with one another. All eyes are wide open..I will show them to you soon. : ) Puppy weights range from 2-1/2 to nearly 3-1/2 lbs. at 2-1/2 weeks old. : ) Lots of tail wagging, and some play starting.
1/11/15 - Puppies had their first taste of solid food (soft and moist) All ate well, with varying degrees of caution : ). Lots of interest in the duck and pheasant (of course! :) Pups are enjoying tumbling a little. They are biting each other's ears and whatever else they can grab. Teeth are coming in, but not sharp yet.
1/12/15 - Moving time! Puppies have moved to their "big kid" puppy box. There they have a chance to learn about a special place to go potty. They are amazing! They aren't perfect at it of course, but all had success at least once on the first day...walking through the little door, and going potty on the newspaper. Smart pups!!
1/13/15 - Today was their first meal together around the big food bowl. They did pretty well. Their attention span was short, but they would keep coming back. :) (Lots of new pictures today : ).
1/15/15 - It is amazing the difference a day makes in the behavior and progress of these little guys! The scene around the food dish today was much different! Very aggressive eaters! Play-fighting has picked up, and many more successful potty trips to the "other side." : ) All pups are doing very well, and behavior is changing daily-very aware of their surroundings, so we are very careful not to startle them, and to handle them gently, but securely. So far, it looks like we have a good litter of confident pups; consistently playful and assertive, yet ready to submit when picked up. That's what we like to see. We are handling them many times daily, and working with them on several points. Jazz continues to be a very good mom to them, and is already standing to nurse them. Pups have had nails trimmed and filed twice now, but Jazz still opts to stand. Obviously, weaning begins at the point solid food starts. The weaning process is long and slow, complete usually by 6-6 1/2 weeks. Teeth are coming in slowly. Canines are in now.
1/17/15- Pups are old enough now at 4 weeks (almost) to accept visitors. Dr. Miller and her special friend, Courtney, and Courtney's parents, came to see us today. It was a great visit! We also had Lucy over to see the pups. A lot more play fighting and potty successes. Weaning has changed to food first, mom second. During the first week of solid food, Mom feeds first, then they are "topped off" with solid food. This is a good way to let mom and pups down easy regarding the milk supply. Olivia, and brothers, Xander and Nash come over often along with their parents, Jen and Bryan-lots of family visits!
1/19/15- Pups will begin more intense socialization this week, having lots of visitors. They are experiencing and exploring new surfaces, new sounds, and new activities. Lots of stimulation in their play area, with toys and sounds. Teething means chewing, so now is the time to provide lots of different appropriate chew toys. And we are already in the process of redirecting from fingers to these toys. Puppies will go outside today for the first time (other than for a car ride).
1/25/15- Puppies love it outside. They are pretty rough on each other now, helping to feel what hurts; also learning about what is ok to chew on. Bear, the cat played his role as 'cat socializer' today. The look on his face says it all! He knows what to do, though! : )
Pictures are really cute, but I have to say they are so much cuter in person!
1/26/15- Jazz was fun to watch with her pups this morning. Outside in the morning sun, she played chase with them, nudging with her nose, then running away, then stopping to see if they were following. She rewarded with a nice warm snack. : ) I look forward to meeting puppies' new families, for those who are able to pick in person. : ) I can't wait for you to meet our sweet babies!
1/28/15-These January days are amazing in Tulsa this year! We are thankful for the mild clear days. Puppies are feeling and acting like big 'kids', playing, romping, climbing, carrying toys, and already learning what to chew on. (not our clothes or fingers or toes : ) They are spending all day outside now, coming inside only to sleep at night.
2/4/15-Way too much time has passed...pups are just the best!! Smart, good pups. So happy the cold didn't turn out as bitter as expected...pups love to play outside. When too windy, they spend a lot of their time in the heated puppy house. : ) We took 6 week portraits yesterday...before their bath...so some dusty noses : )(..also taken in birth order, so by the time we got to the end...there were sleepy pups. : ))oh, so cute. takes a long time to edit, and post, but I will do my best. Pups come when called, and are eating their mostly dry kibble very well. We add just a stream of warm water, but not much. Potty is going well. Pups were wormed for the 3rd time on Monday. No "big potty" inside anymore. When crate training begins (in a few days), all potty will be outside. : ))))
Puppies had their first bath right before bedtime. All love the water, and stuck their heads under the warm stream. :)Sorry some of the pics are blurry!
2/5/15-Pups got their first bath last night at bedtime. They LOVED it!! But I wasn't surprised. Was a stream of warm water, and the heads were right in there. Pups are carrying toys very well, and love the game scents more each time presented. Pups are making tremendous progress with leaving people and people clothing/shoes alone, and instead, chew on each other and their toys. That is Huge! (If you've ever been around a litter of 6-8 week old pups, or owned one...you know how huge it is. :))There is continuous work to be done, of course, but they know.
2/6/15- Picks have begun. Families with pick #'s 1- 4 have selected their pups. They are, respectively, #8, #5, #7, and #6. Down to the very last pup...will be a great choice! : )).
2/7/15- Familywith pick #5 chose #1.
2/8/15- Families with pick #'s 6-8 have chosen respectively, #4, #3 & #2.
2/11/15- Pups enjoyed a warm day, and a wading pool. Enjoy a video below.
2/12/15- What smart puppies you have!! Crate training began a yesterday. Pups cried at first, and we were thinking it may take a little more time that we planned...WRONG! These pups just needed to potty, so we took each one outside when they cried, and every one of them pottied, then went to sleep. (It was a long night...since rather than taking the group out, we let each tell us as needed to see where they were. : P )Good puppies were dry their first night in creates; also in puppy bed - potty area was closed off! Remember that "crate" training is different than "house" training. You will need to reinforce their success with crate training, by helping your pup get all the way outside. They just know NOT in their bed! They are off to a great start...when they are out of their crate, just watch for the signs, then scoop them up, tuck their feet under them, and take them where you want them to go. Then tell them, "Go potty!" then always "Good puppy!" when they go : ). Not difficult with consistency. Accidents are NEVER pup's fault...never scold for accidents. Just observe to note where YOU can do better (sorry, but true. : ).
2/13/15- Puppies went to the Vet for their first round of puppy shots and well-puppy check today...all were brave and didn't make a peep. : ) Pups are all looking great! And got a clean bill of health. A few pictures below...
2/14/15- Crate training is coming along well. Loss of sleep here, but only for a time. Pups will be on a nice schedule by the time they go to their new homes. (Of course there will be a transition time for all). Pups have not pottied in their beds for several nights now...and what makes this really good news, is that the potty area of their night time pen has become another bed, so no access to potty other than outside. : )
2/16/15- SNOW!! Oh what fun, but asked to have dinner in their house, so they did!
Puppies slept longer last night than ever (& so did I ;). All were last taken outside about 11pm (Koda & Little Bit again at 1am : ), but then all slept until 6:15am ! Impressive! We'll see if we can go for 2 in a row!
2/17/15- They did it! Slept (all of us) until 6am. Puppies are in small size crates for training now, with a towel draped over sides and back of crate at night. (The larger crates -with the spacer- will work as well, while giving your pup room to grow- a good idea to help puppy feel secure, would be to set the largest size cardboard box that will fit, against the spacer on the empty side to give a sense of smallness to puppy-You could even keep puppy's supplies in the box : D). Last time to go out to potty last night was a little after midnight. Good puppies! A few more snow pictures ... is so impossible to tell who is who among the black pups in the bright snow, so didn't get everyone named yesterday... a few more today. (funny little yellow spots everywhere : P )
2/19/15- Todd and his daughter, Lindsay, picked up little Bailey today.
2/20/15- Today, Logan went home with Heath. They will surprise his 7 year old daughter with a new puppy for the family, sweet Logan. : )
This evening, Courtney and her family came to pick up Jasmine...instant love! Jasmine will be trained to help Courtney with many important tasks.
2/21/15- Catherine and her wonderful family came this morning to pick up "little" Cody. Cody will soon have a great life in Houston, TX with Catherine and Mark.
In the evening, Molly made the trip to Bartlesville to her new home with Paul and Beth. There she will join her sister, Maggie, from Jazz' first litter. : )
2/22/15- Ellie said "hello" again to her family. It was good that they visited several times. Ellie was ready to go to her new home with Tiffany, Rob and their family.
2/24/15- We've been hearing from new families, and all pups are doing well, and adjusting nicely. (Short of a little sleep loss, everyone is very pleased. : )
2/25/15- Only a few days left with puppies. So nice to have these last 2 with us for an extra week...letting us down easy. Smart pups!! Koda and Little Bit leave this weekend.
It is fun to watch them do what they were born to do...I throw a bumper out...they each have their turn, and bring it right back to me (only a short distance of course).
This morning, a crisp, beautiful still morning, just befoare the sun warmed us, a flock of Canada geese flew overhead. Those 2 little heads pupped up instantly. So neat! And so cute! At first, it was only Little Bit, since Koda was working on breakfast, but he was there for the next group. So much fun!
2/28/15-Bitter sweet-that is what today is. The last 2 of the pups have now gone and are headed for their new homes in Colorado and New York. All are such great families, with new adventures in store for their new little family member. We will miss them greatly, and look forward to those fun updates and stories of how they adjust to their new environments.
3/1/15-And in the morning, all that we could see were little paw prints in the snow...which will also fade...but not the memories of this exceptional litter of good puppies! We miss them!
Thank you, again, to all of the wonderful families who will give these pups the best of care and loads of love...this gives us peace, knowing that each of our pups will have a great life with their new family-this is our goal from the start. (also, thank you for updates, and pictures! We look forward to that! :)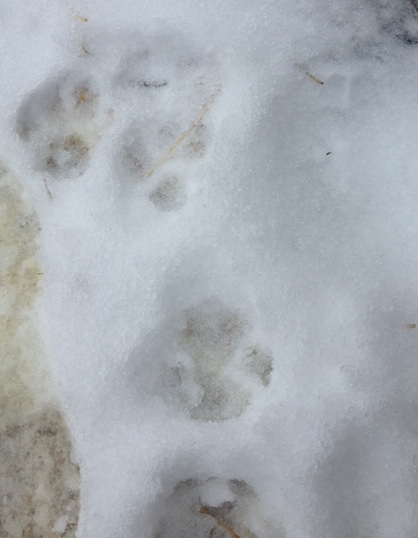 And they were gone, except for these little paw prints
which will also fade, but not the memories
3-1-15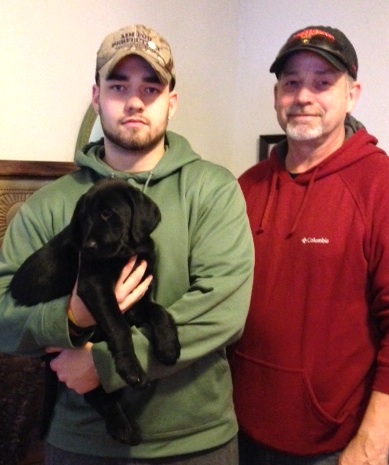 Dalton's new pup, Koda, goes home with him and his dad, Bill,
for a great life in the country in New York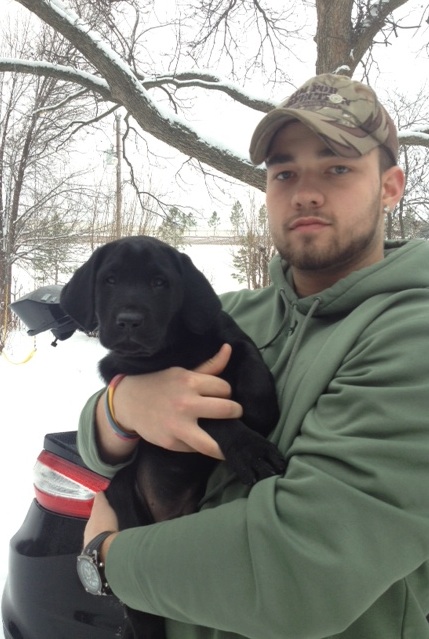 Happy Graduation, Dalton!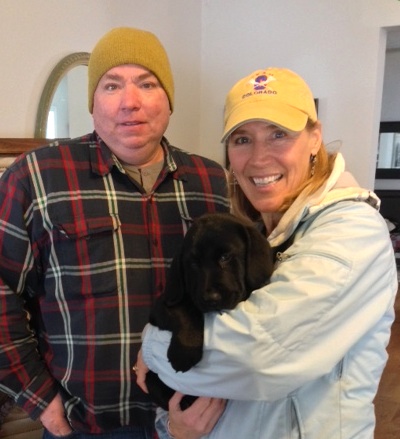 John and Julie have great plans for "Boone" in Colorado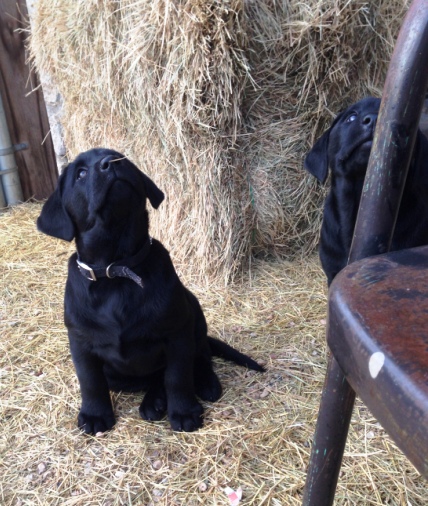 Look at those little heads, Little Bit (L) & Koda (R) following the geese fly-over : )
2-25-15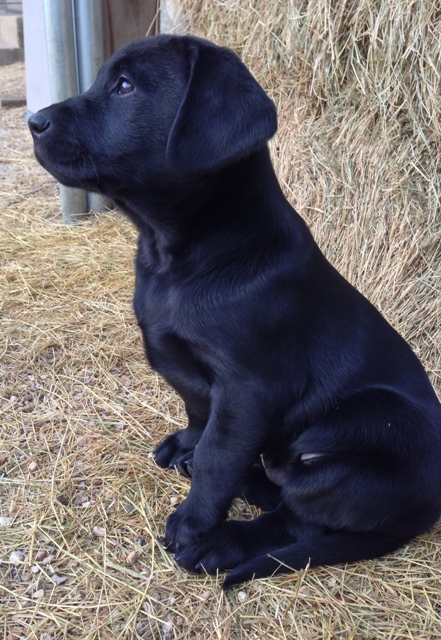 A couple of rare "still" shots of Koda
(for Bill and Dalton :)
watching the morning
2-25-15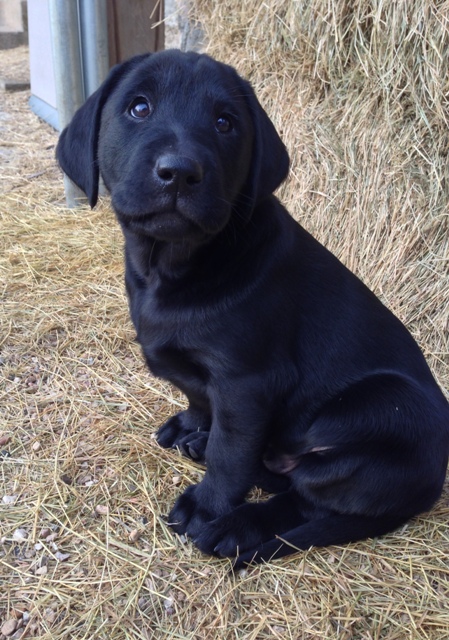 Then seconds later...complete attention-such a good boy!!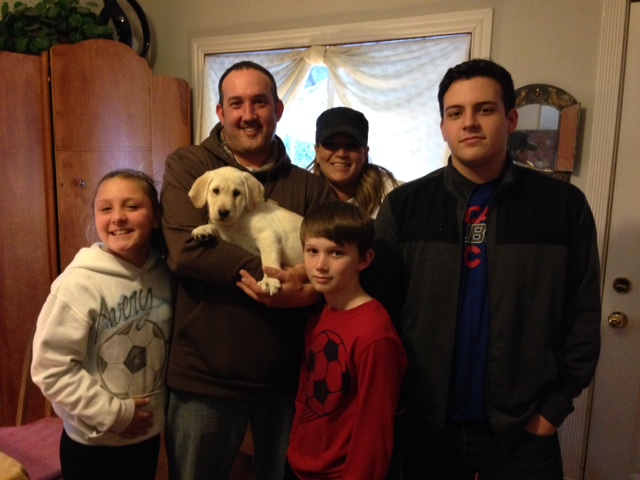 Ellie is right at home with Avery, Rob Tiffany, Kaden and Cam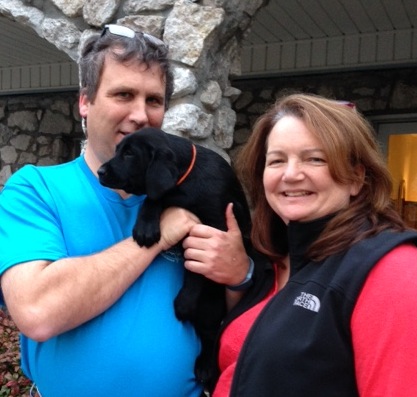 Molly will be very happy with Paul, Beth and Maggie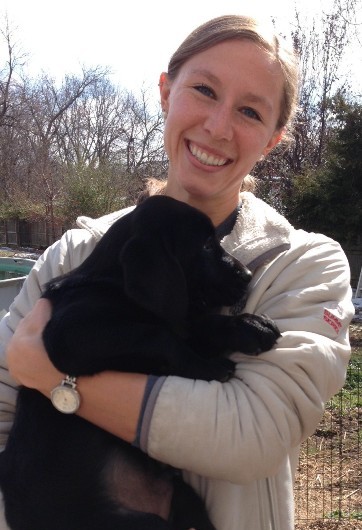 Catherine taking her sweet Cody home!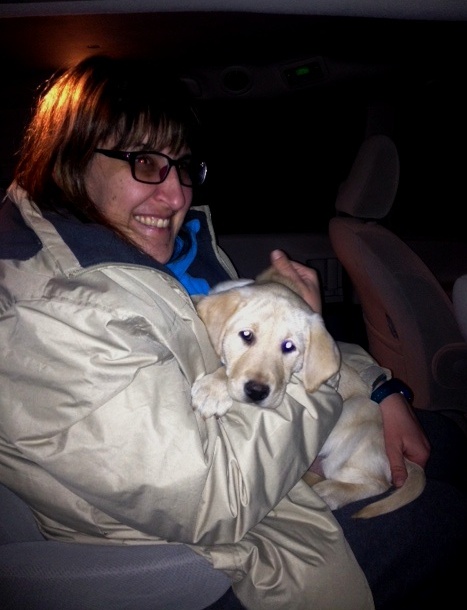 Courtney and Jasmine heading home-together forever!
Happy Birthday, Courtney!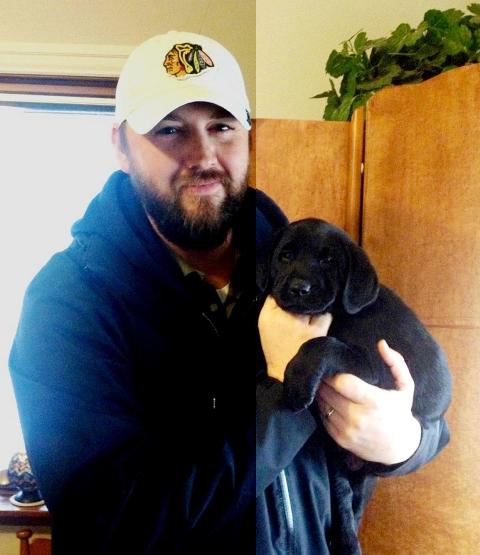 Logan goes to his new home with Heath, 2/20/15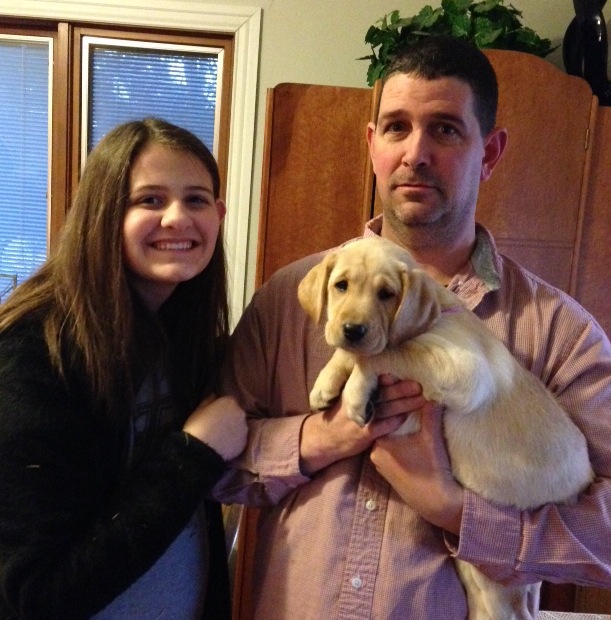 Bailey goes home with Todd, and his daughter, Lindsay 2/19/15
Let it Snow!!
2-17-15
Bailey & Logan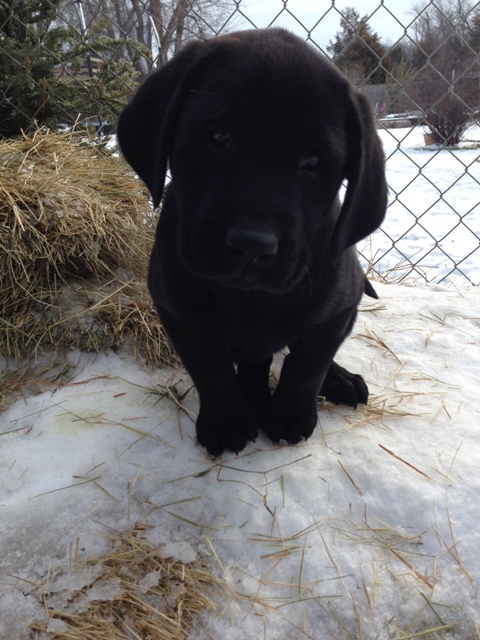 Little Bit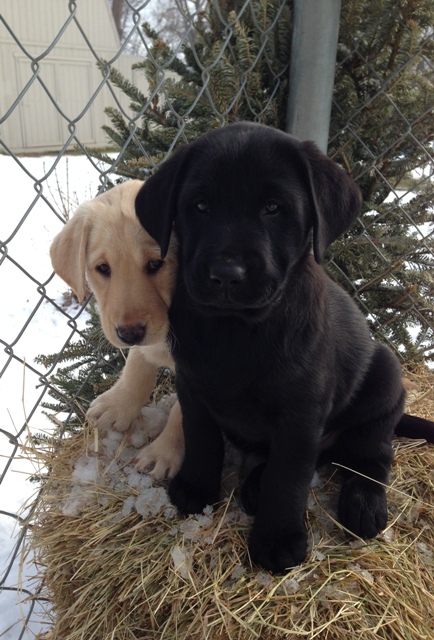 Ellie and Cody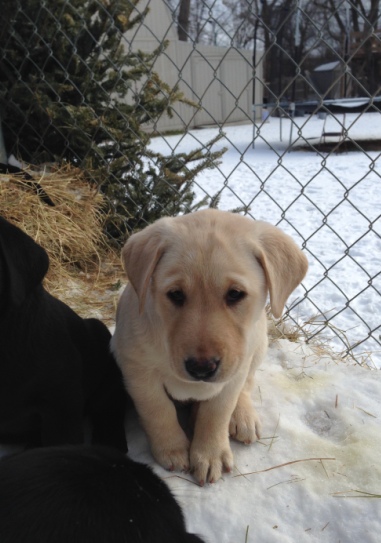 Jasmine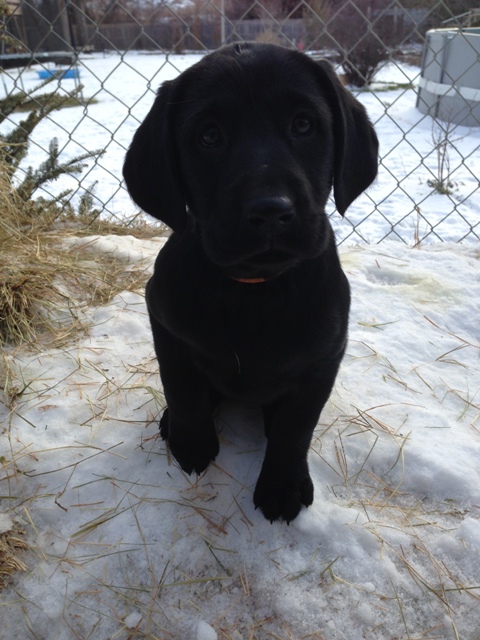 Molly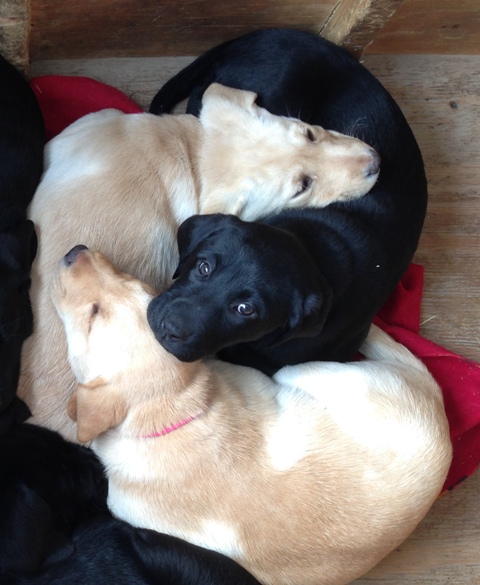 Circle of Love : )
Jasmine, Molly, Bailey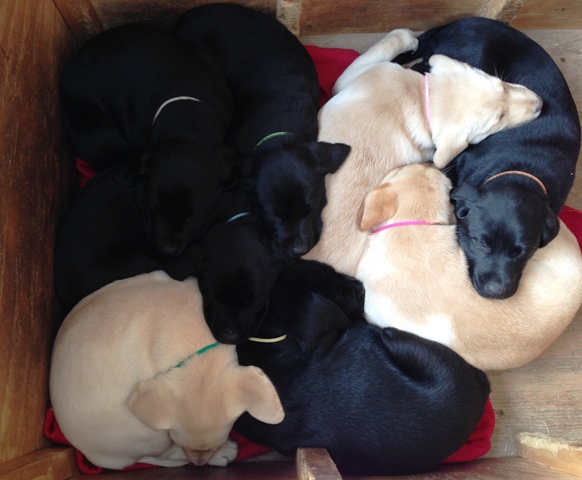 All pups after a long playtime in the snow
~~~~~~~~~
2-16-15
Puppies Almost 8 weeks old!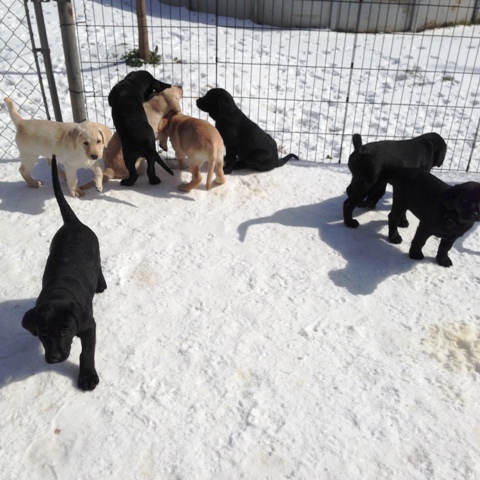 The Gang!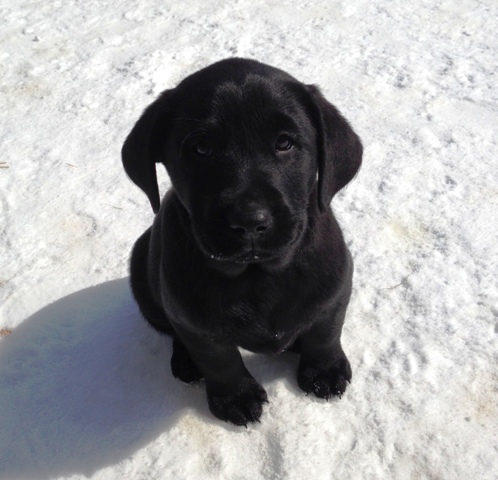 Koda - TOO cute!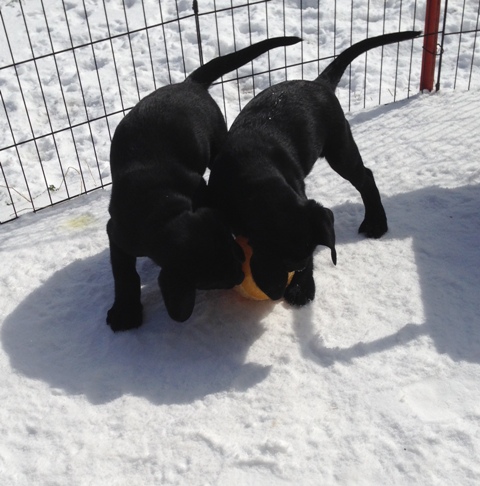 Synchronized tails-Cody & Molly-: )
Happy Valentine's Day!
So much love!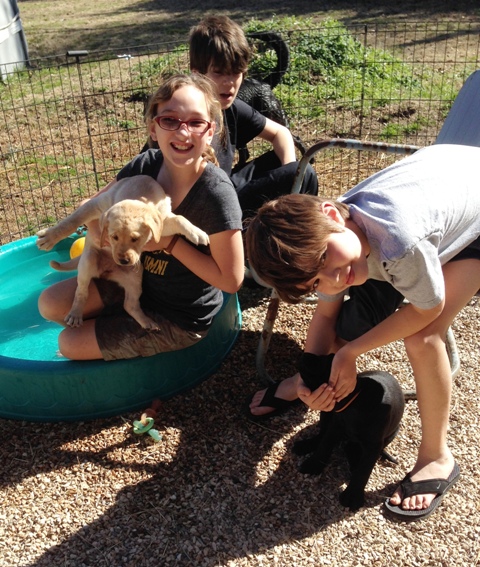 Trip to the Vet's
2/13/15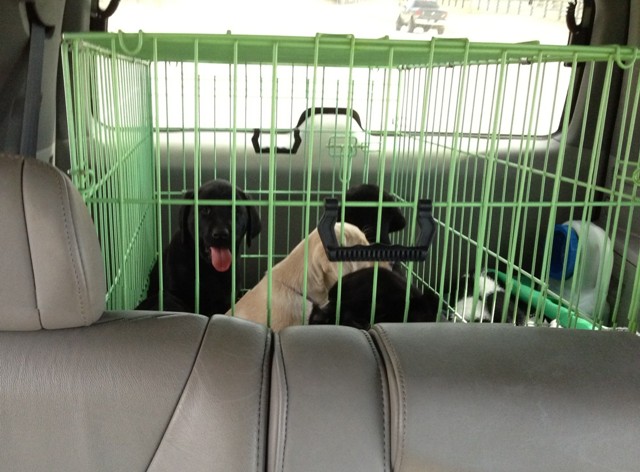 Our first ride in the car since dewclaw removal!
Cody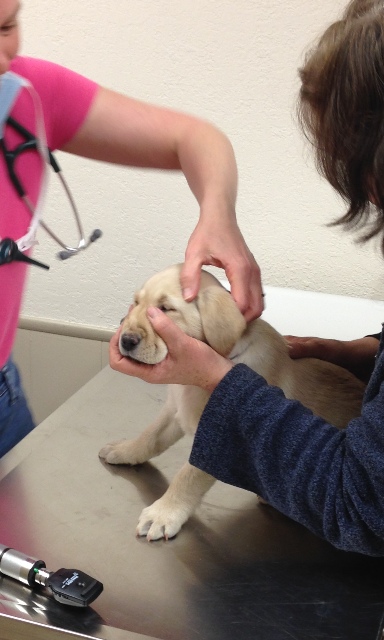 Jasmine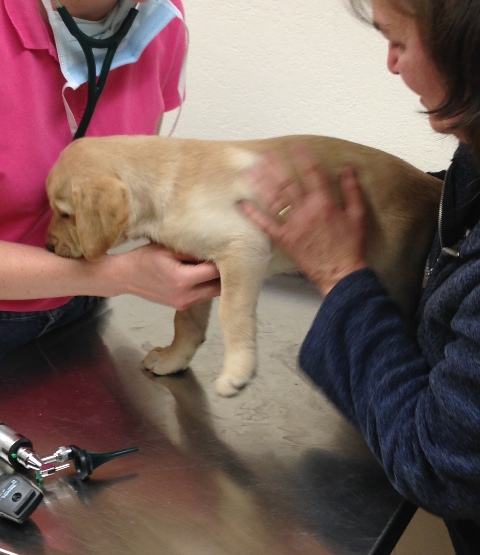 Bailey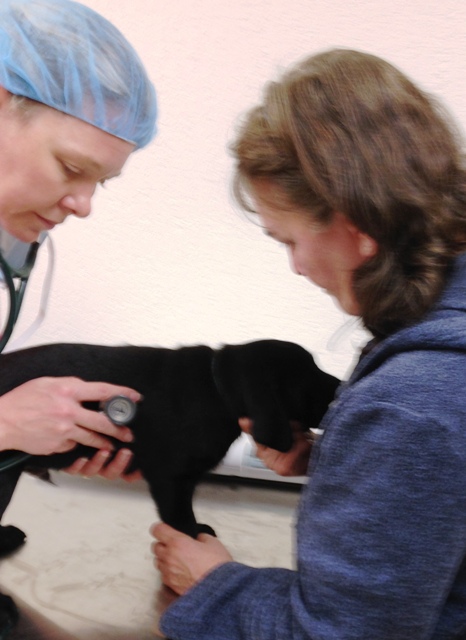 Logan
Ellie
Molly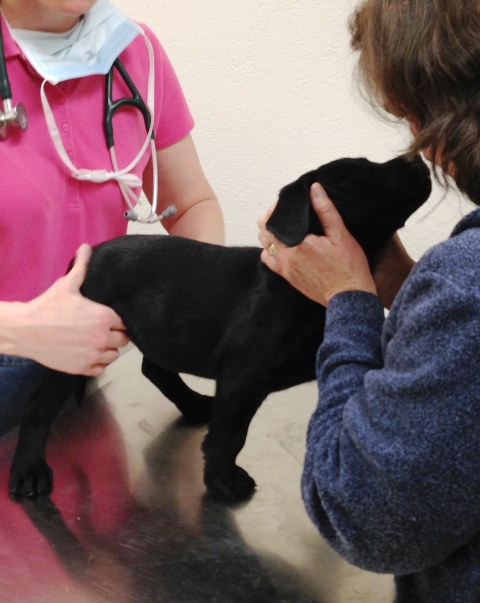 Koda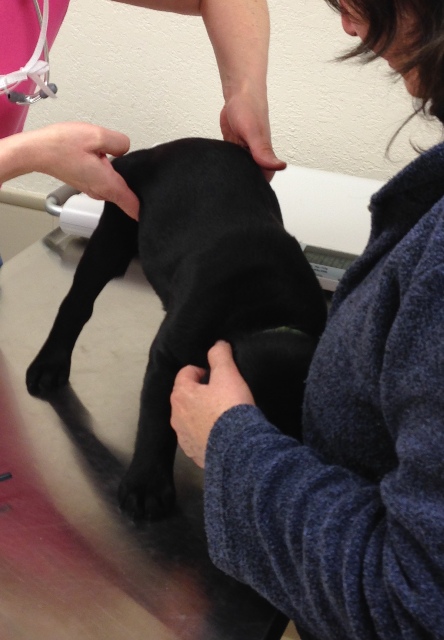 Little Bit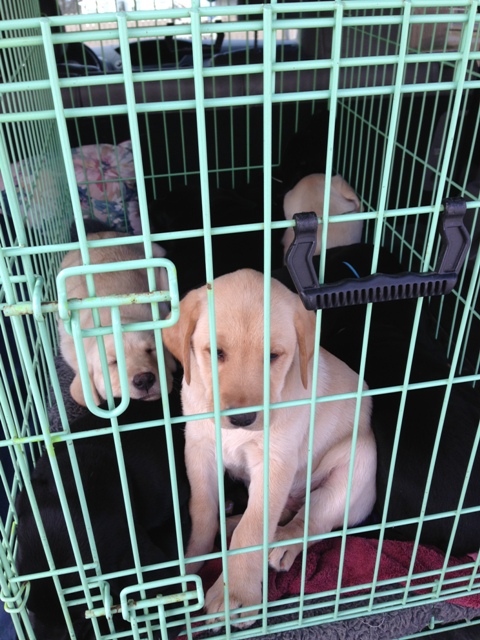 Whew! Thank goodness that's over...heading home!
A Nice Day-Upper 60's
2-11-15
Puppies' First Bath
(@ 6 wks - last week 2-4-15)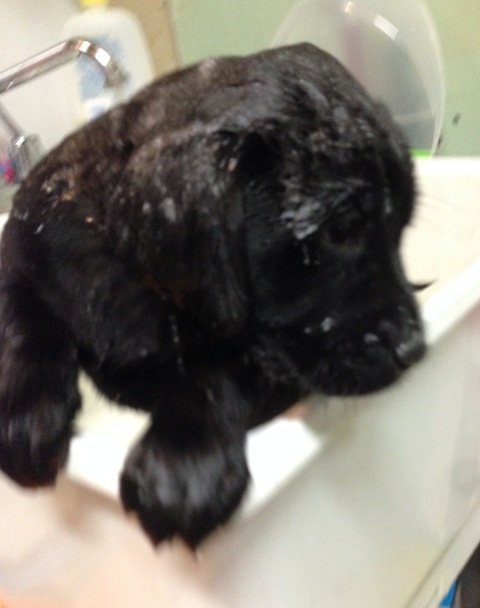 Cody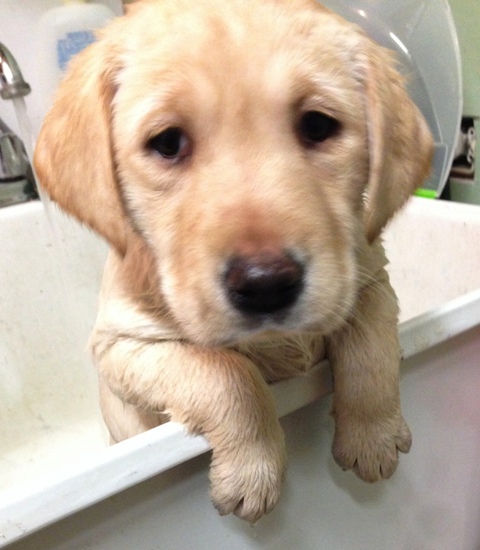 Jasmine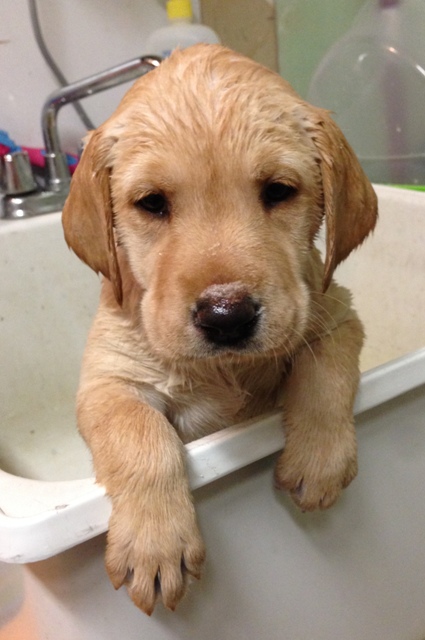 Bailey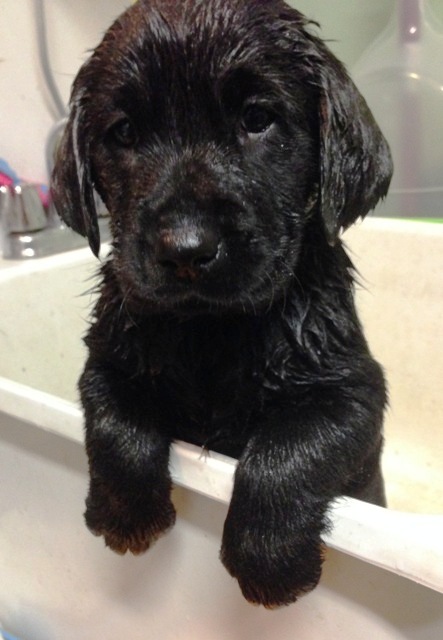 Logan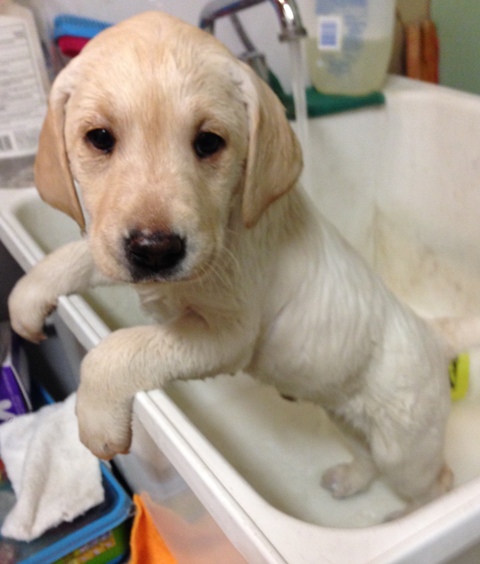 Ellie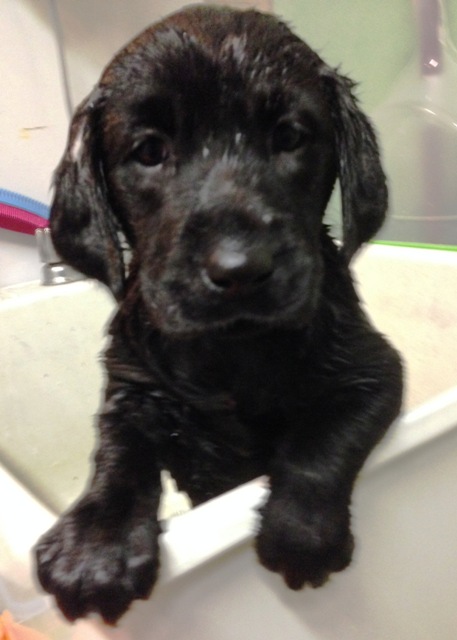 Molly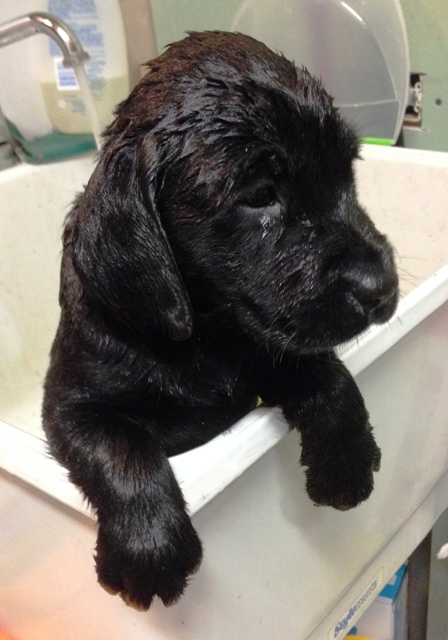 Koda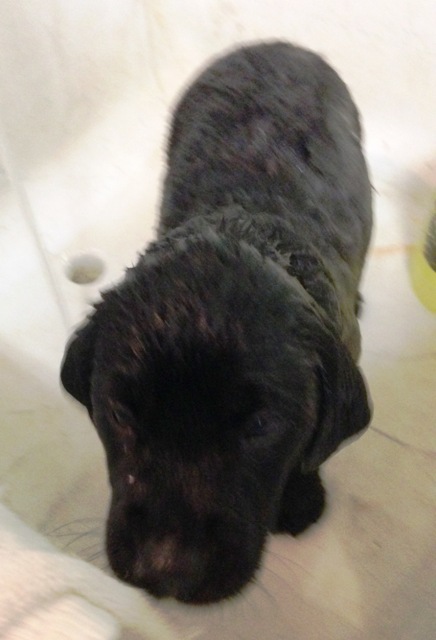 Little Bit
~We love our Puppy Fans ~
Our Son, Ben, daughter-in-law, Lauren and our grandson, Beckett, come to see pups-
holding Logan at almost 7wks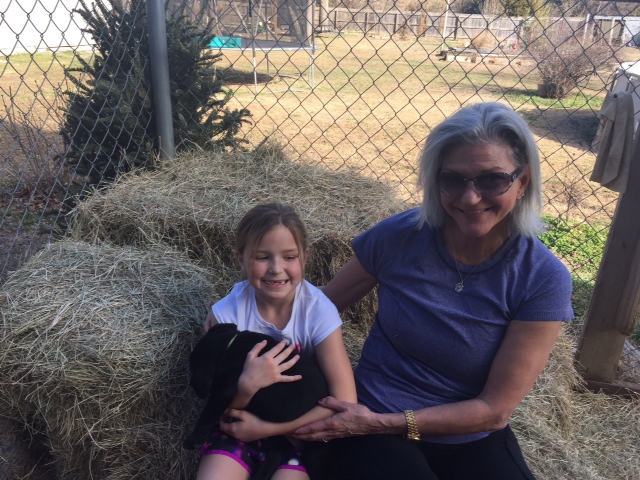 Grace, Pamela and Buddy come each year to see our pups! 2/8/15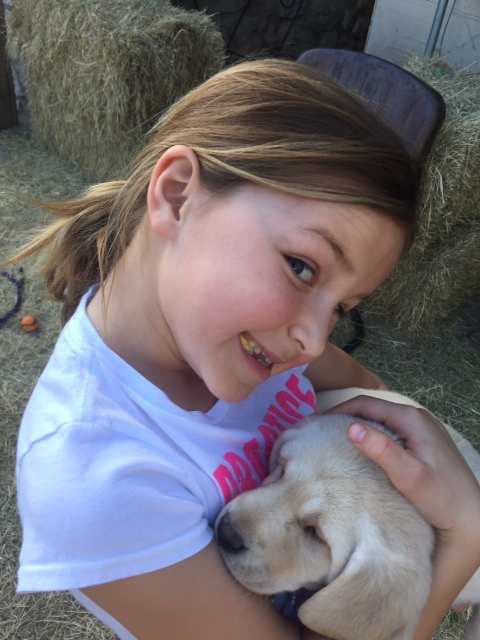 Gracie loves Ellie and Ellie loves her
2/8/15
6 Weeks - 2/3/15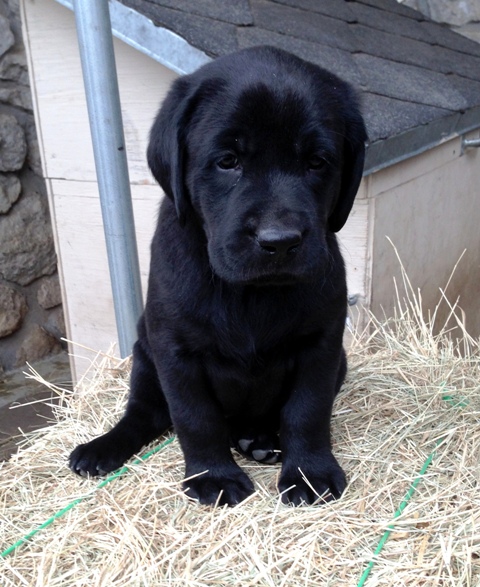 1-BM-yellow collar "Cody" (chosen)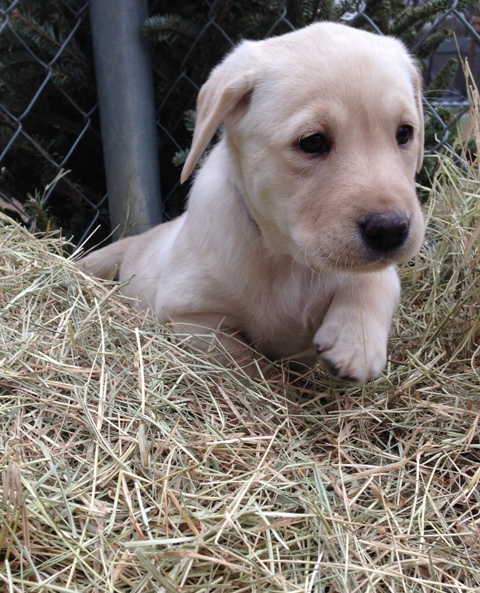 2-YF-lt pink collar "Jasmine" (chosen for potential service dog)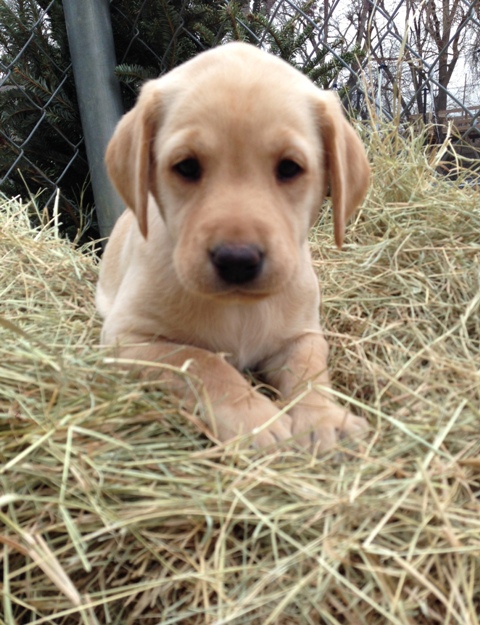 3-YF- "Bailey"-dk pink collar (chosen)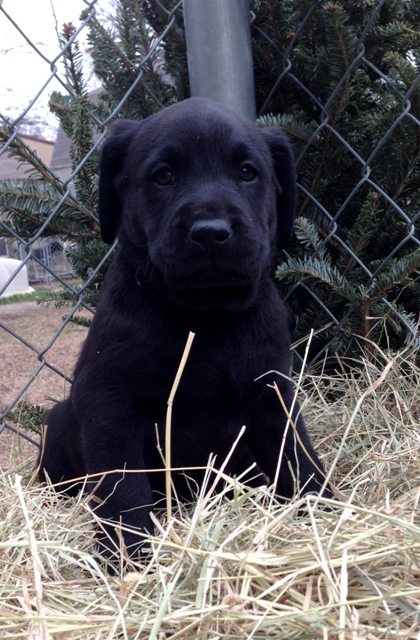 4-BM- "Logan" -blue collar (chosen)
5-YF-"Ellie" (chosen)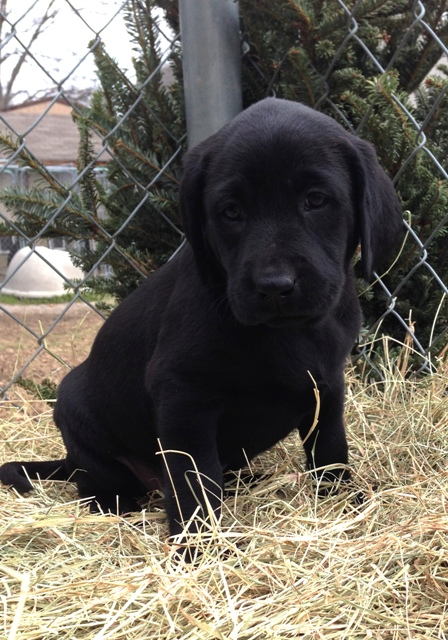 6-BF-orange collar- "Molly" (chosen)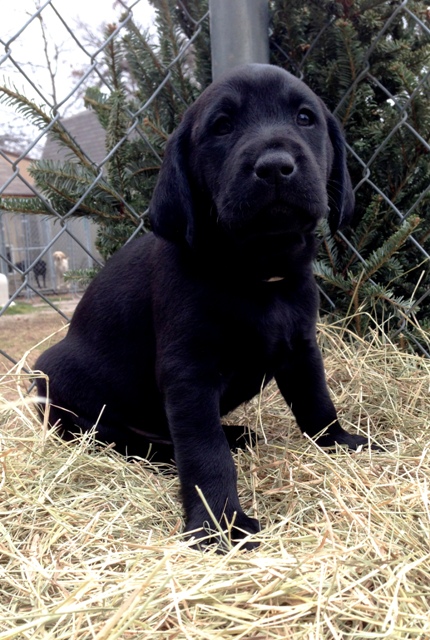 7-BM-white collar "Koda" (chosen)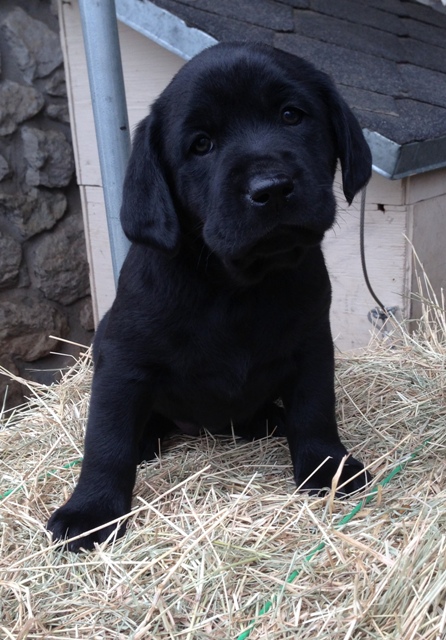 8-BF-lt green collar (chosen)
~~~~~~~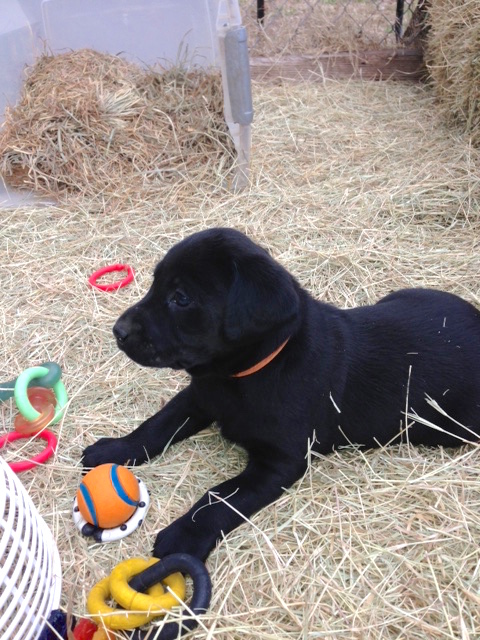 Puppies are loving this beautiful weather, and their play yard.
Cima - wears orange collar- 5 weeks 1-28-15
AN EVENING WITH BEAR
(and how he feels about it ha!)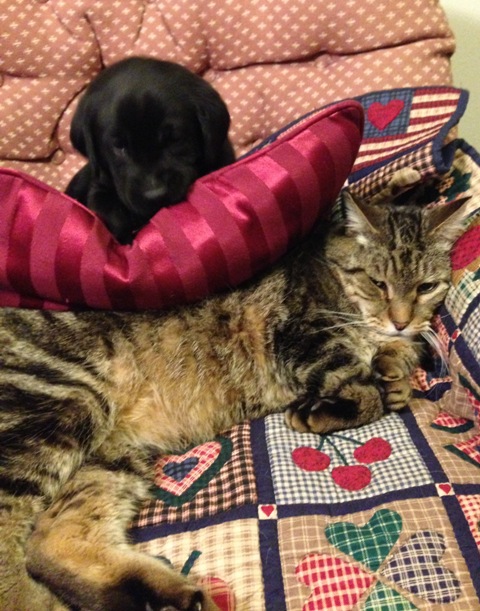 J.P meets Bear (AKA Mr. Fluffy) ("I KNOW THERE ARE MORE!!)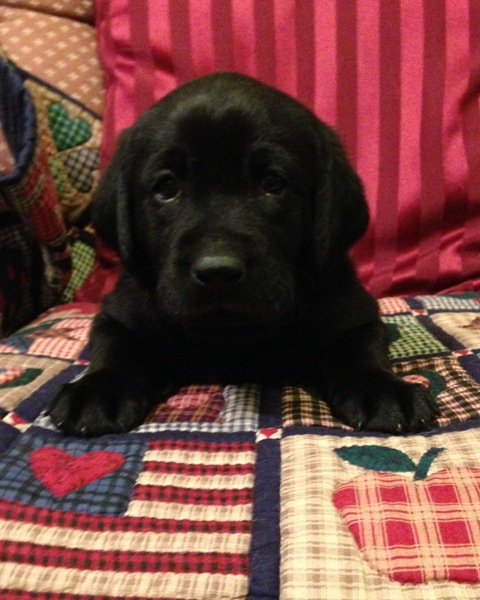 J.P. - 1st Born- BM - yellow collar -4 1/2 weeks 1/25/15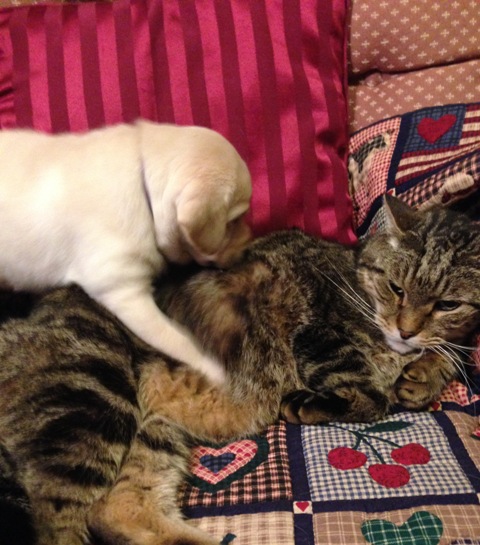 Buffy - 2nd Born - YF -lt. pink collar ("Watch it!")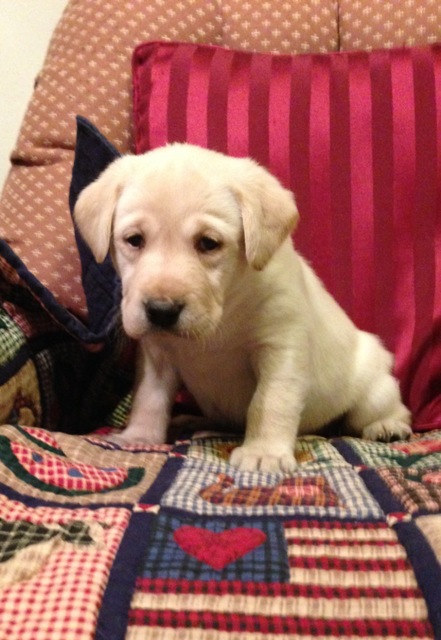 Buffy 2nd born YF-wears lt pink collar- 4 1/2 weeks - 4 1/2 weeks 1/25/15
Another "battle wound" on her snout : )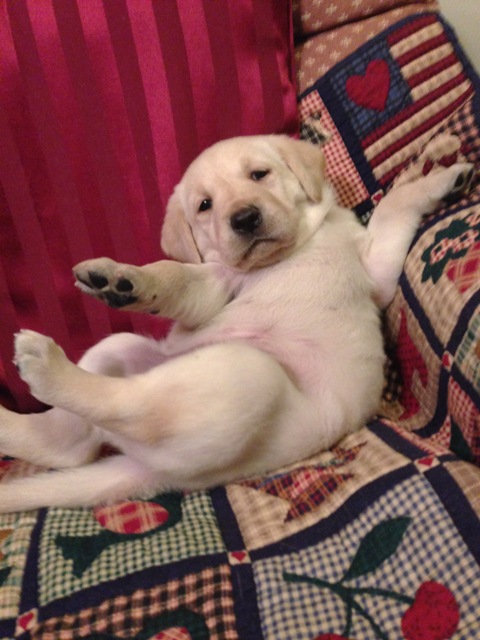 Had to share this one of Buffy. LOL!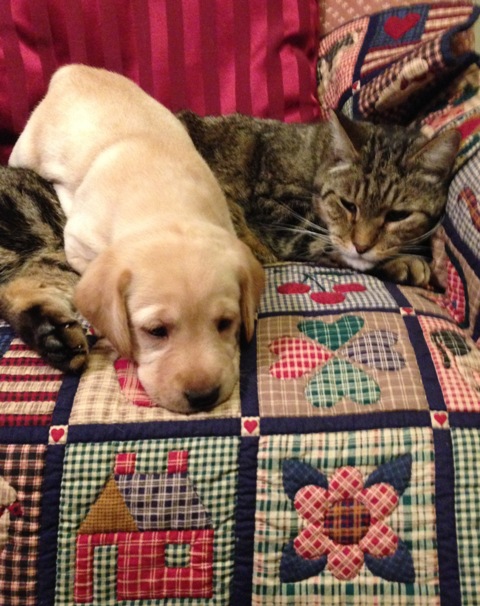 Rocky - 3rd Born YF - wears dk pink collar ("Is she just going to lay there?!)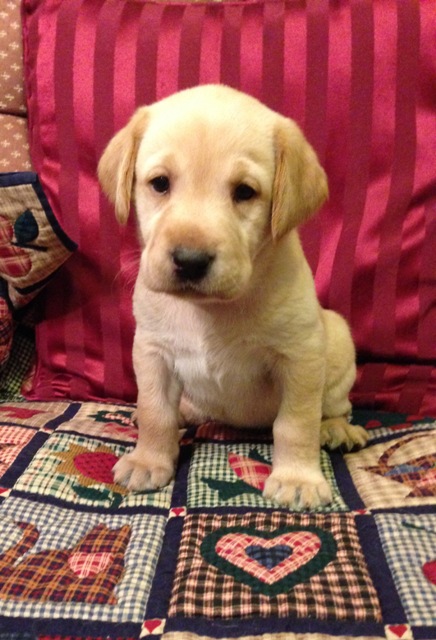 Rocky - 3rd Born YF - wears dk pink collar -4 1/2 weeks
Charlie 4th born BM - wears blue collar- 1-25-15 ("Ok, this is getting ridiculous!")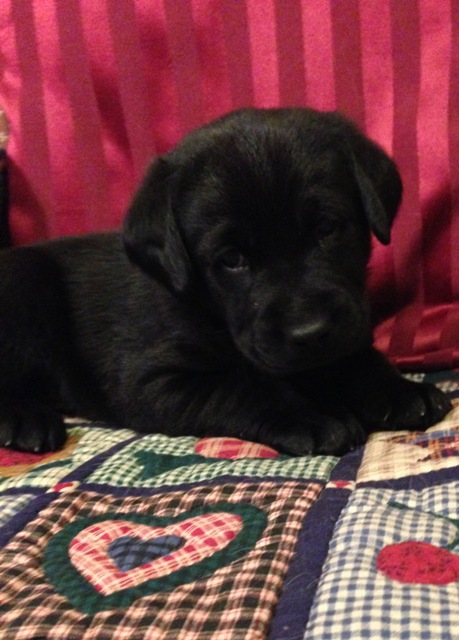 Charlie 4th born BM - wears blue collar- 4 1/2 weeks 1-25-15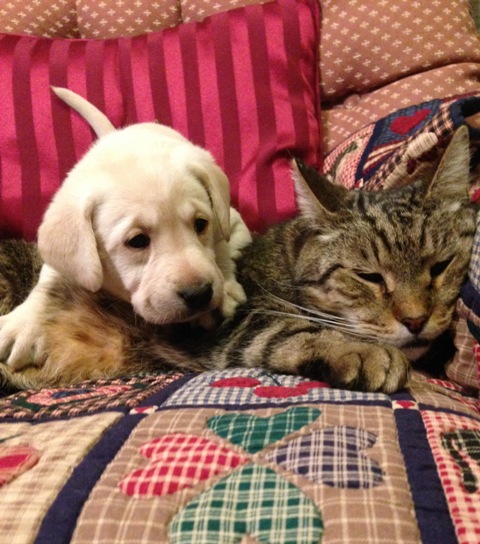 Jewel (AKA Cotton) 5th born YF - wears dk green collar- 4 1/2 weeks 1-25-15 ("How many more? I'm tired!)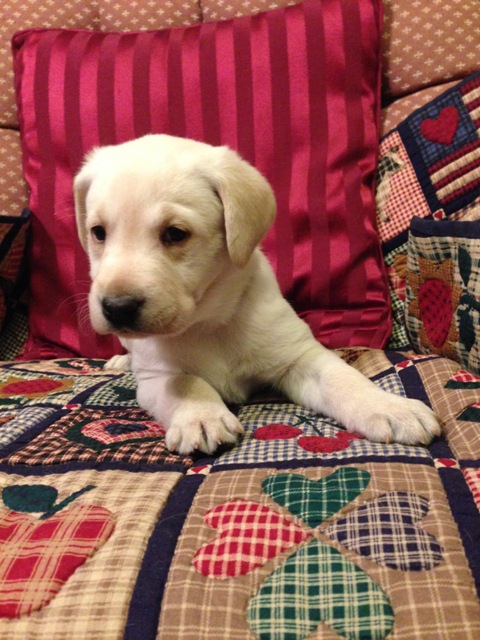 Jewel (AKA Cotton) 5th born YF - wears dk green collar- 4 1/2 weeks 1-25-15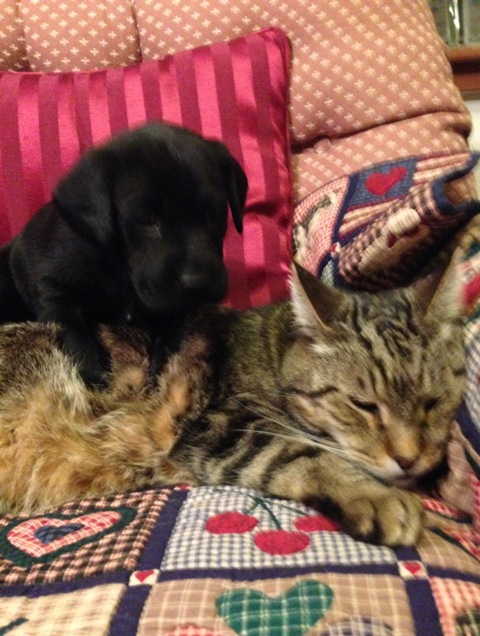 CJ 6th born BF - wears orange collar- 4 1/2 weeks 1-25-15 (" Maybe if I don't look, she'll go away!")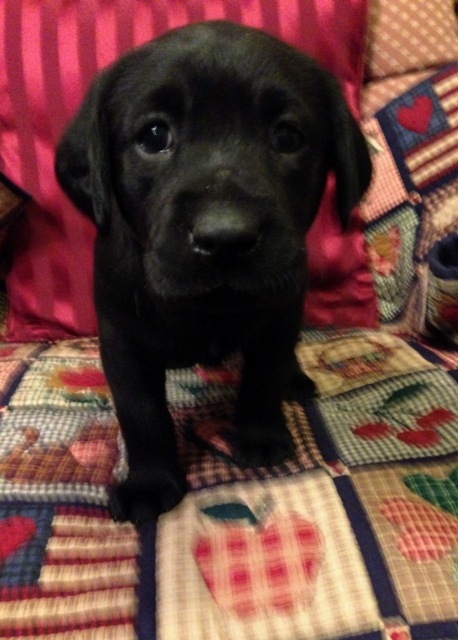 CJ 6th born BF - wears orange collar- 4 1/2 weeks 1-25-15
She has a "battle wound" on her nose already, which will go away. : )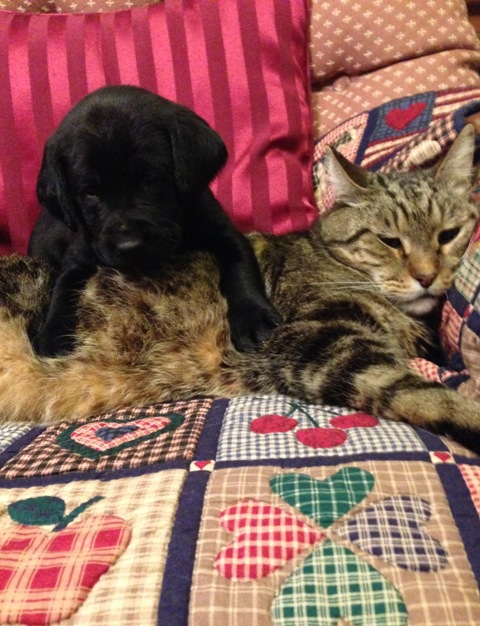 Jake 7th born BM - wears white collar- 4 1/2 weeks 1-25-15 ("They're really starting to grow on me...")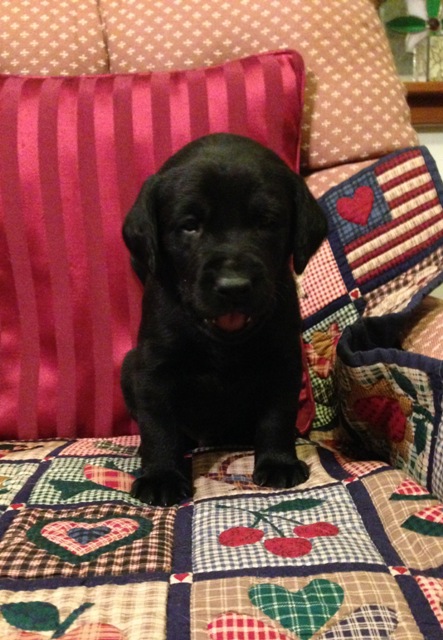 Jake 7th born BM - wears white collar- 4 1/2 weeks 1-25-15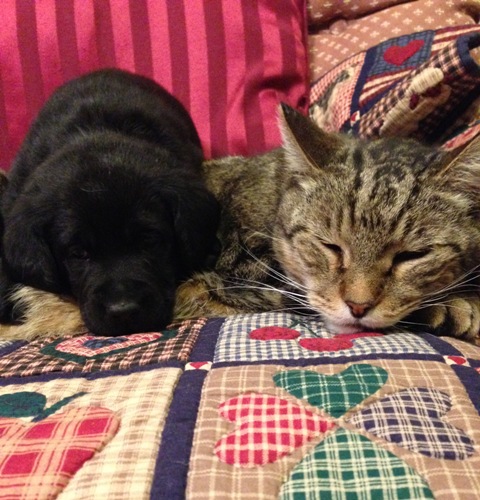 Little Bit (AKA Rosebud) 8th born BF - wears Lt green collar- 4 1/2 weeks 1-25-15 ("Oh well..If ya can't beat 'em, join 'em!)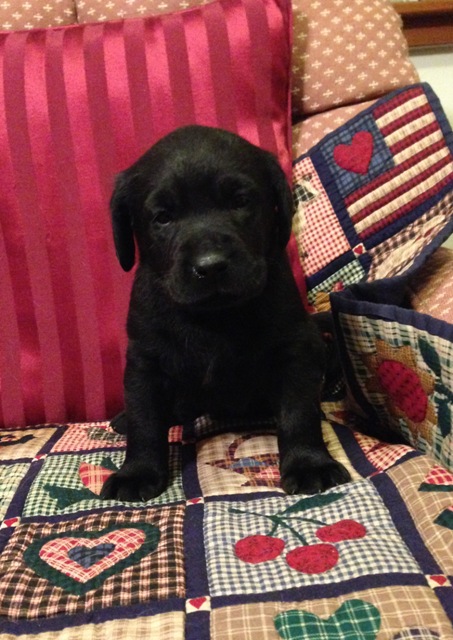 Little Bit (AKA Rosebud) 8th born BF - wears Lt green collar- 4 1/2 weeks 1-25-15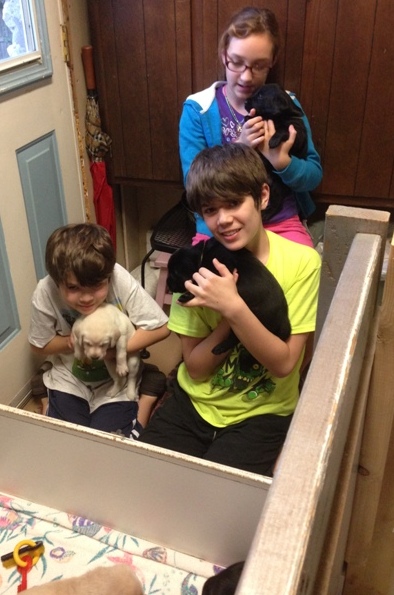 Nash, Olivia & Xander come often-pups are almost 4 weeks
Lucy came to see puppies when they were 3 weeks old.

~~~

~First Day Outside~

1/19/15

Here they come! Their door is open and they walk toward the "big world!"

First day outside-1/19/15




Getting closer!




Not sure what to think...different!




Buffy (lt pink) is making her way down, but...never mind!




Little Charlie (blue) decided to check out the straw

And finally, all were relaxed fast asleep.




~~~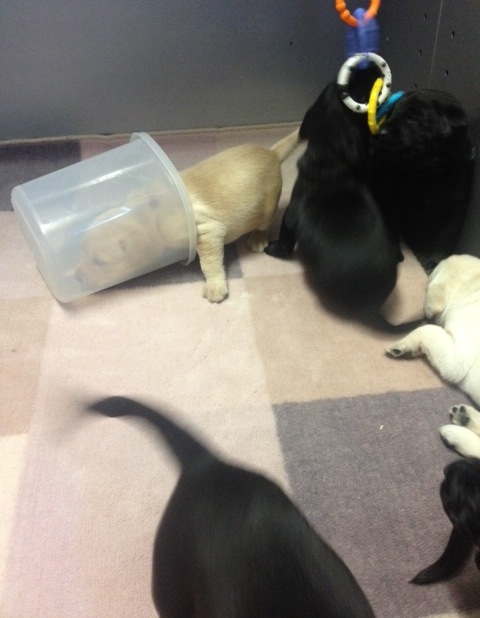 Pups Playing 1/18/15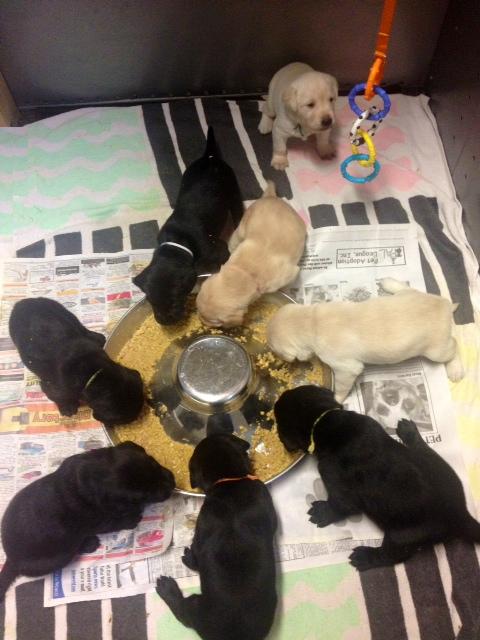 What good puppies
1/13/15 3 weeks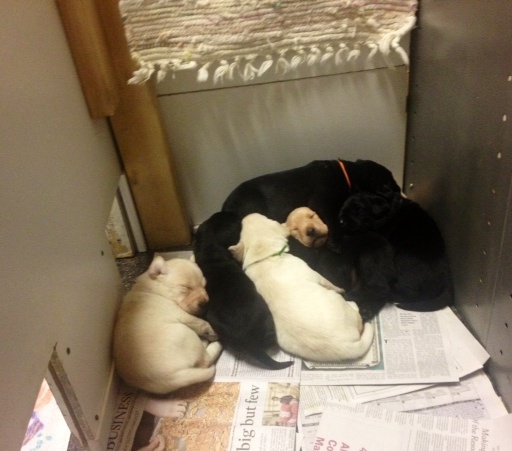 Tall puppy pile-oops! sleeping in the "bathroom" : )
3 weeks- 1/12/15
~ Love the "Twinkle" in their eyes~
3 weeks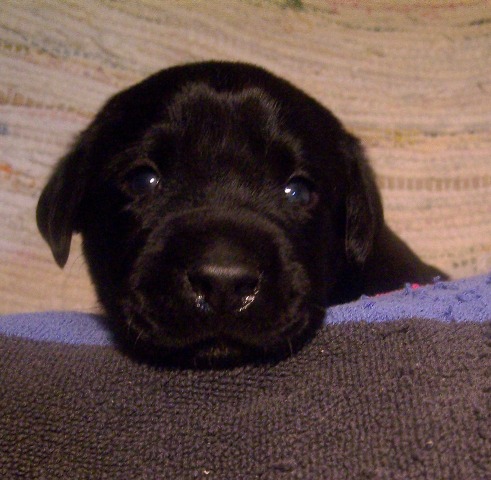 First Born - Black Male- Yellow collar- J.P.
(largest in litter- over 4 lbs)
3 weeks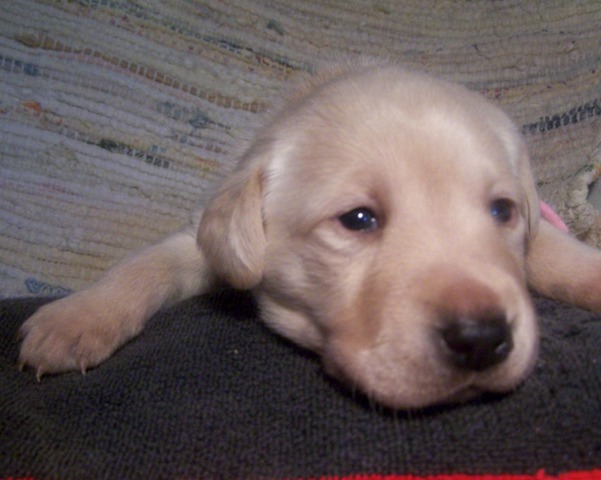 #2 Pup-Yellow Female Lt. Pink Collar
3 weeks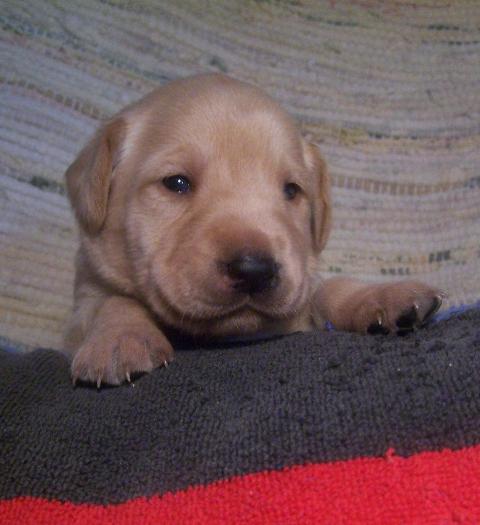 #3 Pup Yellow Female- Dk pink collar
3 weeks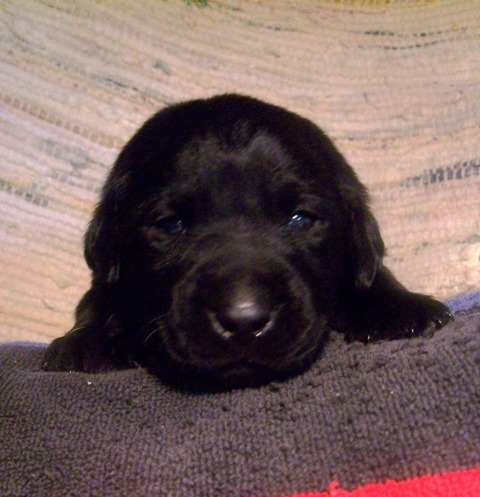 #4 Pup Black Male - blue collar
3 weeks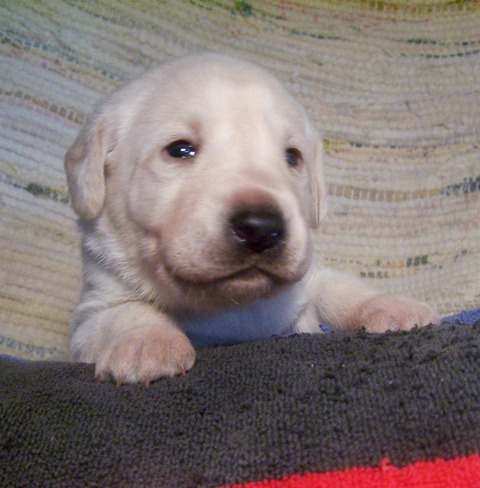 #5 Pup - Yellow Female - green collar
3 weeks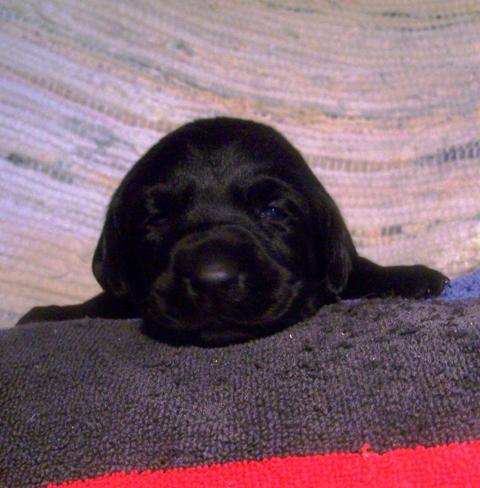 Sleepy #6 pup - Black Female- orange collar
3 weeks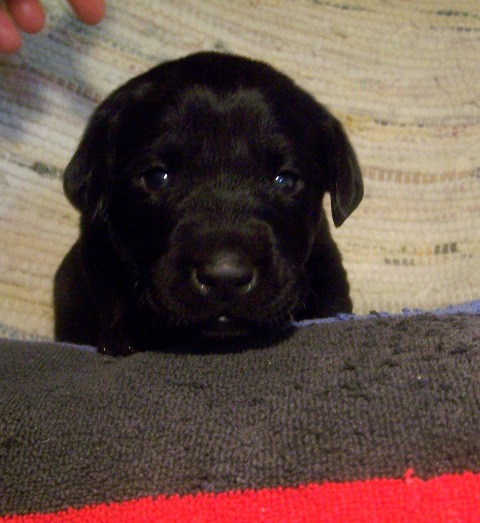 #7 Pup - Black Male- white collar
3 weeks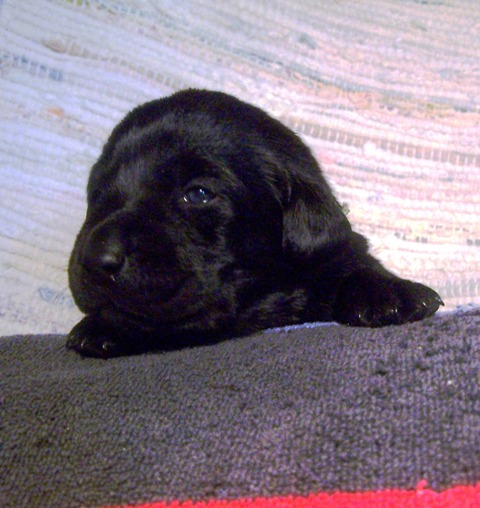 #8 Pup - Black Female - Lt. green collar
(smallest in the litter : )
3 weeks
~ A Few Random Shots of "Cuteness" ~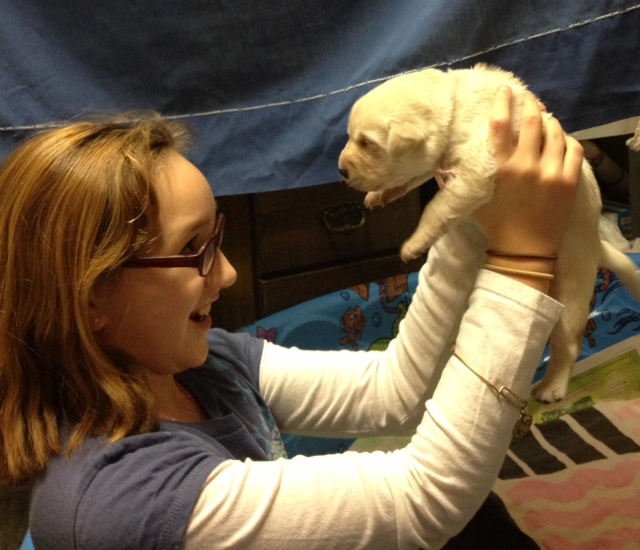 Olivia, My best helper! "Hey, look! Her eyes are open!" (#2 YF pup)
1/6/15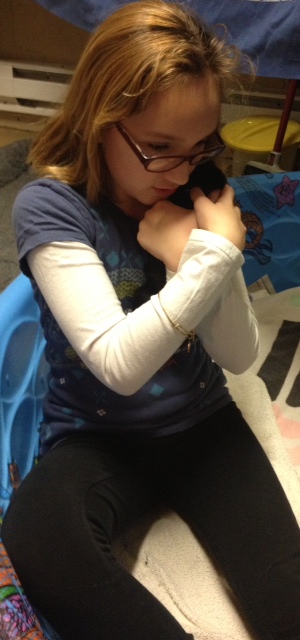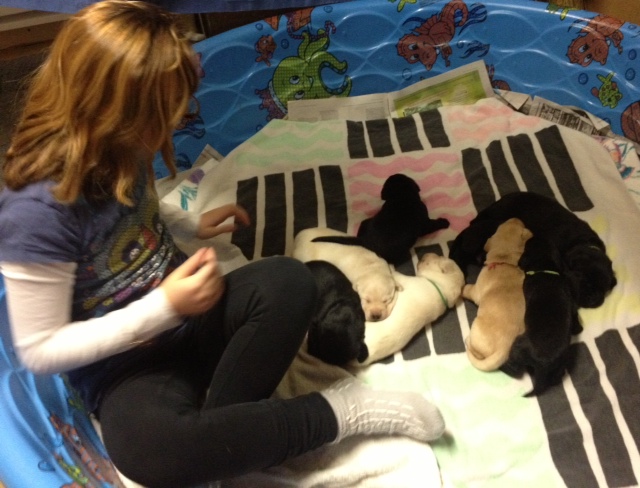 Clean Socks, hands, and a special towel to sit on...and in she goes! : ) 1/6/15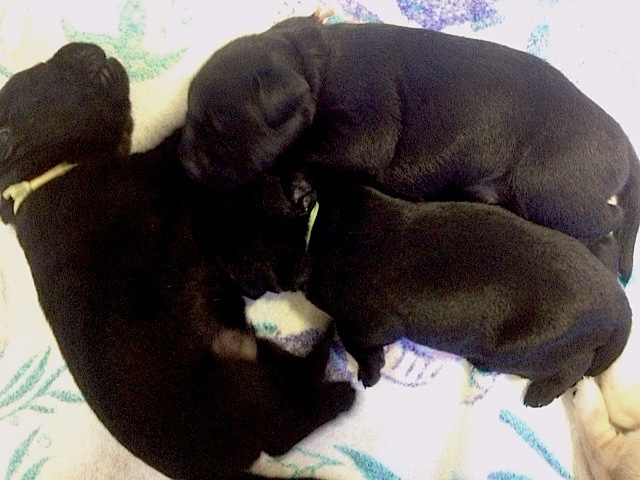 2 Black Female Sisters #8 "Little Bit" & #6 "Cowgirl"
with #1 Black Male "JP"(left)- 12 days-1/5/15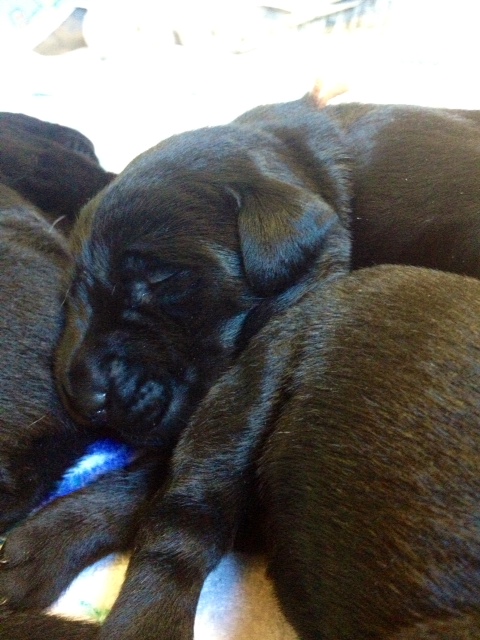 Beautiful Girl! #6 Black Female - 12 days-1/5/15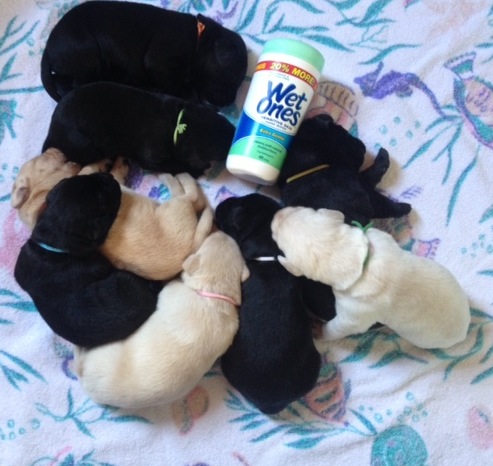 Puppy Pile - 12 days-1/5/15
Added a "Wet Ones" container for size gauge - ha!
They make it look small!!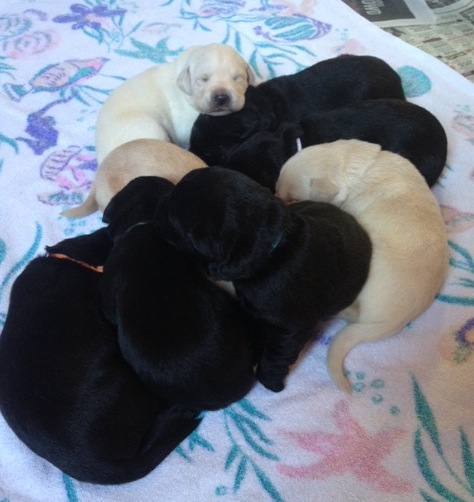 Puppy Pile - 12 days-1/5/15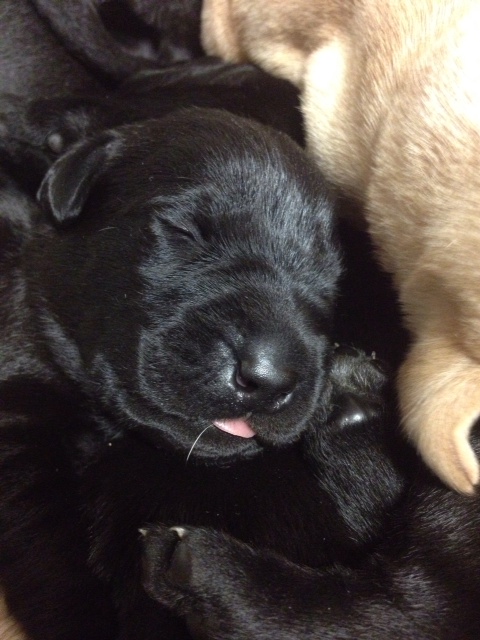 #4-Black Male - 11 days -1/4/15
(I want to get mom's hair out of his mouth! Ahhh...good, it's gone! :)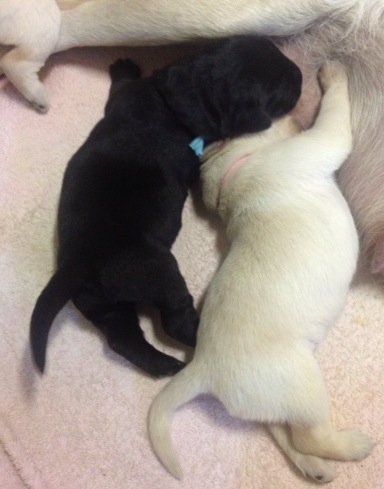 #4 Black Male & #2 Yellow Female - yum!- 11 days-1/4/15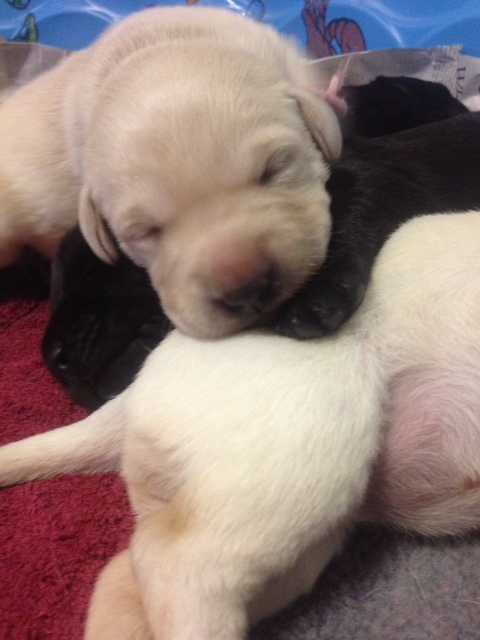 #2-Yellow Female - 11 days-1/4/15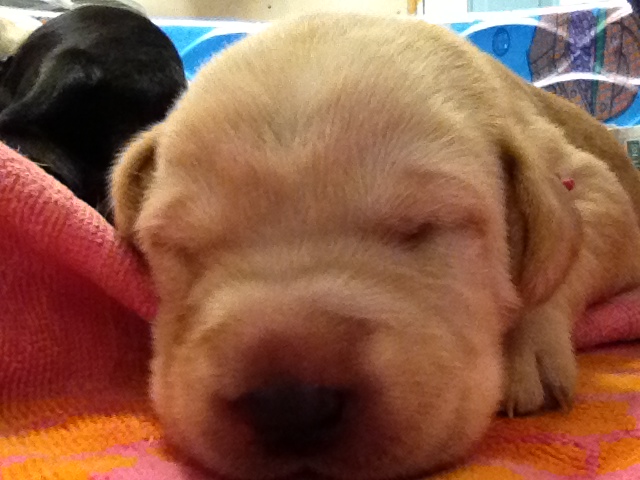 #3-Yellow Female - 11 days-1/4/15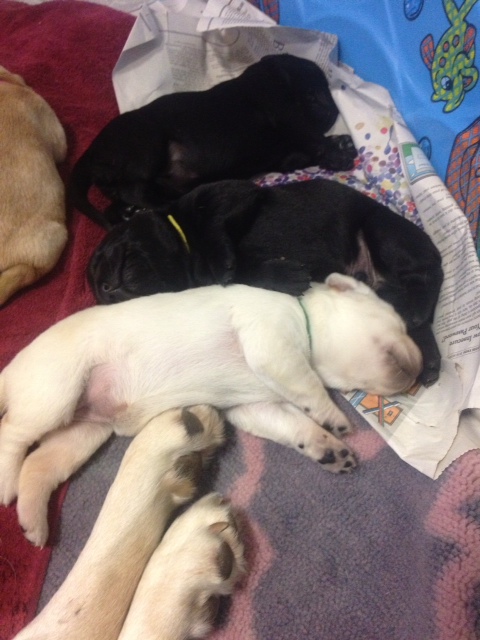 #5-Yellow Female - 11 days-1/4/15
The Good Life! #7 Black Male - 11 days-1/4/15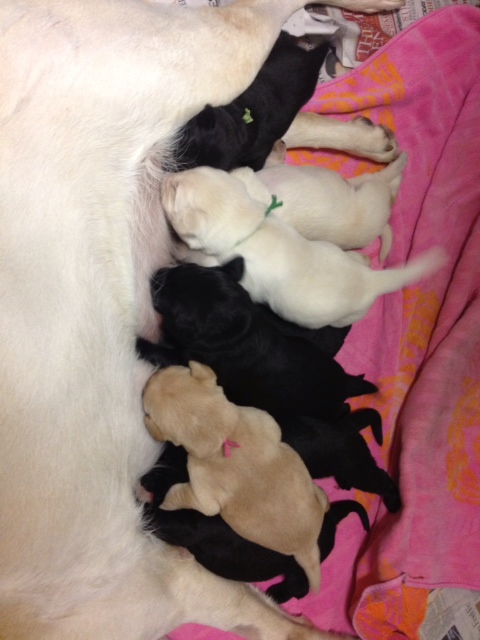 Look at those bellies- Pups @ 11 days -1/4/15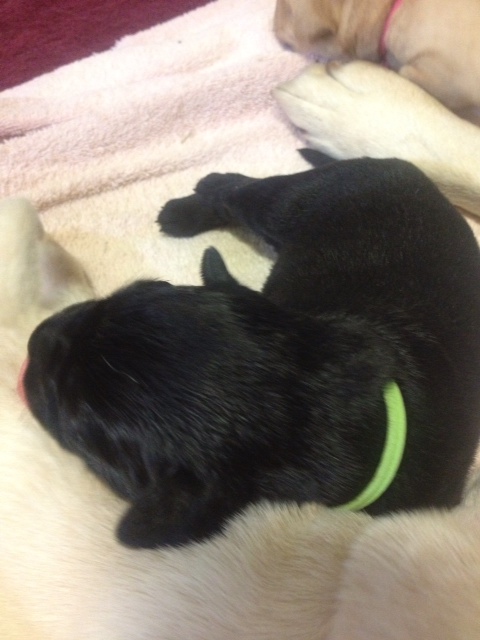 "Little Bit" #8-Black Female - 9 days-1/2/15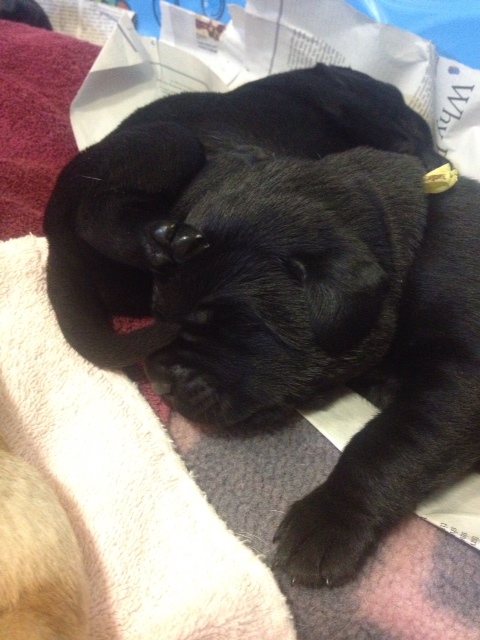 "JP" #1 Pup-black male -9 days -1/2/15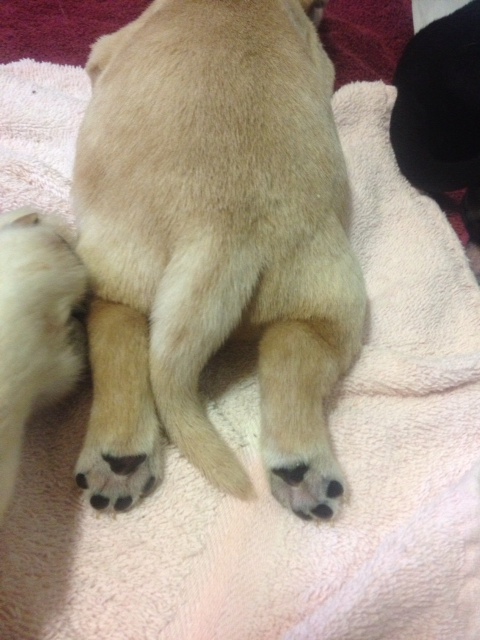 #3 Pup- Yellow Female :) 9 days old - 1/2/15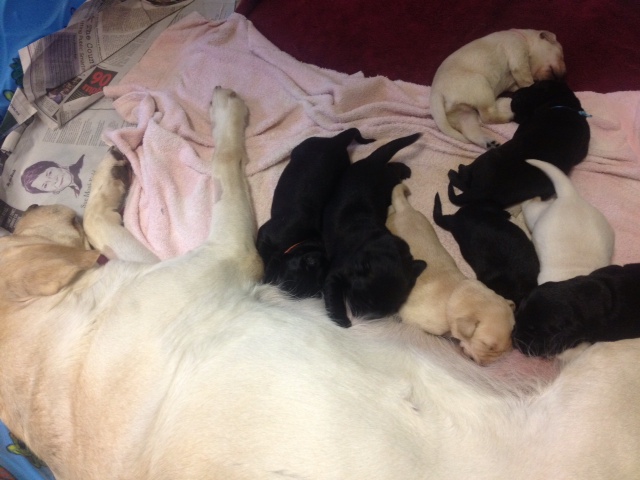 Jazz with pups -9 days old - 1/2/15
_________________________________________________________
Newborn Portraits: 1 Week Old
12/23/14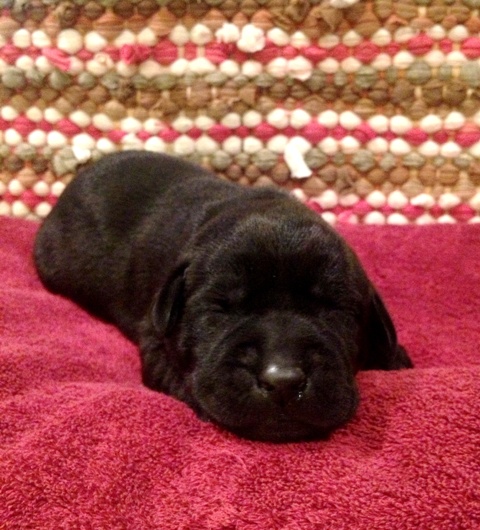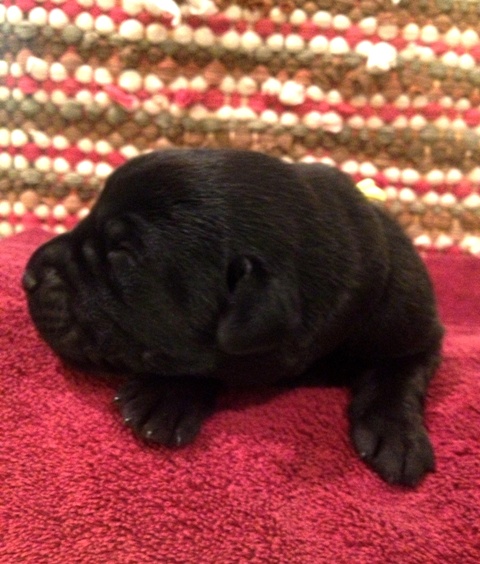 1st Born-Black Male - Yellow Collar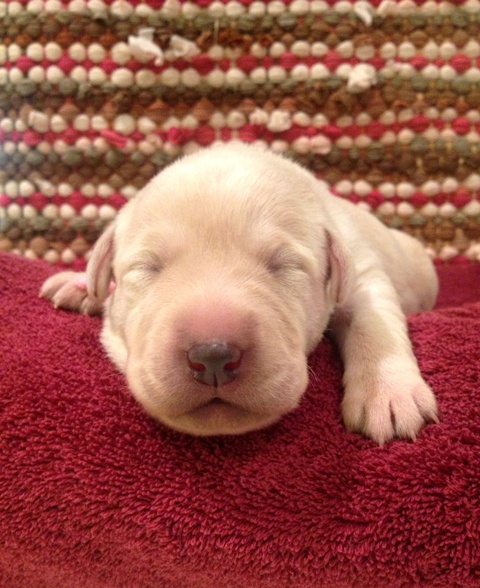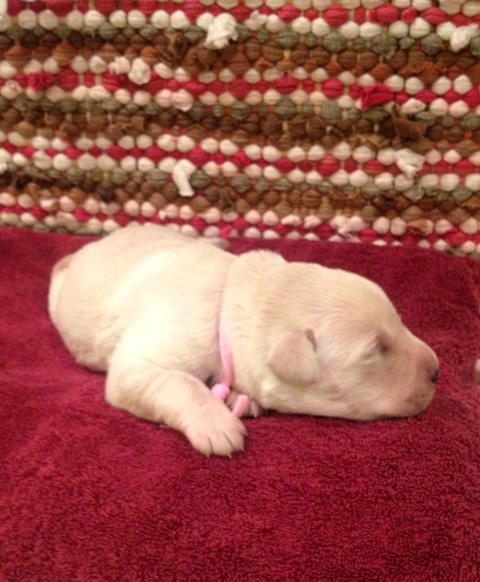 2nd Born-Yellow Female- Lt Pink Collar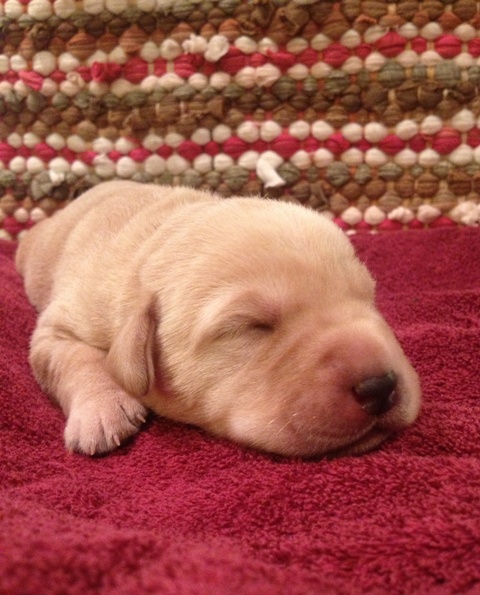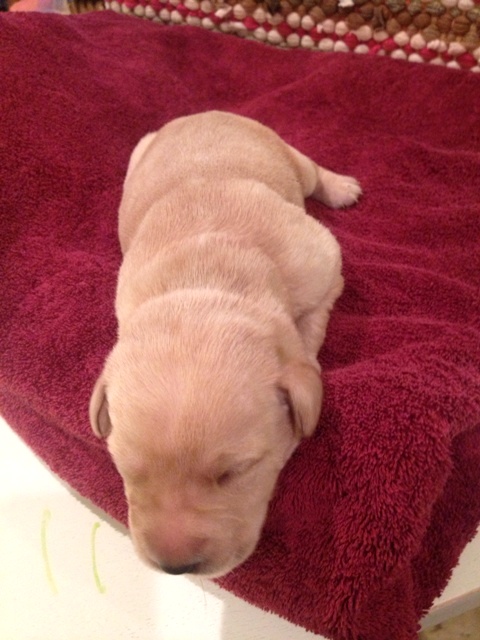 3rd Born - Yellow Female - Dark Pink collar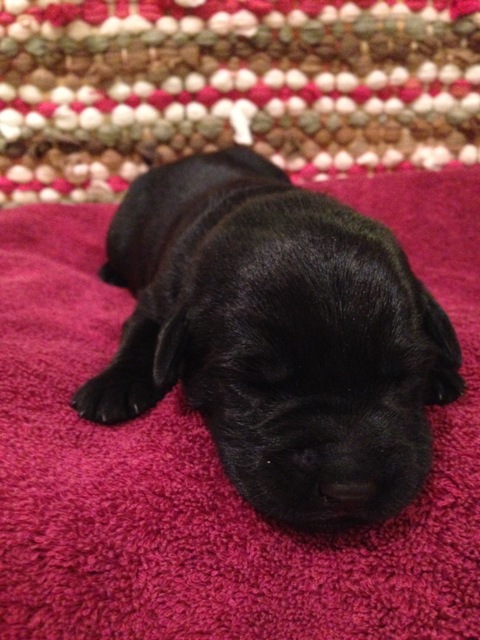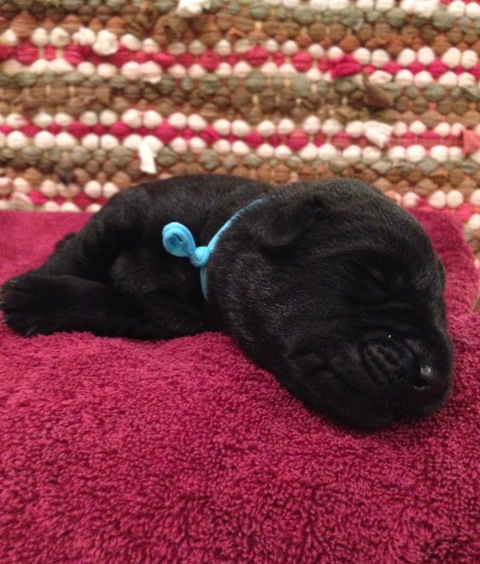 4th Born - Black Male - Blue Collar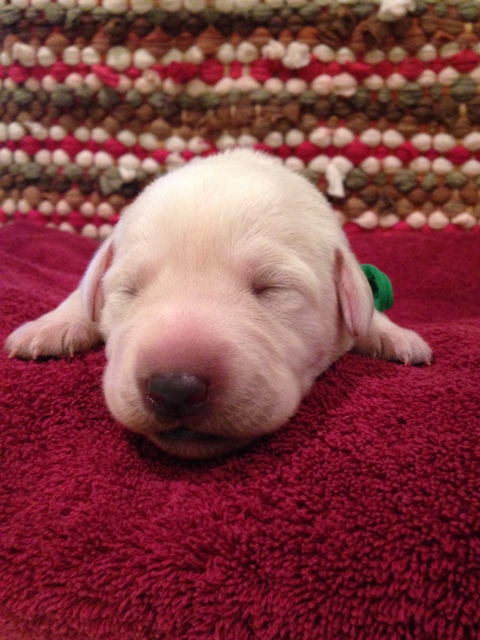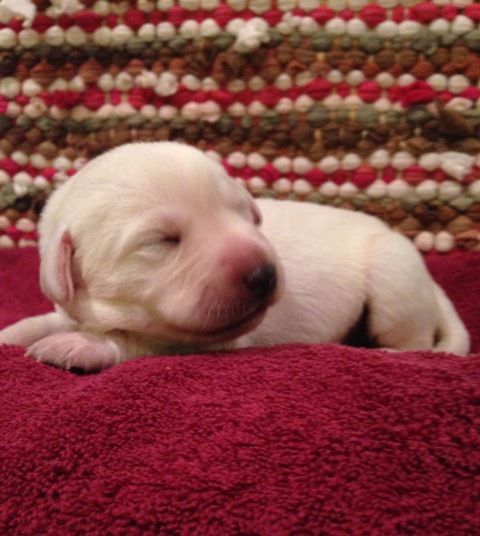 5th Born - Yellow Female - Green Collar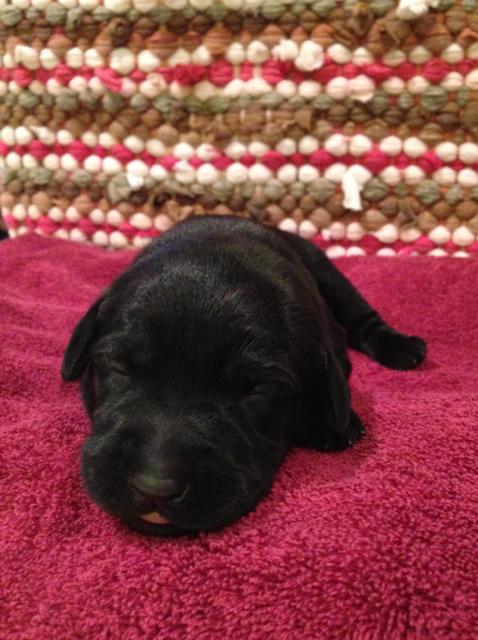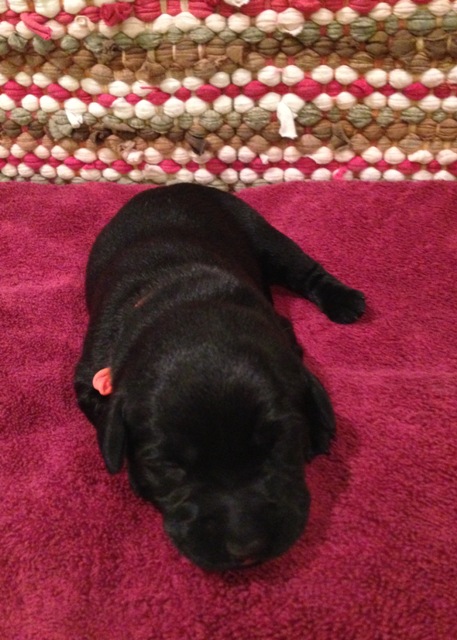 6th Born - Black Female-Orange Collar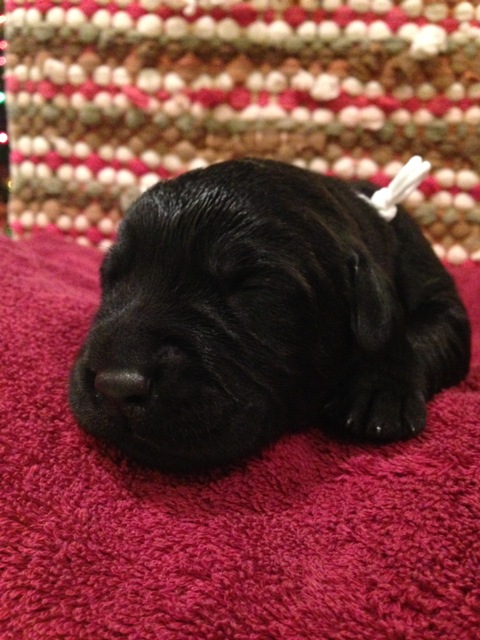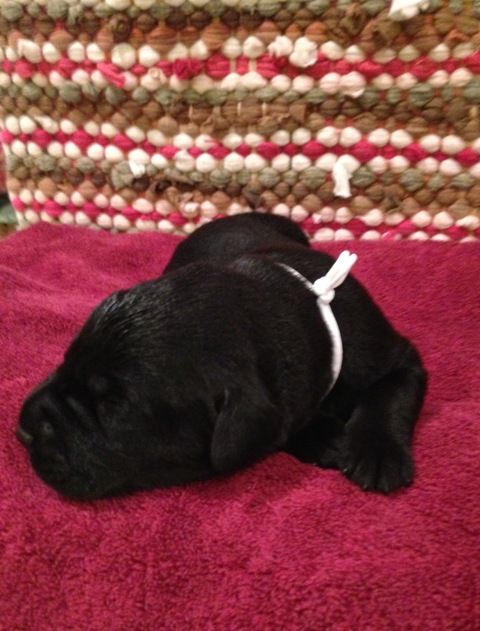 7th Born-Black Male - White Collar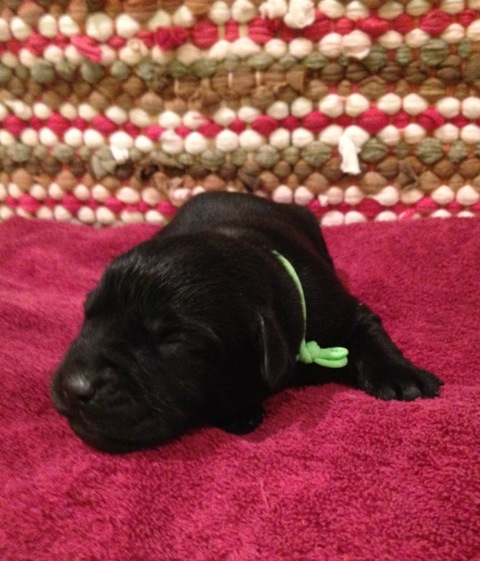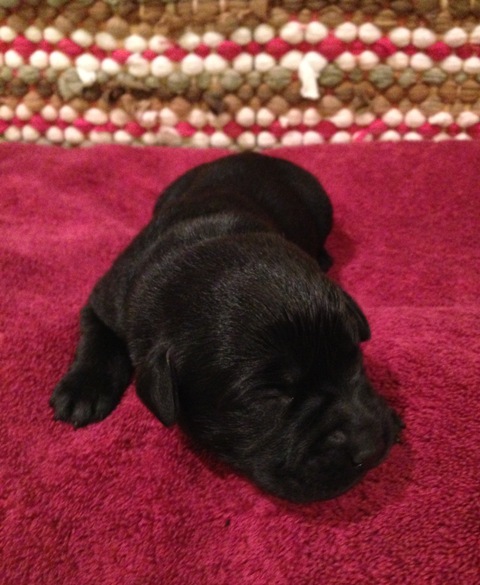 8th Born - Black Female - Light Green Collar
_________________________________________________________

2 days old


2 days old